BMC Software Australian Open Road Championships
Ballarat, Victoria, Australia, January 15-18, 2004
Home Start List Results Next Race
Day 1 - January 15. Elite Women/s time trial, 28 km
Wood wins again, Watt confirms her form
By Gabriella Ekström in Buninyong
Oenone wood was ahead after the first hill
Photo ©: Mark Gunter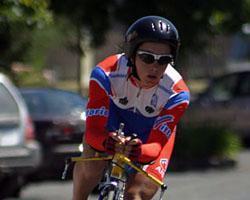 23 year-old Oenone Wood followed up on last week's success at the Bay Series with an outstanding ride at the Australian Open Time Trial in Buninyong, where she defeated Sara Carrigan and Kathy Watt to confirm her form. Reigning time trial champion from 2002 and 2003, Sara Carrigan suffered a setback last weekend when she was hit by a car while training at the Gold Coast. Although she suffered no broken bones, she was badly bruised and was taken to hospital. A quick check up confirmed that she could take up training again, but she arrived at Buninyong with her preparation seriously interrupted. Kathy Watt, who recently took up racing again after having been retired for three years was also expected to do well, but after having only seven months of training, she was also considered an unknown factor.
A cloudless sky and 25 degrees in Buninyong set the stage for good racing conditions, and the riders were to face a cross/head wind from the right while tackling the two kilometre climb on the course. The early time to beat was Tassie rider Naomi Williams, coming in at 45 minutes flat, only to be crushed when Kathy Watt rode a very promising 41.23, just before the final 10 seeded riders were expected.
Watt's time stood up against riders like Alison Wright and Katherine Bates, but it was clear that there would be a new leader when Oenone Wood came into view, just behind Hayley Rutherford who had started two minutes before her. Wood chased Rutherford down the last long slope leading to the line, passed her just before the finish and clocked the outstanding time of 40 minutes and 40 seconds. Only last year's runner up, Olivia Gollan, and Sara Carrigan where still to come, but it had to be done soon if they wanted to have a go at the title. As they both emerged together at the top of the small descent leading down to the finish, it was clear that Carrigan had got the better out of Gollan, but her time didn't match that of Oenone Wood.
Sara Carrigan was beaten by 27 seconds
Photo ©: Mark Gunter

On the podium, Wood said that she was absolutely stoked, and admitted the course to have been very tough. "I almost fell off my bike at the top of the climb. I knew very well that I had to beat Carrigan and Gollan, and that's what kept me focused."
Having taken about a minute on last year's winning time, it was clear that Wood had come well prepared to the Australian Open, and she told Cyclingnews that her win at the Bay Series was a good confirmation that she would be coming out to Buninyong with great legs. "I've had the best training I've ever had leading up to this, and I felt really prepared coming here. I felt really confident coming to the start this morning, but I'm sure that the rest of the field felt just as strong."
Her competitors might have been confident, but at the top of the climb, Wood had already gained some twenty seconds on Carrigan, and from there on she held on to the lead, getting even more motivated for every rider that appeared in front of her. "It motivates you very much when you start to pass riders, and especially if they are good time triallists like Margaret Hemsley and Hayley Rutherford."
ACT coach Warren McDonald commented on Oenone's ride, saying that he had expected it to be a close call, but that her actual time had amazed him. "She went really hard on the hill, but that was alright because she has some great form. She has had a good and consistent year leading up to this, and I expect her to be even better in three to six months time. She has the chance of doing some very fine results overseas. I was very happy to see her do such a ride today.
We sat down last year and spoke about the selections for the Olympics. It's going to be really hard to qualify this time, because there are so many good riders at an even level in Australia, and Oenone wanted to focus on qualifying for the time trial because she improved so much in that discipline last year. I told her that she would probably have to come in first or second at this race to stick her hand up."
Oenone wood showing the form that won
Photo ©: Mark Gunter

Having done just that, it doesn't mean that Oenone will sit back and watch the others battle it out on Saturday. "No, I'll definitely have a go at that one too. If I win it, I'll get to carry the national jersey for the whole season, and I wouldn't mind that." When asked by a reporter if she can win Saturday's road race, she cracks up in a big smile. "Well, I CAN win, but we'll have to see. It will be a tough race."
Despite having finished on the podium for the third year in a row, second placed Sara Carrigan was less happy with the outcome of the day. "I'm very disappointed. I was heartbroken when I first heard of Oenone's time. I gave it everything I had, and now I can only credit Oenone for her ride. It is possible that the car accident had something to do with my performance here today, but to be honest, I didn't feel much of those injuries today. Oenone just did a great race."
Third placed Kathy Watt (who instead of riding, photographed the Australian championships last year) received huge applause when standing on the podium and it was evident that the crowd supported her choice to make a comeback at the age of 39. "I think there's definitely more room for improvement," she said as a comment on her ride. "I'm happy with my race here today, and I'll see how I do on the road on Saturday, but my main objective is to train specifically for the time trial at the Olympics in Athens."
Photos
Images by Mark Gunter/www.pbase.com/gunterphotograph
Results
1 Oenone Wood (ACT)           40.41.67
2 Sara Carrigan (Qld)          0.27.29
3 Kathryn Watt (Vic)           0.43.41
4 Alison Wright (ACT)          1.20.16
5 Margaret Hemsley (ACT)       1.25.66
6 Olivia Gollan (NSW)          1.27.80
7 Hayley Rutherford (WA)       2.00.54
8 Amy Safe (SA)                2.05.95
9 Katherine Bates (NSW)        2.07.03
10 Natalie Bates (NSW)         2.38.46
11 Katie Mactier (Vic)         2.49.48
12 Jennifer Finlay (Qld)       3.43.32
13 Emma James (NSW)            3.46.90
14 Naomi Williams (Tas)        4.18.52
15 Jessica Ridder (NSW)        4.21.84
16 Louise Yaxley (Tas)         4.21.88
17 Kate Nichols (NSW)          4.37.76
18 Narelle Peterson (Vic)      5.17.87
19 Leeanne Manderson (WA)      5.26.76
20 Judith May (ACT)            5.48.31
21 Laura Bortolozzi (NSW)      6.32.53
22 Elizabeth Hickey (ACT)      6.57.74
23 Nathalie Laurendeau (WA)    7.41.50
24 Sarah White (NSW)          10.28.72
25 Kym Petersen (Vic)         12.07.34