News feature, July 25, 2007
Millar speaks out on Vinokourov
The news broke of Alexandre Vinokourov's positive test control for a homologous blood transfusion while David Millar was with his Saunier Duval team during a press conference. The outspoken Scot has served his time due to a past admission to using EPO, and he was very critical of 'Vino' and of the UCI's current system, although he noted that cycling is catching cheats. Cyclingnews' Gregor Brown was in Pau during the Tour de France's second rest day when the news broke.
David Millar (Saunier Duval)
Photo ©: Gregor Brown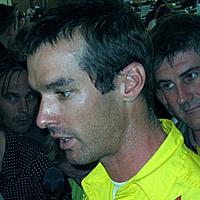 "That is a surprise. I don't know what to say," a shocked Millar stated when he heard of the news of Vinokourov test result and that Team Astana had pulled out of the 94th Tour de France. "Vino is one of my favourite riders. He is a guy of class. Given what we have done, with our current situation, we may as well pack our bags and go home." After minute of reflection, he clarified, "No, I don't believe the Tour should stop here. We are 40 years after [Tom] Simpson's death and the Tour still goes on."
The 33 year-old Kazakh was the winner of the stage 13 time trial in Albi over Cadel Evans as well as Monday's stage 15 to Loudenvielle before the blood control, which was taken after stage 13, showed evidence of a homologous blood transfusion. Vinokourov was quickly suspended by his Astana team which then withdrew from the Tour on a strong suggestion from the ASO president Patrice Clerc.
Millar expressed his disappointment in the news, and of the state of the sport."We have given the benefit of the doubt for a while, we really have," he commented. "A lot of people were given the benefit of the doubt and I think the benefit is now over."
There is infighting in cycling with different associations not being able to agree on which direction to take in the fight against doping. Even on the Tour's rest day there was an announcement of a new formation, the Movement for a Creditable Cycling (MPCC).
"That is true, there is no cohesion," continued Millar. "I think, if there is one thing, I try my best not to critic the UCI. But, I am going to critic the UCI today, and say that they have to pull their finger out and get their controlling system properly sorted out.
"You know, when it comes down to it that is their only responsibility, to control the riders and put an operational whereabouts system in place so that the riders can actually believe in it."
-Millar on the UCI's current system of antidoping efforts
"You know, when it comes down to it that is their only responsibility, to control the riders and put an operational whereabouts system in place so that the riders can actually believe in it. At the moment, I have to say it is a ____ing fallacy they way they do their whereabouts system."
Millar had first commented that the Tour should stop but then agreed it would be a bad idea in light of cycling's fight. "The Tour should definitely go on. If it stops then I would have to retire tomorrow and I am not [going to]. I did have an announcement to make, I have a project where I want to work with younger riders and build a team that can actually make a difference, because at the moment the teams are not making any difference. Are they? Not many. Some of them are trying."
He noted that the old riders who have admitted their involvement in doping should stay in the sport if it means that the sport will benefit from their experiences. "We can't throw out all the old garbage; we have to keep some of it, the intelligent ones. Trying to erase the past, like erasing victories, riders, we need to keep some of the poachers to turn them into game keepers. Some of them, not all of them. There have to be some that are willing to put their hands up and try to help."
David Millar was upset
Photo ©: Gregor Brown

He reflected on how the public wants to move on from the talk of doping but that turning a blind eye is not the answer. You know, as soon as it goes well everyone just forgets about the past and we can't do that. Tommy Simpson died forty years ago and we are still here. That guy died of doping forty years ago and we did not even have a minute of silence to remember that guy on the start line [10 days ago]. It is just a sorry state."
Given the negative press that cycling gets it is always important to remember that despite the recurring doping scandals, cycling is the sport which fights the hardest against doping. And while mortifying, the recent results, including that of Patrik Sinkewitz, only demonstrate that the current system works to some extent. "It is a good thing that he as been caught," Millar said of Vinokourov, "but the fact that it [doping] actually happened is just tragedy."
Photography
For a thumbnail gallery of these images, click here
Images by Gregor Brown/Cyclingnews.com