An interview with Geraint Thomas, July 5, 2007
No doubting Thomas
Geraint Thomas (Barloworld) is all smiles
Photo ©: Gerry McManus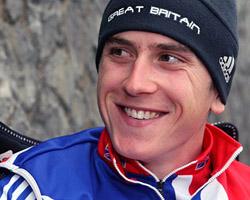 Geraint Thomas is the youngest rider in the Tour De France this year, but the 21-year-old Barloworld rider already has a palmares that many would be proud of. There's no doubting the talent and ability of the current World Team Pursuit Champion, so Gerry McManus caught up with the youngster ahead of his Tour de France debut.
Geraint Thomas is one of the first crop of British Cycling Academy riders who had moved onto the professional scene having served his time in the GB squad on the road and track. The medal cabinet at home in Wales is well decorated with National, Commonwealth Games and World Championship medals.
"I started cycling with the Maindy Flyers when I was ten and then moved on to Cardiff JIF back in my home town of Cardiff," said Thomas. "Jan Ullrich was a big hero of mine when won the first Tour de France I watched on TV. I have always looked up to him.
"I like the track and the road," added Thomas. "They both just as good when you are winning! Obviously the road is just a little bit more prestigious. But when you get to the end of one season you start to look forward to the other."
In 2004 he won his first World Championship gold medal in the scratch race in the junior track worlds in Los Angeles. "I guess I started to really believe in myself after Los Angeles and that helped me win the junior Paris-Roubaix later that year," he explained. "I started to see cycling as a career rather than a hobby. Up to then we just had fun riding bikes and we all went down to the Maindy track and it was just like a youth club really. From there I chose to go into the academy rather than go to college. I owe a lot to coaches like Darren Tudor and Rod Ellingworth and the British programme."
"I couldn't be in any better shape."
- Geraint Thomas says he's ready for his Tour de France debut
"I finished my 'A' levels and moved up to Manchester where I was living with Ed [Clancy] and Mark [Cavendish]," continued Thomas. "It was different moving out of home and into a house with those two. It was a bit of a laugh and we are good mates now. It's good to have someone to help you through the bad times."
The following year was one of trouble for Thomas after he crashed and had to have his spleen removed.
"We were just riding to the track in Sydney and there was some debris in the road that got flicked up from the guy in front," explained Thomas of the accident. "It went into my front wheel which locked up and I landed on the bars. I knew it was pretty bad when I couldn't get up and that night I had my spleen removed.
Palmares
2007
1st - (Gold Medal) - Team Pursuit, UCI Track Cycling World Championships
5th - U23 Classification, Tour Down Under
2006
1st - Team Pursuit, UCI Moscow World Cup,
2nd - World Championships Team Pursuit
2nd - U23 Scratch Race, European Track Championships
3rd - Points Race, Melbourne 2006 Commonwealth Games
3rd - Madison, UCI Sydney World Cup
4th - U23 Points Race, European Track Championships
1st - 20km Scratch Race, British Cycling Track Championships
1st - Overall Classification, Fleche du Sud (Luxembourg)
1st - Points Classification, Fleche du Sud (Luxembourg)
1st - Under-21 Classification, Fleche du Sud (Luxembourg)
1st - Stage 2, Fleche du Sud (Luxembourg)
2nd - Stage 3B, Fleche du Sud (Luxembourg)
3rd - British Road Race Championships
3rd - Overall Mountains Classification, Giro d'Italia (Baby Giro)
4th - Stage 10, Giro d'Italia (Baby Giro)
5th - Stage 4, Tour of Britain

2004
1st - Scratch Race, Junior World Championships
1st - Paris-Roubaix Junior Race
"I was nine days in hospital and then five weeks off the bike before Rod Ellingworth and Shane Sutton helped me get back into training again," he added. "I had to miss out on the senior world championships that year and I was very disappointed."
Last year brought Thomas great success in top level competition winning the silver medal with Great Britain's pursuit team in the World Championships in Bordeaux. "It was a bit of a shock to get a ride in the team pursuit to begin with but I felt like I learnt a little bit more after each training session," he recalled. "After a while I started to realise what I could do and that I deserved to be there. At the time I was pretty gutted to get silver but looking back it was pretty good."
Thomas also won the UCI ranked Fleche du Sud stage race in Luxembourg and bronze in the Commonwealth Games scratch race. Many people, including former Discovery Channel rider Roger Hammond, felt he should have won the British Road Race Championships that year instead of finishing in third.
"It was a big year," he admitted. "I felt like I was really finding my feet. I was team leader on the road for the Academy and learning about myself and how to get the most from the people around me. The Commonwealth Games was almost a year after my accident and it was a good way to put a lid on that and forget about it.
"The games were special as it is the only time I have represented Wales," continued Thomas. "It was a bit weird though because all the GB riders were at the Sydney Track World Cup and then splitting up at the games village seemed strange. The event was huge and I had quite a few butterflies just turning up."
At 21 years of age, Thomas is the
Photo ©: Gerry McManus

Max Sciandri helped Thomas get a stagiere role with Saunier Duval at the end of 2006, but it wasn't the best situation for the youngster who had just finished the European Track Championship and it's yet have the road legs to impress. "It wasn't much fun in the end, but great to go out there and meet the team and the bosses and see how it all works," he said. "Then I was delighted to get an offer from Barloworld. It is the chance to show what I can do on the road and that I am not just a track rider."
"I have definitely seen and improvement in my climbing ability since I have been out in Tuscany," reported Thomas. "I wouldn't say I am a pure climber but I can hold my own on the shorter climbs. You can go out of the front door and find 50 minute climbs only an hour's ride away."
With the Grand Depart starting in London it gave Thomas a chance to visit friends and family in Cardiff. "It is quite weird coming back to Cardiff," he admitted. "You don't see much of the outside world when you are in Italy. The media have shown a lot of interest since I have been back but it is all good and a nice pressure to have. I have done a couple of TV and radio interviews with all the publicity before the Tour."
Thomas can't wait until the race starts on Saturday and feels he is ready to help the team get in their quest to get into the results. "I couldn't be in any better shape," declared a determined Thomas. "The team has been great giving me a good programme in the run up to the Tour. I just can't wait to get going now. Ultimately my role in the team is look after Rob [Hunter] in the first week and help him in any other sprint stages. I have been rooming with him quite a bit and have got to know him really well and he is great giving me advice.
"The first week is my main goal and I want to get stuck in helping the sprinters in anyway I can," he continued. "We don't have the lead out train like Milram or T-Mobile but our job will be to get Rob in the right position up to the final kilometre. After the first week I will just take it day by day and aim to survive in the mountain stages. I would love to finish the race but I am under no illusions how hard it is going to be. I was only twenty-one a few weeks ago and you have to be realistic."
Thomas's ability to ride fast was confirmed when he won the team pursuit gold at the Palma, Spain Track World Championships earlier this year. The GB team went under four minutes for 4,000 metres, pace Thomas hopes to show at the Tour. "I see myself as a lead out man at the moment," he concluded. "I seem to be able to hold the top end for a long time and stay on the front from two kilometres out. Further down the line I would like to see what I could do in other races like the one-day classics."