Team CSC rest day press conference, July 17, 2007
CSC plots Tour from Val d'Isère
Vande Velde and Zabriskie highlight solidarity
Fabian Cancellara can afford to laugh
Photo ©: Gregor Brown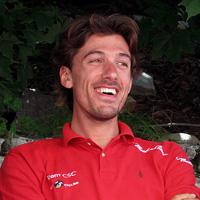 Team CSC has had a good run in this year's Tour de France so far thanks to two stage wins by Fabian Cancellara and seven days in the race leader's maillot jaune. The second phase has started and the Swiss has promised himself to team leaders Fränk Schleck and Carlos Sastre, while the team has had to deal with the blow of losing Aussie Stuart O'Grady. Cyclingnews' Gregor Brown reports from the team's rest day press conference in Val d'Isère.
"Yesterday, we saw that the team was strong again," began directeur sportif Kim Andersen. "The riders that needed to be there were there. We are ready to go on for the next phase of the race." Schleck stayed with a group containing Valverde and Evans and he is now 3'14" behind GC leader Rasmussen, while Sastre trailed in the next group and sits at 3'35".
Yellow jersey push aside, Andersen noted the loss of a key teammate, Paris-Roubaix champion Stuart O'Grady. "I would like to thank Stuart for his great work for the team for the whole week. We are sending our thoughts to the hospital where he is now; we will go on and try to win for him." The Aussie touched wheels with a rider, crashed on the descent of the Hauteville climb, and is reported with five ribs, a shoulder blade and collarbone broken.
"I think that the Colombière will cause me to pay for a week."
-Cancellera on his huge effort on the Col de la Colombière at the end of Stage 7.
In contrast to O'Grady's misfortune, Cancellera reflected fondly on his seven days in the golden fleece, but is now ready to ride for the team. "When I look back they were beautiful days but there were also hard," said the 26 year-old Swiss. "I think that the Colombière will cause me to pay for a week. I told the whole team I was feeling sorry. The yellow is beautiful but it is also a hard job [to have it]. There is no time for recovery. There is always stress, with the media, the controls... It was not an easy week. Now I am for the team to help Carlos and Fränk."
27 year-old Schleck is part of CSC's two-pronged attack for the race overall. Yesterday he held steady as Christophe Moreau launched a barrage of attacks on the final ascent to Tignes. "I was surprised that Moreau had attacked from the bottom," said the Luxembourger. "We hit the climb of Tignes and he attacked right away. I could not react right away. [Moreau] seemed to me very very strong. He is very strong but I believe he was not so smart yesterday. We wanted to help him but he was attacking. There was still 15 kilometres to go and I thought we should ride together.
Directeur sportif Kim Anderson
Photo ©: Gregor Brown

"Carlos had told me on the last kilometre if I feel good to go. I went in the escape but the plan is still the same. I am here to help Carlos and I am sure he will be very, very strong in the Pyrénées. We will see what happens there and stick to the plan."
Christian Vande Velde rode impressively as a domestique yesterday on the wind-swept slopes of the 16-kilometre climb to Tignes. "I was going alright yesterday. I did not get to help too much on Tignes because Astana was doing all the tempo and there was not much left to be done," the 31 year-old explained to Cyclingnews.
Is Vinokourov still dangerous? "Last year a lot of people wrote off Vinokourov in the first days of last year's Tour. He did not do so well at all, he was way off of the pace and he rode himself back into the podium."
The Kazakh is 5'23" back on general classification, while Schleck and Sastre are both around three minutes back. "That means he is really only two minutes back. 110 kilometres of time trialling is a lot of time by yourself and he can go very fast."
Rasmussen ruled the day to Tignes and Vande Velde was impressed by the Dane's awesome performance. "Rasmussen was impressive. We were trying to judge how many kilometres he did by himself yesterday and he had to have done 50 or 60 kilometres by himself, and there was a lot of wind out there, so he was a level or two above everyone out there yesterday.
"Rabobank now might have to ride more defensively and that changes the whole chemistry of the race. If Rabobank takes the lead, and it is really working, then it doesn't have the guns there at the end, like they do now, it might be a completely different scenario. If he goes back on another one of these missions and just goes for it, and kind of animates the race like Pantani, it could be awesome. Who knows, it depends how big his gas tank is."
Christian Vande Velde
Photo ©: Gregor Brown

Vande Velde feels that Rasmussen's attacks play into the hands of Sastre. "It is awesome for some of these pure climbers like Mayo, Carlos, guys who can really go fast up the climbs. I think his could be a benefit to Carlos with guys who want to attack and go hard on the climbs.
"Carlos is so damn calm and so confident. He knows what to do. He just has time on his side. The race is still very open. It is going to be horrible tomorrow even though it does not finish in an uphill." The 159.9-kilometre stage features the 17.5-kilometre climb up to Galibier and a 37.5-kilometre descent to Briançon. "You could lose the race tomorrow, on a stupid descent, but you are not going to win the Tour de France tomorrow. The descent to Briançon is on a huge road. The first seven kilometres are dangerous and small but after that [it is wide]."
Vande Velde is looking forward to the Pyrénées for the final set of mountains but also when he will be visited by his wife and newborn child. "Plateau de Beille will be a hard climb. There is that climb and the one before it, the Port de Pailhères, but before that, the stage is flat. Then the next stage is going to be ugly. ... The rest day in Albi my wife and newborn child are coming to visit."
Vande Velde and David Zabriskie, CSC's two Americans have been rooming together throughout the Tour. "It has been great rooming with Dave; we have been sharing some laughs. At the beginning, it was stressful because we were never in the room [due to team obligations]. Now we are getting into a routine and having a good time."
Vande Velde thinks that his roommate gets up too early. "He said that?" questioned Zabriskie. "I like my cup of brew in the morning. He tried to crawl into my bed actually. He got confused in the middle of the night. He woke up to pee and then forgot which bed was his. It was kind of freaky."
Dave Zabriskie has been struggling
Photo ©: Gregor Brown

Having his compatriot as a roommate has not made Zabriskie's Tour any easier. He has been suffering at the back of the pack and regrets not playing a bigger domestique role. "It is not getting any easier for me. I am having quite a bit of knee pain. I had some screws in this knee [left], I have surgery and it is sensitive. I changed shoes before coming here and I think it is just not accepting the change that well.
"I wish I could help more but I can't. Yesterday was a bad day," continued Zabriskie, who finished 39 minutes back on the stage to Tignes. "I got them about one bottle each in the first 40 kilometres but that is about all I could do. You feel bad but that is it. I don't want to leave the race and I am struggling just to stay here and be with these guys."
Even if suffering, Zabriskie is enjoying the atmosphere around the Tour. "This is the first time I ever appreciated the race. Like being there and going through it as an adventure. Maybe it is because of the age. I never appreciated all the fans on the road, they used to annoy me. I find it unique and interesting [now]."
"I am having some doubts," he said when asked if he could finish the Tour. "The first year I was here I had a lot of stress; I was bombarded by the media. Now I am able to step back and look at it as a whole. As Fabian said, it is not easy, it is stressful. With the yellow you can't even eat a dinner, they come at night, they come in the morning."
Zabriskie was impressed with his roommate, but also how Rasmussen went in Sunday's stage. "[Vande Velde] is doing well. His fitness is coming. He is fresh. [Rasmussen] would have to gain a lot of time in these mountains because of the time trial, but it is possible."
However, he was not to certain of his teammates' chances in the time trials. "It is hard to say until we hit some bigger stuff [mountains]. It could actually come down to the time trials... Both of them are not so good in the time trial."
Racing and dealing with the media leaves little time to review the race on television. Zabriskie and Vande Velde tried to find a recap of Rasmussen's performance on TV but opted for 'The Lizard King.' "I wanted to watch the replay of the stage but the hotel we are staying in is brand new, there is no cable television or channels. I did not see any of it. We watched The Doors."
A decision on Zabriskie's future team is likely to come soon. When questioned about the different possibilities based on current rumours he became tight-lipped. "Right now I cannot say," stated Zabriskie in a polite but firm manner.
Zabriskie's wife may visit along with Vande Velde's family in Albi. "I don't know, I just make split decisions. I used to be a planner until I met my wife. This is the way she and her family operate."
The impression Team CSC left is that it is a smart team with options to play in the remaining 12 stages. Both an in-form Vande Velde and a struggling Zabriskie will give their all in a podium run for the team's two leaders.
Photography
For a thumbnail gallery of these images, click here
Images by Gregor Brown/Cyclingnews.com