An interview with Carlos Sastre, July 5, 2007
Sastre happy at the helm
CSC's GC leader
Photo ©: Shane Stokes/Cyclingnews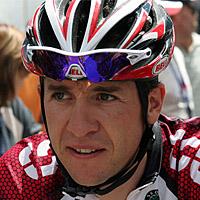 As the race heads into the mountains the GC contenders come to the fore. Team CSC's Carlos Sastre recently spoke to Cyclingnews' Shane Stokes about his chances.

CSC leader Carlos Sastre is sitting 47th overall heading into the first mountain stage of the Tour de France. He is 1 minute 16 seconds off the yellow jersey held by his team-mate Fabian Cancellara but with the big Swiss engine certain to fall back on stage seven, Sastre is well within striking distance.

Twelve months ago the Spaniard was thrust into the limelight when Ivan Basso was implicated in Operación Puerto and blocked from starting the race. Basso has since left the team and in 2007, all season long, it's been Sastre as the number one rider for the Tour. He's been able to build in his own way, choosing his own race programme, but he also has to face greater responsibility than before.

"Last year when I did the race I was supposed to be here to work for Ivan," he told Cyclingnews the evening before the final stage of the Tour de Suisse. "For sure the mentality was different then. This year, the team has shown confidence in me, something that I needed, and I will prepare for the Tour de France in my way. I have taken the build-up very easy because I know I have to be fresh and ready for the Tour de France. It is important to be strong from the start to the finish; the last week in the Pyrenees will be really, really hard and you have to be at 100% there."

Whether or not the course is one that suits his abilities isn't something Sastre cares to worry about. He stated philosophically, "It is the course that we have. I can't change that course. For sure it is hard enough and when it is hard enough you can try many things if you feel good. I want to be ready."
"The pressure now gives me motivation."
-Carlos Sastre is ready to take on the role of team leader at the Tour de France
Neither is he concerning himself with watching any particular rival. "My main goal is to be ready," he reiterated. "I don't spend energy wondering about the others; if I spend energy thinking about who can beat me or who will be behind me, I don't gain anything from that. I just try to channel my energy in my way, I think about me, think about my team, think about the way I am doing my job this year and be ready for the Tour de France.
Heading into the Tour as undisputed team leader for the first time, Sastre is relying on his CSC team to help him. He said that he was confident that they will do the job. "I think that we have a really good atmosphere on this team. That has helped me a lot. Personally I think that the team that will go to the Tour will be willing to give everything to me [in terms of support], I am 100% sure of that. They have given me a lot of responsibility and a lot of confidence and that is something really important to me."
Fortunately, he said that the increased stakes this time round have not made him feel intimidated. "The pressure now gives me motivation. I was thinking about this race all the year and I know that all the team has been waiting for this moment.
"I feel okay, I don't feel nervous or stressed. I have my own [internal] stress, because with that you can progress, but nothing more. Last year I had to change my mentality in a few days [after Basso was excluded - ed.]. But now I have my mentality ready to be the team captain in the Tour de France."
Making of a Grand Tour leader
Carlos Sastre relaxes
Photo ©: Shane Stokes/Cyclingnews

Sastre won a stage in the Tour back in 2003, hitting the line first at Plateau de Bonascre. He's also taken a host of high overall placings over the years, finishing 20th, tenth, ninth and eighth between 2001 and 2004, then dropping back a little to 21st in 2005 when riding as a super-domestique for Basso. Last year he had to take over team leadership at the last moment but rose to the occasion, placing fourth overall behind Floyd Landis, Oscar Pereiro and Andreas Klöden. If Landis is found guilty of doping, he'll be up to third overall.
Sastre was actually in second place on GC until the final time trial but lost time to some of the other big guns and dropped out of the top three. However he was arguably the strongest climber in the race; when all the mountain stages are taken into consideration, he took one minute 39 seconds out of Landis and two and a half minutes out of Klöden.
He then showed his all-round strength when he went on to finish fourth in the Vuelta a Espańa, thus following on from previous placings of eighth, sixth and second overall. What was notable was that he also did the Giro d'Italia and Tour de France in 2006, making him one of the rare breed of riders to finish all three Grand Tours in one year.
"I think that has made me stronger for this season," he stated. "At the start I was thinking that perhaps it was too much, but step by step I was feeling good, I was feeling fresh. I was able to keep my motivation.
"Before, getting to your target can be hard; the season is difficult because you have crashes, you have problems, you get sick. Sometimes it is difficult to achieve your goal, but when you do all these things you are stronger mentally. You feel more sure about yourself, you feel more comfortable in the way that you are going, and these things give you extra energy."
Sastre has happy memories of last year's Tour. "For me it was a very nice race. I think it was the race that rekindled my motivation and gave me back many feelings that I had lost before. For sure, I always dreamed of doing something special in the race and this year I really want to be ready for the Tour."
The programme
Carlos Sastre
Photo ©: Shane Stokes/Cyclingnews

The CSC team had some big changes since last year's Tour. With the controversy surrounding Ivan Basso, the team has stepped up its internal antidoping efforts with a programme of frequent internal tests. Sastre stands behind his team's efforts, but doesn't like to focus on the darker side of the sport.
"I respect the programme. I think that for me [personally] it doesn't change anything, because I know who I am and what I want in my professional life and my private life. That is all. If these things help the young riders to be good professional riders without doing anything stupid, then I think it is a nice programme.
"But I don't know if this [relying on such programmes to police teams] is a solution for the future. I think that we have been taking many different decisions in the past year and I don't know if these things change something. I think it is difficult to change people; the most important thing is to be true to yourself, be who you are and know what you want in your life. When you know that, I think that you can take the right decision."
Being guided by your beliefs seems to be important to him. However he is also frustrated by the amount of attention that doping is currently getting.
"Honestly, I don't know exactly what this is about," he said, very soon after the announcement of the UCI's Riders' Commitment to a New Cycling initiative. "I heard some points but I don't know everything about it as yet.
"But, for sure, we are speaking about the same thing as always. In the sport we are always talking about doping, we are talking about DNA, we are talking about haematocrit, we are talking about giving back the salary, we are talking about many things. We are not talking about cycling. My life is just about cycling, the sport has helped me to be the person that I am and I don't care about all that stuff. I want to talk about cycling. I don't want to spend my energy just thinking about these things, because these things are not helpful to the sport."
Getting ready for the big one
Carlos Sastre (CSC)
Photo ©: Sirotti

Unlike past years when he was doing more domestique duties and had a more intensive spring, this season Sastre was able to build his form for the Tour more gradually. He began his season in the Clasica de Almeria in March, then went on to start the Vuelta a Murcia. There was a hiccup there in that he crashed on the first stage and had to pull out of the race. Fortunately he was not too badly hurt and was able to get back to racing relatively soon afterwards.
"I crashed with 30 kilometres to go on the first stage and had to stop for two weeks," he explained. "The stage was very windy. I didn't want to take any risks because there was a cross wind and so I eased back. I was in the second group, everybody was pulling and just when I came to the front a hard gust of wind suddenly blew up; the guy who was in front of me got pushed to the side. He hit me when we were going at 50 to 55 km per hour and I fell.
"Everybody who was behind me was going into me, bang, bang, bang, and the crash was bad - because of that I felt that I had broken my elbow but that wasn't the case. However my hip was injured and so too my back. I had to stop but things were okay a while afterwards."
Sastre returned to training and began honing his Tour form at the Vuelta a Castilla y Leon at the end of March - a race which is close to his home town of Avila. He went on to the Tour of the Basque country in April, then lined out at the Tour of Romandie in early May, where he finished a solid 25th overall.
After a short break, Sastre went on to ride the Bayern Rundfahrt and then on to the Tour de Suisse, where he rode for team leader Franck Schleck early on, driving at the front of the bunch and giving himself the sort of tune-up he felt was necessary to get into top shape for the Tour.
Sastre's clearest sign that his form was on the way was his attack on the penultimate stage in Switzerland. He went clear in a small group, struck out closer to the finish with Tour of Flanders winner Alessandro Ballan, and then finally made a solo bid for the stage victory but was ultimately swallowed up by the chasing peloton. He finished the Swiss Tour in 19th overall, which was confirmation that his preparation for the Tour is on course.
"I don't feel 100% yet but I do feel good," he said after his stage eight exploits. "Today was not a stage for me [in terms of the parcours], but the team was covering all the attacks because it was a very fast start to the race. At one point there was a small hill, I was there on Ballan's wheel and he attacked. I went with him and another three guys and then later another few guys came up from behind. I was the best guy in the general classification and so I had to keep going, for me and for the team.
"In the end, Ballan attacked on the climb near Freiburg. I went with him and we worked together very well. I think that he was a little bit tired in the end and he couldn't follow me when I was pulling on the small hill. After that though it was really windy and flat and for me it was difficult to go alone.
"I believed that the last climb was going to be hard. I thought to myself that if I arrived at the bottom of it with 20 or 25 seconds, it might work out well. I was keeping some energy for the last climb, but when I saw that it was a power climb, I knew that I couldn't make a difference on that kind of hill."
He was hauled back in and the stage went to young Unibet.com rider Rigoberto Uran, but his form was clearly on the rise. After that, he returned home, recovered and set about further fine-tuning his condition. Thus far things have gone well for Sastre. He's limited his losses on the flatlands, avoided injury in a crash he had on Thursday, and heads to the mountains very close to yellow. In working for Cancellara his squad have perhaps expended some extra energy, but they have also had the motivational boost of the maillot jaune within the team. The Swiss rider will bid au revoir to yellow today but if all goes to plan, the race lead could be back with CSC soon.