Tour de France stage 1 post-race press conference, July 8, 2007
Rocketing Robbie Rebounds
Robbie McEwen shrugged off a crash to take the twelfth Tour de France stage victory of his career. Cyclingnews' Shane Stokes reports from Canterbury.
Robbie McEwen (Predictor-Lotto) over Boonen
Photo ©: AFP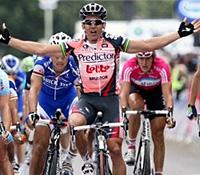 For many years Erik Zabel was the undisputed sprint king of the Tour de France, taking six green jerseys and winning twelve stages in all. With his total of three taken thus far, Robbie McEwen is some way off equalling Zabel's number of maillots verts, but he matched the second statistic when he galloped to success in Canterbury on Sunday.
In truth, the victory over Thor Hushovd (Crédit Agricole), Tom Boonen (Quick Step Innergetic), Sébastien Chavanel (Française Des Jeux) and the other 177 riders in the main bunch seemed very unlikely with 23 kilometres to go. McEwen was one of several riders who came down in a crash only to face a hard chase with his teammates to regain contact with the back of the field.
Once they made contact with the race again, McEwen still needed to work his way up through the peloton and then make the sprint against a host of fresher – and less bruised – competitors. But strong work by his Predictor Lotto squad plus a powerful finishing effort by McEwen produced that impressive result.
"I have got a very sore knee and wrist but all in all, it has been a fantastic day," he said at the post-race press conference. "I am a little bit worried about tomorrow as when I got back on my bike after the crash I could hardly move my hand and my wrist, and was generally very sore. But when you get going after a fall and just ride, the adrenaline means it can feel okay.
"After some time [in the peloton] and a bit of rest it felt better. However it is overnight that everything gets stiff. I will face that problem tomorrow; right now I am pretty happy."
"I initially thought that I had broken my wrist, as I couldn't move it and it was very sore. I will have to go and get it looked at by the doctor."
-McEwen on the after-effects of being knocked off his bike by a rider who crashed into him from behind.
The opening stages of the Tour de France are always known for their crashes and today was no different. Several tumbles took place, with Xavier Zandio (Caisse d'Epargne), Christian Moreni (Cofidis) and Brett Lancaster (Milram) involved in the same crash as McEwen and all suffering cuts and bruises.
"The fall itself was on a small road," the Australian continued. "They [the other riders] were braking in font of me and almost stopping. I also went hard on my brakes. I had almost stopped but whoever was behind me wasn't paying attention and just ran straight into the back of me. It flipped me over the handlebars. I tried to keep flipping over to land on my feet or maybe my back but my hand was the first thing to hit the ground and then my knee.
Straight off, he feared that he might have to stop. "I initially thought that I had broken my wrist, as I couldn't move it and it was very sore. I will have to go and get it looked at by the doctor."
But the dedication of the other riders on the team inspired him to press on and once back in the bunch, his competitive instincts kicked in. "Some of my teammates were waiting, standing by me, while the other guys were waiting up the road. They were determined to bring me back to the peloton. Even though everything was hurting at that moment and I was thinking more about stopping than winning the stage, seeing how hard everyone was riding motivated me to get me back in the bunch.
"Cioni and Aerts and Van Summeren and then Hoste brought me back to the peloton and almost to the front. Then I found my own way and got to Freddy Rodriguez' wheel. The last kilometres had a load of roundabouts and corners and I kept moving to the front to try to be economical. I knew the sprint was difficult, it was slightly uphill, there was a bend to the left and you could only see the finish with about 160 metres to go.
12th win for Robbie McEwen (Predictor-Lotto)
Photo ©: AFP

"There was a finish similar to that in Saint Quentin last year [stage four, which he won - Ed.]. When the speed is low like today I know it is good for me because I have got strong acceleration. I started to go with 200 metres to go and came out of the wheels at 160. It was the perfect moment and I held onto it to the line."
When McEwen jumped he got an instant gap on the other riders. They narrowed this somewhat in the final 50 metres but it was too little, too late. A journalist asked McEwen about this apparent fade; the rider described the question as a little strange, given that he got the desired end result.
"I was strong enough to hold everyone off. You mentioned that some other people were moving faster at the end but I think it is about getting over to the line first. I was clearly moving fast enough."
Beating the world's top sprinters is by no means an easy task, and particularly so when you have an injury. This wasn't really an issue, though.
"When it came to the sprint, once in that last kilometre I didn't feel anything any more. The adrenaline was flowing and I was just super-concentrated on what I had to do. I was not concentrating on anything else, just making the right move at the right time. It was all about positioning myself and waiting for the correct moment.
"In the sprint itself, nothing was hurting except my muscles, and that is normal. It was only about 100 metres after the finish line when everything started hurting again. But it is worth that pain to have a stage win in the Tour de France."
In the past McEwen has often said that it is necessary to get amongst the placings on each possible sprinting occasion in order to maximise his chances of taking the green jersey. Had he not been in the points today it would have made a fourth maillot vert a considerably tougher task. Instead, winning the first stage of the 2007 Tour of Britain marks a perfect start to his campaign.
It also saw him equal Zabel's stage victory tally. He's not likely to linger on that fact, though. "The statistics are nice but it is not what I am concentrating on," he stated. "Okay, it is nice to have that number of stage wins overall in the Tour but I think the most important thing for me was to win at least one stage win this year. To have done that is great. Hopefully I won't have too much trouble with the injuries I have got and I can try to win again."