An interview with Chris Boardman, July 6, 2007
London's calling
London mayor Ken Livingstone, Chris Boardman, and Tour de France director Christian Prudhomme (L-R)
Photo ©: AFP Photo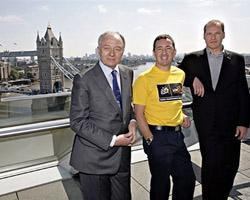 Chris Boardman stands high as one of Britain's most accomplished Tour de France competitors. Steve Thomas caught up with the retired cyclist as he prepares for the London Grand Depart, and three weeks in the commentary box.
When it comes to time trials, Britain's Chris Boardman didn't just master the rule book: he wrote it. What started with a 10-mile national Road Time Trial Council title as a schoolboy in 1984, was refined in to a World Time Trial Champion jersey a decade later, with a wad of titles and records in between. While some criticized the rider's lack of climbing ability, the dual Olympic medallist still has a that would make most envious.
In 1994, his world champion year, Boardman shot to instant fame with the fastest ITT on record before losing the yellow jersey after a disastrous Team Time Trial. With three Tour victories listed on an extensive palmarès, the commentator is enthused by the prospect of a fellow British rider taking out tomorrow's Prologue when the event makes its London debut.
"It's great, and it really shows that the development [of British riders] is working," said Boardman. "This is only the tip of the iceberg; there are lots of guys standing right behind these riders."
Of course, there are two British riders in particular that the local media is hyping for a Saturday stage victory: Bradley Wiggins (Cofidis) and David Millar (Saunier Duval). The two British heavy weights will likely be keen to impress on home soil, but Boardman believes conditioning will play the decisive role in the duo's hopes.
"I would say [Wiggins] has a one in five chance," he said. "One problem is that we know he has been on top form for a long time, which is worrying as you can't stay there forever. The other thing is that the pressure will really be on him, and he's already realising it.
"Take note of how David Zabriskie is starting to climb."
-Chris Boardman thinks an outsider could win this year's Tour de France
"At the Olympics he was one of a bunch of guys who could win, so it wasn't too much pressure," added Boardman, who claimed his own 4000m individual pursuit Olympic gold medal in '92. "Now it's his hometown and he is expected to win, and the Tour is always somewhat overwhelming. If he can keep his mind on himself and how he races, as opposed to the occasion, then he has a good chance."
Boardman rates Millar at an even remoter chance of taking the event-opening victory from the yellow jersey hungry peloton. Despite his wider odds, Boardman believes Millar could benefit tomorrow if he's finally reached his peak form of the season. "I think Dave has not had that form yet, which means he could be getting there," he cautioned. "He also has the experience of having done it before. I would say he has a one in seven chance of winning."
Unforgettable: After a strong Dauphiné Libéré,
Photo ©: AFP Photo

It's hard to have a conversation about this year's start in England without the name Mark Cavendish popping up. The 22 year-old Manxman has experienced a stellar season to date, having notched up a ProTour stage victory in the Volta a Catalunya, and Boardman believes there's a certain stage to Canterbury which has the T-Mobile rider's name on it. "Stage 1, Mark Cavendish! I really believe he can do it," signalled Boardman. "He's very confident, even arrogant at times - which is all part of the required make up.
"I think his big plus point as a rider is that he was never a fan - as I wasn't either," explained Boardman. "Has no heroes, doesn't collect autographs, and therefore doesn't worry too much about other riders. If he can overcome the immense pressure of the Tour then he can be there. Even McEwen often finds it difficult to get to terms with the whole thing for a few days."
With youngsters such as Cavendish showing their strengths, despite still being a neo-professional in the latter's case, Boardman sees his countrymen developing Tour victories into something even more special in coming years: general classification victory in the world's greatest race. "I think it's only a matter of time," he admitted. "As the system grows and we get more riders coming through I think it will happen. Geraint Thomas is a very interesting prospect: it will be interesting to see how he develops."
When it comes to picking GC favourites for this year's Tour, the response is generally either Alejandro Valverde (Caisse d'Epargne) or Alexandre Vinokourov (Astana). While many tip the latter for the yellow jersey in Paris, Boardman believes Valverde is the likely victor as Vinokourov lacks the tactics to claim the three week long race.
"I don't think Vinourikov can do it, unless he has totally changed," revealed Boardman. "He shows his cards too early, it just doesn't make sense. Cadel Evans and Carlos Sastre don't seem to have the right emotional make up - they showed last year that they are happy to race for second place. Michael Rogers, now he could do it, he has the right sense of calm, but he will have Klöden to contend with.
Boardman on his was to topping Belgian Eddy Merckx one-hour World Record,
Photo ©: AFP Photo

"There could be an outsider," pondered Boardman. "I wouldn't be surprised to see a rider who has been top ten before taking it, someone who has the experience and knows how to tackle it. And take note of how David Zabriskie is starting to climb."
As a passionate supporter of the sport, Boardman is hopeful the Tour doesn't unfold in a similar fashion to that of last year's race, when a surprise break, including eventual runnerup Oscar Pereiro, claimed 20 minutes over the peloton on Stage 13. "Last year was crazy, they raced like amateurs," criticized Boardman. "I could not believe they would allow a guy who had finished top ten to take 30 minutes. Then at the end they start spitting 'it's not my job to chase'. Ridiculous."
Boardman, who struggled to keep up with the peloton in the late '90s, threw his support behind the UCI's new doping charter, in a bid to clean up the sport. "I have been saying for years that the UCI have the power to, and should do something like this," he said. "It's quite simple; make the penalties so high that the risk is not worth taking, give the simple option of DNA testing if you want to race, or stay home. They have the power - and from what I've seen this is harsh, but seems to be what they are doing."
Boardman, not mincing his words, blasted claims that it's the UCI, race organisers and sponsor's responsibility to reduce the load on riders, which according to those which subscribe to the theory would remove the need to dope. "No, I think that's ****," he stated. "If everybody stopped doping the main difference would be that all of the races would be slower, which is not a problem.
"Sure, sponsors put pressure on riders to race more and more - we have a 12 months season now," he continued. "But if riders are not achieving results because they cannot recover then sponsors will realise and ease off. I was down to as few as 50 racing days some seasons, I just could not recover from more."
Jan who? The then Gam rider believes Ullrich, then T-Mobile,
Photo ©: AFP Photo

While the sport has endured a promotional disaster period since Operación Puerto broke 12 months ago, Boardman is hopeful that something meaningful will come as a result of the lost talents - including Jan Ullrich, Ivan Basso and others. "Ullrich, it's a shame a real shame - such a talent," he started. "It's been interesting to observe; it's hard to know what to think. Obviously it's not good for the image of the sport, but hopefully long term it will allow things to clean up."
Over the years Boardman won many time trials and prologues; but the Tour prologue was always his main objective. In fact, Boardman was the first rider to focus specifically on winning Tour prologues. "Until I came along nobody had really specialised in the prologue. I remember catching Luc Leblanc in the prologue - he was sat bolt upright on an alloy bike. I could not believe that riders were still setting up and changing kit on race day. That has all changed now, after all it's the chance of a stage and the yellow jersey, the most famous in the world."
Boardman has a multitude of memorable moments during his extensive career, in both track and road racing. One that ranks amongst the highest in many people's eyes was that famous crash in the '95 Tour's Prologue. "I truly believed at that time that I knew where the edge of the envelope lay, foolish!" confessed Boardman of his mistake. "Just weeks before that I had been attacking Indurain downhill in sleet; figuring that he was bigger than me and I could get away with it.
"I broke my ankle in six places as well as my wrist and nose," he added. "I also had another crash in the fog on a descent; those two incidents really changed me as a rider. I never pushed like that after that. I think at the time, in retrospect, that I could have done with some psychological help to recover."
While some touted the ITT master as a genuine GC contender in the French Grand Tour, despite Boardman's own objections at the time, it was never to be. Boardman simply lacked the recovery ability to win such an intensive race, he said in hindsight. "I honestly didn't know what I was capable of, so yes I really thought I could achieve more," he explained. "But the big thing was that I found that I could not recover every day and race like that for three weeks. I found what I was good at - basically riding a pursuit on tarmac. In '97, at the end of the season we sat down to plan for the following year, it was then that I realised we were planning to stand still, which was pretty well when I decided that was it."
In 1998 Boardman claimed the yellow jersey
Photo ©: AFP Photo

During his time at the top, Boardman's rivals included some of the best cycling has ever seen - Miguel Indurain, Greg Lemond and Lance Armstrong. Boardman, who knocked off Eddy Merckx hour record and held the title for five years, believes Indurain was the finest of his contemporaries. "Not only as a bike rider but as a person," declared Boardman of the man who beat him to ITT gold in Atlanta. "He was a normal down to earth and really nice guy, and no matter what he never lost sight of that. As a professional or course Armstrong stands out, a thorough professional."
Of all his vast array of achievements Boardman lists the Barcelona Olympics as not only the starting point, as he turned professional the following year, but in some ways the pinnacle of his career. Of course, the Tour also ranks highly on the lists. "The yellow jersey is the ultimate cycling accolade, and the hour record is something personal," he noted. "In '96 I had my best ever form, I'd struggled through the Tour, getting dropped after five kilometres of a 270 km stage, and had great form from it.
"The bronze I won at Atlanta in the TT was a real high, and the hour record I did that year was set when I was in my best ever shape," he added. "Put Armstrong, Indurain, anybody in their best shape there on that track and they would have a real fight to beat that - so that holds a very special place for me. The athletes record, sure I was the best I could be at the time, but way off my best, it was something of a swansong. In retrospect I should have used round tubes back in '96."
Since retiring from competition, following his emotional breaking of the "athletes" hour record, Boardman has been as busy as ever, and is currently heavily involved with the high-end development of the British national team. The development of cycling in Britain has taken huge leaps since Boardman's Barcelona success aboard the now-famous Mike Burrows-designed Lotus bike.
English Chris Boardman grimaces as his coach Michel Docok (L) looks at him
Photo ©: AFP Photo

Since that success in 1992, Britain has, thanks largely to lottery funding, gone on to become the world's leading track racing nation, and is finally starting to make inroads into the higher echelons of professional road racing. "We have to concentrate on the track, as that's where we are winning Olympic gold medals, and it's those medal that give us the funding for development," explained Boardman of the program which has produced riders like Cavendish and Thomas.
Rather like the original Australian Institute of Sport system, which was also heavily track-biased before managing to spread its wings thanks to slowly developing road results, Britain now has a base in Italy. "It's the ideal way to expose riders to international racing and living," admitted Boardman. "Initially it's aimed at the track endurance riders, but it is allowing us to develop those riders into road riders, and to gradually feed them in to the right pro teams."
That nurturing is something seen as very important to the 'overlords' at British Cycling; "We want to develop the riders and lead them in the right direction," noted Boardman of British Cycling's ambition. "With all of the doping issues we want to be as sure as we can to help them avoid those problems. The only 100 percent sure-fire way of doing that would be to set up a national Pro Tour team, and there has been talk, so maybe one day it could happen."
Something that would undoubtedly help such a cause is British victory on home soil on the sport's largest stage over the coming days.