An interview with Daniele Bennati, July 2, 2007
Gunning for green
Daniele Bennati (Lampre-Fondital)
Photo ©: Roberto Bettini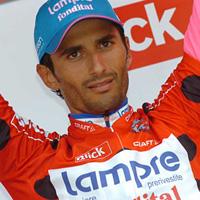 Daniele Bennati is a steadily rising force in the bunch sprints. The Lampre-Fondital rider has a string of important wins to his name and is ready to take the next step: a sprint-win in the Tour de France. Cyclingnews Gregor Brown spoke with the Italian while at home in Arezzo just over a week before the three-week French race's start.
Daniele Bennati is building for the Tour de France, having taken some time away from the bike after completing the Classics season. The 26 year-old proved he's back in-form with a series of second places at the Tour de Suisse, after recovering from an intestinal infection that hampered his spring campaign.
Bennati placed second in the Swiss Prologue, behind Fabian Cancellara (Team CSC), again on Stage 1, behind Erik Zabel (Milram), and a third time on Stage 5, this time behind Australian Robbie McEwen (Predictor-Lotto). The trio of top placings may not have been victories but the sprinter hopes they are a springboard for a first Tour stage victory.
"I think my condition is pretty good and I am recovering," admitted Bennati of his form. "I have had a couple of soft days [since Suisse] and this form should help me for [this weekend's Italian] Championships and then on to the Tour. My condition is pretty good."
"Certainly, I am not as explosive as he is. I think I am more like Petacchi."
-Bennati says he's more of a Petacchi than a McEwen
Three wins against Alessandro Petacchi, one of the few racers regarded as a super-sprinter, left Bennati full of enthusiasm early in the season. Despite battling with the intestinal problems he picked up victory on Three Days of De Panne's Stage 2 and helped Ballan win Ronde van Vlaanderen. While some would be disappointed after a triple bridesmaid finish like Bennati's Suisse campaign, he's just delighted with his quick return to the peloton's pointy end after a touch-and-go spring campaign.
"It would have been better to have a victory, but considering the problems I had before, I have come out of Switzerland with more confidence," he admitted. "I am content because I did not think that I would arrive at the front so soon. The victory did not arrive, but I felt good with my form."
One of those near misses in Switzerland was behind McEwen, an 11 time Tour de France stage winner. Bennati considers the Australian to be one of the strongest rivals he will face at this year's Tour. "The rivals will be McEwen, [Tom] Boonen, [Alessandro] Petacchi, [Thor] Hushovd... there will be a lot!" laughed the Italian.
Lampre's Bennati hopes his Swiss campaign
Photo ©: Roberto Bettini

While Bennati says his sprinting style is similar to that of Milram's Petacchi, who requires a lead out by a full complement of henchman, he gets by with a limited number of men. "I am not a sprinter like McEwen," explained Bennati. "Certainly, I am not as explosive as he is. I think I am more like Petacchi. I think that Petacchi's sprint is very similar to mine. If possible, I would like to have the men at my disposal like Petacchi does but it is not easy to have a team built around you like that."
While Lampre-Fondital's full tour roster hasn't been released yet, Bennati is counting on four trusted mates for the hectic final lead-outs. "At the Tour there will be Ballan, [Claudio] Corioni, [Fabio] Baldato, and [Massimiliano] Mori," he said, before showing his desire to put runs on the board for his Italian squad. "Then in the other stages I will help out the team."
Bennati crashed out on Stage 16
Photo ©: Roberto Bettini

Bennati hopes a steady ride could launch hime into the green points jersey potentials, with the likes of McEwen. Last year a crash on the Col du Galibier descent ousted Bennati, but this year he hopes to fight on the Champs-Élysées with the Maillot Vert on his back. "I will certainly try for the green jersey," he declared. "I think it is a possibility, I hope. It will be very difficult but it is an objective.
"Definitely I just want to win a stage, it does not matter which stage," he continued. Bennati has come close to said accomplishment before, having arrived second in 2006's Stage 6 and third in Stage 3. "However, I think that this Tour will be very difficult for the sprinters with respect to last year," he added. "I have seen some stages on the internet. I have been inspecting the parcours to see where my possibilities lie. There will be lots of possibilities for me."
Bennati would like to add the London Prologue victory to that which he won in Switzerland. "I think to win will be difficult but it would be enough if I arrive in the first 10," said Bennati. "I will try to save as many seconds as possible and then try to do well in the following stages and, who knows, maybe I can arrive in the yellow jersey. I have not had the occasion to see the actual course in London but I have been studying it on the internet.
"I have never been to England," added Bennati. "I can speak a little bit of English but I really need to improve. I would like to learn to speak very well."
While he would have liked a win, Bennati was pleased
Photo ©: Roberto Bettini

The rider's wife, Chiara, visited Bennati at the Ronde van Vlaanderen in April, but wont be making the trip to London. "She will not be there at the start but I think she will wait for me in Paris," he reported. "The fans are always out in France and it really lifts your morale to race. It is always beautiful to race in France.
"The pressure does not bother me and, in fact, it gives me motivation," he stated of racing in front of the large crowds. "I have more bravery when there are more fans watching, on the road and on TV."
With the right timing Bennati could add his name to the list of sprinting champions that have etched their names into the Tour de France's history book. "I remember the sprints of Jalabert and Museeuw, and Cipollini," reflected Bennati. "A lot of the other greats too. Erik Zabel, who has won the green jersey so many times at the Tour. It is a pleasure to meet and ride next to these great champions."
Lampre-Fondital has already announced Damiano Cunego's absence from the Tour, which could afford Bennati more men for his sprint. Last year in his first Tour attempt, Cunego secured the young riders' Maillot Blanc. "Surely, he made his decision at the beginning of the year to do the Giro d'Italia and then he just finished the Tour de Suisse," speculated Bennati of the 2004 Giro d'Italia winner from Verona. "I believe that in the future he can also do well at the Tour, I am sure of it."
Tour favourites
There will be more than just results on the line
Photo ©: Roberto Bettini

Like most within the international cycling ranks, Bennati named Alexander Vinokourov as the man to beat in this year's Tour de France. "After him I think that Vladimir Karpets will make a good race," he added. "He went really strong in Suisse. Then there is Andrey Kashechkin, he is going really well."
His awareness of the overall contenders shows Bennati keeps tabs on more than just his sprinter rivals, and also displays his passion for the sport as a whole. "Then there is Christophe Moreau, who won Dauphiné," he continued, assessing the potentials for the three week event. "Alejandro Valverde, Andreas Klöden too - but I suspect he will have to help his teammate Vino."
Bennati will be racing for more than his debut Tour de France stage victory in July, he also has his future to consider. At 26 years of age, Bennati should have a plentiful career ahead and with his contract expiring this season, will be considering his options. "I don't know yet, I will decide after the Tour," he said of his future. Bennati added that he isn't sure if he will actively pursuit teams or not, joking: "I hope that they come and talk to me! I don't have to stay with an Italian team, but it would be nice. I think that there are only two possibilities in Italy, Lampre or Liquigas. At Milram there is Petacchi. But who knows.
"At the Tour it will be a chance to talk with a few foreign teams," he added. "It would be a great pleasure to stay in the same team as Ballan. It will not be easy, but I hope to stay on the same team. I know that he will face the same decisions and I hope we can get on the same team."
For more on Daniele Bennati read Cyclingnews' April interview, Sprinting with confidence.