An interview with Jonathan Vaughters, July 19, 2007
Slipstreaming with Le Tour in sight
Jonathan Vaughters will step up
Photo ©: Beth Seliga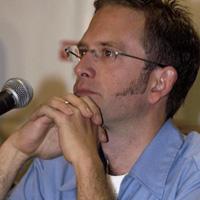 Every year during the Tour, rumors begin to fly about riders talking to other teams, teams courting certain riders and contract signings taking place. One team that is new to this scrum is the American-centred Team Slipstream, headed by former professional Jonathan Vaughters. Many of the rumors of late have involved his team which has stated all along that the goal is to make it to the ProTour by 2009, so targeting high-profile riders now makes sense. Cyclingnews' North American Editor Mark Zalewski spoke with Vaughters from his team's base in Europe about his team's future and about some recent revelations in the sport.
Four years into the project of building an American team with a core of American riders to race at the highest level of cycling, it seems that Jonathan Vaughters has the train on the right track - despite the sport doing its best to derail itself over the past few years. In 2007, his team has successfully made the transition to racing equally in North America and Europe, including securing invitations to high-level events such as the ProTour race Volta a Catalunya and the Route du Sud, in which they finished with a rider 15th overall.
The next step, it seems, is making moves to bring in the big guns for 2008, in an effort to raise the level of the team to compete on the sports biggest stage, the Tour de France. "2008 is going to be a very transitionary year, we are going to have some very high-profile riders and we are going to gun specifically for the Tour de France," said Vaughters. "We have been very careful in who we hired to make that happen and we are going to have to perform very well in a very French calendar in the early part of the season to actuate that as well."
Of course, rumors of who he is looking to sign, or has signed, have been circling for some time now. But Vaughters is not one to play that game. "As we call it, [the team is] the ethical development of American cycling," he said. "And you have to be ethical across the board, like not announcing the guys who have signed for me before September 1, unless their team directors give permission."
"We have a great relationship with the ASO and they are very interested in increasing the notoriety of the LeTour brand in the US."
-Jonathan Vaughters is hopeful of a Tour de France wildcard in '08
While not naming names, Vaughters did confirm that he has contracts in place already. "I have signed a lot of very high-level riders," he said.
However, Vaughters did dispel one rumor outright, of trying to buy-out an existing team's ProTour license. "That is not even a consideration," he said plainly. "I haven't even examined how that works. We had a great meeting with Pat McQuaid and the head of the ProTour and asked them what they think the best thing for us to do is. They basically said it's a mistake to grow a team too fast, and if you have a relationship with the ASO then it is better to wait one year and transition to how the logistics work at that level. Just stay focused on getting into that race, first of all, and second actually racing in it."
'Lance, I diagnose the Tour needs more successful Americans, are you free next July?'
Photo ©: AFP Photo

"But 2009 for sure, we will do everything we can to get a ProTour license," he added. "[For 2008] we are very intent on garnering a wild card invitation to the Tour de France. If something for the Vuelta or the Giro fell our way that would be nice, but our team is not ready to compete in three major tours, not until 2009."
"We have a great relationship with the ASO and they are very interested in increasing the notoriety of the LeTour brand in the US," said Vaughters. "They realise there is an interested affluent fan base in the US that they want to access, so they look to us form some ideas on how to do that. We have had good talks with Patrice Clerc and Christian Prudhomme, but does that mean we will get an invite to the Tour if we stink it up in the early season, no. We have to prove ourselves worthy, but the ASO likes our project and we like their bike race."
Returning to not naming names for next year, one can probably make some educated guesses as to who Vaughters is looking at. "I am talking about what the team is for next year, what the core fundamental of the team is - that it is an American team with a base of American riders," he said. "We are going to be continuing with at least 12 to 15 of the guys we have this year. They will be the core, not necessarily the stars, but the core. We are proud that we have gotten them to the point where they can handle the high level of racing we are going to be under."
"It's a team founded on the idea of perfection in the process," he explained. "Even ideas that end up not working or are goofy, just trying everything possible to really perfect the process of performance, but never demanding perfection in the final results."
Perfection in the process
Saunier Duval's David Millar is one rider rumoured
Photo ©: David Reinhardt

This is the mantra by which Vaughters operates his team, and he says it works well in things like fighting doping. "You have to pound it into the heads of your riders that we would rather have you finish ninth and not dope than have you win and dope," he said. "You have to say that over and over again, and you have to prove that you mean that when they don't perform or win that you are still supportive. As soon as you get into that win, win, win, win, win mentality, whether or not you want it, you are going to start pushing the doping mentality."
"What everyone needs to realise is that you can demand absolute perfection in the process - training, nutrition, equipment, staff, everything - and push as hard as you want to in the process, but the final result you have to accept what it is, no matter what," he added. "As soon as you move away from that and demand perfection in the result and not the process, you are right back to square one."
The system works
In light of the positive A sample by Patrik Sinkewitz, some people will understandably wonder why a rider on a team that openly tests its riders would turn up positive. However Vaughters, whose team is one that is at the forefront of self-testing, says that this is a perfect example of the system working as it is designed.
"If T-Mobile was doing an anti-doping programme then how could this positive test have slipped through the cracks?" he asked rhetorically. "With any sort of profiling programme like we have, or they have, or CSC has is that it works in conjunction with an enforcement programme. It isn't that it slipped through the cracks, the system worked properly. Just because you are doing an anti-doping programme doesn't mean that someone won't test positive."
Vaughters says his riders actually like this year's kit,
Photo ©: Jon Devich

"There is this idea that if you are doing an anti-doping programme there is no way that any of your riders will even think about doping," he continued. "Sadly that isn't true, but what is true is that the two systems work together to keep anything from slipping through, which is evident by Sinkewitz getting caught. It means the system is working properly. I hope people don't start saying that the anti-doping effort is not working. I am supportive of Bob Stapleton and I hope that programme continues."
Vaughters explained that the system is a cooperative one, with the team focusing on blood profiling to ensure their athletes are healthy enough to race and to detect blood doping, and organisations such as WADA testing to cover the other areas. "Here are scenarios where if one of our riders took testosterone in very small doses for only one or two days, it could slip through a profiling programme, because you are only looking for differences that are significant enough to actually increase performance and eliminating that rider before competition. At the same point in time this is why WADA and the UCI do out of competition testing, so seal up those cracks. Whereas with blood doping, where there isn't an effective test for blood transfusions, with profiling you can get a real strong idea if someone is blood doping."
The testing system has been a benefit for Vaughters in securing talent for next year's team. "The reaction is, most of the guys who have signed have said it is wonderful that I am going to be able to prove to my fans that I can do well totally clean," he said. "And I am going to be able to give them evidence. It is going to be totally transparent next year - if you ask me for the blood tests of someone the day before he wins a race, I'll give it to you. They are happy to be able to prove that to the world."
"They are not interested in the team unless they are okay with [testing]," he added. "That is just very apparent from the exterior. They are not going to be knocking on my door if they don't think they can race successfully at the highest level of the sport clean, then I am not hearing from them."
Doug Ellis is Team Slipstream's owner
Photo ©: Beth Seliga

A hurdle in signing riders that may be bigger than testing is the argyle team kits for this year. "It's funny, most of the guys actually like it! And the uniform is going to much bolder next year," cautioned Vaughters. "We are going to do some colours that are... this year was argyle, but the colors were subtle. Next year is going to pop! The argyle is going to be in the tradition of great Scottish warriors!"
Also regarding next year's kit is who will be featured on it. "As of today it is still going to be called Slipstream," he said. "We are ahead of where we were last year for sure. We don't have a title sponsor signed but we do have some of our current sponsors and new sponsors that are coming in at higher levels. We hope that some day someone will step in with four-five million dollars to be the title sponsor. But if they don't we will piece together the smaller sponsors and Doug [Ellis] has committed to cover the rest. We will go for the next two years full steam no matter what."
"But if you are a company that is interested in giving a shot to a real American team to go to the Tour de France next year, we are all ears!" laughed Vaughters. "We are a great deal too because since we put together such a good foundation of smaller sponsors, we don't need a sponsor with 10 million dollars to cover the team. We are an economical Tour de France team which is something I am proud of."
As a former racer in LeTour, Vaughters has some insight into who will win this year. But like the rest of us, he initially responded with sigh of uncertainty. "From what I saw yesterday, Contador is going to be good in the Pyrenees," he said. "And he is a reasonable time trialist from what I've seen. Right now you have a three-way battle between Kloden, Rasmussen and Contador with Moreou there as a wild card. In the Pyrenees he will suffer but will have age on his side for the time trials."