Recently on Cyclingnews.com
An interview with Christophe Moreau, June 25, 2007
Moreau hopes for spotty Tour
Christophe Moreau (Ag2r Prévoyance)
Photo ©: AFP Photo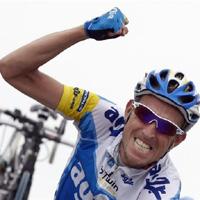 Christophe Moreau is much stronger for winning the Critérium du Dauphiné Libéré this year than when he won the French event for the first time in 2001 by a single second from Russian Pavel Tonkov. For many years he has been France's main hope for a spot on the final podium of the Tour de France, but now he'd be happy with shining as the king of the mountains, he tells Cyclingnews' Jean-François Quénet.
It's been 10 years since any Frenchman finished on the final podium of the Tour de France. Yes, the last one was Richard Virenque in 1997 and the recent revelations, in addition to the Festina affair, have made clear that cycling in the mid 90s didn't have much in the way of credibility. No Frenchman has won the Tour since Bernard Hinault in 1985 - that's over 20 years France has gone without a local success in its own hallmark event.
Results from the Dauphiné however could suggest that Christophe Moreau (Ag2r Prévoyance) is able to produce a good final result, especially in the post-Armstrong era. Without the likes of Jan Ullrich, Ivan Basso and Floyd Landis, all gone because of their alleged connections with doping, one would think Moreau stands a chance on general classification. But Moreau is 36 years old and in his 13th season as a professional cyclist. While he's not exactly the up and coming champion highly expected in France, he's definitely the best Tour de France rider the country has to offer.
"I enjoy being encouraged. It thrills me. I make people dream, I give emotions to the fans because I'm a Frenchman, so I'm prepared to take it seriously and profit from it."
-Christophe Moreau speaks passionately about his home Grand Tour
He was probably inspired by last year's story of Caisse d'Epargne's Oscar Pereiro claiming the yellow jersey during the race and finishing second in Paris. Pereiro had declared prior to that, at a gathering of athletes from different sports in the Alps: "I'm not going to ride for GC anymore, I'll lose half an hour on purpose and I'll go for a long ride away in a mountain stage, alone in front of the fans. That's the feeling I'd like to experience again before I conclude my career."
While Moreau would love the yellow jersey
Photo ©: Luc Claessen

As every year, the Swiss residing Moreau skipped the early part of the season and started performing at the Tour of Catalunya, where he finished fourth in May. In a pre-Tour de France training camp in the Alps, Moreau impressed his Ag2r teammates by how strong he went in the mountains. At the Dauphiné, he hoped to win a stage and he didn't wait longer than two days before doing so. The way he rode to Saint-Etienne revealed a new Moreau - he dared to attack where nobody expected him to do so. He didn't mind having companions sitting on his wheel. He accepted the idea that José Redondo was only in the front with him in support to his Astana captains Alexandre Vinokourov and Andrey Kashechkin.
"I'm generous in life, I'm generous on the bike," smiled Moreau. When he joined Ag2r 18 months ago, he invited all of his new teammates to a dinner in a restaurant. Moreau likes to be loved. "For 13 years now I've given a lot to the sport of cycling without necessarily becoming as popular as Laurent Jalabert or Richard Virenque," he told Le Dauphiné. "I like to hear my name on the roadside a lot. I enjoy being encouraged. It thrills me. I make people dream, I give emotions to the fans because I'm a Frenchman, so I'm prepared to take it seriously and profit from it. Cycling is a fabulous, but difficult, sport. When I hear my name in the climbs I'm driven."
The 36 year-old celebrates
Photo ©: Luc Claessen

He was driven in the Dauphiné's Mont Ventoux Stage 4 for sure. After winning in Saint-Etienne Moreau said "anything else would be bonus," but it was just the beginning as he continued on to take another stage victory on Stage 4, before sealing the General Classification victory in Annecy. "Winning two stages, including the Ventoux, plus GC and having such good legs for the whole week - I would have signed up for that before the Dauphiné!" said a clearly delighted. "I think I'm at the peak of my career - it's pure happiness. I haven't always been regarded as a fine tactician. Above all, success in cycling is in the head, secondly it's in the legs."
However, the legs he had in the Alps during the Dauphiné might be helpful when its time to climb La Colombière on Stage 7 of the Tour de France on Bastille Day. It makes sense to bet on Moreau that day, the first of the mountains stage. "French medias announce me as a candidate for the final podium of the Tour or even like a potential winner," reported the slightly surprised Frenchman. "I actually thought my fourth place overall in 2000 was the best I could do. This year, I'd really like to get the polka dot jersey - it's a very popular one to wear. I want to experience great feelings in the mountains. Maybe I wasn't aggressive enough in the past."
Moreau with his podium girls,
Photo ©: AFP Photo

"For the overall classification, I'll stay focused during the first week of the Tour," he added. "I'll take the first conclusions in Tignes during the first rest day. From there on, I'll see if it's reasonable to target the podium or not. If I feel that I'm able to go for it, I'll do my best because a spot on the podium in Paris has always made me dream."
Moreau doesn't need distractions anymore. Aged 36, he's stronger mentally now than ever before - part of which comes from wife Emilie, who was a hostess at the Tour de France. She gave him the yellow jersey after the prologue in 2001.
Two months ago the pair had their first child - a baby girl called Margaux. "Like the Château Margaux," explained Moreau, who has another passion in wine tasting. "I started my cellar seven or eight years ago. Some friends initiated me and I love it."
French fans would be delighted to see Moreau enjoy a Château Moreau grand cru at the 2007 Tour de France.