An interview with David Zabriskie, July 6, 2007
Quietly moving forward
US TT Champ David Zabriskie (Team CSC)
Photo ©: Sirotti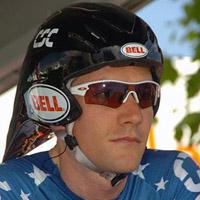 David Zabriskie got the confirmation of his participation in the 94th Tour de France last week. The American, who briefly held the famed Maillot Jaune in 2005, took time to talk with Cyclingnews' Gregor Brown the day before his flight to London for this year's Grand Départ.
David Zabriskie has been quietly building towards the 2007 Tour de France with his training mates, including compatriot and Tour teammate Christian Vande Velde, at home in Spain since the finish of the Dauphiné Libéré. "I have been taking it easy this week with training," noted the 28 year-old.
Many might expect a rider like Zabriskie, who won the 2005 Tour opening time trial and wore the Maillot Jaune for four days, would be getting a little nervous for his return to the world's largest race, but instead he's calm, and well organised with his program. "I have done a couple long but easy rides to just spin the legs fast," he explained in a soft voice. "Thursday and Friday we have sponsor things - medical checks, and all that stuff."
The winner of the opening day two years ago has not yet tested the opening route in London. "I hope to see the course [on Saturday before the late prologue start]," he said. "I will ride it as many times possible. Dave Millar told me it has maybe one turn where you will have to feather the brakes a little bit, but other than that there are wide-open boulevards and it is pretty straight forward."
"I am a selfless rider at this point and I have no aspirations other than to help those guys."
- Zabriskie is happy to ride for Schleck and Sastre
When the Team CSC rider spoke with Cyclingnews last, he had just signed the UCI riders' agreement, but wasn't at that point sure of his Tour selection. "I was happy," said Zabriskie of his selection, despite being confident he would get the call up. "Just to know one way or another. It is stressful to sit around and wait."
Last year saw Zabriskie pull off two ProTour stage wins at the Dauphiné Libéré, utilizing his time trial strength in the Prologue and Stage 3. On the other hand, his 2007 campaign at the French race was quiet but overall more impressive. "I didn't have the stage wins [as in 2006], but I am happier with this year's results," he declared. "Last year the stages I got were the time trial and prologue. Overall, I just feel better. [This year] I got third in the Time Trial, but I don't think I lost a whole lot of time. For me 2007 was a big step. It was the first time I could ever stay with those guys [on the mountain stages]. I have not become a pure climber type of rider but, yeah, I am getting better."
As in 2005, Zabriskie contested the three week long Giro d'Italia, where he finished 58th. "I think that, judging from 2005 when I did the Giro, it was good for me," he explained. "But the difference was that I did a training camp instead of a race [in June]. However, I think it was easier to do a race than training camp...now I have done both."
Zabriskie only has one task at this year's Tour: to be a mountain domestiques for Fränk Schleck and Carlos Sastre. "That is all they want," he said, referring to Team CSC's directeur sportifs. "I am a selfless rider at this point and I have no aspirations other than to help those guys, that is what they have asked me to do and that is pretty much what I have in my head. If an opportunity arrives [to win a stage] then it is a bonus, but I am fine just being a team player."
Zabriskie's sole roll
Photo ©: Sirotti

The stage that is ringing alarm bells for Zabriskie is first stage after the initial rest day - the 159.5 kilometre Stage 9 from Val-d'Isère to Briançon. "That day starts with the Telegraph and then the Galibier," he started. "It is never fun to start out the day on a climb. I wouldn't say that would be scary, but not fun."
Pundits doubt if Schleck or Sastre can achieve the top spot on the Paris podium, but Zabriskie points out the entire team is behind the overall classification drive headed by the Luxemburger and Spaniard. "At this point we are all committed to Fränk and Carlos," declared Zabriskie. "The race has to get underway and we have to see how those guys are going, however right now the plan is that we are there for them.
"Last year Fränk finished 11th," added the American. "He should be able to repeat that with a top-ten or top-five. Carlos has the experience. I have not raced with him since Romandie, I have not talked with him or seen his form lately so it is hard to say."
Zabriskie watched Fränk's younger brother Andy rise to second overall and take the Maglia Bianca young rider's jersey at the Giro d'Italia. "I heard Fränk got emotional and that he was happy for Andy, I heard he even cried a little bit," said Zabriskie. "[Andy's ride] was amazing, it made my Giro more exciting. He is a cool kid.
"They are both are really good," added Zabriskie. "Fränk is always saying while training 'Andy is so strong. Really, he is so strong!' He is very strong and I think his biggest strength is that he is so stress free. He is like a happy-go-lucky kid right now who is just having fun racing. To get second in the Giro is impressing, but Fränk has also done amazing things." Fränk's palmarès includes victory in the 2006 Amstel Gold and the Tour's Stage 15 to Alpe d'Huez last year.
Zabriskie believes his Dauphiné Libéré campaign was better than last year's
Photo ©: Sirotti

Recently the Tour organizers announced that there would not be no dossard [number] one at this year's event, making the cycling community reflect on last year's event race and the absence of Floyd Landis this year. "I talked to Floyd two weeks ago, or maybe it was the day before he released his book," said Zabriskie, who is close friends with the embattled rider. "We were just chatting and catching up. I had not had a chance to talk to him since the Tour of Georgia.
"I have been thinking about him going into the Tour, though on the phone we did not really talk about racing - he seems happy," reported Zabriskie. "I have no idea who the next American could be to win the Tour. I have to get back to America and take a look. I think Belgian Noel Dejonckheere [head of US Development team in Belgium - ed.] would be the guy to ask."
With Grand Tour experience under his belt, Zabriskie is undoubtedly better prepared for what lay ahead than some of the youngsters lining up in Britain this weekend. "What I have learned is to try to relax as much as possible," he explained. "In that first week there are basically sprinters' stages, you have to be careful that a huge group does not get up the road but the stages are usually predictable. The sprinters' teams work together and it comes to a sprint. It is just staying heads-up and relaxing at the same time.
"Crashes do happen and there is not a whole lot you can to do to avoided them," he confessed. "Just try to make it to the hotel and try to relax."
Even at the pointy end of cycling's professional spectrum, the athletes still share rooms with one another, something Zabriskie describes as unbelievable. The practice increases the risk of contagious illness being spread, something teams wish to avoid particularly at the Grand Tours, but there's few alternatives available due to the magnitude of resources required to host such an event. "I think in the Tour I will be rooming with Christian [Vande Velde]," noted Zabriskie, before pointing out the positive side of sharing. "It is good if whomever I am with wakes early because I like to wake up early. Christian will get up early and have coffee, so that will work out nice."
Could we see Zabriskie return to the yellow jersey?
Photo ©: Sirotti

Both Americans will be looking for a new team or to renew their contracts with Team CSC for 2008. The Tour is often a time of negotiating for the following year, and thus also a good opportunity to display your worth to any prospective employers. "It seems to be a time to do it," he admitted. "Might as well, they are all there. I have not been thinking about it too much and I have just been focusing on race. Sooner or later I will have to make a decision."
Vande Velde is a good friend with Jonathan Vaughters, who is reportedly ramping up his Professional Continental Slipstream-Chipotle team for 2008. "Vaughters has done a great thing with the young American guys, I think he is definitely going in the right direction," Zabriskie noted, before outlining he could be interested in riding for his countryman's team. "Yes, it is possible. It is something I have to think about pretty seriously."
At 28 years of age, Zabriskie has plenty of racing years ahead of him and will need to find a team that fits with his development and career goals. "At this point I think that one-week races are more feasible for me but I will not count out the possibility of three-week races," he said. "You know, I am developing. I felt more balanced [this year]."
Zabriskie's wife Randi has seen him grow as a cyclist over recent years, but there's no plans for growth in the Zabriskie household in Girona, Spain, just yet. "There is quite a baby boom going on here in Girona but there is nothing coming immediately for us," he commented.
The duo is comfortably settled in the city just north of Barcelona, and it could be home to the Zabriskie family for many years to come. "I would consider staying here," he stated of retirement plans. "I like it here. I have to learn the language a little more but I like it - I took Spanish in junior high but I had bad teachers."
For now, the Spanish lessons will have to wait. In less than 48 hours time Zabriskie will line up against the cream of the world's top professional cyclists for the sport's most prestigious and grueling event.