Tour de France News for July 25, 2007
Edited by Laura Weislo
Tour de France responds to Vinokourov disgrace
Vows that the show will go on
Tour director Christian Prudhomme speaks
Photo ©: Sirotti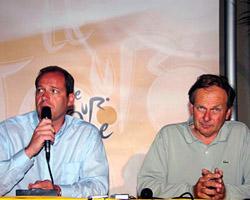 When Tour de France officials were informed of Alexander Vinokourov's positive test control for a homologous blood transfusion resulting from a post-stage 13 blood check, they responded by asking the rider and his team Astana to leave the world's biggest bike race. Cyclingnews' Gregor Brown was in Pau to capture the responses from Tour director Christian Prudhomme and ASO President Patrice Clerc.
Alexander Vinokourov staged one of the Tour's most surprising comebacks when he recovered from a disastrous first half of the Tour to win the stage 13 time trial in Albi. Coming into the day over eight minutes down on GC, his dominating victory had fans going wild over the teal blue clad rider who had clawed his way from 18th overall back inside the top ten as a result of the win.
When 'Vino' cracked in the Pyrenees on stage 14 and lost more than 29 minutes and then rebounded on Monday's stage 15 to Loudenvielle, where he made the early break and then stormed away for another stage win, his fans and team were elated. But dark clouds quickly formed overnight when the Kazakh rider got the results of a blood test taken after his time trial victory which showed evidence of an illegal blood transfusion.
A counter-analysis is expected by Wednesday, but the Tour took no time in asking the Switzerland-based team to go home. Vinokourov, as well as team-mates Klöden, Savoldelli, Kashechkin, Ivanov, Navarro, Colom, Rast and Iglinskiy, will not start on Wednesday when the Tour departs from Orthez.
Coming up on
Cyclingnews will cover the 60th edition of the Dauphiné Libéré live as of stage 4 on Wednesday, June 10, at approximately 15:00 local Europe time (CEST)/ 23:00 Australian time (CDT)/ 9:00 (USA East).

WAP-enabled mobile devices: http://live.cyclingnews.com/wap/

"I was told by [Astana's General Manager] Marc Biver that Alexander Vinokourov had tested positive after a blood test following the time trial. I asked Marc Biver that the team leaves the Tour de France and he accepted," said Clerc to a room packed with journalists.
The news hit the French Grand Tour like a bag of bricks and some people speculated that organisers of the Tour, the Amaury Sport Organisation (ASO) would decide to stop the show. Clerc and Prudhomme both gave a strong statement to the contrary and insisted that the fight against doping won't stop, even if it has to be improved.
"I have never thought to stop the Tour," stated Clerc. "I said to Prudhomme that we have started a war against doping and unfortunately in wars there are losses, but it is out of the question to stop, we must go on." Prudhomme agreed, even if this is yet another dark event to rock the Tour in his second full year of tenure.
Millar speaks out on Vinokourov
David Millar (Saunier Duval)
Photo ©: Gregor Brown

The news broke of Alexander Vinokourov's positive test control for a homologous blood transfusion while David Millar was with his Saunier Duval team during a press conference. The outspoken Scot has served his time due to a past admission to using EPO, and he was very critical of 'Vino' and of the UCI's current system, although he noted that cycling is catching cheats. Cyclingnews' Gregor Brown was in Pau during the Tour de France's second rest day when the news broke.
"That is a surprise. I don't know what to say," a shocked Millar stated when he heard of the news of Vinokourov test result and that Team Astana had pulled out of the 94th Tour de France. "Vino is one of my favourite riders. He is a guy of class. Given what we have done, with our current situation, we may as well pack our bags and go home." After minute of reflection, he clarified, "No, I don't believe the Tour should stop here. We are 40 years after [Tom] Simpson's death and the Tour still goes on."
The 33 year-old Kazakh was the winner of the stage 13 time trial in Albi over Cadel Evans as well as Monday's stage 15 to Loudenvielle before the blood control, which was taken after stage 13, showed evidence of a homologous blood transfusion. Vinokourov was quickly suspended by his Astana team which then withdrew from the Tour on a strong suggestion from the ASO president Patrice Clerc.
Millar expressed his disappointment in the news, and of the state of the sport."We have given the benefit of the doubt for a while, we really have," he commented. "A lot of people were given the benefit of the doubt and I think the benefit is now over."
There is infighting in cycling with different associations not being able to agree on which direction to take in the fight against doping. Even on the Tour's rest day there was an announcement of a new formation, the Movement for a Creditable Cycling (MPCC).
"That is true, there is no cohesion," continued Millar. "I think, if there is one thing, I try my best not to critique the UCI. But, I am going to critic the UCI today, and say that they have to pull their finger out and get their controlling system properly sorted out.
Astana hotel searched
French police allegedly searched the Astana team's hotel in Pau on Tuesday after news of Alexander Vinokourov's positive doping control for blood transfusion was released, according to Reuters. Police reportedly showed up at the Hotel de la Palmeraie in Pau with large bags and searched the team's rooms and garbage cans in the area. The hotel was also housing the French Ag2r team.
News of Vino's test ripple throughout the sport
By Susan Westemeyer and Laura Weislo
The news of Vinokourov's positive test drew strong reactions from the rest of the cycling world, from riders, team directors and fans alike, and could very well put sponsorships which are hanging by a thread to an end. T-Mobile is expected to announce its decision on whether to continue to support that team next week, and it remains to be seen if the sport's general managers will be able to successfully spin the event into a positive light. The first reactions, however, were decidedly dreary, while later reactions revealed a glimmer of hope.
Eric Boyer, Team Manager, (Cofidis):
"I feel sick. I hope that Vinokourov won't be a coward and deny everything. He said that he worked with Ferrari just for training plans. He always told us what a brave guy he is, that he is stronger than the pain, that the French ride behind everyone else because they are lazier. Now we see that he is a big bastard. These practices discredit all of cycling again."
Linus Gerdemann (T-Mobile Team):
"This is naturally very bad and I feel like Vinokourov has made a fool of me, but it shows that the controls work."
Jonathan Vaughters Team Manager, (Team Slipstream):
"If you declare war on doping there will be some casualties. Sinkewitz and Vino are both signs that the UCI isn't pulling any punches. Maybe its further damage to the sport's reputation, but it serves to clean it up.
"It's very good news for young riders. If people really want clean sport, this is what has to happen. The majority of the riders have cleaned up, so the few who persist are not trying to even the playing field, but instead are trying to cheat. They stick out like sore thumbs these days, and the UCI knows who they are.
"Anne Gripper, the new head of antidoping efforts at the UCI is a smart and tough Aussie lady. She will get the job done, no matter how much pain it causes, so my advice is to not mess with her. Nature culls sick herds of animals. Cycling is just going through a natural culling....sad to say, but true. The riders and teams that have chosen to be clean will survive this. We will too."
More reactions
The German media were quick to get reactions regarding the positive test from German Tour hopeful Andreas Klöden's team-mate Vinokouorv. Radsport-aktiv.de, hosts of the Astana fan site provided some of the more emphatic reactions.
Rene Haselbacher (Team Astana):
"I am overwhelmed and absolutely shocked. I can't say any more. We will still start the Sachsen Tour."
Marc Madiot (Team Manager, Fdjeux):
"A surprise? Not really!"
Theo de Rooij, Team Manager, (Rabobank):
"It is amazing, how the results of doping controls are unpacked for the press. That was the case at the Giro and now it goes on that way. It is especially the French press, which has a very aggressive attitude."
Roger Legeay, Team Manager, (Credit Agricole):
"What a shock. That is unbearable. Where do we go from here?
Jens Heppner, Team Manager (Team Wiesenhof):
"I don't know what to say," Heppner told the Associated Press. "How can you do something like that today. Vinokourov doesn't really need any more money or fame. It only makes sense that the team leaves the Tour. Vino was always the leading figure, who brought on virtually all the sponsors. I find it too bad for Klöden, although he wouldn't have been able to win the Tour anyway. So the team's decision isn't so hard for him." He added that other doping cases may come to light. "It is still possible that more cases will be presented in the next few days. I wish the best for cycling, but it wouldn't surprise me."
Blood transfusion confusion
Homologous, autologous, heterologous - the tongue-twisting medical terms that have become a part of sport are not just hard to read because of the all-too-frequent depressing doping news, but because they cause confusion over what exactly these riders are alleged to have done to themselves. News of Alexander Vinokourov's positve test for blood transfusion carried the term 'homologous' along with it, causing some confusion over whether he is alleged to have infused blood taken from another person or if he'd stored up his own blood and re-infused it along the way.
It's the same confusion we encountered after news of Tyler Hamilton's positive result in the same type of analysis back in 2004. Homologous transfusions are the transfer of blood from another individual of the same species. Autologous transfusions refer to the transfer of one's own blood, while heterologous transfusions would refer to transfer of blood from another species.
While homologous transfusions have been detectable by antidoping testers since 2004, autologous transfusions are much harder to spot. Last year's Operación Puerto scandal made it clear that autologous doping is a widespread practice in the sport when hundreds of bags of banked blood were discovered in a Madrid clinic. Blood transfusion is believed to have gained a resurgence in the sport after WADA put in place enhanced tests to detect the banned blood booster EPO.
Teams unite to form 'silver lining'
By Brecht Decaluwé in Pau
Hours before the 'Vino' bomb hit the 2007 Tour de France with news of a positive doping control from one of the sport's biggest names, it became clear that every cloud has a silver lining. Following a meeting in London on July 5, seven teams decided to form a new union called the MPCC (Mouvement pour un cyclisme crédible): AG2R, Agritubel, Bouygues Telecom, Cofidis, Crédit Agricole, Française Des Jeux and Gerolsteiner. The teams united in a reaction against all the doping problems that cycling is currently encountering. For an unknown reason the T-Mobile team, which was present at London meeting, didn't show up during the meeting in Pau, so they are currently not part of the MPCC.
To assure their credibility, the MPCC has bundled a number of measures. They will strictly apply the Ethical Code of the UCI Pro Teams and the internal Code of the UCI Pro Teams. The members will immediately sign - without terms - the letter 'UCI for a new cycling' (managers, directeur sportifs and doctors).
Aside from those provisions, there will be a complete transparency between the members. As a result Marc Madiot from Française Des Jeux could already provide Cyclingnews with some information. "There are no riders with a prescription for corticoid preparations within the seven teams," Madiot said. "I can also tell you that there are no riders who need prescriptions within Gerolsteiner, Crédit Agricole and our team." If riders need corticoids for any reason, then they will be put on non-active status for two weeks. The new organisation invites other teams to join them if they share the same philosophy.
Non-doping controversy adds to rest day stress
By Brecht Decaluwé in Pau
News of Vinokourov's doping positive added stress to an already less than relaxing second Tour rest day for the national cycling federations of Belgium, France, Italy and Spain. The organisations came together in Pau with Grand Tour organizers ASO, RCS Sport and Unipublic to discussed the problems that cycling is currently facing.
The Grand Tour organisers faced off throughout the early season with the UCI over the ProTour, a situation that began when the UCI added more ProTour licensed teams than the organisers had agreed upon, and went critical prior to the start of Paris-Nice when the ASO denied entry to the Unibet.com team.
The organisers, UCI and teams reached a tentative accord on March 6 at a meeting in Brussels, and stepped to the table again at the rest day in Pau with little more success. A statement released after the meeting criticised the UCI heavily. "Despite the commitment to use dialogue rather than conflict which was agreed during the meeting in Brussels on March 7, the UCI keeps using the conflict-model to push through the Pro Tour, a system the organizers rejected since its founding while the national federations once again asked for a dialogue."
(All rights reserved/Copyright Knapp Communications Pty Limited 2007)