Tales from the peloton, June 28, 2007
Brave new world
Teamwork: The Barloworld squad will work hard
Photo ©: Roberto Bettini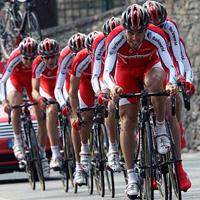 When the Italian based, British registered and South African backed Professional Continental squad Barloworld line up for London's Tour de France-opening prologue, it will be accomplishing a major milestone for the up and coming team. Cyclingnews Greg Johnson looks towards the squad's debut plans.
In a little over one weeks' time Team Barloworld will roll out a squad of nine riders on the Tour de France's start line. The Professional Continental squad, which landed a wild-card start in the world's largest annual sporting event, has no intention of being a general classification contender. Instead, it intends to provide several stage upsets - starting with the opening prologue in London.
While some may scoff at any such suggestion, Barloworld's lineup will include several well credentialed riders - including its hope for the prologue, 22 year-old Geraint Thomas. While Thomas has said he's "not even thinking about stage wins", team manager Claudio Conti believes he will be a contender in London.
Thomas has already shown this year that he is world class in the race against the clock when he helped the British team pursuit squad to a gold medal at the UCI Track World Championships in Majorca, but he knows that kicking off his first Grand Tour will be a different level of competition. "I can't even imagine how big the Tour starting in London is going to be, but I don't feel too much pressure at the moment," noted Thomas. "I am going there to gain vital experience for the future, and will be making the most of this opportunity."
"We will by no means be out of our league. I know we will get some good results."
-Barloworld captain Robbie Hunter says his team is ready for the Tour de France
Barloworld's stage victory hopes will lie mainly in the hands of its captain Robbie Hunter, a dual Vuelta a Espana stage winner, who will be looking to take advantage of Thomas' speed in the sprinters' stages. "[Thomas is] a very talented young rider, who knows how to pull a stage for the more experienced riders," Hunter told News24.com.
Geraint Thomas took gold
Photo ©: Mitch Friedman

While the squad has two other riders who have shown the ability to win Grand Tour stages in Italian sprinter Fabrizio Guidi, a multiple Giro d'Italia stage winner, and 2001 Tour stage winner Felix Cardenas, its hopes for the overall classification will be have to be more modest.
"We don't have a guy who can really challenge for general classification," confessed Hunter to Cape Argus. "A GC rider has to be an all 'rounder, who can climb and time trial, and stay in touch on the flat. We'll be going for stages with the sprinters and climbers."
"We will by no means be out of our league," added Hunter. "We have a well-balanced team, with good sprinters as well as riders who can do well in the mountains. We have beaten some of the best in the past, and I know we will get some good results."
Despite a number of years having passed since the three mentioned riders' Grand Tour achievements, team manager Claudio Corti believes their knowledge and the speed of its youngsters, such as Thomas, will form a formidable combination.
Barloworld will wear yellow in France,
Photo ©: Barloworld

"Our first goal was to get accepted for the Tour de France, now my next aim is at least one stage victory," Corti told News24.com. "I believe we have the riders that can do it. We will be especially strong in the first 10 days of the tour, when the route is flatter, and we hope to get a good grounding from the start."
While the Barloworld squad stakes its claim to a wildcard entry off the back of a relatively successful season, having claimed overall victories in Tour de Picardie, Settimana Ciclistica Lombarda, Volta ao Santarem, and Giro del Capo, politics likely played a role in the squad's selection by ASO.
Despite its strong season to date in UCI 2.1 and 2.2 races, Barloworld hasn't achieved the success of rival Pro Conti squad Tinkoff Credit Systems - which just last weekend placed second in the Eindhoven Team Time Trial ProTour race by just a fraction of a second. However the Russian squad likely dashed all Tour hopes by hiring two riders now implicated in Operacion Puerto, Tyler Hamilton and Jorg Jaksche. The ASO has made it clear that it does not want any riders named in the Spanish doping scandal in their race.
Politics aside, Hunter and his Barloworld squad are just glad to have the opportunity to contest their first tour. The squad's entry will also be the first South African backed team to ever contest the world's most prestigious cycling tour.
South African Robbie Hunter
Photo ©: Mark Gunter

"There is so much mental preparation for the Tour de France and we have such a short time to get ready for it," noted Hunter, after learning of the squad's entry. "The Tour de France isn't called the toughest race in the world for nothing. Getting your mind around riding hard for three weeks is so different from anything else that you can experience in cycling.
"We've been racing a lot this year and the guys are in good form," continued Hunter. "But now we're going to have to lift our form and condition to another level. I've no doubt we can do it, but it will be a challenge. But that's why we race bikes, because it's a challenge."
In addition to its other firsts, Thomas will have the honour of being the first Welsh rider to contest the event in 40 years. The 22 year-old will also be the youngest to contest this year's Tour de France, narrowly beating Manxman Mark Cavendish (T-Mobile) to the title.
Being at the front of the pack
Photo ©: Sirotti

"I will be hoping to make an impact in the first week of the tour, as the terrain suits me a lot better," declared Thomas of his intentions. "I'd prefer to race the first week hard and to risk not finishing, rather than to do the bare minimum and pack the tour a few days later. After the first week I will switch to survival mode and take it day by day."
The youngster, like Cavendish, has been subjected to the same intense media fanfare of more experienced British riders David Millar (Saunier Duval) and Brad Wiggins (Cofidis). Should Cavendish be named on his team's final Tour de France lineup, both will be swamped by local media - a new prospect to the 22 year-old future stars.
Meanwhile Tour veteran Hunter, who has ridden for ProTour squads Lampre, Mapei-Quick Step, Rabobank and Phonak Hearing Systems during his career, has quite a bit more experience with the event, mainly in a support role. This year will offer him the new role of the team leader, something he's looking forward to.
"When I've cycled in the Tour before, I have often had to help the team captain get into a good position," Hunter said. "This time I will be able to ride for myself."
John-Lee Augustyn
Photo ©: Roberto Bettini

While the nine rider squad's final lineup is expected to be announced over the coming days, Hunter, Cardenas, Guidi and Thomas are all but certain to feature on the roster. Another mentioned inclusion is South African John-Lee Augustyn who isn't expected to contest the full tour if announced in the lineup.
"He is very young, and we don't want to cause any damage at this early stage in his career," said Corti of Augustyn. "I think he could go for the white jersey in the early stages, but I don't think he should ride the full three weeks," agreed Hunter.
Whatever the teams final makeup, Conti plans to make the most of the team's wildcard in a Tour which will lacks names like Floyd Landis, and Ivan Basso. "This year's Tour is wide open - there are no definite winners, and it is open even to Team Barloworld," concluded Conti.