The Stuart O'Grady Tour de France diary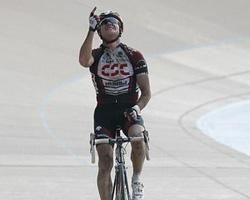 Photo ©: Luc Claessen
During the Tour de France CSC speedster Stuart O'Grady will be giving us his regular inside look at the daily goings-on in the peloton and the team hotel. An Olympic gold medalist on the track, O'Grady is a rider to watch in the sprints and long breakaways, and one of CSC's best hopes for a stage win or even the green points jersey.
O'Grady has had a rollercoaster ride at the last few Tours, wearing the yellow jersey in 2001 and green in 2002, but never quite managing to hang on to green all the way to Paris. In the last couple of years he's shifted his emphasis away from sprint speed and remodelled himself as a Classics and long breakaway expert.
After winning cycling's toughest one day classic Paris - Roubaix this year, Stuey has achieved his goal of winning one of cycling's Spring Classics. That's not to say that he intends on hanging up his wheels just yet though. After a brief break from the rigours of pro cycling after his win, Stuey began winding his form up again for the Tour, a race that has featured on his schedule since 1998. This year he returns to line up for his 10th Tour, this time maybe not with the goal of returning home with the green jersey but you can be sure that he will be right in the thick of the action from day one.
Stage 7, July 14: First mountain
The first mountain stage was every bit as hard as we imagined. It's always difficult when you hit the first real climb of the tour, after a week of rolling along the flat roads. It's hard to find your rhythm especially when you've been riding on the front the entire week.
As we planned though, a break went away early with no real favourites in it. We brought it back to a few minutes then left it up to Carlos and Frank to follow and stay in the front group.
It's been brilliant having the jersey in the team for so long, but it's also nice to hand it over. It certainly adds a lot of pressure and uses up energy that we will need later on to go for the big results. Fabian has looked good in yellow and we would like to get the Maillot Jaune back in CSC hands later in the Tour. Frank and Carlos are both in good form and hopefully we will be in the position to have to work for the over the next two weeks. Today's stage is going to be super tough. I reckon one of the contenders will set it alight on the final climb and it will be a serious battle. A real killer stage.
It was a tough, typical Tour stage. There were a lot of riders really suffering on the narrow, dead and unforgiving roads today.
Now the Tour is really starting...
Stage 6, July 13: The mountains are upon us
Cancellara takes a drink
Photo ©: AFP

Another day done and dusted. One more day in yellow for Fabian. Once again the wind god was against us, we seemed to have had a major headwind since we left, which is seeing not only a lot of guys very hesitant in going on suicide breaks, but it's also making it very boring, hot and uncomfortable for us, too!
The slower you roll along, the more you think about how much you're hurting. It's heaps better when we just race full gas. At least then you've got a reason to be in the hurt bag!
From tomorrow (stage 7), the 'real' TdF begins; it's going to be interesting to see who's confident and who's going to play poker. Now the mountains are here, there's no where to hide, that's for sure. Expect the unexpected ...
See: Stage 6 report
Stage 5, July 12: Enough is enough
By this morning the team had decided that enough was enough. We'd worked very hard and solidly, and had been fortunate enough to have been rewarded with a large slice of the cake. But we know there's a hell of a long way to go.
So we made the considered decision to let the break go, and the yellow with it.
But as we know, this is the Tour de France, and quite a number of teams haven't done anything yet. We took the view that it was up to them to decide if the Tour was to have a new leader. Or that one of them was going to try to win a stage. Again, I believe that justice was done as it was Liquigas that did most of the work all day, and thoroughly deserved the win. Full credit to them and Filippo Pozzato.
It was a tough, typical Tour stage. There were a lot of riders really suffering on the narrow, dead and unforgiving roads today.
Now the Tour is really starting...
Stage 3, July 10: One for the team
Today's stage was one of the most bizarre I have ever ridden. We were happy to let a break go and keep it under control. But the strong head wind, and the length of the stage, saw a huge game of cat and mouse being played.
The break-away was playing the game well, but we were confident we could reel them in at any time. However, when the fresh attack occurred with only 40 kms to go, and they regrouped at the front, suddenly it was panic stations. We didn't want to lose the coveted jersey by making a hasty decision. So we began the chase, but the sprinters teams were trying the big bluff. It's like they didn't have faith in their sprinters. So it was going to come down to the wire. And guess what it didn't work. Fabian showed why he is the most powerful rider in the Peloton by launching across the short section of pave and winning the stage. Justice prevailed for team CSC.
What an animal. Winning the stage in yellow. Does it get any better?