Tour de France Cycling News Extra for July 8, 2007
Edited by Gregor Brown
Evans and Rogers with mixed reactions
By John Trevorrow in London
Michael Rogers (T-Mobile)
Photo ©: Cyclingnews.com

Cadel Evans (Predictor-Lotto) and Michael Rogers (T-Mobile) are both riding for the Tour de France overall victory but the two Australians came away from the 7.9-kilometre prologue with mixed reactions.
"I was pretty happy with that," said 30 year-old Evans. "It is all about not losing time on my GC competitors and not going too deep into the zone." He finished 36" back on the stage winner, Fabian Cancellara.
"I feel pretty good and it's just a matter of keeping near the front without digging in too deep and not getting caught in any prangs."
Coming up on
Cyclingnews will cover the 60th edition of the Dauphiné Libéré live as of stage 4 on Wednesday, June 10, at approximately 15:00 local Europe time (CEST)/ 23:00 Australian time (CDT)/ 9:00 (USA East).

WAP-enabled mobile devices: http://live.cyclingnews.com/wap/
"Today was not my day," 27 year-old Rogers noted. He finished 37" back. "My form has been improving but I was not happy with the effort. Luckily, my knee was really good and that was the most positive thing to happen. I can honestly say that I feel that if my knee stayed good then I can challenge for the Tour de France."
McEwen keeps tank topped
By John Trevorrow in London
A fan watches for McEwen
Photo ©: AFP

Robbie McEwen was happy with his prologue ride on the opening day of the Tour de France. The 35 year-old Aussie kept gas in the tank for the sprint stages which start with today's run to Canterbury.
"It all went pretty much to plan," explained the 11-time Tour stage winner. "I got early and did about five laps on the course and got comfortable with it. I then rode and kept it at a threshold and made sure there is plenty in the tank for tomorrow."
McEwen is ready to face his competition in the coming sprint days. "I'm pretty happy with my ride but it really all starts tomorrow for me," he continued post-prologue ride. "There are a few young guys who will definitely be trying to serve it up, as I did a few years ago, but it will all be decided in that final few hundred metres."
Please with the London parcours, he noted, "It was a great atmosphere here with a lot of Aussie support and a huge crowd. It's going to be fantastic when I race into Belgium and get the friends and family involved." The Aussie makes his base near Gent, the finish of stage 2.
No song for Lancaster
By John Trevorrow in London
Brett Lancaster of Milram finished yesterday's prologue 46" back on the winner. He is not too concerned with his prologue ride and looks forward to leading out veteran sprinter Erik Zabel.
"I just didn't feel right on song," he noted after the run. "I like a prologue and I have been known to win, but sometimes it just doesn't all come together."
The Australian will support German Zabel in the closing kilometres of the sprint stages. "My job is to help Erik Zabel and he is a superstar. It should be a great challenge. It will take few days for things to settle down but I think that we can have a bit of success in this Tour.
Gerrans ready for job ahead
By John Trevorrow in London
Simon Gerrans (Ag2r Prévoyance) was happy to start his Tour de France in London to the cheers of huge fan turnout but knows that his work will really start with Stage 1. The 27 year-old Australian will be riding the Tour to support team leader Christophe Moreau.
"It was a great way to start the Tour. Big crowds and big atmosphere," he said after his 7.9-kilometre day. "It was actually a tough little circuit, pretty quick early and then a long straight with a block head wind. It was quite technical and I imagine you could have had some problems if you were really flat stick.
"But I wasn't taking any risks. It would mean the difference between finishing 80th or 140th. My job starts from tomorrow."
Gerrans is a little worried about his form. "I don't know but lately, with me, it seems that if I'm not a bit crook then I'm getting over being crook. And at the moment, I'm getting over being crook so hopefully I'll come good in a couple of days.
"At the moment I'm still not brilliant but I haven't got a lot to do in the next couple of days. My job starts a bit later."
Fans are likely to see him leading the charge in the mountains. "Well I hope that we are in the position that I have to try. Christophe has good climbing form so he should be in the mix."
Come on sprinters, light my fire
Four was Robbie McEwen's lucky number last year,
Photo ©: AFP Photo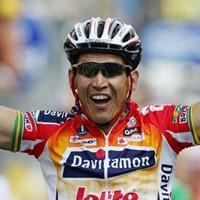 The Tour de France is known for it spectacular sprint shows - the elbow-throwing and head-butting high velocity finishes litter the first week and give fans a chance to see their favourites vie for glory. Cyclingnews' Gregor Brown gives a rundown of the men gunning in the bunch sprints.
Sprint trains thunder over the final 10 kilometres to deliver their captain to the last few hundred metres. The dangerous affairs result in a sweaty-legged god rising to victory while others are left pounding their handlebars and, sometimes, sliding across the pavement.
The fires will start to burn en route to Stage 1's Canterbury finish and will keep going though the week before being interrupted by high mountain passes. Only the true hard-men of speed will make it over the Alps and Pyrénées to keep battling for the sprint stages on the other side and, all going to plan, be in contention for the Maillot Vert, the best sprinter's jersey, in Paris.
There are five men at top of the sprint game that give the other contenders fear: Aussies Stuart O'Grady (Team CSC) and Robbie McEwen (Predictor-Lotto), Belgian Tom Boonen (Quickstep-Innergetic), Norwegian Thor Hushovd (Crédit Agricole) and Spaniard Oscar Freire (Rabobank).
The fierce rivalry between the two men from Down Under spells excitement for race fans. Despite his prologue tumble, O'Grady is coming into this Tour de France as reigning Paris-Roubaix champion and could find the sprints come just that bit easier with the win in his palmarès. Inspiration will give the extra punch for O'Grady, with the Tour running a route similar to that of the Spring Classic, only in reverse to finish in Compiègne.
Read the full sprinters' feature.
Geraint Thomas tops Barloworld
Welshman Geraint Thomas
Photo ©: Andrew Kennedy

Welsh Geraint Thomas was the best placed Barloworld rider in yesterday's Tour de France prologue, finishing 45th in 9'37". He was thrilled with the run that started in Whitehall and finishing in Hyde Park.
"It was really exciting to start my first Tour de France experience in such a glamorous atmosphere," 21 year-old Thomas noted after the run to his team's press officer. "Everything was fantastic, with the exception of my legs. Even though I can consider my result as positive, I'm convinced to have not given my best". Read the recent interview with Thomas.
Barloworld's Enrico Degano briefly held the lead, as he was the first rider to roll down the ramp.
Mayor Livingstone would welcome Tour back
Mayor Ken Livingstone was happy to host the 94th Tour de France Grand Départ in London and would like to have the French race return...
"I went round the track with Christian [Prudhomme] and with the mayor of Paris," commented Livingstone to The News & Observer. "They were both amazed at the numbers. They couldn't believe it. We've clearly got a million [people]. We're not going to have to push very hard to persuade them to come back for another Grand Départ in London."
"Oh, yes," he said when asked if there was some plans to bring back the race to London. "I mean we really want [to]. There are cities like Rotterdam bidding for 2010... But it would be nice to come back pretty soon after the [2012] Olympics."
(All rights reserved/Copyright Knapp Communications Pty Limited 2007)