News feature, July 12, 2007
Hushovd ends dry spell
Thor Triumphs in Tour
By Shane Stokes in Joigny, France
Hushovd exults in his win
Photo ©: AFP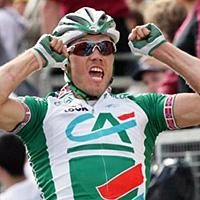 Finally, back on top. Heading into this year's Tour de France Thor Hushovd was lacking confidence in his abilities. It seems a strange thing from the rider who won the prologue and the final stage of the 2006 race, but going ten months without a victory can play havoc with a sprinter's essential swagger. Self-belief is crucial for those who literally risk life and limb to win; a dry spell which began after his triumph on stage six of last year's Vuelta a España had planted the seed of doubt in his mind.
Today, on stage four of the 2007 Tour de France, the Thunder God roared again. After a frenzied, somewhat chaotic build-up to the sprint, the race's top sprinters went mano a mano in the final few hundred metres before the line in Joigny. The head of the bunch flicked back and forth across the road as teams tried to impose their dominance and then, with approximately 450 metres to go, Julian Dean darted forward.
"I hope the rest of the race goes as well as today."
-Thor Hushovd looks ahead
Hushovd was latched securely onto his back wheel and 250-odd metres later he hit the afterburners and powered to the front. From there to the line it was all about brute strength; Robert Hunter (Barloworld), Oscar Freire (Rabobank) and Erik Zabel (Milram) were those who came closest to denying the Norwegian celebrations, but Hushovd had enough gas to go all the way to the line. He threw his arms up in the air and let out a huge roar of triumph; the drought was over, Thor was back.
"This win is great for me because I didn't have a very good start to the season," he said afterwards, very satisfied with the 66 km/h success. "I prepared the season to be good in the Classics, in Milan-San Remo, the Tour of Flanders and Paris-Roubaix, but I fell sick the day before Milan-San Remo and I didn't do well in the Classics.
"Then I did the Giro. I was second twice there. It is great to win a stage because of that and I am very happy. I hope the rest of the race goes as well as today."
Hushovd paid credit to his team, who he said did vital work. "The sprint was very fast with big, wide roads at the end. My team did a lot of work for me and riders such as Sébastien Hinault and William Bonnet were helping a lot. I trusted Julian Dean; I stayed on his wheel and he started the sprint very strongly with about 450 metres to go. He led me out and then I jumped with about 200 metres remaining.
Hunter gives a push
Photo ©: AFP

"William Bonnet is big talent and is in the Tour de France to learn. He showed that he could do very big things and get good results. Julian Dean is a wonderful team-mate as well; I have a lot of trust in him, he is able to find a good position for the sprint. I just have to be on his wheel. I knew when I saw him today with 450 metres to go that today could be my day."
The 29 year-old has had a solid enough time since that Vuelta stage win. He placed second on two consecutive stages and then fourth in Paris-Tours; this season, results such as five top six places in the Tour of California, two in Tirreno – Adriatico, 11th in Gent-Wevelgem, two runner up slots in the Giro d'Italia and two other top six placings there showed that he was banging on the door.
But it was this continuous run without a victory which was eating away at him; he went frustratingly close on several occasions since the Tour of Italy, taking two top six placings in the Dauphiné Libéré, second in the Norwegian road race championships and second again on the London to Canterbury stage of the Tour de France
He had to stay strong, remain focussed, and he said on Wednesday evening that he had done just that. "I had confidence when I started the Tour de France. I knew that I had done the job before. In my head I just had the thoughts of not having a win this season, but I was sure that my form wasn't too bad.
"I think my training is almost the same as last year. I think the only thing I changed is that I did the Norwegian championships. Before the Tour I tried to prepare for the prologue like every year. I did a lot of training on my time trial bike, but most of it was the sprints.
"I think the prologue was a bit too long for me so I wasn't too disappointed. Then on stage one I was second and so I knew I was going well. I feel that my form is here and hope now I just get payback after the job I did the whole winter."
Hushovd waves from the podium
Photo ©: AFP

Hushovd was one of those hitting the tarmac on stage two. "After my crash on Monday it was a little bit difficult for me. I was disappointed, and also because I lost a lot of points to McEwen and Boonen for the green jersey. That disappointment lasted three hours but after dinner I felt better. I realised that I had to look ahead to the future, to wait and to be trustful that things would improve."
And improved they have. He's taken a stage win, moved up to fifth overall in the points standings [despite missing those important points] and, crucially, is now second overall, 29 seconds behind Fabian Cancellara (CSC).
It's renewed his hopes that he might take the race lead once again, twelve months after wearing the maillot jaune. "I thought that I would have to forget the yellow jersey after Cancellara won yesterday. But winning today is very good. Tomorrow is difficult, it is better to take it day by day, but for sure when you are second you always have it [the maillot jaune] in mind."
Stage five is, indeed, a tough one. A total of eight categorised climbs are littered along the 182.5 kilometre race from Chablis to Autun. While it's not the Alps, it could be a hard day for the big powerhouses like Cancellara and Hushovd, but the Norwegian is on a confidence high. With yellow at stake, he'll do all he can to roar in triumph once again.