Recently on Cyclingnews.com
Race Tech: Oakley at the Tour de France, July 29, 2007
Eyewear powerhouse rethinks fit, updates an icon
by James Huang
Oakley's new Radar
Photo ©: James Huang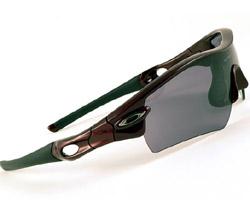 Alexander Vinokourov and his Astana may have left this year's Tour de France in less-than-optimal fashion, but it was nearly impossible to miss the unforgettable bright neon yellow shades he wore during his tenure. Eyewear juggernaut Oakley sponsored nearly a quarter of this year's 189-rider starting field with 54 riders donning the distinctive 'O' logo as they made their way around France, including Cadel Evans, Fabian Cancellara, Christophe Moreau, David Millar, Iban Mayo, Robbie McEwen, and Mark Cavendish.
Lance Armstrong was arguably the cycling poster boy for Oakley's ubiquitous M Frame, having worn them for each year of his illustrious career and even inspiring at least one lens shape. Despite the claim that "Athletes have won more championships and medals with the M Frame® than with any other single sport product on earth", Oakley finally saw fit to update its long-standing icon to create Radar, which is what nearly all of the company's sponsored TdF riders have been using thus far.
Steve Blick of Oakley
Photo ©: Elizabeth Kreutz

Radar is not intended as a replacement for the M Frame, but rather supplements it in Oakley's lineup. "The 'need' for Radar stems from the challenge of improving upon a product that many felt couldn't be surpassed," said Steve Blick of Oakley Sports Marketing. "M Frame set a standard for sports performance optics when it was first introduced over a decade ago and, to be honest, it was very difficult to improve on. Radar is certainly the new standard for sport performance eyewear but that doesn't mean the M Frame no longer has a place, it's still a fantastic piece of optical equipment and it's up to the athlete to decide which one suits their needs best. M Frame is great, Radar is even better."
Armstrong returns to the Tour de France (sort of)
Oakley's LIVESTRONG edition Flak Jacket
Photo ©: James Huang

Lance Armstrong has a long history with Oakley that spans nearly two decades, and while most assume Oakley owes Armstrong for so faithfully endorsing its products (which it probably does, and rather handsomely we would gather), the seven-time Tour de France champion may feel otherwise. When the Texan was diagnosed with cancer in 1996 and unceremoniously released by his then-team Cofidis, Oakley put him on its 'payroll' in order to provide the otherwise-abandoned Armstrong with much-needed health insurance.
We all know how the story turned out at this point, and it should come as no surprise that Armstrong has now teamed up with Oakley to produce two special edition LIVESTRONG sunglasses to raise money for the Lance Armstrong Foundation. For each sale of the black-and-yellow Radar or Flak Jacket glasses, Oakley will contribute US$20 in support of the foundation's mission against cancer.
"For nearly twenty years, Oakley has been there for me, on and off the bike," said Armstrong. "Now, together with the company's support and those who appreciate the performance of its eyewear technologies, we can help make a difference to millions of those who are living with cancer."
Oakley has also built a solid 18K gold M Frame (Armstrong's preferred model throughout his illustrious career) that includes a certificate of authenticity signed by Armstrong himself. The one-off creation is being auctioned off during the Tour de France, and all proceeds will be donated directly to the Lance Armstrong Foundation. As of press time, the high bid was a staggering USD $19,200.
Oakley has also set up a purpose-built page on its web site where visitors can share their experiences with cancer.
Radar's improvements include shorter earstems for a better interface with helmet retention systems, a more secure three-point fit relative to M Frame, wider hinges for stiffer feel, and a decidedly more aggressive appearance. The new frame also boasts vented temples to combat fogging, an enhanced field-of-view, a newly integrated nosepad attachment, and an included case with all versions.
Like M Frame, Radar is offered in multiple lens shapes, although there are just three for now in contrast to five for the old guard. A straight-arm version of Radar will also be available for women or athletes that generally prefer a narrower profile; however, the temple vents are omitted in this version.
Both standard and larger XLJ lens shapes
Photo ©: James Huang

Among the most significant upgrades, though, is Oakley's new permanent hydrophobic lens coating that resists water, perspiration, and skin oils in an effort to keep the lenses free of distracting obstructions. The coating is also anti-static to ward off dust and debris. This feature was likely particularly useful during Stage 13's wet individual time trial in Albi where road spray would simply bead up and run off the lenses.
Oakley's hydrophobic coating also graces Flak Jacket, an update to the existing Half Jacket model that similarly augments but does not supersede the extant model. The new frame and lens shapes offer a bit more coverage and a wider field-of-view than Half Jacket, and like Radar, Flak Jacket wears a more aggressive style and stiffer, wider hinges.
The new hydrophobic coating will also be available as an aftermarket applicator kit for use with other Oakley models or other makes of eyewear. Although not a permanent coating, the benefits are similar.
Fit is everything
Not even permanent marker
Photo ©: James Huang

According to Blick, "Fit is a critical element in any athlete's equipment, especially when that equipment's key function is directly linked to the athlete's primary source of sensory input. We also do exhaustive fit-trials and use our athletes for prototype feedback throughout the entire product development process. The greatest compliment you can give to your equipment is to forget that it even exists, allowing you to focus 100% on your own performance rather than the performance of a product you may be using."
Many of Oakley's athletes at the TdF likely took advantage of the Radar and Flak Jacket's alternative fit option during the opening prologue and the critical Stage 13 and 19 time trials. Both models include additional nose pieces that raise the lens for a more appropriate field-of-view when in a typical aero position (this was also introduced for M Frame later in its timeline). Blick says these nose pieces "can help open up your field of vision, counteracting the extreme body position created for the sake of aerodynamics."
This 'Alternative' or 'Asian' option (the nomenclature varies depending on the application and market, but they are one in the same) can also be used to simply fine-tune the fit depending on the rider's facial architecture. While Radar and Flak Jacket achieve this setting with interchangeable nose pieces, other non-interchangeable models in Oakley's range use a fully dedicated mold.
Photography
For a thumbnail gallery of these images, click here
Images by Elizabeth Kreutz/Kreutzphotography.com
Images by James Huang/Cyclingnews.com