Recently on Cyclingnews.com
An interview with Julian Dean, July 10, 2007
All black and white
Credit Agricole's Julian Dean
Photo ©: Steve Thomas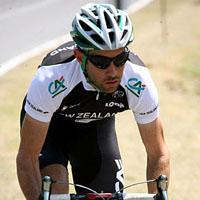 Standing proud in the New Zealand National Champions jersey on this year's Tour start line was Julian Dean. Steve Thomas caught up with the Kiwi as he prepared for this third Tour.
It's a long way from Rotarua, New Zealand to the Tour de France's route, and it's been a twisty road to get there for Credit Agricole's Julian Dean. "I started out doing high school triathlons, and found that I was improving on the bike and started to race there," explained Dean of where it all began. "New Zealand has always had something of a history on the track, and that's where I really started seriously."
In '96, he left for the United States as a member of the Atlanta Olympics national team. "As preparation I was riding crits and local races, and got some good results – that landed me a contract with Mercury," he reflected. This was in the days before Mercury went 'large', but Dean beat them to it. "I'd always admired guys like Nathan Dahlberg and Steve Swart, they were out there doing it in Europe when I was starting out," he said. "I did well at Mercury and got a deal with US Postal, which took me to Europe."
At that time his exposure to serious European racing was somewhat limited. "I'd only ridden the Tour de L'Avenir and the Vuelta a' Asturias," he explained, "and I was only 22, it was a real adventure." Arriving at US Postal, these days known as Discovery Channel, during that period was also something of an adventure as it was at the same time Lance Armstrong returned to the peloton. "In my time at Postal I saw Lance go from having been a World Champion to winning three Tours. I learned a lot about professionalism, work ethics and the sport from him," admitted Dean. "Sure, he changed during that time - he was elevated to a completely different level of stardom."
"Things are a lot more French, easier going, you know what your job is and get on with it."
-Dean explains the difference between Credit Agricole and other squads
After three seasons in blue he switched to Team CSC for two years, before arriving at Credit Agricole, his current team, in 2004. "CSC and Postal were fairly similar in their approaches," explained Dean of the differences between the trio of ProTour teams. "Everything was cutting edge, they were always on the look out for the latest and fastest pieces of equipment, diet and training were always very important and high-tech. Then I arrived at Credit Agricole, and things were very different. Things are a lot more French, easier going, you know what your job is and get on with it and without that cutting edge approach."
Dean powers to the finish line in Langkawi
Photo ©: Steve Thomas

While his current team might not be as technically obsessed as its ProTour rivals, Dean admits there's pros and cons to being a professional athlete in Europe. "The best thing is definitely being able to see Europe, to travel and to see different cultures," he said. "My wife Carole and I never get tired of that; we always try do experience new things. The worse thing, that has to be when you get to Stage 16 or 17 of the Tour and you're smashed, and you're suffering and still have two passes to go."
This year's event is Dean's third Tour de France, all of which have been with Credit Agricole. While the prestigious Grand Tour holds a special spot in the heart of any cycling team, the level of important placed on it by the French squads is at an entirely different level. "For a French team this is the race, everything is very important," noted Dean. "Sure, we look at the overall, and definitely for stage wins, and of course we hope that Thor can take the green jersey. But for the French teams the team classification is also very important. Every day you will see riders racing to come in around the 20th mark, it carries a lot of prestige here."
Despite being a credible sprinter in his own right, Dean has seemingly found himself a comfortable spot as Thor Hushvod's minder. However this year his Norwegian teammate has failed to land a victory all season, although has come close with a string of second places, including Sunday's Stage 1 to Canterbury. "At the Giro he certainly didn't have the form, although he was getting better as things went on," admitted Dean. "I think he's come on a lot since then; so let's hope he's on form."
While Team Milram's Alessandro Petacchi is out of the running, having been sidelined by his squad, Dean believes he and Hushvod still have pleanty of green jersey rivals. "I think Daniel Benatti has a great chance," he said. "He's been in great condition recently - not just sprinting well, but good all-round, which is important in the Tour."
Dean was raised on the family dairy farm,
Photo ©: Steve Thomas

While Dean would love to take his first Tour stage victory, he stressed being Hushvod's main man was his key mission. "My roll is to help Thor, the rest is not really my choice," he stated. "In the Giro I got my chance, and perhaps the best one was foiled by a crash. But sure, a stage of the Tour would be fantastic."
Having taken out his national road title at the beginning of the year, Dean is proud to sport the black and white jersey wherever he races. Due to the national championship's positioning on the annual calendar, this is the first time Dean has claimed the jersey as a professional and he's relishing the opportunity to wear his unique Credit Agricole national champion jersey at the world's largest cycling event. "People definitely take notice of a National Champions jersey, they're easy to pick out and they seem to have a kind of respect for them," reported Dean, having already worn it for half a season. "And being the New Zealand jersey goes down well in Europe, a lot countries seem to have an affinity for us."
Nothing could be better for his sport back home than a Kiwi stage victory by someone wearing that national colours. Despite being a close neighbour and fierce sporting rival with Australia, New Zealand doesn't have the strength on the world cycling stage that its Commonwealth counterpart enjoys. "The Tour de France is a big thing, it's Globally popular, including in New Zealand," said Dean. "We do have a number of guys coming through, and hopefully that will grow. But it does largely come down to funding and support, which we don't have on anything like the scale of Australia - the AIS system is the best in the world."
Having been on the road for the better part of a decade, it's difficult for Dean to make the journey home during the busy, year-long racing season. The rider admits he departs what he now calls home in Ganida, Southern Spain, to visit his Island nation, "Only usually for a couple of weeks at Christmas".
Should he return this December as a Tour de France stage winner, the 32 year old would surely be a household name throughout his homeland.