Recently on Cyclingnews.com
94th Tour de France - ProT
France, July 7-29, 2007
2007 Tour de France video highlights
All the latest Tour highlights, direct to your desktop.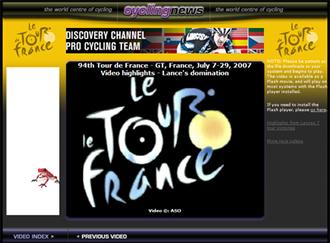 This year's Tour de France is shaping up to be possibly the most open of recent editions, so in order to make sure that you don't miss out on any of the action cyclingnews.com will be bringing you video highlights of each stage.
In the lead up to the start of the prologue on July 7 in London, we will preview ten short clips on the tour. Taking a look at the mountain passes of the Alps and the Pyrénées that the tiny climbers call there own, Lance Armstrong's seven dominate years in France as well as the five consecutive wins of Miguel "big Mig" Indurain that preceded the great American.
We take a behind the scenes look at the Tour Depart, the tour caravan and the L'Étape du Tour, possibly the closest that most of us will ever get to actually riding a stage in of the Tour.
As well as these awe inspiring clips we take a look at highlights of the centenary Tour, the major crashes that have sent some of the worlds best sprinters to the tarmac, and the pain and heart ache that for three weeks, these riders endure in order to turn onto the famous Champs Elysees in Paris, to see the magical site of the arch de triumph, and know that they have, finally, reached the end of le Tour.
Welcome to the greatest race in the world, Vive la Tour!
The videos are in Flash format, so make sure you have the latest Flash plugin installed.