Tour de France Cycling News for July 10, 2007
Edited by Laura Weislo
Steegmans lights up stage two
By Laura Weislo, reported by Brecht Decaluwé in Gent, Belgium
Steegmans goes back to his roots
Photo ©: Cyclingnews.com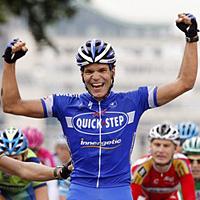 After a rather ordinary trip from Dunkerque to Gent, the peloton presented the throngs of assembled Belgian spectators with an exciting finale in front of the Citadel Park, home to the legendary 'Kuipke' Velodrome. In the shadow of that historic building, a new Belgian star, who learned to race on those well travelled boards, was born in Gert Steegmans.
Steegmans was in the process of leading out his star team-mate Tom Boonen after the raging bunch sprint was disrupted by a crash. With a few more than twenty riders battling for glory, Steegmans powered up the final rise so quickly in his final lead-out that Boonen could not get past, so it was the shy Monegasque who will go into the history books as the last Belgian to win a stage in his own country since of Marc Wauters won in Antwerp back in 2001.
Former world champion Tom Boonen wasn't disappointed. "I looked back and noticed that nobody was in our wheels," he said. "We rode over the finish line next to each other, that's the best picture of the year. Of course I wanted to win myself but the plan was perfect. If you let Steegmans go there's nobody who can beat him, this was just perfect," Boonen explained.
Coming up on
Cyclingnews will cover the 60th edition of the Dauphiné Libéré live as of stage 4 on Wednesday, June 10, at approximately 15:00 local Europe time (CEST)/ 23:00 Australian time (CDT)/ 9:00 (USA East).

WAP-enabled mobile devices: http://live.cyclingnews.com/wap/

Meanwhile the unexpected winner was still figuring out what he pulled off today. Steegmans explained what happened in the post-race press conference in Gent. "I did the lead-out after yesterday's mistake when Steven lost my wheel. Today we waited longer with the uphill finish in Gent. My job was go full gas as long as I could with 300m to go. Tom had asked me not to start too fast, so I used my 53x11," Steegmans explained about the team tactics.
In those tactics there probably wasn't an option to let him win instead of Boonen. "There was no discussion who would win, it came naturally," Steegmans said. The winner explained he wanted to yell to his leader, "don't pass me!" In the end that didn't happen as Steegmans had half a wheel length on a celebrating Boonen. "Boonen came next to me to be sure, when he was sure he let me go. That's what I think because I haven't talked with him [Boonen] yet," Steegmans said of the sprint.
After the finish there was an joyous display of emotion between the Belgian Quickstep riders. "This is unbelievable," Steegmans said. "There are so many people here, sometimes it was even dangerous." Talking about dangerous situations the winner was asked about the enormous crash with two kilometres to go. "I didn't notice anything about the crash. We were riding towards the left when it must've happened, but I didn't see or hear anything because of the crowd's noises," described Steegmans.
Patrick Lefevere hugs Steegmans
Photo ©: Cyclingnews.com

The Italo-Belgian Quickstep-Innergetic team has gone through a troubled season as they failed to win any ProTour event, adding that they suffered with doping allegations in a Belgian newspaper. "It has been a rough year since I joined the team from Davitamon-Lotto. The allegations from the newspaper came when we were in Qatar. We had a hard time as it is hard to deal with lies; people looked at us like if we were gangsters when we took the bus to the airport.
"A few weeks ago we had another thing like that, people started asking me questions and I didn't have a clue what they were talking about. It's hard because people don't realise that we're not only with the nine of us here in the Tour but also with riders in other races, not forgetting all the people working for the team," a clearly annoyed Steegmans said.
Last year the cycling world was introduced to the Belgian for the first time when he catapulted Robbie McEwen to several wins in the Tour, and this year Steegmans is sprinting to a Tour de France win himself. What will the future bring for the powerful 26 year-old? "My problem is that I'm not a leader like Tom. I've got a lot of power in my legs but handling the pressure is hard. Tom is a superstar and handles it very well. That's a big problem, isn't it? If anybody can help me..." a smiling Steegmans suggested to the assembled press.
Of course, for a Belgian to win in Belgium is something special, but for Steegmans there's also a link with the city of Gent. "There's a cycling track called the 'Kuipke' about 200 metres away from the finish line, you might know it from the six-day event that is held here every year. I learned to ride my bike on that track and set a record that's probably still standing," Steegmans smiled. His glory will be short-lived, as Steegmans' leader Boonen captured the green jersey with his finish on the stage, and as he's keen on defending that jersey. It's clear that today's winner Steegmans will be forced back into his lead-out position, but he won't mind - for now.
Scare for Cancellara
By Laura Weislo
Fabian Cancellara grimaces with pain
Photo ©: AFP Photo

The finish of the Tour's stage two in Gent, Belgium seemed to be a by the book sprint finish, but the situation quickly changed with two kilometres to go when a touch of wheels set of a chain reaction pile-up and the Maillot Jaune, Fabian Cancellara, found himself lying on a heap of bodies and bikes on the side of the road.
Cancellara had no time to react and no room to manoeuvre out of the way of a crash that started in the first ten riders and then ripped through the peloton, taking down sprinters Daniele Bennati, Mark Cavendish and a host of other riders as well. With bodies and bikes blocking the road, all but 25 riders were able to take part in the dash for glory.
When the yellow jersey came across the line a few minutes after winner Gert Steegmans, he was holding his left arm to his chest, leading to rampant rumours that he had broken his wrist or collarbone. However, when the CSC rider stepped up to receive his third Maillot Jaune, he easily threaded his arms through the jersey and had no troubles shaking hands with the dignitaries on the podium.
"Immediately after the crash I was scared that I was seriously injured, because I seemed to hurt everywhere," explained the World Champion on the team-csc.com website, 'But it was probably the surprise of the impact and the fact that it was cold and I was wet, so when I was lying there on the road among all the other guys I did think the worst for a minute. But after I finished the stage and got some dry clothes on and got warm, I felt fine again," said Fabian Cancellara, who was pleased by the overall result of the day.
The 168.5 kilometre jaunt from Dunkerque to Gent was characterised by a long breakaway that left the CSC team controlling the pace for the second stage in a row. Once the teams of the sprinters pitched in to help, it was time for the boys in red and black to take a back seat and cruise in to the finish. "All in all we're happy about another day in yellow," said Cancellara, "The teamwork is perfect so far and we're all in a great mood, so no complaints about the Tour from us as yet."
Despite the rosy outlook, Cancellara wasn't the only CSC rider to be involved in a crash on the stage. Both Fränk Schleck and Kurt-Asle Arvesen were in two separate crashes earlier in the stage.
"They've both got some cuts and bruises, but nothing serious. Fränk hurt his elbow, but it's not broken – just sore," explained director Kim Andersen, who would like more help from the other teams during the third stage.
"Tomorrow is a very long day, so we'll need some help if we're going to prevent a break from lasting all the way home. 168 kilometres like today is easy enough, but tomorrow is 230 kilometres and we're not gonna pull the peloton for that long that's for sure," determined Kim Andersen.
Crash hits big names
By Shane Stokes in Gent
Unlucky, George Hincapie (Discovery Channel)
Photo ©: AFP Photo

Race leader Fabian Cancellara, Thor Hushovd (Crédit Agricole), Francisco Ventoso (Saunier Duval) and many other riders fell inside the final two kilometres of the stage to Gent, with some more badly hurt than others.
George Hincapie came across the line quite far back and, like Robbie McEwen, looked very pale. He appeared to be in shock. It was later confirmed that he has bruising to his right knee but will start Tuesday's third stage. Discovery Channel team-mate Tomas Vaitkus was less fortunate; he fractured his right thumb and will not start stage three.
Mark Cavendish has had wretched luck so far, crashing on Sunday and missing out on his chance of a home win, and then hitting the deck hard in Gent.
He rolled across the line with cuts and a shredded jersey. The upset rider declined to give any comment. Predictor-Lotto lead-out man Fred Rodriguez also wanted to get to the team bus as fast as possible. He was holding his arm in such a way to suggest that his collarbone or ribs were damaged.
Team-mate Chris Horner explained what happened. "I was behind it, with three kilometres to go I started backing off.. Everybody went down. Thor went down, Cancellara went down, Ventoso went down, two guys from my team too – Leif [Hoste] and Freddy Rodriguez both crashed. Luckily I was pretty far back so I wasn't involved."
Ventoso is worried about the damage he sustained. "I just couldn't avoid the crash. I tried to brake, but there was nowhere I could ride ahead. And even if I'd managed to stay on my bike, I would've been caught by those coming behind.
"I was feeling good and confident, well-placed, but this is what you expect from these kind of finales. I fell on my bike, and I think most of my injuries came from hitting it. I've injured my knee and my elbow, and my hand hurts badly, I can't rest it on a table. But I'm really worried about my hip. I hope it's nothing serious, but I can tell I'm having a hard time walking."
CSC rider Fränk Schleck also came a cropper, but his fall took place earlier in the stage. He chased back on but said he was unsure as to how his arm was. "I hope I am alright. I have to look at my elbow tonight but I hope it is okay."
There was however one benefit. "I was too far back to be near the crash at the end," he stated.
McEwen not feeling good
Knee problems worrying Australian
By Shane Stokes in Gent
Robbie McEwen gets a zip
Photo ©: Cyclingnews.com

Sunday may rank as one of the best sprint victories of Robbie McEwen's career, but things didn't really go to plan for the Australian sprinter on Monday. He started the day in the green jersey of points victor and hoped to fortify his lead, but instead he lost the maillot vert to Belgian rival Tom Boonen.
Boonen was second, crossing the line just behind his Quickstep Innergetic team-mate Gert Steegmans. He had been third on stage one and his combined total carried him one point clear of McEwen, who finished sixth into Gent.
After the stage, the Predictor-Lotto spoke briefly to some members of the media. He appeared pale and drawn, and told them about the big pileup just before the sprint and also the injuries he is carrying.
"The bunch was flying along. Everyone was trying to be up there. At a moment when it should have been safe there was a huge crash. I was just able to avoid it. I caught a bike on my arm," he stated, indicating a some cuts on the inside of his elbow. "But somehow I got through on the left. I was a long, long way back and couldn't move up anymore.
"The crash yesterday had a part to play. The wrist is okay, it is just a bit sore when it is bumpy. But the main thing is my right knee is very sore and swollen and because I am not sitting straight on the bike, it is putting a lot of pressure on my left knee as well.
"I didn't feel real good, but I tried anyway. I am still in the race, so I will keep trying. Hopefully the injuries will be improving day to day now, because I felt terrible."
Quinziato the first domino
By Jean-François Quénet in Gent
Manuel Quinziato (Liquigas)
Photo ©: Sirotti

When the dominoes fell in the finale in Gent, one rider had to be the unfortunate tile to fall down first. That dubious honour went to Liquigas' Manuel Quinziato, who has had his ups and downs in this year's Tour. In London, he was treated to a display by some tifosi, who showed up with a huge banner festooned with the tricolore of the Italian flag and the saying,: "God save the Queenziato."
It could have been some of his many female fans, and with their encouragement, the handsome 27 year-old scored the best time for Italy at the prologue when clocked in at eighth place. The former European time trial champion is still pretty strong against the clock, even though he now rides at the service of Filippo Pozzato.
Becoming the obstacle that brought down a large portion of the peloton wasn't in his plans for stage two, and he thought he was playing it safe up front. "I was racing in the first positions of the bunch," he explained afterwards. "This is where it's usually relatively secure compared to the back. A Milram rider (Erik Zabel, ed.) looked behind him in search of his team-mates. His foot went off the pedal and I touched him. No way that I wouldn't crash at this speed. It was inevitable."
Surprisingly, Quinziato wasn't badly hurt. He was left with a bit of pain in his left knee, but nothing too bad. "I'm happy that nothing's broken because it was a shock when 50 riders crashed on my back," he said. But he was quite philosophical about the fall. "The Tour de France is like that. It's the most stressful bike race. GC riders and sprinters want to ride in the front for different reasons and it makes the race extremely nervous. It creates a lot of risks. But today's finale was less dangerous than yesterday's. Crashes usually happen when we don't expect it." God has really saved Quinziato from a major accident.
Vansevenant enjoys his moment of glory
"I didn't know it would feel like that"
By Brecht Decaluwé in Dunkerque and Gent
McEwen embraces Wim Vansevenant
Photo ©: Cyclingnews.com

Before the stage start in Dunkerque Predictor-Lotto's Wim Vansevenant was asked about his ambitions of the day. Not a normal question for a man who took his only professional win more than ten years ago, and who normally doesn't care about the cameras as he's just pulling to get a breakaway back or picking up bottles for his team leaders Robbie McEwen and Cadel Evans. Nevertheless, it was clear he would be in the picture today as the Tour de France cruised near his hometown Eernegem in the middle of the stage.
"I think something like this will never happen to me again," said the 35 year-old, who realised a special day was coming up. At the start, Vansevenant wasn't sure he'd get to take the traditional bow in front of the peloton, as he had more important work to do. "I'm here to work and for nothing else. It's not that we don't like to make fun, but we're in the Tour de France and we're defending the green jersey.
"I remember Marc Wauters once was wearing the yellow jersey when he rode in his area, it will certainly not be like that," Vansevenant explained. Despite his professional ambitions it turned out that Vansevenant was allowed to receive some glory by the peloton, and was able to ride alone ahead of the peloton for a few minutes. "Yeah, I know," Vansevenant laughed. "It was very special to ride through my city, I didn't think it would feel like that," Vansevenant reacted.
"It was intuition, and I enjoyed it very much although I'm sad that I attacked too late to stop for my son - but there were so many people - it was perfect," Vansevenant described. Last year the Belgian finished as lantern rouge in Paris and Vansevenant is once again close to this position, being ranked 184th after stage two. "I received more media attention than expected by that position, that was funny," Vansevenant laughed.
More bad luck for Cavendish
By Shane Stokes in Gent
Mark Cavendish's only crash free stage so far
Photo ©: Cyclingnews.com

Had everything gone to plan, Mark Cavendish would have been fighting it out for the stage win at the end of Sunday's stage of the Tour de France. However a crash with 23 kilometres to go plus delays due to wheel and bike changes meant that he didn't get back to the bunch. Missing out on the chance of Tour victory on home soil was a hugely disappointing turn of events for him, and he finally crossed the finish line 186th, 2'45 down, he quickly pedalled down the road to the team bus.
T-Mobile directeur sportif Brian Holm was sure that the first year pro would quickly bounce back. "I think I can promise you that when stuff like that happens, when things don't go his way, it just makes him stronger. Don't worry about that."
As Holm suggests, Cavendish is a highly motivated and determined young rider. However any hopes that he would be fighting it out for victory in Gent were dashed when he was caught up in the big crash with about two kilometres to go. He was fourth in line in the T-Mobile train which was trying to ensure he was in a good position for the final sprint, but once the crash began to unfold he was catapulted to the right hand side of the road and hit the barriers there.
He lay on the road for some time, then remounted and limped across the line. Cavendish had a trickle of blood running from his knee and the back of his jersey was badly shredded. As was the case on stage one, he looked very upset and didn't want to comment.
"Mark was in the middle of it alright," T-Mobile Sporting Director Valerio Piva told www.t-mobile-team.com after the race. "Luckily the crash was not as bad as it looked. Mark has suffered bruising to his left knee and heel which took the brunt of the crash. There is also bruising elsewhere but he should be OK. Obviously he'll spend a lot of time with the doctors and soigneurs tonight."
Cavendish's fans will be hoping that his luck improves from stage three onwards, and he finally has a chance to show his speed against the world's top sprinters in cycling's top event.
Freire persists
By Shane Stokes in Gent
Rabobank's Oscar Freire showed that he is getting over the undercarriage cyst problem which has affected him for several days when he sprinted home seventh on the first stage of the Tour and ninth into Gent. He was hoping for a better results but will be encouraged by the fact that he was able to get through the stages without major problems.
"I think my form is good," he said after the first stage. "It is not easy after the crash in the Tour de Suisse and also this problem [his groin]. I didn't train very well [in the last few days] because of the problem and so I have to wait for the next sprints. I hope to feel better tomorrow."
Freire said that they mistimed their effort on the stage to Canterbury. "I was in front and in position but there was a lot of wind. We [the team] were a little bit slow in the last 700 metres and the others came very quickly from behind us; we couldn't do anything in the last 300 metres. It was a little bit uphill and also there was the wind."
He was hoping to show better on stage two but the sprint was a very unusual one due to the disruptive effects of the crash which brought down many riders and delayed the vast majority of the bunch. A clearer estimation of his form is likely to be seen over the next couple of stages.
(All rights reserved/Copyright Knapp Communications Pty Limited 2007)