Tales from the peloton, July 17, 2007
Kazakhstan: Riding on Vinokourov's shoulders
Astana literally means high-tech, and while still a young nation, its determined to put its name on the map.
Photo ©: AFP Photo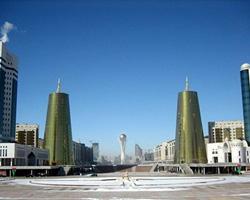 Kazakh rider Alexandre Vinokourov and his Astana teammates are carrying more than the weight of its fans, its carrying the weight of a nation. Felix Lowe sat down with the political heavyweights who are building a national image with its cycling superstars.
The rest day came not a moment too soon for Astana, the de facto Kazakh national cycling team whose Tour de France is not going according to plan. Prior to the race, team leader Alexandre Vinokourov, a sports star bigger than David Beckham in his home country, was being feted as yellow jersey elect. His expected victory in the world's most grueling sporting event was seemingly a mere formality; the President of Kazakhstan, a fervent cycling fan, was no doubt conjuring up yet another national honour to bestow upon him.
But cycling is a cruel sport and rarely - the regularity of doping scandals aside - keeps to the script. With 15 miles left to ride of Thursday's Stage 5 to Autun, Vino took a nasty tumble that resulted in heavy road rash, two deep scrapes on both knees, thirty stitches, and an evening in Dijon hospital without any dinner. To make matters worse, his teammate and fellow podium hopeful, Andreas Kloden, fractured his coccyx after slumping into a ditch. Not an ideal injury when you spend six hours a day in the saddle.
"I'll be back," deadpanned a bloodied Vino. "I must continue. I haven't broken anything." While he might have sounded like the Terminator, he was the one who was tormented on his way up to Tignes on Sunday, where he lost more precious seconds over his opponents in the first big mountain stage of the race. Even the sight of a roadside fan wearing nothing but a luminous green Borat-style thong was not enough to inject the belief back into his body. On Tuesday, the race resumes with a legendary mountain stage finishing in Briançon, a near carbon copy of the stage which Vino won back in 2005. It will take a rest-day recovery of epic proportions if he is going to repeat the feat.
"It's national pride that through sportsmen like Vinokourov and others our name is being projected throughout the world."
-Erlan Idrissov sees Astana's role as one of national importance
Let us rewind a couple of weeks to guage the sheer disappointment of Vino's sudden demise - both to him and to an ambitious nation which has high hopes of using cycling as a tool for galvanisation. With the Grand Départ in London fast approaching, the Embassy of the Republic of Kazakhstan is buzzing with anticipation. The fallout from the relatively recent release of Borat is still fresh in the mind, and the Ambassador openly embraces any chance to promote his nation in a positive light on the global stage. Here is a prime opportunity to do just that: victory for Vino would make him the first Kazakh to win the Tour, and in doing so he would end the United States of America's eight-year grip on the event.
"If the world sees the strength of our team in the Tour de France they will definitely be intrigued," said the affable Erlan Idrissov, rubbing his hands with glee. "They will ask: 'What is the country which has been able to produce such a strong team in such a short period of time?' With America having for years and years dominated the sport, all of a sudden Kazakhstan leaps from out of the blue and everyone will be freaked. But such things do not happen by themselves, they happen through policy, support, perseverance and devotion." These traits are precisely what Vinokourov and his team have - in buckets.
The Kazakh government wants to counteract the image
Photo ©: AFP Photo

Rewind another year, however, and the situation was less wholesome. Vino was refused entry on the Tour at the 11th hour after five of his teammates were caught up in the doping scandal dubbed Operación Puerto. The team lost its sponsor, and any slim hopes for the remainder of the season rested on its leader's ability to cobble a squad together from scratch - and fast.
Being a patriotic Kazakh family man, Vinokourov naturally thought of his homeland. A phone call to the then Prime Minister Daniyal Alchmetov - coincidentally the chairman of the Kazakh cycling federation - got the ball rolling. Vino then used the fame generated by his bronze medal in the Sydney Olympics to gain the political support of President Nursultan Nazarbayev and the necessary financial clout from a consortium of Kazakh metal, oil and transport businesses. It seemed only natural for the team to be called Astana and to boast the rising Kazakh sun and symbolic golden eagle upon its Lycra shirts. "I was insistent on that," said Vinokourov, a man of few words. "It's my team and I'm very proud of it."
Kazakhstan's favourite son: Vinokourov enjoys super-star
Photo ©: Cyclingnews.com

As the majority of the cycling season takes place in Europe, a Swiss management was installed, the team took its headquarters near Geneva, and a cluster of established European names were signed. However, Vinokourov was equally insistent for young Kazakhs to be drafted into the racing roster, which led to the acquisition of his good friend, Andrey Kashechkin, from a rival French squad. Two months later the pair combined in pulsating fashion as Vino made up for his Tour woe by winning the Vuelta a Espana, his first Grand Tour scalp.
The swashbuckling, smash-and-grab Spanish success proved to Vino that he had the ability to master a major three-week race. But at 33 years of age, the pocket Hercules knows that his chances of winning the one that matters are diminishing. "There's only one race I want to win this year - the Tour de France," he said. "I've already won everything else I wanted in my career. It is this year or never."
The significance of a Kazakh winner on the world stage cannot be underestimated, argues Idrissov. For the youngsters of Kazakhstan - a country where a rumoured 250,000 of the 15 million population are drug addicts - the example of Vino and Kashechkin will be inspirational. "Many boys and girls will jump into cycling, they will stay away from drugs and bars and they will have something to devote their lives to," said Idrissov. "The message will be that they can also achieve success like this. And the government can support this message by building modern facilities for them."
Ambassador Erlan Idrissov
Photo ©: Kazakhstan Government

In its bid for modernisation, the Kazakhstan government has drawn up seven long-term priorities, including the promotion of a "healthy way of life". The construction of a new state-of-the-art cycle track in Astana - the best track in the world, according to Alchmetov - will give further encouragement to the young population, as will Astana's hosting of the 2011 cycling World Championships.
Alchmetov, a cycling enthusiast who recently stepped down from being Prime Minister to become the first civilian Defence Minister in the country's 15-year history, echoes the Ambassador's musings. "Thousands of Kazakh boys will want to be like them," he said referring to the team's double heading of Vinokourov and Kashechkin. "Victory of the team will allow Kazakhstan to become the leader in world cycling and will reflect glory on the country."
Success on two wheels will not only bring internal benefits to the world's ninth largest country, measured by land mass, it will also work wonders in a snowballing public relations campaign to impugn the bogus stereotypes brought about by Borat. "It's national pride that through sportsmen like Vinokourov and others our name is being projected throughout the world," beamed Idrissov from the soft sofa of his Embassy office. "If the winner of the Tour de France is from Kazakhstan, it promotes the name, it educates the general public. They will discover our country, they will see the lies of Borat and will be presented with the facts for them to judge themselves. This will of course motivate them to go to Kazakhstan one day."
While Alexandre Vinokourov's Tour de France victory hopes may have dimmed, countryman Andrey Kashechkin
Photo ©: AFP Photo

Both Vinokourov and Kashechkin grew up in humble surroundings in villages and remote regional towns. In a country not renowned for its famous sportsmen - Vladmir Smirnov, the cross-country skier from the 1980s and 90s previously topped the bill when Kazakhstan was still part of the former Soviet Union - Vinokourov has fast become an icon. He has indubitably reached the lofty heights of famed notoriety habitually reserved for the nation's revered astronauts, while his powerhouse build, bright blond hair and piercing blue eyes make him instantly recognisable. So too does his indefatigable dancing style on the bike.
"Vinokourov's attacking cycling style can be used as a symbol for our country because Kazakhstan is also leaping out," said Idrissov, explaining that, besides the eagle, the rare Asian snow leopard is symbolic of Kazakhstan. Vino, he says, is showing how a snow leopard - raised in adverse environment and conditions - can prosper against the odds just as Kazakhstan is doing in economic, political and social spheres.
"Let's hope that this style of Vinokourov and the style of the country will continue to match each other in the future," said the Ambassador, before continuing the metaphor: "The population of snow leopards is growing steadily in Kazakhstan and this shows that he has the stamina to grow. Like snow leopards we were told that we would die, that our country would collapse, disintegrate and be submerged by others.
Alexandre Vinokourov's hopes of making his nation proud took a battering when he crashed on a stage last week.
Photo ©: AFP Photo

"But Kazakhstan is now being presented as an example of a success story," the Ambassador adds. "Now we are leaping out and we are multiplying and building our muscles on and on. It is a great pride that we have all these symbols in Kazakhstan. I definitely believe that this symbolism is quite healthy and very visionary - it helps the people understand better."
The Vino effect is certainly doing wonders for cycling in Kazakhstan, a country usually synonymous with boxing, ice hockey, wrestling and a little-known Scandinavian game called bandy. A new generation of sports fan is rising up and national pride behind such a ruthless rider is at an all-time high. Last year, following his Vuelta victory, Vinokourov was awarded by the President his national order of recognition - the Barys - which, to Idrissov's delight, is the Kazakh word for snow leopard. "So," he started, his face wracked with concentration before betraying a satisfied smile, "Vinokourov as a snow leopard has a snow leopard order from the snow leopard country!"
Acts of sportsmen so often come to reflect the wider success of a nation, and Alchmetov believes the case of Vinokourov and Kazakhstan is no different. "His sense of purpose, self-assertion and ambition are the kinds of quality which belong to many Kazakhstan people," he argued. "It is these qualities which become the basis for solving the challenging tasks of building a democratic society, a competitive economy and ensuring Kazakhstan joins the list of the world's top 50 developed countries."
Astana's centerpiece: The 253-foot high Norman Foster-designed Pyramid of Peace.
Photo ©: AFP Photo

Choosing to name a purpose-built cycling team after a purpose-built capital city was another piece of shrew symbolism for Vinokourov and ensured both publicity and support from all ranks of Kazakh society - from the ordinary people to the President himself. Located in central Kazakhstan and built atop the steppes, the high-tech capital city - Astana literally means just that - has been dubbed one of the world's coldest, least comfortable capitals. But the nation's fast developing oil-rich economy is seeing Astana, which took over from the previous capital Almaty 10 years ago, develop at a frightening pace. The centrepiece of this city with no coherent structure is the new 253-foot high Norman Foster-designed Pyramid of Peace.
The Pyramid, of course, provides yet more scope for symbolic comparisons. Underlining the unifying factor of sport and how it promotes tolerance to people all over the world, Alchmetov said, "Sportsmen are messengers of peace and Vinokourov is one of them." Peaceful, Idrissov chimed in, taking up the baton, is the way to describe a snow leopard. "It will not bring harm to anyone, unless it is being disturbed," he said. "If he is being disturbed, then the disturber has a trouble."
If such bullish talk did not bode well for Vinokourov's Tour de France rivals before the race, it remains to be seen just how difficult - or easy - it will be for them to keep a wounded snow leopard at bay over the next fortnight. It is a shame that Vino's Tour aspirations were dealt a bitter blow by last week's freak fall, but it will not be the first set back for both the rider and his team, whose race preparations were not exactly free from controversy.
One Astana rider - Matthias Kessler - tested positive for testosterone and has been sacked; another - Eddie Mazzoleni - is in the Italian dock on doping charges, while Vino himself has admitted to having worked with the infamous doctor Michele Ferrari, who received a suspended prison sentence for sporting fraud in October 2004. Allegations of systematic doping from a former teammate further stirred the pot of murky uncertainty, and, during Astana's pre-race press conference, Vinokourov was even attacked by a renowned Irish journalist who said that he was "disgusted" by Vino's behaviour.
A call to then Prime Minister Daniyal Akhmetov
Photo ©: Kazakhstan Government

At the Kazakhstan Embassy in South Kensington, however, the Ambassador is not letting these rumours ruin what could be a crowning moment for his nation. While the people of Astana culminated their six-day annual Capital City celebrations the Friday before last, Idrissov welcomed a select group of guests at a "friendly reception" at the Institute of Directors on Pall Mall to celebrate the Grand Départ in London and his forthcoming posting to Washington. An unlikely win for Vinokourov in the opening prologue time trial, he said, would be a massive coup for Kazakhstan, but, he emphasised, the most important aim was for Vino to deliver the overall leader's yellow jersey. Alchmetov also has great expectations, stressing with blazon authority: "We foresee victory in the Tour de France for Kazakhstan." Thanks to fate's cruel blow it will take a miracle to secure this gung-ho prediction - but a nation is not giving up belief. After all, its new motto is In Vino veritas.
Photography
For a thumbnail gallery of these images, click here
Images by Kazakhstan Government
Images by Cyclingnews.com
Images by AFP Photo