94th Tour de France - ProT
France, July 7-29, 2007
Main Page Results Overall standings Stage Details Live report Previous Stage Next Stage
Stage 13 - Saturday, July 21: Albi - Albi, 54km
A mighty maillot jaune holds - Vino returns with stage win
Sun shines on GC Favourites in 'Albi la Rouge'
By Gregor Brown and Brecht Decaluwé in Albi, with additional reporting by Tim Maloney
Alexander Vinokourov (Astana) is back
Photo ©: Sirotti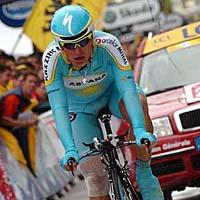 Drawing on courage, stubbornness and the oft-mentioned boost of wearing the maillot jaune, Michael Rasmussen tore along the roads east of 'Albi la Rouge' to save his yellow jersey. The Rabobank Dane was expected by most to slip out of the lead but instead he held off a firing Cadel Evans (Predictor-Lotto) by exactly a minute to hold on at the top. Alexander Vinokourov ruled the day and painfully proved to his rivals that he should not yet be counted out of the overall battle by covering the 42-kilometre parcours in a time of 1:06'34", followed by Evans and Andreas Klöden (Astana).
"I am happy with my performance," said Vinokourov after his run. "I am finding my legs again. Now I want to attack in the Pyrénées. I want to thank everyone in and around the team that encouraged me to get through the Alps."
The 33 year-old Kazakh of Team Astana smashed all the time checks of the day to prove that his crash in stage five to Autun has not finished him off as a race overall contender. He ousted early pacesetter Bradley Wiggins (Cofidis) with times of 23'09" at kilometre 18, 44'00" at 35.6, 50'07" at 38.5 and 1:00'38" at 49.
Is the patron back? "Yes. You can say that, some people have already written me off." Vinokourov, winner of the 2006 Vuelta a España and third in the 2003 Tour, lost over three minutes in stage nine to Briançon. "I took revenge for Briançon." He gave out a warning to his rivals with the Pyrénées looming, "I still have a few days left."
Rasmussen is a known non-specialist in the time trials and many felt his time at the top would end on the roads to Albi. However he pulled out a defiant ride, finishing with the eleventh best time and only conceding 2'55 to Vinokourov.
"Obviously the yellow jersey is a big motivation factor," the clearly pleased leader said after the podium presentation. "Starting last today was a huge motivation. I went out and did the entire TT this morning with Eric Breukink behind me in the car and Erik Dekker on the bike.
Cadel Evans (Predictor-Lotto)
Photo ©: Cyclingnews.com

"They were then guiding me through the day and telling me how to get all the way to the finish line without blowing myself up. I also had more favourable conditions to ride in then many of my competitors. The roads had were drying up significantly at the end of the day compared to earlier on."
Like Rasmussen, Evans rode better and better as the stage wore on. He was sixth at the 18-kilometre check but moved up to second at the 38.5 kilometre check to threaten for the stage and for the overall. Perhaps the finish bodes well for the 30 year-old Aussie who avoided the spotlight of stage winner and allows for Rabobank to control the first stage in the Pyrénées, tomorrow.
"So far, so good. It was a good course for me. I had time checks from my team-mates," explained Evans to Jean-François Quénet of Cyclingnews. "I was going at half-speed compared to what they wanted at every corner. I understand that many people crashed.
"I'm happy with the time that made on Klöden. I am surprised by Vino. I am surprised by Rasmussen and Valverde, but not for the same reasons. I did not think about the GC. I only wanted to have a good time trial. It is a good sign. The best is yet to come."
Levi Leipheimer (Discovery Channel)
Photo ©: Cyclingnews.com

Evans is prepared for the following mountain stages. "During the Pyrénées, it may be tricky with Discovery's two riders and Astana with three riders. At this point, I am happy with how it is. I know there are steeper climbs in the Pyrénées. Contador has good team-mates; I don't know what will happen. I was interested to see how Contador goes because had done a good prologue."
Astana's other two men, Klöden and Andrey Kashechkin, rode amazingly well considering that they each crashed during their crono runs. The German took a right-hander a little over the pace and slid out. He jumped back on his BMC machine but had to dismount for the team mechanic to adjust. Despite this, he finished third with a time of 1:08'13", five seconds faster than 'Kash,' in fourth at 1:08'18".
Alberto Contador (Discovery Channel)
Photo ©: Cyclingnews.com

The Londoner Bradley Wiggins, out of the start house at 11 o'clock, handled the moistened roads with agility and hammered in with an early best time of 1:08'48". Many pundits figured that the time would stick as the roads became even worse with the heavy rains; however, the clouds cleared and the final men over the finish line in the city known for artist Henri de Toulouse-Lautrec could see their shadows.
Discovery Channel's Yaroslav Popovych, Alberto Contador and Levi Leipheimer finished sixth, seventh and ninth. The time by Spaniard Contador moved him into third overall, 1'31" behind Evans, while the American's time lessened the chance of a win in Paris, but still is in reach of the podium. Kid Contador, maintaining the maillot blanc of best young rider, will aim for tomorrow's Pyrenean stage to Plateau de Beille .
"It is better to go slower today to be cautious, and then tomorrow I will be back," Kid Contador noted before the stage. If it was "cautious" today then he has a good chance of changing his blanc for jaune at the end of tomorrow's 197-kilometre romp.
Sylvain Chavanel (Cofidis) finished eighth while Spain's Mikel Astarloza (Euskaltel-Euskadi) rounded out the top ten with a ride that moved him into eighth overall.
Rasmussen finished the day in 11th but saved his lead with an amazing time trial for a riders consiered as a 'pure climber.' "When I saw Valverde in front of me that was a great motivation," he noted after the stage. "Starting in the yellow jersey was an extream motivation. Today was better than St-Etienne [in 2005 with his multiple crashes]; I rode very carefully on the descents and I avoided any risks."
How it unfolded
After two weeks of racing, the 54 kilometre race of truth in Albi was an important step towards determining the eventual winner of the 2007 Tour De France. Starting in the birthplace of French artist Toulouse-Lautrec, stage 13 was a twisty, tricky out-and-back time test with the first 20 kilometres a long, gradual uphill false flat, then downhill and rolling until the 34 kilometres point.
Then followed a four kilometre power climb at a 3.4 % grade up the sinuous category 4 Côte de la Bauzie, a slick, difficult descent, and a return to Albi on the D999 road to the finish. Although many thought the high heat would play a major factor, Mother Nature decided otherwise. A cold front with raid and wind blew into the Departement du Tarn this morning, bringing cool temperatures, a gusty northwest wind and intermittent rain showers.
Michael Rasmussen (Rabobank)
Photo ©: Roberto Bettini

The bad weather was much to the liking of Cofidis man Bradley Wiggins, as the big British rider is used to such conditions back home. Wiggins was off early, starting 19th at 11 am sharp. The Cofidis man was fastest at all time checks to honour the British time trialling tradition, powered home fastest in 1 hour 8'48".
Wiggins lead was threatened when prologue winner and World TT champion Fabian Cancellara got off to a fast start and was second fastest at the first time check in Villefranche-d'Albigeois after 18km, 29 seconds behind the big Brit. However Cancellara crashed on the tricky descent to Ambialet some four kilometres later and limped home 6'31" slower than Big Wig.
Rider after rider threw it down on the wet roads around Albi to try and unseat the Cofidis competitor but to no avail. The final 20 riders on GC started their bid at 15.21when Discovery Channel's Yaroslav Popovych got underway. The rain had stopped around mid-afternoon but the roads were still wet and skies overcast as the cold front moved east.
Just after Popo was Vino, the Astana tough man who was hoping to time trial himself back into contention at the 2007 Tour De France.
World Champion Fabian Cancellara
Photo ©: Sirotti

With some generous whiskers and plenty of chin cabbage, French champ Christophe Moreau had nothing to lose and everything to win back as he started with huge cheers from the French crowd. While the long, lanky Ag2r rider was on the course, Astana's Vinokourov powered through the first time check in Villefranche-d'Albigeois in 23'09", the new fast time at that point. This was ten seconds quicker than Wiggins.
Clad in his Russian TT champs jersey, Discovery Channel's Gusev was also on a good ride and caught his three minute man Jens Voigt. He was sitting about 4th place, but 10 kilometres from the finish his front wheel slipped out on a slippery traffic circle and he crashed hard. He lost 30 seconds but managed to came back to provisional third, 42" slower than Wiggins.
Moreau had an extremely slow start, passing through the first time check in a surprising 54th place. He had already conceded 2'55" to Vino. The Kazakh rider remained in pole position at the second time check after 35 kilometres, and was powering home to Albi. The third check came atop the Côte de la Bauzie and he came past here in 50'07", 1'19" ahead of Wiggins. The rain had finally stopped but the roads were still wet.
Leipheimer then came through the first time check 1'31" behind Vino in 20th, well slower than expected, while his teammate Contador was up on schedule. He was just six seconds behind Levi and on his way to a good ride.
Vino's Astana teammate Klöden was now on the course and the classy German hit the first time check in the 3rd fastest time, 34" back. Back at the finish in Albi, it was Discovery Channel's Popovych who then finished second fastest, but right behind him was the hard charging Kazakh hoard in the person of Vinokourov, who had a fantastic time of 1h06'35". This was an average of 48.7 kilometres per hour and was a full 2'14" faster than Wiggo.
Back out on the course, Cadel Evans was next past the first time check and he was clearly off to a good start. He was sixth, 57 seconds back, while ahead of him Klöden slipped on a wet patch on the descent after 22 kilometres and crashed hard on his right hip. The German quickly got up and only lost 20".
Valverde was having a bad day at the office as he came through the first check 2'18" down and had already lost time on GC. In contrast, maillot jaune Rasmussen passed through the same check in a respectable 29th place, 1'42" behind Vino. He had lost 45 seconds to his closest GC rival Evans.
Levi continued his disappointing ride, being only 12th fastest at the top of the Côte de la Bauzie. He was by now 2'35" behind Vino's time.
Klöden had recovered from his crash and was coming up fast from behind on the Discovery Channel rider and passed the top third fastest, 1'19" behind Vino. Next across the summit of Côte de la Bauzie was Predictor's Cadel Evans, second quickest.
He was 1'01" behind Vino, but well ahead of Klöden and was faster up the 3.4 kilometres climb than the Kazakh.
Christophe Moreau (Ag2r Prévoyance)
Photo ©: Cyclingnews.com

Moreau had a poor race today, finally finishing 125th, 9'26" behind. Astana's Kasheckhin had a super finish and caught his three minute man Astarloza, posting the second fastest time at that point. He would end up fourth on the stage.
Leipheimer finished in 1h09'13", 23 seconds slower than teammate Popovych's sixth place time. Contador was seventh, while Klöden had slowed over the last kilometers but still came home in third place.
Surprises from top two overall:
The next rider across the summit of Côte de la Bauzie was Valverde, who was having a horrible ride. He passed the top in 54'44", already losing 4'30 to Vino. Just behind him was Ramussen, who many expected to lose a lot of time today. However Rasmussen was going well and was surprisingly fast over the ascent. He wasn't losing enough time to Evans, his old rival from mountain bike racing, to lose his maillot jaune. In order to keep the Tour lead, the Dane needed to concede less than 1'10" over the next 15.5 kilometres and his riding was inspired today.
Contador came home to complete his superb ride, while next to finish was fighting Aussie Cadel Evans. He was second on the stage, beating Klöden and taking back 1'39" from Maillot Jaune. Caisse d'Epargne's Valverde had started second overall but was the day's major flop, losing almost five minutes to Evans and dropping nine places on GC to eleventh.
But it was the surprising Rasmussen, embattled the last few days over missed doping tests, who fought back hard today and finished the stage in 11th place. He even caught his three minute man Valverde and left the Spaniard rider, nicknamed "the unbeaten", well beaten on the streets of Albi. The Caisse d'Epargne rider was a dismal 47th on the stage, losing 6'08" to Vinokourov.
As predicted, Saturday's Stage 13 time test has markedly changed the overall picture at the 2007 Tour De France. Maillot Jaune Rasmussen has ridden well, far better than expected, to maintain his supremacy. He's still in yellow, even if he is only there by one minute from Cadel Evans, now second overall.
After the team's earlier troubles, Astana has re-emerged as a powerful force at the Tour De France, thanks to Vinokourov's win today and the excellent performances of his teammates Klöden (3rd) & Kasheckhin (4th). Both Astana riders have solidified their GC positions of fourth and sixth; Klodi is just 3'37" from the Maillot Jaune, while Vino's powerful win has catapulted him from 20th to 9th, 5'10" behind. Expect to hear a lot more from Astana as the Pyrenees begin tomorrow.
Evans is in a difficult spot, as he has to drop super-climber Rasmussen to take over the Maillot Jaune. His Predictor team isn't that strong and may have difficulty supporting the 30 year old Aussie should he do so. So he may just sit back, watch the action and wait for the right moment to make his move.
Now sitting pretty in 3rd is 24 year old Alberto Contador, and he must be the new leader of Discovery Channel if the US squad has any chance at Tour De France glory. Finishing 7th today, just behind his teammate Popovych and 21" ahead of supposed Discovery Channel team leader Leipheimer (9th), the emerging Spanish talent has now become the go-to guy for the squad.
Leipheimer, sitting 5th on GC, will have to be satisfied with a support role for here on in at Le Tour 2007. Contador now has a real chance to keep his Maillot Blanc of Best Young Rider until Paris, and perhaps even an outside chance of making the podium should his form continue to improve.
Mauricio Soler (Barloworld)
Photo ©: Cyclingnews.com

CSC's Carlos Sastre has ridden himself back into the picture with a decent time trial. He is now sitting 7th, 4'45" behind Rasmussen, and while the Spanish climber has been quiet up until now, he must go on the offensive in the next few mountain stages to have a chance at the podium.
His CSC teammate Franck Schleck was slow today, losing 4'48" to Vino and over three minutes to the other GC contenders. He will have to focus on helping Sastre move up on GC. Valverde's Tour hopes went down the tubes today in Albi and the classy rider from Murcia, Spain will have to hope for a stage win to salvage his race.
Two T-Mobile riders, solid Kim Kirchen and 24 year old Linus Gerdemann are having respectable Tours and are now sitting 10th and 13th overall.
Stage 14: Sunday 22 July Mazamet-Plateau de Beille / 197 km
Saturday's first stage in the Pyrenees heads south from Mazamet, the hometown of Laurent Jalabert and climbs out of town via the 2nd Cat. 9 kilometres Côte de Saint-Sarraille. It then travels across the Montagne Noir massif and the flats of Carcassonne, Limoux and Quillan before ascending the steep 17 kilometres of the hors categorie Port de Pailhères. The final ascent finishes atop the steep 16 kilometre Plateau de Beille, rated the same.
Coming one day after the tough Stage 13 time trial, stage 14 will definitively separate the pretenders from the contenders as regards the win in the 2007 Tour De France. Astana will try to infiltrate an early break and maybe send Kashechkin on the long, steep Port de Pailhères. But the real action will happen on the final ascent of the Plateau de Beille.
This is a tough 15.9 kilometres climb at a 7.9 % grade where Rasmussen will try to gain more time with a decisive attack.
Look for hazy, cloudy weather on Sunday that will shroud the Pyrenees in their characteristic mists but even so, Rasmussen will be easy to spot. He'll be the one off the front in the yellow jersey on the way to Plateau de Beille.
Climbs:
kilometre 9: Côte de Saint-Sarraille: 9.0 kilometres climb @ 5.3 % grade / 2nd Cat.
kilometre 146.5: Port de Pailhères: 16.8 kilometres climb @ 7.2 % / Beyond Category
kilometre 197: Plateau de Beille: 15.9 kilometres climb @ 7.9 % / Beyond Category
Sprint:
kilometre 46.5: Carcassone kilometres 105.5: Campagne-Sur-Aude
Photography
For a thumbnail gallery of these images, click here
Images by Cyclingnews.com
Images by Fotoreporter Sirotti
Images by Roberto Bettini/www.bettiniphoto.net
Results
1 Alexandre Vinokourov (Kaz) Astana                                           1.06.34 (48.661 km/h)
2 Cadel Evans (Aus) Predictor - Lotto                                            1.14
3 Andreas Klöden (Ger) Astana                                                    1.39
4 Andrey Kashechkin (Kaz) Astana                                                 1.44
5 Bradley Wiggins (GBr) Cofidis - Le Crédit par Téléphone                        2.14
6 Yaroslav Popovych (Ukr) Discovery Channel Pro Cycling Team                     2.16
7 Alberto Contador Velasco (Spa) Discovery Channel Pro Cycling Team              2.18
8 Sylvain Chavanel (Fra) Cofidis - Le Crédit par Téléphone                       2.38
9 Levi Leipheimer (USA) Discovery Channel Pro Cycling Team                       2.39
10 Mikel Astarloza Chaurreau (Spa) Euskaltel - Euskadi                           2.42
11 Michael Rasmussen (Den) Rabobank                                              2.55
12 Vladimir Gusev (Rus) Discovery Channel Pro Cycling Team                       2.56
13 Leif Hoste (Bel) Predictor - Lotto                                                
14 Linus Gerdemann (Ger) T-Mobile Team                                           3.09
15 Juan Manuel Garate (Spa) Quickstep - Innergetic                               3.12
16 Juan Jose Cobo Acebo (Spa) Saunier Duval - Prodir                             3.13
17 Vladimir Karpets (Rus) Caisse d'Epargne                                       3.17
18 Kim Kirchen (Lux) T-Mobile Team                                               3.18
19 Oscar Pereiro Sio (Spa) Caisse d'Epargne                                      3.23
20 David Millar (GBr) Saunier Duval - Prodir                                     3.27
21 Denis Menchov (Rus) Rabobank                                                  3.30
22 Sébastien Rosseler (Bel) Quickstep - Innergetic                               3.35
23 Markus Fothen (Ger) Gerolsteiner                                              3.39
24 Michael Boogerd (Ned) Rabobank                                                3.42
25 George Hincapie (USA) Discovery Channel Pro Cycling Team                      3.45
26 Carlos Sastre Candil (Spa) Team CSC                                           4.01
27 Thomas Dekker (Ned) Rabobank                                                  4.04
28 Andry Grivko (Ukr) Team Milram                                                4.16
29 Kanstantin Siutsou (Blr) Barloworld                                           4.20
30 Chris Horner (USA) Predictor - Lotto                                          4.21
31 Egoi Martinez De Esteban (Spa) Discovery Channel Pro Cycling Team             4.28
32 Haimar Zubeldia Agirre (Spa) Euskaltel - Euskadi                              4.31
33 José Ivan Gutierrez Palacios (Spa) Caisse d'Epargne                           4.32
34 Frank Schleck (Lux) Team CSC                                                  4.48
35 Carlos Barredo Llamazales (Spa) Quickstep - Innergetic                        4.51
36 Jens Voigt (Ger) Team CSC                                                     4.57
37 Manuel Beltran Martinez (Spa) Liquigas                                        5.13
38 Dmitriy Fofonov (Kaz) Crédit Agricole                                         5.18
39 Alessandro Ballan (Ita) Lampre - Fondital                                     5.31
40 Tadej Valjavec (Slo) Lampre - Fondital                                            
41 Marcus Burghardt (Ger) T-Mobile Team                                          5.48
42 Nicolas Portal (Fra) Caisse d'Epargne                                         5.51
43 Rik Verbrugghe (Bel) Cofidis - Le Crédit par Téléphone                        5.52
44 Johan Van Summeren (Bel) Predictor - Lotto                                    5.53
45 Marzio Bruseghin (Ita) Lampre - Fondital                                      6.02
46 Iban Mayo Diez (Spa) Saunier Duval - Prodir                                   6.04
47 Alejandro Valverde Belmonte (Spa) Caisse d'Epargne                            6.08
48 Moises Duenas Nevado (Spa) Agritubel                                              
49 Bert Grabsch (Ger) T-Mobile Team                                              6.12
50 Ruben Perez Moreno (Spa) Euskaltel - Euskadi                                  6.17
51 Bram De Groot (Ned) Rabobank                                                  6.28
52 Geraint Thomas (GBr) Barloworld                                               6.48
53 Giampaolo Cheula (Ita) Barloworld                                             6.53
54 Mauricio Soler (Col) Barloworld                                               6.56
55 Aleksandr Kuchynski (Blr) Liquigas                                                
56 Alexander Efimkin (Rus) Barloworld                                            6.58
57 Francisco Javier Vila Errandonea (Spa) Lampre - Fondital                      6.59
58 Gorka Verdugo Marcotegui (Spa) Euskaltel - Euskadi                            7.04
59 Stefan Schumacher (Ger) Gerolsteiner                                          7.05
60 Manuel Quinziato (Ita) Liquigas                                               7.09
61 Francisco Perez Sanchez (Spa) Caisse d'Epargne                                7.10
62 Bram Tankink (Ned) Quickstep - Innergetic                                     7.11
63 David Arroyo Duran (Spa) Caisse d'Epargne                                     7.13
64 Juan Antonio Flecha Giannoni (Spa) Rabobank                                   7.14
65 Alessandro Cortinovis (Ita) Team Milram                                       7.17
66 Pierrick Fedrigo (Fra) Bouygues Telecom                                       7.24
67 Ralf Grabsch (Ger) Team Milram                                                    
68 Robert Hunter (RSA) Barloworld                                                7.25
69 Daniele Bennati (Ita) Lampre - Fondital                                       7.30
70 Bernhard Eisel (Aut) T-Mobile Team                                                
71 Mickael Delage (Fra) Française des Jeux                                       7.31
72 Stéphane Goubert (Fra) AG2r Prévoyance                                        7.32
73 Christian Knees (Ger) Team Milram                                                 
74 Erik Zabel (Ger) Team Milram                                                  7.33
75 Inaki Isasi Flores (Spa) Euskaltel - Euskadi                                  7.35
76 Alexandre Botcharov (Rus) Crédit Agricole                                         
77 Iker Camano Ortuzar (Spa) Saunier Duval - Prodir                              7.39
78 Steven De Jongh (Ned) Quickstep - Innergetic                                  7.45
79 Benoît Vaugrenard (Fra) Française des Jeux                                    7.46
80 Laurent Lefevre (Fra) Bouygues Telecom                                        7.48
81 Matteo Tosatto (Ita) Quickstep - Innergetic                                   7.50
82 Paolo Savoldelli (Ita) Astana                                                 7.51
83 Amets Txurruka (Spa) Euskaltel - Euskadi                                          
84 Claudio Corioni (Ita) Lampre - Fondital                                       7.53
85 Martin Elmiger (Swi) AG2r Prévoyance                                              
86 Murilo Fischer (Bra) Liquigas                                                 7.59
87 Christophe Le Mével (Fra) Crédit Agricole                                     8.03
88 Stéphane Augé (Fra) Cofidis - Le Crédit par Téléphone                         8.05
89 José Luis Arrieta Lujambio (Spa) AG2r Prévoyance                              8.08
90 Nick Nuyens (Bel) Cofidis - Le Crédit par Téléphone                               
91 Anthony Geslin (Fra) Bouygues Telecom                                         8.09
92 Frederik Willems (Bel) Liquigas                                               8.13
93 Mathieu Ladagnous (Fra) Française des Jeux                                    8.15
94 David De La Fuente Rasilla (Spa) Saunier Duval - Prodir                       8.20
95 Axel Merckx (Bel) T-Mobile Team                                               8.21
96 Michael Albasini (Swi) Liquigas                                               8.23
97 Jérôme Pineau (Fra) Bouygues Telecom                                          8.24
98 Cédric Vasseur (Fra) Quickstep - Innergetic                                       
99 William Bonnet (Fra) Crédit Agricole                                          8.26
100 Robert Förster (Ger) Gerolsteiner                                            8.27
101 Dario David Cioni (Ita) Predictor - Lotto                                    8.30
102 Sergio Miguel Moreira Paulinho (Por) Discovery Channel Pro Cycling Team          
103 Sven Krauss (Ger) Gerolsteiner                                               8.34
104 Charles Wegelius (GBr) Liquigas                                              8.37
105 Marcel Sieberg (Ger) Team Milram                                             8.38
106 Julian Dean (NZl) Crédit Agricole                                            8.44
107 Fabian Cancellara (Swi) Team CSC                                             8.45
108 Jorge Azanza Soto (Spa) Euskaltel - Euskadi                                  8.50
109 Sébastien Hinault (Fra) Crédit Agricole                                      8.52
110 Cyril Dessel (Fra) AG2r Prévoyance                                           8.53
111 Cristian Moreni (Ita) Cofidis - Le Crédit par Téléphone                      8.57
112 Daniel Navarro Garcia (Spa) Astana                                           8.58
113 José Vicente Garcia Acosta (Spa) Caisse d'Epargne                            9.02
114 Paolo Longo Borghini (Ita) Barloworld                                        9.04
115 Sébastien Chavanel (Fra) Française des Jeux                                  9.06
116 Anthony Charteau (Fra) Crédit Agricole                                       9.14
117 Benjamin Noval Gonzalez (Spa) Discovery Channel Pro Cycling Team             9.17
118 David Canada Gracia (Spa) Saunier Duval - Prodir                             9.18
119 Wim Vansevenant (Bel) Predictor - Lotto                                      9.19
120 Kjell Carlström (Fin) Liquigas                                               9.21
121 John Gadret (Fra) AG2r Prévoyance                                            9.22
122 Benoît Salmon (Fra) Agritubel                                                9.23
123 Johann Tschopp (Swi) Bouygues Telecom                                            
124 Philippe Gilbert (Bel) Française des Jeux                                    9.26
125 Christophe Moreau (Fra) AG2r Prévoyance                                          
126 Staf Scheirlinckx (Bel) Cofidis - Le Crédit par Téléphone                    9.27
127 Xavier Florencio Cabre (Spa) Bouygues Telecom                                9.28
128 Simon Gerrans (Aus) AG2r Prévoyance                                          9.30
129 Christian Vande Velde (USA) Team CSC                                             
130 Sandy Casar (Fra) Française des Jeux                                         9.34
131 Pieter Weening (Ned) Rabobank                                                9.39
132 Filippo Pozzato (Ita) Liquigas                                               9.49
133 Serguei Ivanov (Rus) Astana                                                  9.50
134 Bernhard Kohl (Aut) Gerolsteiner                                             9.51
135 Inigo Landaluze Intxaurraga (Spa) Euskaltel - Euskadi                        9.52
136 Antonio Colom Mas (Spa) Astana                                               9.59
137 Maxim Iglinskiy (Kaz) Astana                                                10.01
138 Enrico Poitschke (Ger) Team Milram                                          10.06
139 Lilian Jégou (Fra) Française des Jeux                                            
140 Daniele Righi (Ita) Lampre - Fondital                                       10.13
141 Thor Hushovd (Nor) Crédit Agricole                                          10.18
142 Fabian Wegmann (Ger) Gerolsteiner                                           10.21
143 Gert Steegmans (Bel) Quickstep - Innergetic                                 10.25
144 Grégory Rast (Swi) Astana                                                   10.28
145 Grischa Niermann (Ger) Rabobank                                             10.30
146 Ludovic Turpin (Fra) AG2r Prévoyance                                        10.31
147 Kurt-Asle Arvesen (Nor) Team CSC                                            10.37
148 Freddy Bichot (Fra) Agritubel                                               10.38
149 Juan Miguel Mercado Martin (Spa) Agritubel                                  10.41
150 Christophe Rinero (Fra) Saunier Duval - Prodir                                   
151 Peter Wrolich (Aut) Gerolsteiner                                            10.42
152 Thomas Voeckler (Fra) Bouygues Telecom                                           
153 Nicolas Vogondy (Fra) Agritubel                                             10.43
154 Félix Rafael Cardenas Ravalo (Col) Barloworld                               11.02
155 Paolo Bossoni (Ita) Lampre - Fondital                                       11.04
156 Heinrich Haussler (Ger) Gerolsteiner                                             
157 Tom Boonen (Bel) Quickstep - Innergetic                                     11.08
158 Matthieu Sprick (Fra) Bouygues Telecom                                      11.14
159 Thomas Lövkvist (Swe) Française des Jeux                                    11.17
160 Iñigo Cuesta Lopez De Castro (Spa) Team CSC                                 11.21
161 Ronny Scholz (Ger) Gerolsteiner                                             11.51
162 Mario Aerts (Bel) Predictor - Lotto                                         11.59
163 Patrice Halgand (Fra) Crédit Agricole                                       12.18
164 Fred Rodriguez (USA) Predictor - Lotto                                      12.42
165 Francisco José Ventoso Alberdi (Spa) Saunier Duval - Prodir                 13.25
166 Nicolas Jalabert (Fra) Agritubel                                            13.44
 
Points
 
1 Alexandre Vinokourov (Kaz) Astana                                                15 pts
2 Cadel Evans (Aus) Predictor - Lotto                                              12
3 Andreas Klöden (Ger) Astana                                                      10
4 Andrey Kashechkin (Kaz) Astana                                                    8
5 Bradley Wiggins (GBr) Cofidis - Le Crédit par Téléphone                           6
6 Yaroslav Popovych (Ukr) Discovery Channel Pro Cycling Team                        5
7 Alberto Contador Velasco (Spa) Discovery Channel Pro Cycling Team                 4
8 Sylvain Chavanel (Fra) Cofidis - Le Crédit par Téléphone                          3
9 Levi Leipheimer (USA) Discovery Channel Pro Cycling Team                          2
10 Mikel Astarloza Chaurreau (Spa) Euskaltel - Euskadi                              1

Mountains
 
1 Alberto Contador Velasco (Spa) Discovery Channel Pro Cycling Team                 3 pts
2 Cadel Evans (Aus) Predictor - Lotto                                               2
3 Michael Boogerd (Ned) Rabobank                                                    1
 
Young Rider
 
1 Alberto Contador Velasco (Spa) Discovery Channel Pro Cycling Team           1.08.52
2 Vladimir Gusev (Rus) Discovery Channel Pro Cycling Team                        0.38
3 Linus Gerdemann (Ger) T-Mobile Team                                            0.51
4 Thomas Dekker (Ned) Rabobank                                                   1.46
5 Andry Grivko (Ukr) Team Milram                                                 1.58
6 Kanstantin Siutsou (Blr) Barloworld                                            2.02
7 Marcus Burghardt (Ger) T-Mobile Team                                           3.30
8 Geraint Thomas (GBr) Barloworld                                                4.30
9 Mauricio Soler (Col) Barloworld                                                4.38
10 Mickael Delage (Fra) Française des Jeux                                       5.13
11 Benoît Vaugrenard (Fra) Française des Jeux                                    5.28
12 Amets Txurruka (Spa) Euskaltel - Euskadi                                      5.33
13 Claudio Corioni (Ita) Lampre - Fondital                                       5.35
14 Mathieu Ladagnous (Fra) Française des Jeux                                    5.57
15 William Bonnet (Fra) Crédit Agricole                                          6.08
16 Sven Krauss (Ger) Gerolsteiner                                                6.16
17 Marcel Sieberg (Ger) Team Milram                                              6.20
18 Jorge Azanza Soto (Spa) Euskaltel - Euskadi                                   6.32
19 Daniel Navarro Garcia (Spa) Astana                                            6.40
20 Johann Tschopp (Swi) Bouygues Telecom                                         7.05
21 Philippe Gilbert (Bel) Française des Jeux                                     7.08
22 Bernhard Kohl (Aut) Gerolsteiner                                              7.33
23 Heinrich Haussler (Ger) Gerolsteiner                                          8.46
24 Thomas Lövkvist (Swe) Française des Jeux                                      8.59
25 Francisco José Ventoso Alberdi (Spa) Saunier Duval - Prodir                  11.07
 
Teams
 
1 Astana                                                                      3.23.05
2 Discovery Channel Pro Cycling Team                                             3.50
3 Predictor-Lotto                                                                5.08
4 Rabobank                                                                       6.44
5 Cofidis-Le Crédit par Téléphone                                                7.21
6 Caisse D'Epargne                                                               7.49
7 Quickstep-Innergetic                                                           8.15
8 T-Mobile Team                                                                  8.52
9 Saunier Duval-Prodir                                                           9.21
10 Euskaltel-Euskadi                                                            10.07
11 Team CSC                                                                     10.23
12 Lampre-Fondital                                                              13.41
13 Barloworld                                                                   14.38
14 Team Milram                                                                  15.34
15 Gerolsteiner                                                                 15.48
16 Liquigas                                                                     15.55
17 Crédit Agricole                                                              17.33
18 Bouygues Telecom                                                             19.58
19 Française des Jeux                                                           20.09
20 AG2r Prévoyance                                                              20.10
21 Agritubel                                                                    22.46
 
General classification after stage 13
 
1 Michael Rasmussen (Den) Rabobank                                           58.46.39
2 Cadel Evans (Aus) Predictor - Lotto                                            1.00
3 Alberto Contador Velasco (Spa) Discovery Channel Pro Cycling Team              2.31
4 Andreas Klöden (Ger) Astana                                                    2.34
5 Levi Leipheimer (USA) Discovery Channel Pro Cycling Team                       3.37
6 Andrey Kashechkin (Kaz) Astana                                                 4.23
7 Carlos Sastre Candil (Spa) Team CSC                                            4.45
8 Mikel Astarloza Chaurreau (Spa) Euskaltel - Euskadi                            5.07
9 Alexandre Vinokourov (Kaz) Astana                                              5.10
10 Kim Kirchen (Lux) T-Mobile Team                                               5.29
11 Alejandro Valverde Belmonte (Spa) Caisse d'Epargne                            5.48
12 Iban Mayo Diez (Spa) Saunier Duval - Prodir                                       
13 Linus Gerdemann (Ger) T-Mobile Team                                           6.59
14 Oscar Pereiro Sio (Spa) Caisse d'Epargne                                      7.04
15 Yaroslav Popovych (Ukr) Discovery Channel Pro Cycling Team                    7.37
16 Denis Menchov (Rus) Rabobank                                                  7.45
17 Frank Schleck (Lux) Team CSC                                                  7.49
18 Haimar Zubeldia Agirre (Spa) Euskaltel - Euskadi                              8.18
19 Vladimir Karpets (Rus) Caisse d'Epargne                                       9.13
20 Kanstantin Siutsou (Blr) Barloworld                                          10.25
21 Chris Horner (USA) Predictor - Lotto                                         10.37
22 Mauricio Soler (Col) Barloworld                                              10.50
23 Christophe Moreau (Fra) AG2r Prévoyance                                      13.09
24 Juan Jose Cobo Acebo (Spa) Saunier Duval - Prodir                            13.23
25 Tadej Valjavec (Slo) Lampre - Fondital                                       13.41
26 Juan Manuel Garate (Spa) Quickstep - Innergetic                              13.46
27 David Arroyo Duran (Spa) Caisse d'Epargne                                    15.20
28 José Ivan Gutierrez Palacios (Spa) Caisse d'Epargne                          15.21
29 Manuel Beltran Martinez (Spa) Liquigas                                       15.47
30 Vladimir Gusev (Rus) Discovery Channel Pro Cycling Team                      15.50
31 Jens Voigt (Ger) Team CSC                                                    19.21
32 Markus Fothen (Ger) Gerolsteiner                                             19.42
33 Sylvain Chavanel (Fra) Cofidis - Le Crédit par Téléphone                     19.55
34 Michael Boogerd (Ned) Rabobank                                               20.54
35 George Hincapie (USA) Discovery Channel Pro Cycling Team                     27.11
36 Amets Txurruka (Spa) Euskaltel - Euskadi                                     27.25
37 Christophe Le Mével (Fra) Crédit Agricole                                    27.53
38 Dmitriy Fofonov (Kaz) Crédit Agricole                                        30.33
39 Carlos Barredo Llamazales (Spa) Quickstep - Innergetic                       31.37
40 Thomas Dekker (Ned) Rabobank                                                 33.01
41 Francisco Javier Vila Errandonea (Spa) Lampre - Fondital                     33.32
42 Alexandre Botcharov (Rus) Crédit Agricole                                    35.21
43 Bram Tankink (Ned) Quickstep - Innergetic                                    37.34
44 Stéphane Goubert (Fra) AG2r Prévoyance                                       38.44
45 Dario David Cioni (Ita) Predictor - Lotto                                         
46 Christian Vande Velde (USA) Team CSC                                         39.21
47 Maxim Iglinskiy (Kaz) Astana                                                 40.12
48 Ludovic Turpin (Fra) AG2r Prévoyance                                         40.42
49 Patrice Halgand (Fra) Crédit Agricole                                        42.43
50 Cédric Vasseur (Fra) Quickstep - Innergetic                                  44.54
51 Fabian Wegmann (Ger) Gerolsteiner                                            45.04
52 Cristian Moreni (Ita) Cofidis - Le Crédit par Téléphone                      46.17
53 Christian Knees (Ger) Team Milram                                            47.47
54 Mario Aerts (Bel) Predictor - Lotto                                          49.47
55 Xavier Florencio Cabre (Spa) Bouygues Telecom                                51.22
56 Thomas Voeckler (Fra) Bouygues Telecom                                       52.08
57 Ronny Scholz (Ger) Gerolsteiner                                              53.10
58 Juan Miguel Mercado Martin (Spa) Agritubel                                   53.29
59 Inigo Landaluze Intxaurraga (Spa) Euskaltel - Euskadi                        54.45
60 Antonio Colom Mas (Spa) Astana                                               54.47
61 Paolo Savoldelli (Ita) Astana                                                57.52
62 Iñigo Cuesta Lopez De Castro (Spa) Team CSC                                  57.53
63 Kjell Carlström (Fin) Liquigas                                               58.32
64 Marzio Bruseghin (Ita) Lampre - Fondital                                     58.35
65 Jérôme Pineau (Fra) Bouygues Telecom                                         59.04
66 Laurent Lefevre (Fra) Bouygues Telecom                                       59.49
67 Serguei Ivanov (Rus) Astana                                                1.01.34
68 Iker Camano Ortuzar (Spa) Saunier Duval - Prodir                           1.01.45
69 Sergio Miguel Moreira Paulinho (Por) Discovery Channel Pro Cycling Team    1.02.08
70 Sandy Casar (Fra) Française des Jeux                                       1.02.29
71 David De La Fuente Rasilla (Spa) Saunier Duval - Prodir                    1.02.39
72 Bernhard Kohl (Aut) Gerolsteiner                                           1.02.48
73 Thomas Lövkvist (Swe) Française des Jeux                                   1.03.10
74 Johan Van Summeren (Bel) Predictor - Lotto                                 1.03.49
75 Axel Merckx (Bel) T-Mobile Team                                            1.04.25
76 Martin Elmiger (Swi) AG2r Prévoyance                                       1.05.53
77 Gorka Verdugo Marcotegui (Spa) Euskaltel - Euskadi                         1.06.22
78 Egoi Martinez De Esteban (Spa) Discovery Channel Pro Cycling Team          1.07.22
79 Andry Grivko (Ukr) Team Milram                                             1.08.10
80 Moises Duenas Nevado (Spa) Agritubel                                       1.08.46
81 Nicolas Portal (Fra) Caisse d'Epargne                                      1.09.23
82 John Gadret (Fra) AG2r Prévoyance                                          1.09.27
83 David Millar (GBr) Saunier Duval - Prodir                                  1.10.39
84 Erik Zabel (Ger) Team Milram                                               1.10.47
85 José Luis Arrieta Lujambio (Spa) AG2r Prévoyance                           1.10.50
86 Grischa Niermann (Ger) Rabobank                                            1.11.54
87 Francisco Perez Sanchez (Spa) Caisse d'Epargne                             1.12.15
88 Charles Wegelius (GBr) Liquigas                                            1.12.40
89 Ruben Perez Moreno (Spa) Euskaltel - Euskadi                               1.13.07
90 Stefan Schumacher (Ger) Gerolsteiner                                       1.13.36
91 Kurt-Asle Arvesen (Nor) Team CSC                                           1.14.52
92 Michael Albasini (Swi) Liquigas                                            1.16.09
93 Juan Antonio Flecha Giannoni (Spa) Rabobank                                1.16.15
94 Christophe Rinero (Fra) Saunier Duval - Prodir                             1.17.22
95 Nicolas Vogondy (Fra) Agritubel                                            1.18.34
96 Simon Gerrans (Aus) AG2r Prévoyance                                        1.18.55
97 Benoît Vaugrenard (Fra) Française des Jeux                                 1.21.09
98 Matthieu Sprick (Fra) Bouygues Telecom                                     1.21.43
99 Jorge Azanza Soto (Spa) Euskaltel - Euskadi                                1.21.52
100 Daniele Bennati (Ita) Lampre - Fondital                                   1.22.03
101 Philippe Gilbert (Bel) Française des Jeux                                 1.22.12
102 Grégory Rast (Swi) Astana                                                 1.22.31
103 Paolo Bossoni (Ita) Lampre - Fondital                                     1.23.01
104 Filippo Pozzato (Ita) Liquigas                                            1.23.13
105 Alessandro Ballan (Ita) Lampre - Fondital                                 1.23.38
106 Anthony Geslin (Fra) Bouygues Telecom                                     1.24.10
107 Alexander Efimkin (Rus) Barloworld                                        1.25.14
108 David Canada Gracia (Spa) Saunier Duval - Prodir                          1.26.05
109 Pierrick Fedrigo (Fra) Bouygues Telecom                                   1.26.17
110 Murilo Fischer (Bra) Liquigas                                             1.27.03
111 Francisco José Ventoso Alberdi (Spa) Saunier Duval - Prodir               1.29.20
112 Frederik Willems (Bel) Liquigas                                           1.29.53
113 Daniele Righi (Ita) Lampre - Fondital                                     1.31.53
114 Fabian Cancellara (Swi) Team CSC                                          1.31.59
115 Inaki Isasi Flores (Spa) Euskaltel - Euskadi                              1.32.00
116 Sébastien Rosseler (Bel) Quickstep - Innergetic                           1.32.21
117 Nicolas Jalabert (Fra) Agritubel                                          1.33.18
118 Bert Grabsch (Ger) T-Mobile Team                                          1.33.41
119 Staf Scheirlinckx (Bel) Cofidis - Le Crédit par Téléphone                 1.34.28
120 José Vicente Garcia Acosta (Spa) Caisse d'Epargne                         1.34.29
121 Tom Boonen (Bel) Quickstep - Innergetic                                   1.34.34
122 Ralf Grabsch (Ger) Team Milram                                            1.35.06
123 Julian Dean (NZl) Crédit Agricole                                         1.35.11
124 William Bonnet (Fra) Crédit Agricole                                      1.35.26
125 Lilian Jégou (Fra) Française des Jeux                                     1.35.27
126 Robert Hunter (RSA) Barloworld                                            1.35.33
127 Bernhard Eisel (Aut) T-Mobile Team                                        1.35.39
128 Benoît Salmon (Fra) Agritubel                                             1.35.45
129 Mickael Delage (Fra) Française des Jeux                                   1.36.05
130 Marcus Burghardt (Ger) T-Mobile Team                                      1.36.11
131 Paolo Longo Borghini (Ita) Barloworld                                     1.36.24
132 Matteo Tosatto (Ita) Quickstep - Innergetic                               1.36.40
133 Claudio Corioni (Ita) Lampre - Fondital                                   1.36.43
134 Mathieu Ladagnous (Fra) Française des Jeux                                1.36.55
135 Bradley Wiggins (GBr) Cofidis - Le Crédit par Téléphone                   1.37.02
136 Félix Rafael Cardenas Ravalo (Col) Barloworld                             1.37.05
137 Freddy Bichot (Fra) Agritubel                                             1.37.18
138 Marcel Sieberg (Ger) Team Milram                                          1.37.34
139 Steven De Jongh (Ned) Quickstep - Innergetic                              1.38.29
140 Pieter Weening (Ned) Rabobank                                             1.38.47
141 Benjamin Noval Gonzalez (Spa) Discovery Channel Pro Cycling Team          1.40.11
142 Manuel Quinziato (Ita) Liquigas                                           1.40.30
143 Alessandro Cortinovis (Ita) Team Milram                                   1.40.36
144 Heinrich Haussler (Ger) Gerolsteiner                                      1.41.18
145 Johann Tschopp (Swi) Bouygues Telecom                                     1.42.49
146 Peter Wrolich (Aut) Gerolsteiner                                          1.43.11
147 Enrico Poitschke (Ger) Team Milram                                        1.43.44
148 Daniel Navarro Garcia (Spa) Astana                                        1.43.54
149 Cyril Dessel (Fra) AG2r Prévoyance                                        1.44.28
150 Sébastien Hinault (Fra) Crédit Agricole                                   1.44.31
151 Sébastien Chavanel (Fra) Française des Jeux                               1.44.36
152 Leif Hoste (Bel) Predictor - Lotto                                        1.45.25
153 Fred Rodriguez (USA) Predictor - Lotto                                    1.45.57
154 Giampaolo Cheula (Ita) Barloworld                                         1.46.13
155 Robert Förster (Ger) Gerolsteiner                                         1.47.17
156 Gert Steegmans (Bel) Quickstep - Innergetic                               1.49.30
157 Bram De Groot (Ned) Rabobank                                              1.49.41
158 Stéphane Augé (Fra) Cofidis - Le Crédit par Téléphone                     1.50.08
159 Thor Hushovd (Nor) Crédit Agricole                                        1.50.36
160 Sven Krauss (Ger) Gerolsteiner                                            1.53.02
161 Geraint Thomas (GBr) Barloworld                                           1.54.40
162 Aleksandr Kuchynski (Blr) Liquigas                                        1.55.09
163 Nick Nuyens (Bel) Cofidis - Le Crédit par Téléphone                       1.56.41
164 Rik Verbrugghe (Bel) Cofidis - Le Crédit par Téléphone                    1.57.07
165 Anthony Charteau (Fra) Crédit Agricole                                    1.58.33
166 Wim Vansevenant (Bel) Predictor - Lotto                                   2.03.34
 
Points Classification
 
1 Tom Boonen (Bel) Quickstep - Innergetic                                         195 pts
2 Robert Hunter (RSA) Barloworld                                                  175
3 Erik Zabel (Ger) Team Milram                                                    174
4 Thor Hushovd (Nor) Crédit Agricole                                              132
5 Sébastien Chavanel (Fra) Française des Jeux                                     127
6 Robert Förster (Ger) Gerolsteiner                                                95
7 Fabian Cancellara (Swi) Team CSC                                                 93
8 Filippo Pozzato (Ita) Liquigas                                                   87
9 Murilo Fischer (Bra) Liquigas                                                    73
10 Daniele Bennati (Ita) Lampre - Fondital                                         72
11 Marcus Burghardt (Ger) T-Mobile Team                                            72
12 Gert Steegmans (Bel) Quickstep - Innergetic                                     71
13 Bernhard Eisel (Aut) T-Mobile Team                                              67
14 Philippe Gilbert (Bel) Française des Jeux                                       63
15 Francisco José Ventoso Alberdi (Spa) Saunier Duval - Prodir                     59
16 Cadel Evans (Aus) Predictor - Lotto                                             51
17 Andrey Kashechkin (Kaz) Astana                                                  50
18 Juan Antonio Flecha Giannoni (Spa) Rabobank                                     48
19 Andreas Klöden (Ger) Astana                                                     46
20 Alejandro Valverde Belmonte (Spa) Caisse d'Epargne                              46
21 Kim Kirchen (Lux) T-Mobile Team                                                 45
22 William Bonnet (Fra) Crédit Agricole                                            44
23 Paolo Bossoni (Ita) Lampre - Fondital                                           43
24 Cédric Vasseur (Fra) Quickstep - Innergetic                                     41
25 Mathieu Ladagnous (Fra) Française des Jeux                                      39
26 Ruben Perez Moreno (Spa) Euskaltel - Euskadi                                    38
27 Heinrich Haussler (Ger) Gerolsteiner                                            38
28 George Hincapie (USA) Discovery Channel Pro Cycling Team                        37
29 Michael Albasini (Swi) Liquigas                                                 36
30 Iban Mayo Diez (Spa) Saunier Duval - Prodir                                     35
31 Jérôme Pineau (Fra) Bouygues Telecom                                            35
32 Aleksandr Kuchynski (Blr) Liquigas                                              34
33 Mauricio Soler (Col) Barloworld                                                 33
34 Martin Elmiger (Swi) AG2r Prévoyance                                            33
35 Cristian Moreni (Ita) Cofidis - Le Crédit par Téléphone                         32
36 Linus Gerdemann (Ger) T-Mobile Team                                             30
37 Michael Rasmussen (Den) Rabobank                                                30
38 Sandy Casar (Fra) Française des Jeux                                            30
39 Andry Grivko (Ukr) Team Milram                                                  29
40 Anthony Geslin (Fra) Bouygues Telecom                                           29
41 Bradley Wiggins (GBr) Cofidis - Le Crédit par Téléphone                         27
42 Inaki Isasi Flores (Spa) Euskaltel - Euskadi                                    27
43 Xavier Florencio Cabre (Spa) Bouygues Telecom                                   26
44 Staf Scheirlinckx (Bel) Cofidis - Le Crédit par Téléphone                       26
45 Jens Voigt (Ger) Team CSC                                                       26
46 Alberto Contador Velasco (Spa) Discovery Channel Pro Cycling Team               25
47 Christophe Moreau (Fra) AG2r Prévoyance                                         25
48 Frank Schleck (Lux) Team CSC                                                    24
49 Patrice Halgand (Fra) Crédit Agricole                                           24
50 Yaroslav Popovych (Ukr) Discovery Channel Pro Cycling Team                      23
51 Sylvain Chavanel (Fra) Cofidis - Le Crédit par Téléphone                        23
52 Steven De Jongh (Ned) Quickstep - Innergetic                                    23
53 Oscar Pereiro Sio (Spa) Caisse d'Epargne                                        22
54 Alessandro Ballan (Ita) Lampre - Fondital                                       22
55 Stefan Schumacher (Ger) Gerolsteiner                                            21
56 Claudio Corioni (Ita) Lampre - Fondital                                         21
57 Sven Krauss (Ger) Gerolsteiner                                                  21
58 Inigo Landaluze Intxaurraga (Spa) Euskaltel - Euskadi                           20
59 Alexandre Vinokourov (Kaz) Astana                                               19
60 Freddy Bichot (Fra) Agritubel                                                   19
61 Nicolas Jalabert (Fra) Agritubel                                                18
62 Geraint Thomas (GBr) Barloworld                                                 18
63 Marcel Sieberg (Ger) Team Milram                                                17
64 Nicolas Vogondy (Fra) Agritubel                                                 16
65 Mikel Astarloza Chaurreau (Spa) Euskaltel - Euskadi                             16
66 Markus Fothen (Ger) Gerolsteiner                                                15
67 Fabian Wegmann (Ger) Gerolsteiner                                               15
68 David De La Fuente Rasilla (Spa) Saunier Duval - Prodir                         15
69 Manuel Quinziato (Ita) Liquigas                                                 15
70 Sébastien Hinault (Fra) Crédit Agricole                                         15
71 Pierrick Fedrigo (Fra) Bouygues Telecom                                         14
72 Bram Tankink (Ned) Quickstep - Innergetic                                       14
73 Julian Dean (NZl) Crédit Agricole                                               14
74 Enrico Poitschke (Ger) Team Milram                                              14
75 Laurent Lefevre (Fra) Bouygues Telecom                                          13
76 Peter Wrolich (Aut) Gerolsteiner                                                13
77 David Millar (GBr) Saunier Duval - Prodir                                       12
78 Levi Leipheimer (USA) Discovery Channel Pro Cycling Team                        12
79 Carlos Sastre Candil (Spa) Team CSC                                             12
80 Juan Manuel Garate (Spa) Quickstep - Innergetic                                  9
81 Christian Vande Velde (USA) Team CSC                                             9
82 Thomas Lövkvist (Swe) Française des Jeux                                         9
83 Paolo Longo Borghini (Ita) Barloworld                                            9
84 Amets Txurruka (Spa) Euskaltel - Euskadi                                         8
85 David Canada Gracia (Spa) Saunier Duval - Prodir                                 8
86 Denis Menchov (Rus) Rabobank                                                     7
87 Chris Horner (USA) Predictor - Lotto                                             7
88 José Ivan Gutierrez Palacios (Spa) Caisse d'Epargne                              7
89 Christophe Rinero (Fra) Saunier Duval - Prodir                                   7
90 Thomas Voeckler (Fra) Bouygues Telecom                                           6
91 Frederik Willems (Bel) Liquigas                                                  6
92 Vladimir Gusev (Rus) Discovery Channel Pro Cycling Team                          6
93 Haimar Zubeldia Agirre (Spa) Euskaltel - Euskadi                                 5
94 Vladimir Karpets (Rus) Caisse d'Epargne                                          5
95 Juan Jose Cobo Acebo (Spa) Saunier Duval - Prodir                                5
96 Tadej Valjavec (Slo) Lampre - Fondital                                           4
97 Bernhard Kohl (Aut) Gerolsteiner                                                 4
98 Nick Nuyens (Bel) Cofidis - Le Crédit par Téléphone                              4
99 Kanstantin Siutsou (Blr) Barloworld                                              3
100 Thomas Dekker (Ned) Rabobank                                                    3
101 Manuel Beltran Martinez (Spa) Liquigas                                          2
102 Stéphane Goubert (Fra) AG2r Prévoyance                                          2
103 Christian Knees (Ger) Team Milram                                               2
104 Antonio Colom Mas (Spa) Astana                                                  2
105 Gorka Verdugo Marcotegui (Spa) Euskaltel - Euskadi                              2
106 Matthieu Sprick (Fra) Bouygues Telecom                                          2
107 Sébastien Rosseler (Bel) Quickstep - Innergetic                                 2
108 Ralf Grabsch (Ger) Team Milram                                                  2
109 Benoît Vaugrenard (Fra) Française des Jeux                                      1
110 Matteo Tosatto (Ita) Quickstep - Innergetic                                     1
111 Lilian Jégou (Fra) Française des Jeux                                            
112 Alexander Efimkin (Rus) Barloworld                                             -3
113 Fred Rodriguez (USA) Predictor - Lotto                                         -4
114 Ronny Scholz (Ger) Gerolsteiner                                                -5
115 Juan Miguel Mercado Martin (Spa) Agritubel                                     -5
116 Iker Camano Ortuzar (Spa) Saunier Duval - Prodir                               -5
117 Kurt-Asle Arvesen (Nor) Team CSC                                               -5
118 Stéphane Augé (Fra) Cofidis - Le Crédit par Téléphone                         -20
 
Mountains Classification
 
1 Michael Rasmussen (Den) Rabobank                                                 98 pts
2 Mauricio Soler (Col) Barloworld                                                  89
3 Yaroslav Popovych (Ukr) Discovery Channel Pro Cycling Team                       86
4 Mikel Astarloza Chaurreau (Spa) Euskaltel - Euskadi                              51
5 Laurent Lefevre (Fra) Bouygues Telecom                                           50
6 Cadel Evans (Aus) Predictor - Lotto                                              48
7 Alberto Contador Velasco (Spa) Discovery Channel Pro Cycling Team                45
8 David De La Fuente Rasilla (Spa) Saunier Duval - Prodir                          44
9 Christophe Moreau (Fra) AG2r Prévoyance                                          43
10 Sylvain Chavanel (Fra) Cofidis - Le Crédit par Téléphone                        42
11 Alejandro Valverde Belmonte (Spa) Caisse d'Epargne                              33
12 Amets Txurruka (Spa) Euskaltel - Euskadi                                        32
13 Linus Gerdemann (Ger) T-Mobile Team                                             30
14 Philippe Gilbert (Bel) Française des Jeux                                       26
15 Iban Mayo Diez (Spa) Saunier Duval - Prodir                                     26
16 Inigo Landaluze Intxaurraga (Spa) Euskaltel - Euskadi                           26
17 Pierrick Fedrigo (Fra) Bouygues Telecom                                         24
18 David Arroyo Duran (Spa) Caisse d'Epargne                                       20
19 Stéphane Goubert (Fra) AG2r Prévoyance                                          20
20 Antonio Colom Mas (Spa) Astana                                                  20
21 Bernhard Kohl (Aut) Gerolsteiner                                                19
22 Vladimir Gusev (Rus) Discovery Channel Pro Cycling Team                         18
23 Stefan Schumacher (Ger) Gerolsteiner                                            16
24 David Millar (GBr) Saunier Duval - Prodir                                       16
25 Andrey Kashechkin (Kaz) Astana                                                  16
26 José Ivan Gutierrez Palacios (Spa) Caisse d'Epargne                             16
27 Dmitriy Fofonov (Kaz) Crédit Agricole                                           15
28 Sergio Miguel Moreira Paulinho (Por) Discovery Channel Pro Cycling Team         15
29 William Bonnet (Fra) Crédit Agricole                                            15
30 Frank Schleck (Lux) Team CSC                                                    14
31 Anthony Charteau (Fra) Crédit Agricole                                          14
32 George Hincapie (USA) Discovery Channel Pro Cycling Team                        13
33 Andreas Klöden (Ger) Astana                                                     12
34 Thomas Dekker (Ned) Rabobank                                                    12
35 Martin Elmiger (Swi) AG2r Prévoyance                                            12
36 Patrice Halgand (Fra) Crédit Agricole                                           11
37 Christophe Le Mével (Fra) Crédit Agricole                                       11
38 Thomas Voeckler (Fra) Bouygues Telecom                                          10
39 Juan Jose Cobo Acebo (Spa) Saunier Duval - Prodir                               10
40 Giampaolo Cheula (Ita) Barloworld                                               10
41 Stéphane Augé (Fra) Cofidis - Le Crédit par Téléphone                            9
42 Francisco Perez Sanchez (Spa) Caisse d'Epargne                                   8
43 Benoît Vaugrenard (Fra) Française des Jeux                                       8
44 Juan Manuel Garate (Spa) Quickstep - Innergetic                                  7
45 Bradley Wiggins (GBr) Cofidis - Le Crédit par Téléphone                          6
46 Gorka Verdugo Marcotegui (Spa) Euskaltel - Euskadi                               6
47 Christian Knees (Ger) Team Milram                                                5
48 Aleksandr Kuchynski (Blr) Liquigas                                               5
49 Denis Menchov (Rus) Rabobank                                                     5
50 Jens Voigt (Ger) Team CSC                                                        5
51 Marcus Burghardt (Ger) T-Mobile Team                                             4
52 Sandy Casar (Fra) Française des Jeux                                             4
53 Michael Albasini (Swi) Liquigas                                                  4
54 Kanstantin Siutsou (Blr) Barloworld                                              3
55 Freddy Bichot (Fra) Agritubel                                                    3
56 Kim Kirchen (Lux) T-Mobile Team                                                  3
57 Juan Antonio Flecha Giannoni (Spa) Rabobank                                      3
58 Staf Scheirlinckx (Bel) Cofidis - Le Crédit par Téléphone                        3
59 Xavier Florencio Cabre (Spa) Bouygues Telecom                                    2
60 Andry Grivko (Ukr) Team Milram                                                   2
61 Matthieu Sprick (Fra) Bouygues Telecom                                           2
62 Alexander Efimkin (Rus) Barloworld                                               2
63 Mathieu Ladagnous (Fra) Française des Jeux                                       2
64 Michael Boogerd (Ned) Rabobank                                                   1
65 Ruben Perez Moreno (Spa) Euskaltel - Euskadi                                     1
66 Frederik Willems (Bel) Liquigas                                                  1
67 Marcel Sieberg (Ger) Team Milram                                                 1
68 Nick Nuyens (Bel) Cofidis - Le Crédit par Téléphone                              1
 
Young Rider Classification
 
1 Alberto Contador Velasco (Spa) Discovery Channel Pro Cycling Team          58.49.10
2 Linus Gerdemann (Ger) T-Mobile Team                                            4.28
3 Kanstantin Siutsou (Blr) Barloworld                                            7.54
4 Mauricio Soler (Col) Barloworld                                                8.19
5 Vladimir Gusev (Rus) Discovery Channel Pro Cycling Team                       13.19
6 Amets Txurruka (Spa) Euskaltel - Euskadi                                      24.54
7 Thomas Dekker (Ned) Rabobank                                                  30.30
8 Bernhard Kohl (Aut) Gerolsteiner                                            1.00.17
9 Thomas Lövkvist (Swe) Française des Jeux                                    1.00.39
10 Andry Grivko (Ukr) Team Milram                                             1.05.39
11 Benoît Vaugrenard (Fra) Française des Jeux                                 1.18.38
12 Jorge Azanza Soto (Spa) Euskaltel - Euskadi                                1.19.21
13 Philippe Gilbert (Bel) Française des Jeux                                  1.19.41
14 Francisco José Ventoso Alberdi (Spa) Saunier Duval - Prodir                1.26.49
15 William Bonnet (Fra) Crédit Agricole                                       1.32.55
16 Mickael Delage (Fra) Française des Jeux                                    1.33.34
17 Marcus Burghardt (Ger) T-Mobile Team                                       1.33.40
18 Claudio Corioni (Ita) Lampre - Fondital                                    1.34.12
19 Mathieu Ladagnous (Fra) Française des Jeux                                 1.34.24
20 Marcel Sieberg (Ger) Team Milram                                           1.35.03
21 Heinrich Haussler (Ger) Gerolsteiner                                       1.38.47
22 Johann Tschopp (Swi) Bouygues Telecom                                      1.40.18
23 Daniel Navarro Garcia (Spa) Astana                                         1.41.23
24 Sven Krauss (Ger) Gerolsteiner                                             1.50.31
25 Geraint Thomas (GBr) Barloworld                                            1.52.09
 
Teams Classification
 
1 Astana                                                                    176.32.04
2 Discovery Channel Pro Cycling Team                                             0.54
3 Team CSC                                                                       2.19
4 Rabobank                                                                       3.59
5 Caisse D'Epargne                                                               4.47
6 Euskaltel-Euskadi                                                             19.11
7 Saunier Duval-Prodir                                                          26.49
8 Predictor-Lotto                                                               28.32
9 T-Mobile Team                                                                 33.20
10 Quickstep-Innergetic                                                         46.18
11 Crédit Agricole                                                              50.36
12 AG2r Prévoyance                                                              52.38
13 Lampre-Fondital                                                            1.01.30
14 Liquigas                                                                   1.07.02
15 Gerolsteiner                                                               1.23.32
16 Barloworld                                                                 1.25.40
17 Bouygues Telecom                                                           1.31.22
18 Cofidis-Le Crédit par Téléphone                                            1.51.04
19 Agritubel                                                                  2.30.48
20 Team Milram                                                                2.40.51
21 Française des Jeux                                                         2.44.51