93rd Tour de France - ProT
France, July 1-23, 2006
Main Page Results Overall standings Intermediate timing Stage Details Live report Previous Stage Next Stage
Stage 7 - Saturday, July 8: Saint-Grégoire - Rennes ITT, 52 km
T-Mobile Team morph to T-Rex in the TT
Gonchar in a sunny shade of yellow
By Anthony Tan & Brecht Decaluwé in Rennes, with additional reporting from Tim Maloney
Serguei Gonchar (T-Mobile)
Photo ©: AFP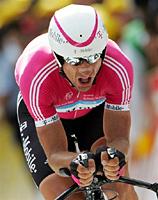 As maillot jaune Tom Boonen came across the finish line and the dust settled in the Brittany town of Rennes, it was time to announce a very different looking leaderboard at the 93rd Tour de France.
At the top was a name many didn't expect at the start of the day - but as history has shown, one should never discount a previous world time trial champion. Pounding his 55x11 along the rolling roads of Rennes, T-Mobile's Serguei Gonchar smashed his rivals into the stratosphere with a time one minute faster than the second-best rider, Floyd Landis of Phonak, with the American's superb performance now elevating him to 'strong favourite' status to win overall.
"This region is apparently good for me, as I became time trial champion in Plouay, not far from here," said a beaming Gonchar. "This place means good luck - if it continues like that, who knows where I will end up!
"This is definitely the greatest day in my life after the world championship [in 2000, which he won - ed.]. This was completely unexpected for me. It went alright in the beginning; later on, I suffered a small crisis due to the headwind but I felt that if I could overcome it, victory could be mine.
"I did my time trial at 100 percent, and I won, so I'm very, very happy," continued Gonchar. "Today, everything worked out; the legs responded perfectly so it was a real pleasure... while still being very painful," he grinned.
No real surprise was 26 year-old German Sebastian Lang from Gerolsteiner, the German TT champ provisional race leader for much of the day until Gonchar decided to take the race into his own hands. And although he didn't win, pre-race favourite and Gonchar's team-mate, Michael Rogers, rode solidly enough for fourth to retain his third position overall.
Floyd Landis (Phonak)
Photo ©: Sirotti

"It's been a really hard day, although I didn't do a bad pace at all," said the triple world time trial champion.
"I started alright, but apparently the other guys were stronger. My teammate is in the lead, so it's a good day for the team. I went as hard as I could but didn't have the strength to do better."
If that wasn't good news enough for T-Mobile, Patrik Sinkewitz and Andreas Klöden finished fourth and eighth respectively, and are now fourth and sixth overall. For a team who lost their leader and '97 Tour champion Jan Ullrich less than 24 hours before the start in Strasbourg one week ago, four riders in the top ten on GC is nothing short of a resounding success. Allez, T-Mobile, Allez!
Said Gonchar: "At T-Mobile, we were really well-prepared to help Ullrich in the Tour. Now, while I regret his departure, our results still came on."
Michael Rogers (T-Mobile)
Photo ©: Sirotti

Three others also worth a mention are Vladimir Karpets (Caisse d'Epargne), Cadel Evans (Davitamon-Lotto) and Denis Menchov (Rabobank), seventh, eighth and ninth on the Classement Général; apart from T-Mobile's awesome foursome, this will be a trio to watch come the Pyrenées next week.
"Coming into the mountains, that's not a bad position to be," said Evans, "but we'll see the truth on paper tonight.
"The wind picked up since this morning, but the difference wasn't that big as during the time trial last year. Today, I wanted to limit my losses, as Landis is the big favourite, but I heard he punctured. Still, the mountains are something completely different than this work," he said.
David Zabriskie (CSC)
Photo ©: Sirotti

Rounding out the top ten is CSC's chrono specialist David Zabriskie, tipped to win today's time test but finishing 13th. "I was hoping for the win, but sometimes it doesn't work," he said. "Honestly, I wish could have seen this course in advance. It was hard to get a feel for it. It's like a circus out there."
However, the day was not without casualties in one than one sense of the word, with the victims all coming from across the Atlantic.
Dauphiné Libéré winner Levi Leipheimer (Gerolsteiner) had possibly the worst time trial of his life, inexplicably losing over six minutes to today's stage winner. Another American and third overall in 1998, Bobby Julich (Team CSC), lost control of his bike less than a third of the way into his ride, overcooking his exit from a roundabout and was carted to hospital.
X-rays later revealed there were no broken bones, but Julich will spend the night in the hospital for observation and receive some stitches. And Floyd Landis (Phonak) required a change of bike midway through his ride; had this not have happened, the 30 year-old Californian may be only 30 seconds away from yellow
Serguei Gonchar (T-Mobile)
Photo ©: Roberto Bettini

Asked on his GC chances, Gonchar replied: "The most important thing now is that I have this [yellow] jersey, because I waited for it for a long time. There are two stages before we get into the Pyrenées, then we will see how things are unfolding for me.
"Now I only want to enjoy this jersey and my win, because I tried it already on three occasions in the past. I don't want to think about tomorrow, but of course I'll try to win some more stages," he said.
Make no bones about it: the 2006 Tour de France is quickly turning into one of the most intriguing in years.
How it unfolded
One week into the 93rd Tour De France and Saturday's 52km ITT was the first watershed point at the 2006 Tour. The 52km time test from Saint-Grégoire to Rennes across the countryside of northeast Brittany was slightly rolling over small rural roads in the first half, then on the run-in, the roads are flat and wide open to the finish. There were three intermediate time checks; Geveze' after 16.5km, l'Hermitage after 36.5km and Rennes Universite' after 46.5km.
Sebastian Lang (Gerolsteiner)
Photo ©: Jon Devich

Saturday opened with wet and windy weather blowing in from the English Channel but improved throughout the day with temps in the low twenties and a light wind blowing from the northwest that was a headwind on the outbound leg and a tailwind on the return to Rennes. Swedish TT champ Gustav Larsson posted the fastest time early on at the intermediate time check after 36.5kms and then at the finish. French TT champ Chavanel then posted the fast time at the first time check, but it was German TT champ Seppel Lang, who was 0'08" behind the Swede at the 36.5km time check at l'Hermitage powered across the line.
Lang had a excellent prologue last Saturday to finish and he exploded on the way into Rennes, besting Larsson's time by 0'30 with a 1h02'47. "I hoped to have a good time today because I'm feeling tired after doing a lot of work for my team this week. I hope my time holds up," explained Lang after he finished. Chavanel went out fast, but slowed and could just get in under 1h05'00.
Lampre-Fondital's Damiano Cunego was hoping for a decent time and told La Gazzetta dello Sport that he would be happy to lose 4 minutes to Stage 7's winner and his 1h08'06 eventually saw him losing 6'22. Orange clad Euskaltel-Euskadi rider Iban Mayo had a respectable 1h07'20.
Levi gets ready
Photo ©: Sirotti

As the Saturday afternoon weather continued to improve and Lang's time was looking good until his Gerolsteiner teammate Levi Leipheimer started at 15:40, with 24 riders, all the major GC contenders still to come. The American, winner of the Critérium du Dauphiné Libéré one month ago in France, was 3rd in the 43km TT on Stage 3 and was looking for a solid ride today. As the sun shone down, Leipheimer hit the first time check in 21'39 and was clearly having a bad day at the office as he lost 90 seconds over 16.5km to Menchov, the Vuelta a España winner who had set the fastest time at Geveze' with 20'07, 0'15 ahead of CSC's Sastre, who was having a strong start.
Bobby Julich (CSC) was the next Tour contender up and the Reno, Nevada and Nice, France resident was hoping to spin out a fast time today with his Osymmetric chainrings. But like a bad case of déjà vu when he crashed out of the 1999 Tour De France's first TT in Metz, Julich crashed hard in a roundabout after 5km, hurting his right wrist and was forced to abandon the Tour De France.
Bobby Julich (CSC)
Photo ©: Sirotti

As the distraught Julich climbed in the ambulance, his CSC teammate Zabriskie rolled out of the starthouse as one of the strong favourites for Stage 7, chasing T-Mobile's Andreas Klöden. Sastre then came through the 36.5km time check 4th fastest to that point behind Larsson, who still held the fastest time at l'Hermitage, while Leipheimer's teammate Markus Fothen had bested Menchov by 1'00 after 16.5km. Klöden then blasted through the 16.5km time check in 19'59 for the fastest time, while Menchov powered through the 36.5km time check on equal time with Larsson. Popovych, Millar, Gonchar, Karpets, Landis, Savoldelli and Hincapie were now all on the course, while back in Rennes, Lang was still in command on the leader board with his 49.7km/h average speed. In the final tale of the timepiece, Lang had a superb ride to end up 3rd on the stage, 1'04 behind the winner.
T-Mobile's World TT champ Mick Rogers rode out of the start house in his Rainbow skinsuit, hoping for a great ride that would propel him into the maillot jaune. At the first time check after 16.5km, Klodi was still in command with the only time under twenty minutes, while CSC's Zabriskie was 5th, 0'15 behind the German.
Tom Boonen (Quick.Step)
Photo ©: Sirotti

But as the last two sprinters, Robbie McEwen and Tom Boonen left, T-Mobile's Gonchar pounded his 55x11 through the first time check at 19'37, 0'22 faster than his teammate Klöden. Sastre then came through to finish in Rennes with an excellent time for the Spanish climber, 1h03'54 for 5th, followed by Menchov in 1h03'27 for third fastest time. Out at the 36.5km time check in l'Hermitage, Leipheimer continued to go backwards as he passed the midrace time check in 84th place, 3'30 behind Larsson and Menchov, while Discovery Channel's Popovych was 17th. Landis was off to a fast start after 16.5km, with second fastest tile in 19'54, 0'17 behind Gonchar.
A disappointed Leipheimer crossed the finish line in Rennes after a surprisingly slow ride, losing over 6'05 for 96th place, and likely ending his chances for the general classification at this year's Tour. At the 36.5km time check, a determined Gonchar pounded through in 43'50 at a 50km/hr average for the fastest time of the day, catching his teammate Kessler and now becoming a real threat for the Maillot Jaune.
Gonchar's T-Mobile teammate Andreas Klöden then finished in a strong 1h03'26 for the 4th fastest time to that point, while pre-race favourite Dave Zabriskie finished slower, with a surprising 1h03'40. Back at the l'Hermitage intermediate time check, Dave Z's friend Floyd Landis rode a 44'32 for 2nd fastest time at 36km, but Gonchar was clearly faster than the Phonak man. Then it was time for Discovery Channel's dynamic duo, Paolo Savoldelli and George Hincapie. Savo went through 36km in 45'36 in 16th place, while Hincapie rode 45'53, way back in 25th after 36km.
Andreas Kloden (T-Mobile)
Photo ©: Sirotti

At the finish in Rennes. Savoldelli rode 1h03'55 for 19th, 2'12 behind the Ukrainian, while Hincapie slowed over the last half and ended up a disappointing 1h04'25 in 24th. Saunier Duval's comeback kid David Millar finished in a decent time of 1h05'17 for 37th, while out on the course, Gonchar continued his machine-like march towards the maillot jaune, powering his huge gear towards the finish. Davitamon-Lotto's Cadel had a good time of 1h03'33 that would bring him 11th on the stage, while more than good was the stunning ride by Sergei Gonchar, who destroyed Lang's time with 1h01'43, a 50.6 km/hr average, beating the German champ by 1'04 to move into the stage lead.
Next up to finish in Rennes was Caisse d'Epargne's Vlad Karpets with a 1h03'35, good enough for 12th for the the lanky Russian. Right behind him, Landis had hung tough on the road to Rennes, finishing in 1h02'44 at an average of 49.9 km/h. to ride into 2nd place on the stage and on overall GC.
World Champ Mick Rogers was 7th after 36.5km with a 45'06 and on the run-in to Rennes, the Aussie tester caught his six minute man Hushovd with 1100m to go and posted an excellent 1h03'07 for 4th on the stage and moved up to 3rd on GC.
George Hincapie (Discovery)
Photo ©: Jon Devich
The 36 year old Gonchar from Rovno who resides in Mason Vicentino, Italy is the first ever Ukrainian rider to wear the maillot jaune. Gonchar's best Tour De France stage finish is 3rd in a 2002 Tour TT in Lorient behind Botero and Armstrong while with Fassa Bortolo. He's ridden 11 Giros and 3 Tours and won five Giro TT's in his career, but has never won at Le Tour. The 1m76cm, 70kg Gonchar was riding well in the Giro d'Italia but crashed in Viareggio, hurt his back and had to abandon a few stages later. But Gonchar has emerged as a real threat at this year's Tour De France.
Currently in 2nd overall, American Floyd Landis has won three major races this year and after his strong ride today, he has an excellent chance to win the Tour De France. The question for Landis will be if his team can go head to head over the next two weeks with the clearly more powerful T-Mobile squad, who have six of the top 14 on GC, including Klöden, who was Tour runner-up two years ago.
Kessler and Gonchar
Photo ©: AFP

Another major shakeup at the Tour De France was the crash and abandon of CSC's Bobby Julich, who was likely part of a one-two punch with Carlos Sastre team boss Bjarne Riis could have deployed if the American hadn't crashed out of Le Tour on a slippery roundabout in the first kilometres of today's stage. Sastre rode over his head today to finish in 18th and is now in 16th on GC. CSC rider Dave Zabriskie is just ahead of Sastre in 14th and CSC now has limited options at this year's Tour. Caisse d'Epargne-Illes Balears rider Vlad Karpets is sitting in 7th on GC and the powerful young Russian, Best Young Rider at the Tour in 2004, is the team's main man in the absence of Valverde. Cadel Evans (Davitamon-Lotto) is ready for the coming battle and he's currently in 8th on GC and looking to improve. Another Russian, Rabobank's Denis Menchov is now in 8th, and the 2005 Vuelta a España winner wants to move up the GC ladder as well.
Today's time test was a disappointing performance from defending Tour De France champs Discovery Channel cycling team. 2005 Giro d'Italia champ Paolo Savoldelli is their best rider and de facto leader in 13th place on GC, 2'10 behind Gonchar. Savoldelli told Italian TV post stage, "I lost more time than I thought I would today, but I wasn't on a super day. I just couldn't get going again on all the little climbs at the beginning. I started fast, to see where I am. But it's a wide open Tour and no one is above the others."
Stage 8 - Sunday July 9: Saint-Méen-le-Grand-Lorient, 181 km
After a tough time test, this stage across the rolling hills of central Brittany to the gritty seaport of Lorient will be a day when the big teams will likely let an early break get up the road. Rabobank's Oscar the Cat Freire is a likely candidate for the win for his 2nd stage win at Le Tour. After stage 8, the Tour entourage will board a charter flight to Bordeaux and rest day #1.
Photography
For a thumbnail gallery of these images, click here
Images by Jonathan Devich/epicimages.us
Images by Fotoreporter Sirotti
Images by Roberto Bettini/www.bettiniphoto.net
Images by AFP Photo
Images by Brecht Decaluwé/Cyclingnews.com
Images by Audrey Tautouer/Cyclingnews.com
Results

1 Serguei Gonchar (Ukr) T-Mobile                                   1.01.43.60 (50.54 km/h)
2 Floyd Landis (USA) Phonak                                           1.00.62
3 Sebastian Lang (Ger) Gerolsteiner                                   1.04.27
4 Michael Rogers (Aus) T-Mobile                                       1.23.87
5 Gustav Larsson (Swe) Francaise Des Jeux                             1.33.48
6 Patrik Sinkewitz (Ger) T-Mobile                                     1.38.65
7 Marcus Fothen (Ger) Gerolsteiner                                    1.41.77
8 Andreas Klöden (Ger) T-Mobile                                       1.43.26
9 Denis Menchov (Rus) Rabobank                                        1.43.90
10 Joost Posthuma (Ned) Rabobank                                      1.44.41
11 Cadel Evans (Aus) Davitamon-Lotto                                  1.49.39
12 Vladimir Karpets (Rus) Caisse d'Epargne-Illes Balears              1.51.68
13 David Zabriskie (USA) Team CSC                                     1.56.59
14 Matthias Kessler (Ger) T-Mobile                                    2.02.77
15 Christophe Moreau (Fra) AG2R-Prevoyance                            2.03.46
16 Eddy Mazzoleni (Ita) T-Mobile                                      2.04.61
17 Victor Hugo Pena (Col) Phonak                                      2.08.98
18 Carlos Sastre (Spa) Team CSC                                       2.10.59
19 Paolo Savoldelli (Ita) Discovery Channel                           2.12.20
20 Thomas Lövkvist (Swe) Francaise Des Jeux                           2.35.79
21 Bert Grabsch (Ger) Phonak                                          2.38.16
22 Viatscheslav Ekimov (Rus) Discovery Channel                        2.40.23
23 Oscar Pereiro (Spa) Caisse d'Epargne-Illes Balears                 2.40.92
24 George Hincapie (USA) Discovery Channel                            2.42.07
25 Didier Rous (Fra) Bouygues Telecom                                 2.50.59
26 José Luis Rubiera (Spa) Discovery Channel                          3.05.60
27 Sylvain Chavanel (Fra) Cofidis                                     3.05.95
28 Bradley Wiggins (GBr) Cofidis                                      3.09.77
29 Egoi Martinez (Spa) Discovery Channel                              3.13.07
30 Christian Vandevelde (USA) Team CSC                                3.13.87
31 Andriy Grivko (Ukr) Milram                                         3.15.24
32 Yaroslav Popovyvch (Ukr) Discovery Channel                         3.16.81
33 Mikel Astarloza (Spa) AG2R-Prevoyance                              3.18.15
34 Giuseppe Guerini (Ita) T-Mobile                                    3.19.90
35 Sandy Casar (Fra) Francaise Des Jeux                               3.28.00
36 Haimar Zubeldia (Spa) Euskaltel-Euskadi                            3.31.84
37 David Millar (GBr) Saunier Duval                                   3.34.29
38 Cyril Dessel (Fra) AG2R-Prevoyance                                 3.42.11
39 Marzio Bruseghin (Ita) Lampre-Fondital                             3.42.41
40 Alessandro Ballan (Ita) Lampre-Fondital                            3.49.31
41 Tom Boonen (Bel) Quick-Step-Innergetic                             3.51.53
42 José Azevedo (Por) Discovery Channel                               3.54.72
43 Ronny Scholz (Ger) Gerolsteiner                                    3.57.08
44 Georg Totschnig (Aut) Gerolsteiner                                 3.59.95
45 Pavel Padrnos (Cze) Discovery Channel                              4.01.75
46 Thomas Voeckler (Fra) Bouygues Telecom                             4.03.71
47 Christian Knees (Ger) Milram                                       4.11.39
48 Christopher Horner (USA) Davitamon-Lotto                           4.13.79
49 Magnus Backstedt (Swe) Liquigas                                    4.14.54
50 Jérôme Pineau (Fra) Bouygues Telecom                               4.18.44
51 Pierrick Fedrigo (Fra) Bouygues Telecom                            4.19.16
52 Axel Merckx (Bel) Phonak                                           4.19.35
53 Daniele Bennati (Ita) Lampre-Fondital                              4.24.08
54 Xabier Zandio (Spa) Caisse d'Epargne-Illes Balears                 4.24.73
55 Jose Vicente Garcia Acosta (Spa) Caisse d'Epargne-Illes Balears    4.27.20
56 Cristian Moreni (Ita) Cofidis                                      4.29.37
57 Koos Moerenhout (Ned) Phonak                                       4.34.51
58 Laurent Lefevre (Fra) Bouygues Telecom                             4.35.36
59 Benoît Vaugrenard (Fra) Francaise Des Jeux                         4.38.74
60 Fabian Wegmann (Ger) Gerolsteiner                                  4.38.99
61 José Rujano (Ven) Quick-Step-Innergetic                            4.52.85
62 Riccardo Ricco (Ita) Saunier Duval                                 4.53.80
63 José Angel Gomez (Spa) Saunier Duval                               4.54.12
64 Bram De Groot (Ned) Rabobank                                       4.54.52
65 Ivan Ramiro Parra (Col) Cofidis                                    5.00.28
66 Michael Boogerd (Ned) Rabobank                                     5.05.06
67 Nicolas Portal (Fra) Caisse d'Epargne-Illes Balears                5.05.35
68 Christophe Brandt (Bel) Davitamon-Lotto                            5.10.33
69 Francisco Ventoso (Spa) Saunier Duval                              5.11.72
70 Tadej Valjavec (Slo) Lampre-Fondital                               5.12.84
71 Patxi Vila (Spa) Lampre-Fondital                                   5.13.54
72 Frank Schleck (Lux) Team CSC                                       5.15.69
73 Laurent Brochard (Fra) Bouygues Telecom                            5.16.48
74 Stefano Garzelli (Ita) Liquigas                                    5.18.12
75 Gilberto Simoni (Ita) Saunier Duval                                5.18.50
76 Michael Albasini (Swi) Liquigas                                    5.20.42
77 Matthieu Sprick (Fra) Bouygues Telecom                             5.27.29
78 Maxim Iglinskiy (Kaz) Milram                                       5.27.43
79 Mario Aerts (Bel) Davitamon-Lotto                                  5.28.06
80 Juan Miguel Mercado (Spa) Agritubel                                5.28.18
81 Johan Vansummeren (Bel) Davitamon-Lotto                            5.31.86
82 Iban Mayo (Spa) Euskaltel-Euskadi                                  5.36.80
83 David Arroyo (Spa) Caisse d'Epargne-Illes Balears                  5.38.85
84 Ralf Grabsch (Ger) Milram                                          5.40.47
85 David Canada (Spa) Saunier Duval                                   5.42.34
86 Carlos Da Cruz (Fra) Francaise Des Jeux                            5.42.71
87 Iker Camano (Spa) Euskaltel-Euskadi                                5.43.06
88 Simon Gerrans (Aus) AG2R-Prevoyance                                5.43.49
89 Miguel Angel Martin Perdiguero (Spa) Phonak                        5.44.56
90 Rik Verbrugghe (Bel) Cofidis                                       5.46.48
91 Nicolas Jalabert (Fra) Phonak                                      5.50.93
92 Giovanni Lombardi (Ita) Team CSC                                   5.55.78
93 Mirko Celestino (Ita) Milram                                       5.57.83
94 Gorka Verdugo (Spa) Euskaltel-Euskadi                              6.00.22
95 Samuel Plouhinec (Fra) Agritubel                                   6.04.52
96 Levi Leipheimer (USA) Gerolsteiner                                 6.05.46
97 Alexandre Botcharov (Rus) Crédit Agricole                          6.07.18
98 Stuart O'Grady (Aus) Team CSC                                      6.08.14
99 José Alberto Martinez (Spa) Agritubel                              6.11.03
100 Walter Beneteau (Fra) Bouygues Telecom                            6.12.15
101 José Luis Arrieta (Spa) AG2R-Prevoyance                           6.12.28
102 Alexandre Moos (Swi) Phonak                                       6.14.94
103 Stephane Goubert (Fra) AG2R-Prevoyance                            6.15.62
104 David Moncoutié (Fra) Cofidis                                     6.20.00
105 Inigo Landaluze (Spa) Euskaltel-Euskadi                           6.22.21
106 Damiano Cunego (Ita) Lampre-Fondital                              6.22.99
107 Christophe Le Mevel (Fra) Crédit Agricole                         6.23.75
108 Ruben Lobato (Spa) Saunier Duval                                  6.24.29
109 Robbie McEwen (Aus) Davitamon-Lotto                               6.26.50
110 Anthony Charteau (Fra) Crédit Agricole                            6.26.92
111 Robert Hunter (RSA) Phonak                                        6.28.16
112 Jimmy Engoulvent (Fra) Crédit Agricole                            6.28.49
113 Paolo Tiralongo (Ita) Lampre-Fondital                             6.29.54
114 Michael Rasmussen (Den) Rabobank                                  6.29.82
115 Sylvain Calzati (Fra) AG2R-Prevoyance                             6.30.58
116 Björn Schröder (Ger) Milram                                       6.31.69
117 Cédric Vasseur (Fra) Quick-Step-Innergetic                        6.34.45
118 Florent Brard (Fra) Caisse d'Epargne-Illes Balears                6.34.69
119 Pietro Caucchioli (Ita) Crédit Agricole                           6.37.85
120 Christophe Mengin (Fra) Francaise Des Jeux                        6.38.14
121 Moises Duenas (Spa) Agritubel                                     6.38.56
122 David De La Fuente (Spa) Saunier Duval                            6.39.53
123 Christophe Laurent (Fra) Agritubel                                6.40.56
124 Salvatore Commesso (Ita) Lampre-Fondital                          6.40.71
125 Erik Zabel (Ger) Milram                                           6.41.80
126 Anthony Geslin (Fra) Bouygues Telecom                             6.43.06
127 Marco Velo (Ita) Milram                                           6.44.99
128 Daniele Righi (Ita) Lampre-Fondital                               6.45.84
129 Arnaud Coyot (Fra) Cofidis                                        6.48.33
130 Benjamin Noval (Spa) Discovery Channel                            6.52.28
131 Matej Mugerli (Slo) Liquigas                                      6.52.56
132 Steven De Jongh (Ned) Quick-Step-Innergetic                       6.52.62
133 Kjell Carlström (Fin) Liquigas                                    6.56.73
134 Filippo Pozzato (Ita) Quick-Step-Innergetic                       7.04.09
135 Patrice Halgand (Fra) Crédit Agricole                             7.04.34
136 Oscar Freire (Spa) Rabobank                                       7.10.14
137 Juan Manuel Garate (Spa) Quick-Step-Innergetic                    7.20.49
138 Gert Steegmans (Bel) Davitamon-Lotto                              7.23.58
139 David Kopp (Ger) Gerolsteiner                                     7.25.03
140 Thor Hushovd (Nor) Crédit Agricole                                7.30.47
141 Pieter Weening (Ned) Rabobank                                     7.30.57
142 David Lopez (Spa) Euskaltel-Euskadi                               7.31.20
143 Wilfried Cretskens (Bel) Quick-Step-Innergetic                    7.31.31
144 Benoît Salmon (Fra) Agritubel                                     7.35.49
145 Sébastien Joly (Fra) Francaise Des Jeux                           7.35.75
146 Unai Etxebarria (Ven) Euskaltel-Euskadi                           7.35.96
147 Manuel Quinziato (Ita) Liquigas                                   7.36.80
148 Stéphane Auge (Fra) Cofidis                                       7.37.02
149 Cédric Coutouly (Fra) Agritubel                                   7.39.46
150 Juan Antonio Flecha (Spa) Rabobank                                7.43.29
151 Samuel Dumoulin (Fra) AG2R-Prevoyance                             7.44.16
152 Sébastien Hinault (Fra) Crédit Agricole                           7.46.10
153 Isaac Galvez (Spa) Caisse d'Epargne-Illes Balears                 7.47.99
154 Bernhard Eisel (Aut) Francaise Des Jeux                           7.51.10
155 Inaki Isasi (Spa) Euskaltel-Euskadi                               7.52.83
156 Patrick Calcagni (Swi) Liquigas                                   7.54.60
157 Christophe Rinero (Fra) Saunier Duval                             8.01.42
158 Luca Paolini (Ita) Liquigas                                       8.09.90
159 Philippe Gilbert (Bel) Francaise Des Jeux                         8.13.29
160 Bram Tankink (Ned) Quick-Step-Innergetic                          8.20.21
161 Eduardo Gonzalo (Spa) Agritubel                                   8.26.08
162 Jimmy Casper (Fra) Cofidis                                        8.26.25
163 Julian Dean (NZl) Crédit Agricole                                 8.35.71
164 Aitor Hernandez (Spa) Euskaltel-Euskadi                           8.44.63
165 Manuel Calvente (Spa) Agritubel                                   8.44.73
166 Matteo Tosatto (Ita) Quick-Step-Innergetic                        8.49.58
167 Wim Vansevenant (Bel) Davitamon-Lotto                             8.54.68
168 Beat Zberg (Swi) Gerolsteiner                                     9.02.06
169 Peter Wrolich (Aut) Gerolsteiner                                  9.46.87
170 Jens Voigt (Ger) Team CSC                                        10.00.91
DNF Bobby Julich (USA) Team CSC

Points
 
1 Serguei Gonchar (Ukr) T-Mobile                                        15 pts
2 Floyd Landis (USA) Phonak                                             12
3 Sebastian Lang (Ger) Gerolsteiner                                     10
4 Michael Rogers (Aus) T-Mobile                                          8
5 Gustav Larsson (Swe) Francaise Des Jeux                                6
6 Patrik Sinkewitz (Ger) T-Mobile                                        5
7 Marcus Fothen (Ger) Gerolsteiner                                       4
8 Andreas Klöden (Ger) T-Mobile                                          3
9 Denis Menchov (Rus) Rabobank                                           2
10 Joost Posthuma (Ned) Rabobank                                         1
 
Young rider
 
1 Marcus Fothen (Ger) Gerolsteiner                                 1.03.25
2 Joost Posthuma (Ned) Rabobank                                       0.03
3 Thomas Lövkvist (Swe) Francaise Des Jeux                            0.54
4 Andriy Grivko (Ukr) Milram                                          1.33
5 Christian Knees (Ger) Milram                                        2.29
6 Benoît Vaugrenard (Fra) Francaise Des Jeux                          2.57
7 José Rujano (Ven) Quick-Step-Innergetic                             3.11
8 Riccardo Ricco (Ita) Saunier Duval                                  3.12
9 Francisco Ventoso (Spa) Saunier Duval                               3.30
10 Matthieu Sprick (Fra) Bouygues Telecom                             3.45
11 Maxim Iglinskiy (Kaz) Milram                                       3.46
12 Johan Vansummeren (Bel) Davitamon-Lotto                            3.50
13 Damiano Cunego (Ita) Lampre-Fondital                               4.41
14 Moises Duenas (Spa) Agritubel                                      4.57
15 David De La Fuente (Spa) Saunier Duval                             4.58
16 Matej Mugerli (Slo) Liquigas                                       5.11
17 Filippo Pozzato (Ita) Quick-Step-Innergetic                        5.22
18 Pieter Weening (Ned) Rabobank                                      5.49
19 David Lopez (Spa) Euskaltel-Euskadi                                    
20 Bernhard Eisel (Aut) Francaise Des Jeux                            6.09
21 Philippe Gilbert (Bel) Francaise Des Jeux                          6.31
22 Eduardo Gonzalo (Spa) Agritubel                                    6.44
23 Aitor Hernandez (Spa) Euskaltel-Euskadi                            7.03
 
Teams
 
1 T-Mobile Team                                                    3.08.12
2 Phonak Hearing Systems                                              2.45
3 Gerolsteiner                                                        3.40
4 Team CSC                                                            4.19
5 Discovery Channel Team                                              4.31
6 Francaise Des Jeux                                                  4.35
7 Rabobank                                                            5.21
8 Caisse D'Epargne-Illes Balears                                      5.55
9 AG2R Prevoyance                                                     6.01
10 Cofidis Credit Par Telephone                                       7.42
11 Davitamon - Lotto                                                  8.10
12 Bouygues Telecom                                                   8.11
13 Lampre-Fondital                                                    8.53
14 Team Milram                                                        9.51
15 Saunier Duval - Prodir                                            10.19
16 Euskaltel - Euskadi                                               11.49
17 Liquigas                                                          11.51
18 Quick Step - Innergetic                                           12.17
19 Agritubel                                                         14.41
20 Credit Agricole                                                   15.55
 
General classification after stage 7
 
1 Serguei Gonchar (Ukr) T-Mobile                                  30.23.20
2 Floyd Landis (USA) Phonak                                           1.00
3 Michael Rogers (Aus) T-Mobile                                       1.08
4 Patrik Sinkewitz (Ger) T-Mobile                                     1.45
5 Marcus Fothen (Ger) Gerolsteiner                                    1.50
6 Andreas Klöden (Ger) T-Mobile                                           
7 Vladimir Karpets (Rus) Caisse d'Epargne-Illes Balears               1.52
8 Cadel Evans (Aus) Davitamon-Lotto                                       
9 Denis Menchov (Rus) Rabobank                                        2.00
10 David Zabriskie (USA) Team CSC                                     2.03
11 Matthias Kessler (Ger) T-Mobile                                        
12 Christophe Moreau (Fra) AG2R-Prevoyance                            2.07
13 Paolo Savoldelli (Ita) Discovery Channel                           2.10
14 Eddy Mazzoleni (Ita) T-Mobile                                      2.14
15 Sebastian Lang (Ger) Gerolsteiner                                  2.22
16 Carlos Sastre (Spa) Team CSC                                       2.27
17 George Hincapie (USA) Discovery Channel                            2.30
18 Oscar Pereiro (Spa) Caisse d'Epargne-Illes Balears                 2.57
19 Thomas Lövkvist (Swe) Francaise Des Jeux                           3.01
20 Didier Rous (Fra) Bouygues Telecom                                 3.15
21 Tom Boonen (Bel) Quick-Step-Innergetic                                 
22 Christian Vandevelde (USA) Team CSC                                3.25
23 Yaroslav Popovyvch (Ukr) Discovery Channel                         3.27
24 José Luis Rubiera (Spa) Discovery Channel                          3.34
25 David Millar (GBr) Saunier Duval                                   3.38
26 Mikel Astarloza (Spa) AG2R-Prevoyance                              3.46
27 Haimar Zubeldia (Spa) Euskaltel-Euskadi                            3.47
28 Cyril Dessel (Fra) AG2R-Prevoyance                                 3.50
29 Marzio Bruseghin (Ita) Lampre-Fondital                             3.56
30 Sylvain Chavanel (Fra) Cofidis                                         
31 Andriy Grivko (Ukr) Milram                                         3.58
32 Sandy Casar (Fra) Francaise Des Jeux                               4.07
33 José Azevedo (Por) Discovery Channel                               4.09
34 Alessandro Ballan (Ita) Lampre-Fondital                                
35 Giuseppe Guerini (Ita) T-Mobile                                    4.10
36 Egoi Martinez (Spa) Discovery Channel                              4.33
37 Georg Totschnig (Aut) Gerolsteiner                                     
38 Pavel Padrnos (Cze) Discovery Channel                              4.42
39 Benoît Vaugrenard (Fra) Francaise Des Jeux                         4.44
40 Xabier Zandio (Spa) Caisse d'Epargne-Illes Balears                 4.46
41 Axel Merckx (Bel) Phonak                                               
42 Laurent Lefevre (Fra) Bouygues Telecom                             5.00
43 Cristian Moreni (Ita) Cofidis                                      5.05
44 Christian Knees (Ger) Milram                                       5.19
45 Riccardo Ricco (Ita) Saunier Duval                                 5.25
46 José Rujano (Ven) Quick-Step-Innergetic                            5.26
47 Michael Boogerd (Ned) Rabobank                                     5.29
48 Gilberto Simoni (Ita) Saunier Duval                                5.34
49 Ronny Scholz (Ger) Gerolsteiner                                        
50 Thomas Voeckler (Fra) Bouygues Telecom                             5.35
51 Stefano Garzelli (Ita) Liquigas                                    5.39
52 Patxi Vila (Spa) Lampre-Fondital                                   5.42
53 Laurent Brochard (Fra) Bouygues Telecom                                
54 Christophe Brandt (Bel) Davitamon-Lotto                                
55 Tadej Valjavec (Slo) Lampre-Fondital                               5.44
56 Ivan Ramiro Parra (Col) Cofidis                                        
57 Robbie McEwen (Aus) Davitamon-Lotto                                6.02
58 Iban Mayo (Spa) Euskaltel-Euskadi                                  6.11
59 Juan Miguel Mercado (Spa) Agritubel                                6.12
60 Pierrick Fedrigo (Fra) Bouygues Telecom                            6.15
61 Koos Moerenhout (Ned) Phonak                                       6.16
62 Levi Leipheimer (USA) Gerolsteiner                                 6.17
63 Nicolas Jalabert (Fra) Phonak                                          
64 Bert Grabsch (Ger) Phonak                                          6.19
65 Iker Camano (Spa) Euskaltel-Euskadi                                6.24
66 Miguel Angel Martin Perdiguero (Spa) Phonak                        6.25
67 Mirko Celestino (Ita) Milram                                           
68 Maxim Iglinskiy (Kaz) Milram                                       6.27
69 David Canada (Spa) Saunier Duval                                   6.28
70 Simon Gerrans (Aus) AG2R-Prevoyance                                6.30
71 Alexandre Botcharov (Rus) Crédit Agricole                          6.36
72 Inigo Landaluze (Spa) Euskaltel-Euskadi                            6.55
73 Erik Zabel (Ger) Milram                                            6.58
74 Oscar Freire (Spa) Rabobank                                            
75 Damiano Cunego (Ita) Lampre-Fondital                               7.06
76 Sylvain Calzati (Fra) AG2R-Prevoyance                              7.12
77 Pietro Caucchioli (Ita) Crédit Agricole                            7.14
78 Cédric Vasseur (Fra) Quick-Step-Innergetic                             
79 Francisco Ventoso (Spa) Saunier Duval                              7.15
80 Viatscheslav Ekimov (Rus) Discovery Channel                        7.18
81 Michael Rasmussen (Den) Rabobank                                   7.20
82 Thor Hushovd (Nor) Crédit Agricole                                 7.21
83 Walter Beneteau (Fra) Bouygues Telecom                             7.24
84 Benjamin Noval (Spa) Discovery Channel                                 
85 Joost Posthuma (Ned) Rabobank                                      7.34
86 Patrice Halgand (Fra) Crédit Agricole                                  
87 Moises Duenas (Spa) Agritubel                                      7.45
88 Jose Vicente Garcia Acosta (Spa) Caisse d'Epargne-Illes Balears    7.58
89 Frank Schleck (Lux) Team CSC                                           
90 Gorka Verdugo (Spa) Euskaltel-Euskadi                              7.59
91 David Kopp (Ger) Gerolsteiner                                      8.11
92 José Luis Arrieta (Spa) AG2R-Prevoyance                            8.18
93 Stephane Goubert (Fra) AG2R-Prevoyance                             8.19
94 Bernhard Eisel (Aut) Francaise Des Jeux                                
95 José Angel Gomez (Spa) Saunier Duval                               8.20
96 Benoît Salmon (Fra) Agritubel                                      8.22
97 Fabian Wegmann (Ger) Gerolsteiner                                  8.27
98 Paolo Tiralongo (Ita) Lampre-Fondital                              8.28
99 Jérôme Pineau (Fra) Bouygues Telecom                               8.31
100 Philippe Gilbert (Bel) Francaise Des Jeux                         8.32
101 Pieter Weening (Ned) Rabobank                                     8.34
102 Daniele Bennati (Ita) Lampre-Fondital                             8.42
103 Marco Velo (Ita) Milram                                           8.43
104 Anthony Geslin (Fra) Bouygues Telecom                             8.46
105 Luca Paolini (Ita) Liquigas                                       8.48
106 Juan Antonio Flecha (Spa) Rabobank                                    
107 Matthieu Sprick (Fra) Bouygues Telecom                            8.51
108 Alexandre Moos (Swi) Phonak                                       9.04
109 Christophe Rinero (Fra) Saunier Duval                             9.16
110 Eduardo Gonzalo (Spa) Agritubel                                   9.26
111 Christophe Laurent (Fra) Agritubel                                9.31
112 David Lopez (Spa) Euskaltel-Euskadi                                   
113 Gustav Larsson (Swe) Francaise Des Jeux                           9.59
114 Mario Aerts (Bel) Davitamon-Lotto                                10.00
115 Samuel Plouhinec (Fra) Agritubel                                 10.17
116 Michael Albasini (Swi) Liquigas                                  10.20
117 Robert Hunter (RSA) Phonak                                       10.42
118 Manuel Quinziato (Ita) Liquigas                                  10.59
119 Patrick Calcagni (Swi) Liquigas                                  11.14
120 Jens Voigt (Ger) Team CSC                                        11.23
121 Beat Zberg (Swi) Gerolsteiner                                         
122 Salvatore Commesso (Ita) Lampre-Fondital                         11.49
123 Rik Verbrugghe (Bel) Cofidis                                     11.57
124 José Alberto Martinez (Spa) Agritubel                            12.11
125 David Moncoutié (Fra) Cofidis                                    12.15
126 Christopher Horner (USA) Davitamon-Lotto                         12.19
127 Juan Manuel Garate (Spa) Quick-Step-Innergetic                   12.23
128 Ruben Lobato (Spa) Saunier Duval                                 12.42
129 Carlos Da Cruz (Fra) Francaise Des Jeux                          13.00
130 Steven De Jongh (Ned) Quick-Step-Innergetic                      13.09
131 Manuel Calvente (Spa) Agritubel                                  13.21
132 Christophe Le Mevel (Fra) Crédit Agricole                        13.35
133 Victor Hugo Pena (Col) Phonak                                    13.40
134 Sébastien Hinault (Fra) Crédit Agricole                          14.01
135 Samuel Dumoulin (Fra) AG2R-Prevoyance                            14.11
136 David Arroyo (Spa) Caisse d'Epargne-Illes Balears                     
137 Giovanni Lombardi (Ita) Team CSC                                 14.27
138 Christophe Mengin (Fra) Francaise Des Jeux                       14.31
139 Björn Schröder (Ger) Milram                                      14.34
140 Unai Etxebarria (Ven) Euskaltel-Euskadi                          14.57
141 Julian Dean (NZl) Crédit Agricole                                15.07
142 Ralf Grabsch (Ger) Milram                                        15.23
143 Florent Brard (Fra) Caisse d'Epargne-Illes Balears               16.08
144 Inaki Isasi (Spa) Euskaltel-Euskadi                              16.18
145 Bram Tankink (Ned) Quick-Step-Innergetic                         16.21
146 Nicolas Portal (Fra) Caisse d'Epargne-Illes Balears              17.50
147 Bradley Wiggins (GBr) Cofidis                                    17.55
148 Peter Wrolich (Aut) Gerolsteiner                                 17.59
149 Arnaud Coyot (Fra) Cofidis                                       18.11
150 Bram De Groot (Ned) Rabobank                                     18.53
151 Matej Mugerli (Slo) Liquigas                                     19.17
152 Matteo Tosatto (Ita) Quick-Step-Innergetic                       19.24
153 Gert Steegmans (Bel) Davitamon-Lotto                             19.36
154 Stuart O'Grady (Aus) Team CSC                                    19.39
155 Cédric Coutouly (Fra) Agritubel                                  20.10
156 Isaac Galvez (Spa) Caisse d'Epargne-Illes Balears                20.58
157 Johan Vansummeren (Bel) Davitamon-Lotto                          21.17
158 Wilfried Cretskens (Bel) Quick-Step-Innergetic                   24.38
159 Stéphane Auge (Fra) Cofidis                                      24.54
160 Kjell Carlström (Fin) Liquigas                                   25.10
161 Daniele Righi (Ita) Lampre-Fondital                              26.37
162 Jimmy Engoulvent (Fra) Crédit Agricole                           28.16
163 Jimmy Casper (Fra) Cofidis                                       32.30
164 David De La Fuente (Spa) Saunier Duval                           33.37
165 Filippo Pozzato (Ita) Quick-Step-Innergetic                      35.32
166 Wim Vansevenant (Bel) Davitamon-Lotto                            35.42
167 Magnus Backstedt (Swe) Liquigas                                  35.58
168 Aitor Hernandez (Spa) Euskaltel-Euskadi                          36.23
169 Anthony Charteau (Fra) Crédit Agricole                           38.23
170 Sébastien Joly (Fra) Francaise Des Jeux                          43.25
 
Points classification
 
1 Robbie McEwen (Aus) Davitamon-Lotto                                  157 pts
2 Tom Boonen (Bel) Quick-Step-Innergetic                               147
3 Oscar Freire (Spa) Rabobank                                          135
4 Daniele Bennati (Ita) Lampre-Fondital                                116
5 Thor Hushovd (Nor) Crédit Agricole                                   103
6 Erik Zabel (Ger) Milram                                               95
7 Bernhard Eisel (Aut) Francaise Des Jeux                               93
8 Luca Paolini (Ita) Liquigas                                           90
9 Jimmy Casper (Fra) Cofidis                                            77
10 Inaki Isasi (Spa) Euskaltel-Euskadi                                  70
11 Francisco Ventoso (Spa) Saunier Duval                                61
12 David Kopp (Ger) Gerolsteiner                                        61
13 Isaac Galvez (Spa) Caisse d'Epargne-Illes Balears                    60
14 Michael Rogers (Aus) T-Mobile                                        59
15 George Hincapie (USA) Discovery Channel                              44
16 Stuart O'Grady (Aus) Team CSC                                        43
17 Laurent Brochard (Fra) Bouygues Telecom                              40
18 Cristian Moreni (Ita) Cofidis                                        36
19 Anthony Geslin (Fra) Bouygues Telecom                                33
20 Peter Wrolich (Aut) Gerolsteiner                                     32
21 Michael Albasini (Swi) Liquigas                                      31
22 Eddy Mazzoleni (Ita) T-Mobile                                        28
23 Andreas Klöden (Ger) T-Mobile                                        27
24 Matthias Kessler (Ger) T-Mobile                                      25
25 Gert Steegmans (Bel) Davitamon-Lotto                                 24
26 Alexandre Botcharov (Rus) Crédit Agricole                            23
27 Arnaud Coyot (Fra) Cofidis                                           23
28 Philippe Gilbert (Bel) Francaise Des Jeux                            21
29 Alessandro Ballan (Ita) Lampre-Fondital                              20
30 Fabian Wegmann (Ger) Gerolsteiner                                    20
31 Samuel Dumoulin (Fra) AG2R-Prevoyance                                18
32 David De La Fuente (Spa) Saunier Duval                               18
33 Floyd Landis (USA) Phonak                                            18
34 Sebastian Lang (Ger) Gerolsteiner                                    18
35 Egoi Martinez (Spa) Discovery Channel                                17
36 Benoît Vaugrenard (Fra) Francaise Des Jeux                           16
37 Walter Beneteau (Fra) Bouygues Telecom                               16
38 Jens Voigt (Ger) Team CSC                                            16
39 Serguei Gonchar (Ukr) T-Mobile                                       15
40 Cadel Evans (Aus) Davitamon-Lotto                                    15
41 Yaroslav Popovyvch (Ukr) Discovery Channel                           15
42 José Luis Arrieta (Spa) AG2R-Prevoyance                              14
43 Christophe Laurent (Fra) Agritubel                                   14
44 Steven De Jongh (Ned) Quick-Step-Innergetic                          13
45 Aitor Hernandez (Spa) Euskaltel-Euskadi                              13
46 Florent Brard (Fra) Caisse d'Epargne-Illes Balears                   12
47 Georg Totschnig (Aut) Gerolsteiner                                   12
48 Björn Schröder (Ger) Milram                                          12
49 Marco Velo (Ita) Milram                                              11
50 Robert Hunter (RSA) Phonak                                           11
51 Patrik Sinkewitz (Ger) T-Mobile                                      10
52 David Zabriskie (USA) Team CSC                                       10
53 Oscar Pereiro (Spa) Caisse d'Epargne-Illes Balears                   10
54 Laurent Lefevre (Fra) Bouygues Telecom                               10
55 Stefano Garzelli (Ita) Liquigas                                      10
56 Marcus Fothen (Ger) Gerolsteiner                                      9
57 José Luis Rubiera (Spa) Discovery Channel                             9
58 Mirko Celestino (Ita) Milram                                          9
59 Jérôme Pineau (Fra) Bouygues Telecom                                  9
60 Magnus Backstedt (Swe) Liquigas                                       9
61 Juan Antonio Flecha (Spa) Rabobank                                    8
62 Carlos Da Cruz (Fra) Francaise Des Jeux                               8
63 Gustav Larsson (Swe) Francaise Des Jeux                               6
64 Christophe Mengin (Fra) Francaise Des Jeux                            6
65 Johan Vansummeren (Bel) Davitamon-Lotto                               6
66 Jimmy Engoulvent (Fra) Crédit Agricole                                6
67 Marzio Bruseghin (Ita) Lampre-Fondital                                5
68 David Millar (GBr) Saunier Duval                                      4
69 Riccardo Ricco (Ita) Saunier Duval                                    4
70 Maxim Iglinskiy (Kaz) Milram                                          4
71 David Canada (Spa) Saunier Duval                                      4
72 Sébastien Hinault (Fra) Crédit Agricole                               4
73 Stéphane Auge (Fra) Cofidis                                           4
74 Paolo Savoldelli (Ita) Discovery Channel                              3
75 Eduardo Gonzalo (Spa) Agritubel                                       3
76 Matej Mugerli (Slo) Liquigas                                          3
77 Denis Menchov (Rus) Rabobank                                          2
78 Carlos Sastre (Spa) Team CSC                                          2
79 Nicolas Jalabert (Fra) Phonak                                         2
80 Matthieu Sprick (Fra) Bouygues Telecom                                2
81 Unai Etxebarria (Ven) Euskaltel-Euskadi                               2
82 Cédric Coutouly (Fra) Agritubel                                       2
83 Vladimir Karpets (Rus) Caisse d'Epargne-Illes Balears                 1
84 Cyril Dessel (Fra) AG2R-Prevoyance                                    1
85 Sylvain Chavanel (Fra) Cofidis                                        1
86 Joost Posthuma (Ned) Rabobank                                         1
 
Mountains classification
 
1 Jérôme Pineau (Fra) Bouygues Telecom                                  28 pts
2 David De La Fuente (Spa) Saunier Duval                                17
3 Fabian Wegmann (Ger) Gerolsteiner                                     15
4 Aitor Hernandez (Spa) Euskaltel-Euskadi                               10
5 Björn Schröder (Ger) Milram                                            9
6 Unai Etxebarria (Ven) Euskaltel-Euskadi                                7
7 José Luis Arrieta (Spa) AG2R-Prevoyance                                6
8 Christophe Laurent (Fra) Agritubel                                     6
9 Samuel Dumoulin (Fra) AG2R-Prevoyance                                  6
10 Jens Voigt (Ger) Team CSC                                             6
11 Laurent Lefevre (Fra) Bouygues Telecom                                5
12 Matthias Kessler (Ger) T-Mobile                                       4
13 Giuseppe Guerini (Ita) T-Mobile                                       4
14 Philippe Gilbert (Bel) Francaise Des Jeux                             3
15 David Lopez (Spa) Euskaltel-Euskadi                                   3
16 Pierrick Fedrigo (Fra) Bouygues Telecom                               3
17 Egoi Martinez (Spa) Discovery Channel                                 2
18 Michael Boogerd (Ned) Rabobank                                        2
19 Matthieu Sprick (Fra) Bouygues Telecom                                2
20 Tom Boonen (Bel) Quick-Step-Innergetic                                1
21 Anthony Geslin (Fra) Bouygues Telecom                                 1
22 Juan Manuel Garate (Spa) Quick-Step-Innergetic                        1
23 Cédric Coutouly (Fra) Agritubel                                       1
 
Young rider classification
 
1 Marcus Fothen (Ger) Gerolsteiner                                30.25.10
2 Thomas Lövkvist (Swe) Francaise Des Jeux                            1.11
3 Andriy Grivko (Ukr) Milram                                          2.08
4 Benoît Vaugrenard (Fra) Francaise Des Jeux                          2.54
5 Christian Knees (Ger) Milram                                        3.29
6 Riccardo Ricco (Ita) Saunier Duval                                  3.35
7 José Rujano (Ven) Quick-Step-Innergetic                             3.36
8 Maxim Iglinskiy (Kaz) Milram                                        4.37
9 Damiano Cunego (Ita) Lampre-Fondital                                5.16
10 Francisco Ventoso (Spa) Saunier Duval                              5.25
11 Joost Posthuma (Ned) Rabobank                                      5.44
12 Moises Duenas (Spa) Agritubel                                      5.55
13 Bernhard Eisel (Aut) Francaise Des Jeux                            6.29
14 Philippe Gilbert (Bel) Francaise Des Jeux                          6.42
15 Pieter Weening (Ned) Rabobank                                      6.44
16 Matthieu Sprick (Fra) Bouygues Telecom                             7.01
17 Eduardo Gonzalo (Spa) Agritubel                                    7.36
18 David Lopez (Spa) Euskaltel-Euskadi                                7.41
19 Matej Mugerli (Slo) Liquigas                                      17.27
20 Johan Vansummeren (Bel) Davitamon-Lotto                           19.27
21 David De La Fuente (Spa) Saunier Duval                            31.47
22 Filippo Pozzato (Ita) Quick-Step-Innergetic                       33.42
23 Aitor Hernandez (Spa) Euskaltel-Euskadi                           34.33
 
Teams classification
 
1 T-Mobile Team                                                   91.13.00
2 Phonak Hearing Systems                                              3.09
3 Gerolsteiner                                                        3.56
4 Team CSC                                                            4.18
5 Discovery Channel Team                                              4.29
6 Francaise Des Jeux                                                  5.36
7 Caisse D'Epargne-Illes Balears                                      6.00
8 Rabobank                                                            6.01
9 AG2R Prevoyance                                                     6.43
10 Bouygues Telecom                                                   9.19
11 Cofidis Credit Par Telephone                                       9.20
12 Davitamon - Lotto                                                      
13 Lampre-Fondital                                                    9.28
14 Saunier Duval - Prodir                                            10.59
15 Team Milram                                                       11.17
16 Euskaltel - Euskadi                                               13.14
17 Quick Step - Innergetic                                           13.30
18 Liquigas                                                          13.45
19 Credit Agricole                                                   16.36
20 Agritubel                                                         16.38

Intermediate timing

km 16.5
 
1 Serguei Gonchar (Ukr) T-Mobile                                     19.37
2 Floyd Landis (USA) Phonak                                           0.17
3 Andreas Klöden (Ger) T-Mobile                                       0.22
4 Marcus Fothen (Ger) Gerolsteiner                                    0.29
5 Denis Menchov (Rus) Rabobank                                        0.30
6 Patrik Sinkewitz (Ger) T-Mobile                                         
7 David Zabriskie (USA) Team CSC                                      0.37
8 Eddy Mazzoleni (Ita) T-Mobile                                           
9 Cadel Evans (Aus) Davitamon-Lotto                                       
10 Vladimir Karpets (Rus) Caisse d'Epargne-Illes Balears              0.41
11 Paolo Savoldelli (Ita) Discovery Channel                           0.44
12 Carlos Sastre (Spa) Team CSC                                       0.45
13 Michael Rogers (Aus) T-Mobile                                      0.46
14 Christophe Moreau (Fra) AG2R-Prevoyance                            0.47
15 Thomas Lövkvist (Swe) Francaise Des Jeux                           0.50
16 George Hincapie (USA) Discovery Channel                            0.52
17 Oscar Pereiro (Spa) Caisse d'Epargne-Illes Balears                 0.54
18 David Millar (GBr) Saunier Duval                                   0.56
19 Mikel Astarloza (Spa) AG2R-Prevoyance                                  
20 Sylvain Chavanel (Fra) Cofidis                                         
21 Gustav Larsson (Swe) Francaise Des Jeux                            0.59
22 Didier Rous (Fra) Bouygues Telecom                                     
23 Matthias Kessler (Ger) T-Mobile                                        
24 José Luis Rubiera (Spa) Discovery Channel                          1.02
25 Sebastian Lang (Ger) Gerolsteiner                                  1.03
26 Christian Vandevelde (USA) Team CSC                                1.05
27 Yaroslav Popovyvch (Ukr) Discovery Channel                             
28 Marzio Bruseghin (Ita) Lampre-Fondital                             1.06
29 Xabier Zandio (Spa) Caisse d'Epargne-Illes Balears                 1.08
30 Sandy Casar (Fra) Francaise Des Jeux                               1.11
31 Andriy Grivko (Ukr) Milram                                         1.12
32 Bert Grabsch (Ger) Phonak                                          1.13
33 Alessandro Ballan (Ita) Lampre-Fondital                            1.15
34 Stefano Garzelli (Ita) Liquigas                                        
35 Viatscheslav Ekimov (Rus) Discovery Channel                            
36 Benoît Vaugrenard (Fra) Francaise Des Jeux                         1.16
37 Haimar Zubeldia (Spa) Euskaltel-Euskadi                            1.17
38 Georg Totschnig (Aut) Gerolsteiner                                     
39 José Azevedo (Por) Discovery Channel                                   
40 Victor Hugo Pena (Col) Phonak                                      1.18
41 Axel Merckx (Bel) Phonak                                           1.19
42 Cyril Dessel (Fra) AG2R-Prevoyance                                 1.20
43 Joost Posthuma (Ned) Rabobank                                          
44 Tom Boonen (Bel) Quick-Step-Innergetic                             1.26
45 Giuseppe Guerini (Ita) T-Mobile                                    1.27
46 Ivan Ramiro Parra (Col) Cofidis                                    1.28
47 Cristian Moreni (Ita) Cofidis                                      1.30
48 Pavel Padrnos (Cze) Discovery Channel                              1.32
49 Bradley Wiggins (GBr) Cofidis                                      1.33
50 Patxi Vila (Spa) Lampre-Fondital                                   1.36
51 Michael Boogerd (Ned) Rabobank                                     1.37
52 José Rujano (Ven) Quick-Step-Innergetic                            1.38
53 Ronny Scholz (Ger) Gerolsteiner                                        
54 Iker Camano (Spa) Euskaltel-Euskadi                                1.41
55 Thomas Voeckler (Fra) Bouygues Telecom                                 
56 Egoi Martinez (Spa) Discovery Channel                              1.42
57 Tadej Valjavec (Slo) Lampre-Fondital                               1.44
58 Riccardo Ricco (Ita) Saunier Duval                                     
59 José Angel Gomez (Spa) Saunier Duval                               1.45
60 Daniele Bennati (Ita) Lampre-Fondital                                  
61 Christophe Brandt (Bel) Davitamon-Lotto                                
62 Jose Vicente Garcia Acosta (Spa) Caisse d'Epargne-Illes Balears    1.46
63 Pierrick Fedrigo (Fra) Bouygues Telecom                            1.47
64 Sylvain Calzati (Fra) AG2R-Prevoyance                                  
65 Laurent Lefevre (Fra) Bouygues Telecom                             1.49
66 Cédric Vasseur (Fra) Quick-Step-Innergetic                             
67 Iban Mayo (Spa) Euskaltel-Euskadi                                      
68 Gilberto Simoni (Ita) Saunier Duval                                1.50
69 Juan Miguel Mercado (Spa) Agritubel                                    
70 Laurent Brochard (Fra) Bouygues Telecom                            1.51
71 Christian Knees (Ger) Milram                                       1.52
72 Christopher Horner (USA) Davitamon-Lotto                           1.53
73 Magnus Backstedt (Swe) Liquigas                                        
74 Jérôme Pineau (Fra) Bouygues Telecom                               1.54
75 Mirko Celestino (Ita) Milram                                       1.55
76 Bram De Groot (Ned) Rabobank                                       1.57
77 Koos Moerenhout (Ned) Phonak                                       1.58
78 Maxim Iglinskiy (Kaz) Milram                                           
79 Fabian Wegmann (Ger) Gerolsteiner                                  1.59
80 Nicolas Jalabert (Fra) Phonak                                      2.01
81 Levi Leipheimer (USA) Gerolsteiner                                     
82 Alexandre Botcharov (Rus) Crédit Agricole                              
83 Pietro Caucchioli (Ita) Crédit Agricole                            2.02
84 Oscar Freire (Spa) Rabobank                                            
85 Nicolas Portal (Fra) Caisse d'Epargne-Illes Balears                    
86 Damiano Cunego (Ita) Lampre-Fondital                               2.05
87 Miguel Angel Martin Perdiguero (Spa) Phonak                        2.06
88 Simon Gerrans (Aus) AG2R-Prevoyance                                    
89 Matthieu Sprick (Fra) Bouygues Telecom                             2.07
90 Patrice Halgand (Fra) Crédit Agricole                                  
91 Frank Schleck (Lux) Team CSC                                       2.08
92 David Arroyo (Spa) Caisse d'Epargne-Illes Balears                  2.09
93 David Canada (Spa) Saunier Duval                                   2.10
94 Francisco Ventoso (Spa) Saunier Duval                                  
95 Thor Hushovd (Nor) Crédit Agricole                                 2.12
96 José Alberto Martinez (Spa) Agritubel                              2.13
97 Inigo Landaluze (Spa) Euskaltel-Euskadi                                
98 David Kopp (Ger) Gerolsteiner                                      2.15
99 Samuel Plouhinec (Fra) Agritubel                                       
100 Ralf Grabsch (Ger) Milram                                             
101 Mario Aerts (Bel) Davitamon-Lotto                                     
102 Robert Hunter (RSA) Phonak                                        2.16
103 Marco Velo (Ita) Milram                                               
104 Stuart O'Grady (Aus) Team CSC                                     2.17
105 Rik Verbrugghe (Bel) Cofidis                                          
106 Alexandre Moos (Swi) Phonak                                       2.18
107 Beat Zberg (Swi) Gerolsteiner                                     2.19
108 Philippe Gilbert (Bel) Francaise Des Jeux                         2.20
109 Juan Antonio Flecha (Spa) Rabobank                                    
110 Florent Brard (Fra) Caisse d'Epargne-Illes Balears                2.21
111 Manuel Quinziato (Ita) Liquigas                                   2.23
112 Stephane Goubert (Fra) AG2R-Prevoyance                            2.25
113 David De La Fuente (Spa) Saunier Duval                                
114 Benjamin Noval (Spa) Discovery Channel                            2.26
115 Michael Albasini (Swi) Liquigas                                   2.27
116 Erik Zabel (Ger) Milram                                               
117 Gorka Verdugo (Spa) Euskaltel-Euskadi                             2.28
118 Carlos Da Cruz (Fra) Francaise Des Jeux                               
119 José Luis Arrieta (Spa) AG2R-Prevoyance                           2.31
119 Michael Rasmussen (Den) Rabobank                                      
121 David Moncoutié (Fra) Cofidis                                     2.32
122 Walter Beneteau (Fra) Bouygues Telecom                                
123 Moises Duenas (Spa) Agritubel                                         
124 Anthony Geslin (Fra) Bouygues Telecom                             2.34
125 Pieter Weening (Ned) Rabobank                                         
126 Christophe Mengin (Fra) Francaise Des Jeux                        2.35
127 Filippo Pozzato (Ita) Quick-Step-Innergetic                           
128 Benoît Salmon (Fra) Agritubel                                     2.37
129 Steven De Jongh (Ned) Quick-Step-Innergetic                           
130 Ruben Lobato (Spa) Saunier Duval                                  2.38
131 Johan Vansummeren (Bel) Davitamon-Lotto                           2.39
132 Kjell Carlström (Fin) Liquigas                                    2.40
133 Arnaud Coyot (Fra) Cofidis                                            
134 Luca Paolini (Ita) Liquigas                                           
135 Christophe Laurent (Fra) Agritubel                                2.41
135 Gert Steegmans (Bel) Davitamon-Lotto                                  
137 Matej Mugerli (Slo) Liquigas                                      2.42
138 Giovanni Lombardi (Ita) Team CSC                                      
139 Bernhard Eisel (Aut) Francaise Des Jeux                           2.43
140 Jimmy Engoulvent (Fra) Crédit Agricole                                
141 Salvatore Commesso (Ita) Lampre-Fondital                              
142 Christophe Le Mevel (Fra) Crédit Agricole                         2.44
143 Daniele Righi (Ita) Lampre-Fondital                                   
144 Björn Schröder (Ger) Milram                                       2.46
145 Cédric Coutouly (Fra) Agritubel                                       
146 Sébastien Joly (Fra) Francaise Des Jeux                               
147 Paolo Tiralongo (Ita) Lampre-Fondital                             2.49
148 David Lopez (Spa) Euskaltel-Euskadi                                   
149 Robbie McEwen (Aus) Davitamon-Lotto                               2.54
150 Stéphane Auge (Fra) Cofidis                                       2.55
151 Aitor Hernandez (Spa) Euskaltel-Euskadi                           2.56
152 Christophe Rinero (Fra) Saunier Duval                             2.59
153 Samuel Dumoulin (Fra) AG2R-Prevoyance                             3.00
154 Sébastien Hinault (Fra) Crédit Agricole                           3.01
155 Inaki Isasi (Spa) Euskaltel-Euskadi                                   
156 Wilfried Cretskens (Bel) Quick-Step-Innergetic                    3.02
157 Bram Tankink (Ned) Quick-Step-Innergetic                          3.04
158 Patrick Calcagni (Swi) Liquigas                                       
159 Anthony Charteau (Fra) Crédit Agricole                            3.05
160 Julian Dean (NZl) Crédit Agricole                                 3.06
161 Jimmy Casper (Fra) Cofidis                                        3.07
162 Eduardo Gonzalo (Spa) Agritubel                                       
163 Juan Manuel Garate (Spa) Quick-Step-Innergetic                    3.15
164 Isaac Galvez (Spa) Caisse d'Epargne-Illes Balears                 3.19
165 Jens Voigt (Ger) Team CSC                                         3.20
166 Peter Wrolich (Aut) Gerolsteiner                                  3.26
167 Unai Etxebarria (Ven) Euskaltel-Euskadi                           3.29
168 Wim Vansevenant (Bel) Davitamon-Lotto                             3.32
169 Matteo Tosatto (Ita) Quick-Step-Innergetic                        3.33
170 Manuel Calvente (Spa) Agritubel                                   3.34
 
km 36.5
 
1 Serguei Gonchar (Ukr) T-Mobile                                     43.50
2 Floyd Landis (USA) Phonak                                           0.42
3 Denis Menchov (Rus) Rabobank                                        1.03
4 Gustav Larsson (Swe) Francaise Des Jeux                                 
5 Sebastian Lang (Ger) Gerolsteiner                                   1.10
6 Andreas Klöden (Ger) T-Mobile                                       1.15
7 Michael Rogers (Aus) T-Mobile                                       1.16
8 Joost Posthuma (Ned) Rabobank                                       1.19
9 Eddy Mazzoleni (Ita) T-Mobile                                           
10 Marcus Fothen (Ger) Gerolsteiner                                   1.22
11 Patrik Sinkewitz (Ger) T-Mobile                                    1.23
12 Carlos Sastre (Spa) Team CSC                                       1.24
13 David Zabriskie (USA) Team CSC                                     1.26
14 Victor Hugo Pena (Col) Phonak                                          
15 Vladimir Karpets (Rus) Caisse d'Epargne-Illes Balears              1.35
16 Cadel Evans (Aus) Davitamon-Lotto                                  1.36
17 Paolo Savoldelli (Ita) Discovery Channel                           1.43
18 Viatscheslav Ekimov (Rus) Discovery Channel                        1.46
19 Christophe Moreau (Fra) AG2R-Prevoyance                            1.47
20 Bert Grabsch (Ger) Phonak                                          1.49
21 Thomas Lövkvist (Swe) Francaise Des Jeux                               
22 Sylvain Chavanel (Fra) Cofidis                                     1.53
23 Matthias Kessler (Ger) T-Mobile                                    1.57
24 Bradley Wiggins (GBr) Cofidis                                      1.58
25 Oscar Pereiro (Spa) Caisse d'Epargne-Illes Balears                 2.00
26 George Hincapie (USA) Discovery Channel                            2.03
27 Didier Rous (Fra) Bouygues Telecom                                 2.05
28 Sandy Casar (Fra) Francaise Des Jeux                               2.17
29 Mikel Astarloza (Spa) AG2R-Prevoyance                                  
30 Andriy Grivko (Ukr) Milram                                         2.20
31 Yaroslav Popovyvch (Ukr) Discovery Channel                             
32 Christian Vandevelde (USA) Team CSC                                2.22
33 José Luis Rubiera (Spa) Discovery Channel                          2.23
34 Giuseppe Guerini (Ita) T-Mobile                                        
35 Magnus Backstedt (Swe) Liquigas                                    2.32
36 David Millar (GBr) Saunier Duval                                   2.37
37 Marzio Bruseghin (Ita) Lampre-Fondital                             2.38
38 Egoi Martinez (Spa) Discovery Channel                                  
39 Haimar Zubeldia (Spa) Euskaltel-Euskadi                            2.45
40 Georg Totschnig (Aut) Gerolsteiner                                 2.48
41 Alessandro Ballan (Ita) Lampre-Fondital                            2.50
42 Christopher Horner (USA) Davitamon-Lotto                               
43 Xabier Zandio (Spa) Caisse d'Epargne-Illes Balears                 2.53
44 Thomas Voeckler (Fra) Bouygues Telecom                             2.54
45 Tom Boonen (Bel) Quick-Step-Innergetic                                 
46 Pavel Padrnos (Cze) Discovery Channel                              2.56
47 Ronny Scholz (Ger) Gerolsteiner                                    2.57
48 José Azevedo (Por) Discovery Channel                               2.59
49 Axel Merckx (Bel) Phonak                                           3.02
50 Daniele Bennati (Ita) Lampre-Fondital                                  
51 Cristian Moreni (Ita) Cofidis                                      3.05
52 Ivan Ramiro Parra (Col) Cofidis                                    3.08
53 Benoît Vaugrenard (Fra) Francaise Des Jeux                         3.10
54 Christian Knees (Ger) Milram                                       3.11
55 Jose Vicente Garcia Acosta (Spa) Caisse d'Epargne-Illes Balears    3.12
56 Cyril Dessel (Fra) AG2R-Prevoyance                                 3.15
57 Bram De Groot (Ned) Rabobank                                           
58 Pierrick Fedrigo (Fra) Bouygues Telecom                            3.18
59 Jérôme Pineau (Fra) Bouygues Telecom                               3.20
60 Nicolas Portal (Fra) Caisse d'Epargne-Illes Balears                    
61 José Rujano (Ven) Quick-Step-Innergetic                            3.21
62 José Angel Gomez (Spa) Saunier Duval                               3.24
63 Stefano Garzelli (Ita) Liquigas                                    3.25
64 Koos Moerenhout (Ned) Phonak                                           
65 Riccardo Ricco (Ita) Saunier Duval                                 3.39
66 Fabian Wegmann (Ger) Gerolsteiner                                  3.41
67 Michael Boogerd (Ned) Rabobank                                     3.42
68 Christophe Brandt (Bel) Davitamon-Lotto                            3.43
69 Laurent Lefevre (Fra) Bouygues Telecom                             3.45
70 Frank Schleck (Lux) Team CSC                                       3.48
71 Laurent Brochard (Fra) Bouygues Telecom                            3.49
72 Giovanni Lombardi (Ita) Team CSC                                       
73 Iker Camano (Spa) Euskaltel-Euskadi                                3.50
74 Michael Albasini (Swi) Liquigas                                        
75 Stuart O'Grady (Aus) Team CSC                                      3.51
76 Tadej Valjavec (Slo) Lampre-Fondital                                   
77 Ralf Grabsch (Ger) Milram                                              
78 Matthieu Sprick (Fra) Bouygues Telecom                             3.52
79 Juan Miguel Mercado (Spa) Agritubel                                    
80 David Arroyo (Spa) Caisse d'Epargne-Illes Balears                      
81 Francisco Ventoso (Spa) Saunier Duval                              3.53
82 Iban Mayo (Spa) Euskaltel-Euskadi                                  3.54
83 Carlos Da Cruz (Fra) Francaise Des Jeux                            3.55
84 Gilberto Simoni (Ita) Saunier Duval                                3.57
85 Miguel Angel Martin Perdiguero (Spa) Phonak                            
86 Johan Vansummeren (Bel) Davitamon-Lotto                            3.58
87 Maxim Iglinskiy (Kaz) Milram                                       3.59
88 Mario Aerts (Bel) Davitamon-Lotto                                      
89 Sylvain Calzati (Fra) AG2R-Prevoyance                              4.01
90 Patxi Vila (Spa) Lampre-Fondital                                   4.03
91 José Alberto Martinez (Spa) Agritubel                              4.05
92 Nicolas Jalabert (Fra) Phonak                                      4.06
93 Rik Verbrugghe (Bel) Cofidis                                       4.15
94 Alexandre Moos (Swi) Phonak                                        4.17
95 David Canada (Spa) Saunier Duval                                       
96 Florent Brard (Fra) Caisse d'Epargne-Illes Balears                 4.20
97 Robert Hunter (RSA) Phonak                                         4.22
98 Simon Gerrans (Aus) AG2R-Prevoyance                                    
99 Mirko Celestino (Ita) Milram                                           
100 Cédric Vasseur (Fra) Quick-Step-Innergetic                        4.24
101 Samuel Plouhinec (Fra) Agritubel                                  4.25
102 David Moncoutié (Fra) Cofidis                                     4.28
103 Inigo Landaluze (Spa) Euskaltel-Euskadi                               
104 Christophe Le Mevel (Fra) Crédit Agricole                         4.29
105 Levi Leipheimer (USA) Gerolsteiner                                    
106 Erik Zabel (Ger) Milram                                           4.32
107 Damiano Cunego (Ita) Lampre-Fondital                                  
108 Pietro Caucchioli (Ita) Crédit Agricole                           4.33
109 Gert Steegmans (Bel) Davitamon-Lotto                                  
110 Stephane Goubert (Fra) AG2R-Prevoyance                            4.34
111 Anthony Charteau (Fra) Crédit Agricole                                
112 Christophe Mengin (Fra) Francaise Des Jeux                        4.35
113 Beat Zberg (Swi) Gerolsteiner                                     4.37
114 Gorka Verdugo (Spa) Euskaltel-Euskadi                             4.39
115 Ruben Lobato (Spa) Saunier Duval                                      
116 Alexandre Botcharov (Rus) Crédit Agricole                             
117 Filippo Pozzato (Ita) Quick-Step-Innergetic                       4.40
118 Matej Mugerli (Slo) Liquigas                                      4.41
119 Arnaud Coyot (Fra) Cofidis                                        4.42
120 Salvatore Commesso (Ita) Lampre-Fondital                          4.43
121 José Luis Arrieta (Spa) AG2R-Prevoyance                               
122 Moises Duenas (Spa) Agritubel                                     4.46
123 Steven De Jongh (Ned) Quick-Step-Innergetic                           
124 Oscar Freire (Spa) Rabobank                                       4.47
125 Kjell Carlström (Fin) Liquigas                                        
126 Björn Schröder (Ger) Milram                                       4.52
127 Michael Rasmussen (Den) Rabobank                                      
128 Marco Velo (Ita) Milram                                               
129 David Kopp (Ger) Gerolsteiner                                     4.53
130 David De La Fuente (Spa) Saunier Duval                                
131 Robbie McEwen (Aus) Davitamon-Lotto                               4.55
132 Jimmy Engoulvent (Fra) Crédit Agricole                                
133 Benjamin Noval (Spa) Discovery Channel                            4.56
134 Christophe Laurent (Fra) Agritubel                                4.57
135 Sébastien Joly (Fra) Francaise Des Jeux                               
136 Anthony Geslin (Fra) Bouygues Telecom                             5.02
137 Daniele Righi (Ita) Lampre-Fondital                               5.03
138 Manuel Quinziato (Ita) Liquigas                                   5.05
139 Patrice Halgand (Fra) Crédit Agricole                             5.07
140 Juan Antonio Flecha (Spa) Rabobank                                    
141 Cédric Coutouly (Fra) Agritubel                                   5.09
142 Walter Beneteau (Fra) Bouygues Telecom                            5.12
143 Thor Hushovd (Nor) Crédit Agricole                                    
144 Stéphane Auge (Fra) Cofidis                                       5.13
145 Benoît Salmon (Fra) Agritubel                                     5.14
146 Paolo Tiralongo (Ita) Lampre-Fondital                             5.19
147 Isaac Galvez (Spa) Caisse d'Epargne-Illes Balears                 5.25
148 Pieter Weening (Ned) Rabobank                                     5.26
149 Samuel Dumoulin (Fra) AG2R-Prevoyance                             5.27
150 Patrick Calcagni (Swi) Liquigas                                   5.29
151 Luca Paolini (Ita) Liquigas                                       5.34
152 Philippe Gilbert (Bel) Francaise Des Jeux                         5.36
153 Inaki Isasi (Spa) Euskaltel-Euskadi                               5.37
154 Bernhard Eisel (Aut) Francaise Des Jeux                           5.42
155 Bram Tankink (Ned) Quick-Step-Innergetic                              
156 Sébastien Hinault (Fra) Crédit Agricole                               
157 David Lopez (Spa) Euskaltel-Euskadi                                   
158 Julian Dean (NZl) Crédit Agricole                                 5.44
159 Christophe Rinero (Fra) Saunier Duval                             5.46
160 Juan Manuel Garate (Spa) Quick-Step-Innergetic                    5.50
161 Wilfried Cretskens (Bel) Quick-Step-Innergetic                    5.53
162 Aitor Hernandez (Spa) Euskaltel-Euskadi                               
163 Unai Etxebarria (Ven) Euskaltel-Euskadi                           5.55
164 Matteo Tosatto (Ita) Quick-Step-Innergetic                        5.58
165 Eduardo Gonzalo (Spa) Agritubel                                   6.06
166 Wim Vansevenant (Bel) Davitamon-Lotto                             6.12
167 Peter Wrolich (Aut) Gerolsteiner                                  6.24
168 Manuel Calvente (Spa) Agritubel                                   6.26
169 Jimmy Casper (Fra) Cofidis                                        6.34
170 Jens Voigt (Ger) Team CSC                                         7.26
 
km 46.3
 
1 Serguei Gonchar (Ukr) T-Mobile                                     55.09
2 Floyd Landis (USA) Phonak                                           0.57
3 Sebastian Lang (Ger) Gerolsteiner                                   1.11
4 Michael Rogers (Aus) T-Mobile                                       1.23
5 Gustav Larsson (Swe) Francaise Des Jeux                             1.27
6 Denis Menchov (Rus) Rabobank                                        1.29
7 Marcus Fothen (Ger) Gerolsteiner                                    1.34
8 Andreas Klöden (Ger) T-Mobile                                       1.35
9 Patrik Sinkewitz (Ger) T-Mobile                                     1.36
10 Joost Posthuma (Ned) Rabobank                                      1.40
11 Eddy Mazzoleni (Ita) T-Mobile                                      1.45
12 Cadel Evans (Aus) Davitamon-Lotto                                  1.46
13 Vladimir Karpets (Rus) Caisse d'Epargne-Illes Balears              1.49
14 David Zabriskie (USA) Team CSC                                     1.50
15 Victor Hugo Pena (Col) Phonak                                      1.53
16 Carlos Sastre (Spa) Team CSC                                       1.56
17 Matthias Kessler (Ger) T-Mobile                                    2.01
18 Christophe Moreau (Fra) AG2R-Prevoyance                            2.02
19 Paolo Savoldelli (Ita) Discovery Channel                           2.04
20 Thomas Lövkvist (Swe) Francaise Des Jeux                           2.13
21 Bert Grabsch (Ger) Phonak                                          2.18
22 Viatscheslav Ekimov (Rus) Discovery Channel                        2.25
23 Didier Rous (Fra) Bouygues Telecom                                 2.30
24 George Hincapie (USA) Discovery Channel                            2.32
25 Oscar Pereiro (Spa) Caisse d'Epargne-Illes Balears                 2.34
26 Sylvain Chavanel (Fra) Cofidis                                     2.41
27 Bradley Wiggins (GBr) Cofidis                                      2.42
28 José Luis Rubiera (Spa) Discovery Channel                          2.46
29 Christian Vandevelde (USA) Team CSC                                2.53
30 Mikel Astarloza (Spa) AG2R-Prevoyance                              2.54
31 Giuseppe Guerini (Ita) T-Mobile                                    2.55
32 Andriy Grivko (Ukr) Milram                                         2.56
33 Yaroslav Popovyvch (Ukr) Discovery Channel                             
34 Sandy Casar (Fra) Francaise Des Jeux                               3.03
35 Egoi Martinez (Spa) Discovery Channel                              3.12
36 Haimar Zubeldia (Spa) Euskaltel-Euskadi                            3.17
37 David Millar (GBr) Saunier Duval                                   3.19
38 Marzio Bruseghin (Ita) Lampre-Fondital                             3.20
39 Alessandro Ballan (Ita) Lampre-Fondital                            3.30
40 Tom Boonen (Bel) Quick-Step-Innergetic                             3.32
41 Cyril Dessel (Fra) AG2R-Prevoyance                                 3.34
42 José Azevedo (Por) Discovery Channel                               3.35
43 Georg Totschnig (Aut) Gerolsteiner                                 3.38
44 Ronny Scholz (Ger) Gerolsteiner                                    3.40
45 Pavel Padrnos (Cze) Discovery Channel                              3.42
46 Magnus Backstedt (Swe) Liquigas                                    3.43
47 Axel Merckx (Bel) Phonak                                           3.45
48 Thomas Voeckler (Fra) Bouygues Telecom                             3.46
49 Christopher Horner (USA) Davitamon-Lotto                           3.48
50 Xabier Zandio (Spa) Caisse d'Epargne-Illes Balears                     
51 Daniele Bennati (Ita) Lampre-Fondital                                  
52 Christian Knees (Ger) Milram                                       3.53
53 Benoît Vaugrenard (Fra) Francaise Des Jeux                         3.57
54 Jérôme Pineau (Fra) Bouygues Telecom                               4.00
55 Pierrick Fedrigo (Fra) Bouygues Telecom                            4.01
56 Cristian Moreni (Ita) Cofidis                                      4.04
57 Jose Vicente Garcia Acosta (Spa) Caisse d'Epargne-Illes Balears    4.13
58 Koos Moerenhout (Ned) Phonak                                           
59 Laurent Lefevre (Fra) Bouygues Telecom                             4.14
60 Bram De Groot (Ned) Rabobank                                       4.18
61 José Rujano (Ven) Quick-Step-Innergetic                            4.19
62 Riccardo Ricco (Ita) Saunier Duval                                 4.21
63 Fabian Wegmann (Ger) Gerolsteiner                                      
64 Ivan Ramiro Parra (Col) Cofidis                                    4.23
65 José Angel Gomez (Spa) Saunier Duval                               4.25
66 Nicolas Portal (Fra) Caisse d'Epargne-Illes Balears                4.29
67 Stefano Garzelli (Ita) Liquigas                                    4.34
68 Michael Boogerd (Ned) Rabobank                                     4.35
69 Christophe Brandt (Bel) Davitamon-Lotto                                
70 Francisco Ventoso (Spa) Saunier Duval                              4.36
71 Tadej Valjavec (Slo) Lampre-Fondital                               4.38
72 Laurent Brochard (Fra) Bouygues Telecom                            4.43
73 Frank Schleck (Lux) Team CSC                                       4.45
74 Michael Albasini (Swi) Liquigas                                    4.47
75 Patxi Vila (Spa) Lampre-Fondital                                       
76 Gilberto Simoni (Ita) Saunier Duval                                4.48
77 Matthieu Sprick (Fra) Bouygues Telecom                             4.50
78 Johan Vansummeren (Bel) Davitamon-Lotto                            4.55
79 Juan Miguel Mercado (Spa) Agritubel                                4.58
80 Mario Aerts (Bel) Davitamon-Lotto                                      
81 Maxim Iglinskiy (Kaz) Milram                                       4.59
82 Iker Camano (Spa) Euskaltel-Euskadi                                5.01
83 Iban Mayo (Spa) Euskaltel-Euskadi                                  5.02
84 Carlos Da Cruz (Fra) Francaise Des Jeux                            5.03
85 Ralf Grabsch (Ger) Milram                                              
86 David Arroyo (Spa) Caisse d'Epargne-Illes Balears                  5.04
87 Giovanni Lombardi (Ita) Team CSC                                   5.07
88 Miguel Angel Martin Perdiguero (Spa) Phonak                        5.08
89 Nicolas Jalabert (Fra) Phonak                                      5.10
90 Rik Verbrugghe (Bel) Cofidis                                       5.11
91 Stuart O'Grady (Aus) Team CSC                                      5.15
92 Simon Gerrans (Aus) AG2R-Prevoyance                                5.16
93 David Canada (Spa) Saunier Duval                                   5.17
94 Mirko Celestino (Ita) Milram                                       5.25
95 Levi Leipheimer (USA) Gerolsteiner                                 5.26
96 José Alberto Martinez (Spa) Agritubel                              5.27
97 Gorka Verdugo (Spa) Euskaltel-Euskadi                              5.30
98 Alexandre Moos (Swi) Phonak                                            
99 Stephane Goubert (Fra) AG2R-Prevoyance                             5.31
100 Samuel Plouhinec (Fra) Agritubel                                      
101 Cédric Vasseur (Fra) Quick-Step-Innergetic                        5.32
102 Alexandre Botcharov (Rus) Crédit Agricole                             
103 Sylvain Calzati (Fra) AG2R-Prevoyance                             5.35
104 José Luis Arrieta (Spa) AG2R-Prevoyance                           5.38
105 David Moncoutié (Fra) Cofidis                                     5.39
106 Robert Hunter (RSA) Phonak                                            
107 Christophe Le Mevel (Fra) Crédit Agricole                         5.40
108 Inigo Landaluze (Spa) Euskaltel-Euskadi                           5.42
109 Robbie McEwen (Aus) Davitamon-Lotto                               5.43
110 Damiano Cunego (Ita) Lampre-Fondital                              5.44
111 Florent Brard (Fra) Caisse d'Epargne-Illes Balears                5.45
112 Anthony Charteau (Fra) Crédit Agricole                                
113 Ruben Lobato (Spa) Saunier Duval                                  5.49
114 Christophe Mengin (Fra) Francaise Des Jeux                        5.50
115 Walter Beneteau (Fra) Bouygues Telecom                            5.55
116 Michael Rasmussen (Den) Rabobank                                      
117 Pietro Caucchioli (Ita) Crédit Agricole                           5.56
118 Jimmy Engoulvent (Fra) Crédit Agricole                                
119 Moises Duenas (Spa) Agritubel                                         
120 Erik Zabel (Ger) Milram                                           5.59
121 Anthony Geslin (Fra) Bouygues Telecom                             6.01
122 Björn Schröder (Ger) Milram                                           
123 Christophe Laurent (Fra) Agritubel                                    
124 Salvatore Commesso (Ita) Lampre-Fondital                          6.04
125 Paolo Tiralongo (Ita) Lampre-Fondital                             6.06
126 Arnaud Coyot (Fra) Cofidis                                            
127 Marco Velo (Ita) Milram                                               
128 David De La Fuente (Spa) Saunier Duval                            6.08
128 Kjell Carlström (Fin) Liquigas                                        
130 Steven De Jongh (Ned) Quick-Step-Innergetic                       6.09
131 Daniele Righi (Ita) Lampre-Fondital                               6.11
132 Patrice Halgand (Fra) Crédit Agricole                             6.12
133 Matej Mugerli (Slo) Liquigas                                          
134 Filippo Pozzato (Ita) Quick-Step-Innergetic                           
135 Benjamin Noval (Spa) Discovery Channel                            6.15
136 Oscar Freire (Spa) Rabobank                                       6.18
137 Beat Zberg (Swi) Gerolsteiner                                     6.20
138 Gert Steegmans (Bel) Davitamon-Lotto                              6.22
139 David Kopp (Ger) Gerolsteiner                                     6.29
140 Benoît Salmon (Fra) Agritubel                                     6.34
141 Sébastien Joly (Fra) Francaise Des Jeux                           6.35
142 Manuel Quinziato (Ita) Liquigas                                   6.41
143 Isaac Galvez (Spa) Caisse d'Epargne-Illes Balears                 6.44
144 Cédric Coutouly (Fra) Agritubel                                       
145 Pieter Weening (Ned) Rabobank                                         
146 Samuel Dumoulin (Fra) AG2R-Prevoyance                             6.45
147 Stéphane Auge (Fra) Cofidis                                       6.46
148 Juan Manuel Garate (Spa) Quick-Step-Innergetic                    6.47
149 Thor Hushovd (Nor) Crédit Agricole                                    
150 Juan Antonio Flecha (Spa) Rabobank                                6.51
151 David Lopez (Spa) Euskaltel-Euskadi                               6.52
152 Wilfried Cretskens (Bel) Quick-Step-Innergetic                    6.55
153 Patrick Calcagni (Swi) Liquigas                                   6.56
154 Bernhard Eisel (Aut) Francaise Des Jeux                           7.03
155 Inaki Isasi (Spa) Euskaltel-Euskadi                                   
156 Unai Etxebarria (Ven) Euskaltel-Euskadi                           7.05
157 Sébastien Hinault (Fra) Crédit Agricole                           7.07
158 Luca Paolini (Ita) Liquigas                                       7.12
159 Philippe Gilbert (Bel) Francaise Des Jeux                         7.14
160 Christophe Rinero (Fra) Saunier Duval                             7.16
161 Julian Dean (NZl) Crédit Agricole                                 7.24
162 Bram Tankink (Ned) Quick-Step-Innergetic                          7.30
163 Eduardo Gonzalo (Spa) Agritubel                                   7.33
164 Matteo Tosatto (Ita) Quick-Step-Innergetic                        7.43
165 Jimmy Casper (Fra) Cofidis                                        7.49
166 Aitor Hernandez (Spa) Euskaltel-Euskadi                               
167 Manuel Calvente (Spa) Agritubel                                   7.58
168 Wim Vansevenant (Bel) Davitamon-Lotto                             8.04
169 Peter Wrolich (Aut) Gerolsteiner                                  8.34
170 Jens Voigt (Ger) Team CSC                                         8.58