The bikes of the Tour: Popovych's Trek, July 3, 2006
Cyclingnews European Editor Tim Maloney takes a look at a very new machine from Trek and a tried-and-tested lightweight from Pinarello.
Yaroslav Popovych's Discovery Channel Trek Madone 6.9 SSL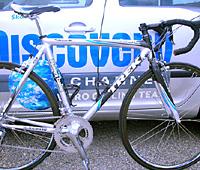 Yaroslav Popovych's Discovery Channel Team Issue Trek Madone 6.9 SSL
We first heard a few weeks ago that Trek was rolling out a super secret, super light climbing bike at Le Tour, so just before the start Cyclingnews collared Trek's team guy Scotty Daubert in Strasbourg and put him in the journalistic equivalent of a full-nelson at the Discovery Channel's team hotel.
We let him go when he agreed to give us the first reveal of Trek's 2007 Madone SSL 6.9. With the help of Discovery Channel's team wrench Chris Van Roosbroek, Daubert rolled Yaroslav Popovych's 6.9 SSL out of the bowels of the team truck for our exclusive first look.
According to Daubert, the Madone SSL 6.9. is the only bicycle frame in the world that uses Defense Grade High Modulus Carbon fibre, a special grade that is not available in Asia. Starting with this new material, Trek creates a hybrid laminate of its proven OCLV 55 Carbon with the new OCLV HM Carbon and builds it into what Trek claims is the world's first sub-900 gram, horizontal top tube frame.
After picking up Popo's bike, Cyclingnews can attest to the fact that the complete bike is incredibly light, close to 7kg according to Van Roosbroek.
| | |
| --- | --- |
| Popo's new Trek Madone 6.9 SSL | Popo's eye view |
| Clean lines | No, it's not a bottle mount. |
Daubert explained that, "Popo's bike, which is a 56cm, weighs 890 grams ready to build, with seat collar and cable bosses, without the fork."
That's substantially lighter than Trek's previous benchmark, the Trek Madone 5.9 SSLx of 2006 that Lance Armstrong rode to his seventh Tour victory. How did Trek engineers get the new Madone 6.9 SSL so skinny?
Daubert explained, "Our engineers looked at every single part of the frame to achieve even greater maximum weight reductions than before. For example, they created new rear dropouts and housing stops are half the weight of the previous versions. And the custom machined bottom bracket and head tube inserts from the SSLx are used.
"Above all, Trek now uses a true Defense Grade High-Modulus carbon fiber that is now molded instead of roll-wrapped in both the down tube and seat tube. As if all that wasn't enough, to even further reduce weight, we also pursued new paint technology called 'Low Solids' that is 20 grams lighter than before."
Daubert pointed out that, "Until now, only frames with sloping top tubes have gone under the 900 gram bar. But with the Madone 6.9 SSL, Trek is able to achieve this with a traditional frame configuration without compromising strength, rigidity or safety thanks to new OCLV HM Carbon.
"And don't forget that the bikes that purportedly get to the sub-900 gram weight level are all sloping designs, that require a long seat post that adds back a lot of weight. Our Trek Madone SSL 6.9 is the one bike that gets to the sub-900 gram weight without using a sloping top tube design," he said.
Full specification
Frame: Trek Madone 6.9 OCLV Defense Grade High Modulus Carbon fibre
Fork: Bontrager Race XXX lite carbon fibre with 1 1/8" aluminum steerer tube
Headset: Chris King

C of BB to C of seat tube: 540mm
C of BB to T of seat: 730mm
Top tube length: 560mm (c-c)

Cranks: Shimano Dura Ace, 172.5mm, 39/53
Chain: Shimano Dura Ace 10-speed
Front derailleur: Shimano Dura Ace 10-speed
Rear derailleur: Shimano Dura Ace 10-speed
Rear sprockets: Shimano Dura Ace 10-speed, 11-23

Brakes: Shimano Dura Ace
Levers: Shimano Dura Ace STI 10-speed

Wheels: Bontrager XXX RaceLite carbon fibre tubular
Tyres: Hutchinson Carbon Comp 22mm tubular(Veloflex)

Bar: Bontrager Race X Lite OS anatomic, 420mm (c-c)
Stem: Bontrager Race X Lite OS, 130mm (c-c)

Pedals: Shimano Dura Ace

Seat post: Shimano Dura Ace
Saddle: Bontrager (Concor)

Bottle cages: Bontrager

Claimed frame weight: 890 grams (1.96lbs) w/out fork