An interview with Tom Boonen, July 4, 2006
King for a day
This morning, Tom Boonen said that he wanted to win the stage, grabbing the maillot jaune by default. He didn't win, but he did grab the lead, and as a consequence, 'Tommeke' will have the honour of riding through his home country draped in yellow tomorrow. From one Belgian to another Brecht Decaluwé spoke to the man who will be king for a day.
Q: Tom Boonen, how happy are you with this yellow jersey?
Tom Boonen (Quick.Step)
Photo ©: Roberto Bettini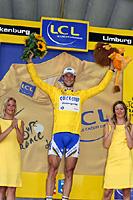 TB: Actually, I tried to win the stage but I had to deal with a flattening tire in the last five kilometres. It was very dangerous to stand on the pedals, so I stayed in the saddle and rode defensively. I hoped that everything would be brought back together, but that didn't happen.
Q: Hushovd and McEwen couldn't keep up with the pace on the Cauberg, so you were the only real sprinter in the peloton. Did you know you would be so strong?
TB: I expected that they would have to let go. On the hill of the 'Haute Levée' the pace was hard, but not impossible. I saw that McEwen and Hushovd exploded there, so I told the team they needed to make the race harder. The final was very hectic, which made the race hard to control.
Q: How long do you think you can keep this yellow jersey? Do you think you might keep it for four days, until the individual time trial?
TB: Maybe I'll keep it until Paris! I don't know really, I should take a look in the road book to see what's possible. Rogers is very close but I guess he will stay away from the intermediate sprints to be fresh enough for the individual time trial. To know what's possible, I'll have to see how far the other sprinters are behind me. Of course, I need to make sure that fighting for yellow, doesn't cause that I miss out on the green jersey in Paris.
Q: We're now four days away in this Tour de France - how do you look back on your own performances? Do you think could have done better?
Boonen is fourth
Photo ©: Jon Devich

TB: If I would have won everything, it would be better, but I guess that wearing the green and yellow jersey isn't bad, either. I do know that the first days weren't perfect at all, but I realise that it didn't have anything to do with bad luck.
Tomorrow, I will be able to ride in the yellow jersey through Belgium! I guess that's something which maybe happens once every ten years, so I think it's very special. I will try to make the most of those moments.
Q: There were many people out on the roads today, causing a great atmosphere; did you enjoy it like that as well?
TB: The atmosphere in the crowd was alright, but more particularly, I think it was dangerous today. On certain roads of five metres, there was only one metre [of] space to ride through. I saw chairs, cooling boxes and other stuff on the road. I want to send out the message that people in the crowd should try to keep the roads free. We always tried to avoid collisions, but going into the brakes or moving aside isn't always possible.
The World Champ
Photo ©: Sirotti

Q: In Madrid, where you won the world championships, you said that the rainbow jersey was the most valuable jersey you ever won. Where do you rank this yellow jersey?
TB: The world championship jersey stays the most important I've ever won, but I'll rank this yellow one just underneath it. I can be happy with having all those jerseys - I think my career's right on schedule!