Cycling News Extra for July 23, 2006
Edited by Jeff Jones and Shane Stokes
An interview with Floyd Landis
Almost there...
Coming up on
Cyclingnews will cover the 60th edition of the Dauphiné Libéré live as of stage 4 on Wednesday, June 10, at approximately 15:00 local Europe time (CEST)/ 23:00 Australian time (CDT)/ 9:00 (USA East).

WAP-enabled mobile devices: http://live.cyclingnews.com/wap/

After the decisive time trial Le Creusot, the inevitable champion of the 2006 Tour de France showed up wearing his usual Phonak jersey, rather than the maillot jaune he now owns. Jokingly saying that he 'gave it away again', Floyd Landis was looking forward to seeing his wife and daughter tomorrow on the Champs-Elysées. Hedwig Kröner was there at his press conference in Montceau-les-Mines
Floyd Landis (Phonak)
Photo ©: Sirotti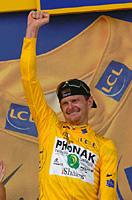 Q: How does it feel to win the Tour de France?
FL: Well, it's not over yet... (laughs) I'm not exactly sure what's gonna happen next, but I hope that I can handle tomorrow. (more laughs) If that's the case... well, I think it's gonna sink in later. Right now, I just feel tired.
Q: In previous time trials, you've had good margins on Sastre and Pereiro. So how did you approach this time trial?
FL: Well, I was confident, but when the yellow jersey is on the line, I knew he'd be inspired and that it wasn't going to be easy. Pereiro did an exceptional time trial; I was also a little concerned about the four-hour time trial I did two days ago. That took a lot of energy out of me, so I hoped I would be okay. It worked out.
Click here for the full interview
Cunego wins the battle for the white jersey
By Jean-François Quénet and Hedwig Kröner in Montceau-les-Mines
Damiano Cunego (Lampre-Fondital)
Photo ©: Sirotti

Lampre's Damiano Cunego was wearing the white jersey during the final time trial but he wasn't the favourite to win the best young rider competition. He only had five seconds advantage over Gerolsteiner's Marcus Fothen, who is known as a better rider against the clock. But right from the start, the Italian was ahead, and he clocked a better time than the German, adding 31 seconds to his lead.
Fothen was devastated. "I think I gave it all I had," he said at the finish. "My team director assured me just now that I did a good time trial: I'm about thirty seconds behind Sebastian Lang, the German TT champion. So that's definitely where I belong, too - about a minute or half a minute behind 'Seppl'. I didn't expect that Cunego would ride so fast; I don't know if anybody did. That was a great performance of him."
The German was very disappointed not to have reached his goal, which he had aimed for for almost one year. "To get the white jersey and to be within top fifteen on GC - I don't know if it was enough for that [it was, Fothen finished 15th - ed.], that's what I had aimed for. So I'm pretty disappointed now that the jersey is gone," he added.
Marcus Fothen (Gerolsteiner)
Photo ©: Sirotti

Cunego, of course, was very happy with himself: "I'm delighted," he commented. "This is the best time trial I've ever done. I had some doubts this morning, but it's true that at the end of the Tour, the legs count more than being a specialist for time trial.
"I dreamed about Fothen last night! I deeply wanted to win this jersey. This time trial is a good test for the future. I've done it, thinking about my companions who were watching the race on TV. I share the jersey with all the people who have suffered with me when not everything was going well for me. This experience at the Tour shows me that the best result can come with serenity instead of pressure."
Eddy Merckx: Landis is the deserved winner
By Brecht Decaluwé in Montceau-les-Mines
Eddy Merckx
Photo ©: Sirotti

As reported previously on Cyclingnews, Eddy Merckx had a particular interest in Floyd Landis' success in stage 19, vis à vis getting the maillot jaune back in advance of the Tour finish in Paris on Sunday. His son Axel rides for the team, he is very good friends with manger John Lelangue [and his father, who was a colleague of his both during his racing career and afterwards], and he also stood to gain a bit of cash due to a cheeky little bet he made.
Cyclingnews spoke to the legendary five-time winner of the Tour at the finish line, asking him firstly how he followed the stage today. "I was in the car together with Bernard Hinault, driving behind Fränk Schleck," he said. "First we were serene but once the stage unfolded, it became a bit more lively."
"It's fantastic what Landis has done. He deserves to win the Tour de France, if you look at the way he did it. He's the deserved winner of the race." Merckx was also happy for Lelangue and his own son. "It's great for John [Lelangue] but also for Axel. He always wanted to take part in a team which won the Tour de France," he said.
Lots of people have been speculating as to what Eddy Merckx said to Landis when he had his major setback on La Toussuire. We asked him to fill us in. "I just told the guys that the battle was lost, but that the war isn't over until the peloton arrives in Paris," he explained. "It was great to see how Landis reacted."
So, looking back to this Tour de France, how high would Eddy Merckx rate the performance of his son? "Landis will be grateful for the work Axel did," he responded. "He performed really well, just like everybody in the team."
Finally, we asked Eddy Merckx if we could expect him to be celebrating along with team Phonak in Paris: "No, no, now I'm just the father. The party in Paris is there for the riders and their wives!" Merckx laughed.
Axel Merckx: "Supporting Landis 100%"
By Brecht Decaluwé in Montceau-les-Mines
Cyclingnews also spoke to the five time Tour winner's son Axel, asking him firstly what he noticed about the American this morning [Saturday]. "He was very focused. There was a lot of pressure on him," he replied. "Hopefully he recuperated well from Thursday's performance [Landis hadn't finished his TT at that point]. I saw him just before I started. He knows that we're supporting him 100 percent."
Axel Merckx wasn't defending his GC position, but still the time trial must be a hard job: "I wasn't aiming for a top time," he said. "I just wanted to be within the time limit at the finish. I started very well and when I noticed that I was doing alright I eased off. The reason was because these three weeks have been very hard. A minute more or less doesn't matter to me."
Merckx' role as a teammate means he has an insight into Landis that most people will never have. The impression is given that Floyd Landis always looks very relaxed, but the bad day at La Toussuire showed that it's not always a correct assumption. "Some people look relaxed on the outside, but are not on the inside, said Merckx. "But today, he's looking very confident to me."
Cyril Dessel: "Looking forward to the Champs Elysées"
By Brecht Decaluwé in Montceau-les-Mines
The French crowd was cheering hard for their local heroes Cyril Dessel and Christophe Moreau during the stage 19 time trial. They had to battle to determine who would have the fame of becoming the first French rider in GC.
Dessel got it in the end, due in part to the fact that Moreau suffered a crash during his TT and wasn't able to take enough time out of his AG2R team-mate. "It [being first Frenchman] wasn't my objective at the start today, but it is very satisfying for me," he told Cyclingnews.
We then asked Dessel how he enjoyed his time trial, and with what kind of objective he had started: "I went flat out, that's for sure. I felt beaten for fifth place but I wanted to battle for place six. It was a hard and long time trial, covering 57 kilometres."
On Thursday, he crashed on the descent of the Col du Joux-Plane. How did that affect him? "Yesterday, my left leg was still hurting after my fall. So I was a bit worried about this time trial. But this morning, when I did the reconnaissance, I was feeling better. I was a bit more confident and I tried to remain focused on doing well. I had nothing to lose so I rode just like I did in the mountains when I was wearing the yellow jersey."
It was a bit of a surprise that Dessel could maintain his top-10 spot. We asked him how much he found himself longing for Paris during the previous stages: "It's true that during the last week, the Eiffel Tower came into mind. I had three magnificent weeks and I think more people know me now."
Arriving at the Champs Elysées as the first French rider in GC will be something special: "I have already enjoyed the laps of honour in Paris once before," he said. "In 2002 I struggled hard for three weeks to arrive at the Champs Elysées. Getting there was really great. I think it's going to be even better this year, with my seventh place under my belt," he stated, looking forward to tomorrow's final stage.
Hincapie: "Happy for Landis"
By Brecht Decaluwé in Montceau-les-Mines
George Hincapie (Discovery)
Photo ©: Jon Devich
George Hincapie finished 29th in the time trial. It was not the usual result that is expected from the Discovery rider: "I tried hard until the first split, then I saw that I was behind," he said. "From then on I saved as much energy as possible."
Serguei Gonchar won the race with an impressive advantage on his rivals. Hincapie thought it was a big performance. "It's amazing, definitely. It's his kind of course, though. If you have some power left, you could do something. He puts it in a big gear and just goes, he's very impressive."
Finally, we asked the American if he'd spoken Floyd Landis this morning: "Not today no, but I spoke with him yesterday. I'm very happy for him."
(All rights reserved/Copyright Knapp Communications Pty Limited 2006)