The Stuart O'Grady diary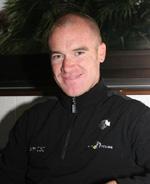 Stuart O'Grady
During the Tour de France CSC speedster Stuart O'Grady will be giving us a regular inside look at the daily goings-on in the peloton and the team hotel. An Olympic gold medalist on the track, O'Grady is a rider to watch in the sprints and long breakaways, and one of CSC's best hopes for a stage win or even the green points jersey.
O'Grady has had a rollercoaster ride at the last few Tours, wearing the yellow jersey in 2001 and green in 2002, but never quite managing to hang on to green all the way to Paris. In the last couple of years he's shifted his emphasis away from sprint speed and remodelled himself as a Classics and long breakaway expert.
July 18: Everyone pulling together
Today was the first real test in the Alps. From the start it was on, as usual. A big group got away and we had half the team in the break which put the pressure on the other teams to chase.
My back felt quite a bit better today, which is a good thing because the next three days are the killers.
The team is really stomping and rode a perfect race today. Frank put his name in the record books by winning but had great help from Dave and Jens. I looked after Carlos for as long as possible then he and Christian rode brilliantly to the finish.
It is really incredible how much the team has pulled together to work this well. It's nothing short of awesome.
Floyd looks comfy in yellow and will be very hard to beat.