The Stuart O'Grady diary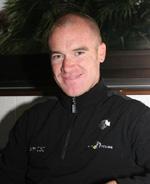 Stuart O'Grady
During the Tour de France CSC speedster Stuart O'Grady will be giving us a regular inside look at the daily goings-on in the peloton and the team hotel. An Olympic gold medalist on the track, O'Grady is a rider to watch in the sprints and long breakaways, and one of CSC's best hopes for a stage win or even the green points jersey.
O'Grady has had a rollercoaster ride at the last few Tours, wearing the yellow jersey in 2001 and green in 2002, but never quite managing to hang on to green all the way to Paris. In the last couple of years he's shifted his emphasis away from sprint speed and remodelled himself as a Classics and long breakaway expert.
July 15: Exactly what we needed
Awesome, we really needed that. No one deserves it more than Jens. He is an animal. He is one of the hardest working guys in the peloton…no, make that "the" hardest working guy. When the going gets tough the tough get going.
It has been a tough couple of weeks and we have had some drama but this is great for the morale of the team. It was exactly what we needed and we will all gain from this.
I tell, you it's a strange tour. I've never seen anything like it in my 10 years. Floyd was happy to give the lead away and I reckon he did the wise thing. Pereiro will not hold on up Alpe d'Huez and it saves Phonak a day on the front.
But it is a real chess game out there. There's no Lance up there in control and it is going to be an interesting race over the next week. Floyd is obviously the favourite but there are a few on his heels waiting for a mistake. That includes Carlos and Cadel.
The race for the green has also had some twists and turns. Robbie has a good grip but they are trying everything to beat him. Anyway it's time to hop into the champagne.
July 16: A terrible day
It was a terrible day for me. I was vomiting before the start and then again during the early part of the stage. I was very close to having to stop. I didn't feel crash hot on the line but that was magnified when the gun went off. Then they put the hammer down and I was in trouble. Lucky for me the break got clear and it settled down a bit.
That was one of my worst days on a bike - in the top two, actually. The fact that it's a rest day tomorrow helped keep me going but it was touch and go. The rest day couldn't have come at a better time. I definitely finished in a lot better shape than what I started. At least the team had good ride and Christian stormed home for third.
I am going to enjoy the rest day and I won't be doing much. Recovery, recovery, recovery.
Stage 13 results
Stage 14 results