93rd Tour de France - ProT
France, July 1-23, 2006
Boonen: Not just another bike race
By Anthony Tan in Strasbourg, with additional reporting from Shane Stokes
An introspective Tom Boonen.
Photo ©: AFP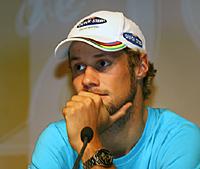 In the 93rd Tour de France, a war is about to be waged. It consists of three of the world's fastest riders, all vying for the same objective: to take as many stage wins as possible en route to the final green jersey in Paris. In 2004, the latter honour went to former BMX bandit Robbie McEwen; last year, it was the mighty Norwegian Thor Hushovd who triumphed. Will this be Tom Boonen's year?
Casually walking into the conference de presse as if it were just another bike race, the current world champion strolled in wearing his baggy slacks, baby blue team T-shirt and nicely peaked Quick.Step cap. The thing was, this isn't just another bike race... Boonen knows it - he just didn't show it.
Having come from his pre-race medical, a logical first question to ask was whether he's in fighting fit condition to tackle the 93rd edition of La Grande Boucle.
"I hope so," smiled Boonen to Cyclingnews. "They don't tell you much; just the cardio, they tell you how tall you are and how much you weigh, so I think it's okay... I think I'll make it to the start," he said jokingly.
On a more serious note, two of his fiercest rivals have come are here with similar form and the same intentions, and they'll be doing everything they can to prevent him winning both stages and the green jersey classification. Although it'd be three if it weren't for Alessandro Petacchi's crash in the Giro, so in some ways, he can't count himself lucky.
"I prefer to win [the green jersey] through stage wins."
- Tom Boonen says intermediate sprints aren't really his cup of tea, but if that's what it takes to be in green, he'll do it
"I would have probably liked the Tour more," said Boonen on Petacchi's absence, "but it doesn't change a thing. It's still really hard to win a stage.
"McEwen and Hushovd are the two biggest competitors, like always. But I don't think Hushovd will be able to surprise everybody with the green jersey; Hushovd didn't win one sprint last year but he won the green jersey, so you see, sometimes fate is on your side."
Boonen made a point of saying it wasn't just the stage finishes Hushovd didn't win, but also the intermediate sprints. "He was always beaten, always second or third. But he had a lot of luck; he had my crash, and then McEwen was disqualified in the second or third stage. So if you have a little bit of luck, it's also possible to win the green jersey...The problem with the green jersey is that you lose it easier than you do the yellow jersey."
Tom Boonen (Quick.Step)
Photo ©: AFP

Asked if he's concerned a crash will put him out of contention or the race this time around, the 26 year-old said his fate lies with someone other than himself: "I hope I have a little more good luck this year, but it's not up to me... it's up to God," he half-joked.
Granted, the fight for intermediate sprints is a far less glamorous route to the maillot vert, but it's the way Hushovd won last year, and Zabel many times before that. This year, it appears the boy from Balen is prepared to go down this path, but only after he's taken at least one stage win, and later on in the peace.
"I prefer to win [the green jersey] through stage wins," he said. "But if you have two competitors like me and McEwen, and then you have a very good rider like Hushovd, sometimes they profit from the others."
Tour de Suisse as preparation
Tom Boonen was in action in the recent Tour de Suisse, where he won the first stage and showed himself to be in fighting form for the Tour de France. "Tom Boonen: It was good training, but very hard too," he told Cyclingnews' Shane Stokes at the time. "The flat stages weren't that flat. Even the first stage wasn't a flat stage, you had a climb of almost 18 percent in the final. But it was good training, good preparation for the Tour."
Swamped by the press.
Photo ©: AFP

Boonen has already won an impressive 17 races this year, and has been the most prolific world champion for decades, but said there's no secret. "I just kept doing things the same way…the jersey doesn't change anything for me. I never expect anything in the beginning of the season. Every victory is important and as long as I am in good shape and able to win races, I try to win. For the last three years it has been going okay this way. Now I've focused a bit more on the Tour, for the last few weeks, and I am hoping on a good Tour start. Then we will see."
After the rainbow jersey win, Boonen said that he didn't gain much popularity in his home country - but there was a perfectly good reason for that: "It was almost at the highest level already in Belgium…maybe becoming world champion increased it a little bit, but it was impossible to increase it much more. "
After the Tour, Boonen isn't sure what his race program will be. "I will wait to see how tired I am after the Tour and then decide what to do," he said. And as to his overall future, given that he has already won many of the biggest races in the world, Boonen isn't sure how much further he can progress. "I don't know…I keep working every year and nobody knows where the ceiling is on that. But I am happy with the rider I am now… If I can keep this up for a few more years, then I will have one of the biggest careers of the past generation. So I will be happy with that."