An interview with Serguei Gonchar, July 22, 2006
Mystery win or not?
Reporting from today's time trial in Montceau-les-Mines, Brecht Decaluwé finds out about today's self-confessed mystery winner, Serguei Gonchar.
Serguei Gonchar (T-Mobile)
Photo ©: Sirotti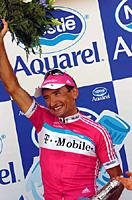 "I have had other important victories in my career, with other teams. I've won the world championships, and other important time trials," said Gonchar. "But this year, I was able to get the pink and the yellow jerseys, and I've won a stage at the Tour. So that, for every rider, would be important. Every year is special to me - but maybe this year just a bit more!"
Q: You suffered very hard in the Alps and today you won the time trial. Can you explain that?
SG: It's a mystery to me as well. I was ill in the Alps and I had to take antibiotics. But this morning our team manager told us that we had to fight for the teams classification. So that's what I did. Afterwards it was very difficult because I had to wait very long before I knew if was the winner of the stage or not.
Q: Is your next objective the time trial at the world championships in Salzburg?
SG: No, now I just want to reach Paris and then I'll enjoy some holidays. The last two months were very hard with the Tour of Romandie, the Giro and now the Tour de France. Now I need tranquility, afterwards we'll see. We have Michael Rogers in the team and maybe it's more something for him than it is for me.
Q: You chased a win in the Tour de France for so many years, and this year you win two stages. Can you explain that?
SG: The first was very different because I could also get the yellow jersey so I was very convinced. I wasn't very convinced this morning. But everybody in the team wanted to get a good chrono because we could improve our position in the teams classification. I wanted to surprise myself and I think I did that today.
Q: After all what happened with the team relating to Jan Ullrich and Oscar Sevilla, do you have the impression that you and Kessler saved the Tour de France for the team?
SG: No, Klöden is also on the podium. I followed Klöden's performance on TV and he really suffered. Really, it's not just me and Kessler, but the whole team.