An interview with Oscar Freire, July 6, 2006
Taking the Tour by its horns
In previous days, a lot of hard work brought little reward for Oscar Freire. But today, a change of tactics proved the perfect recipe for success. Brecht Decaluwé reports from the press room in Caen.
Q: Is this an important victory for you after the results of the past few days?
Oscar Freire (Rabobank)
Photo ©: Sirotti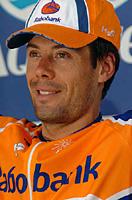 OF: Yeah, sure, but I think every victory is important. Every day, I tried to win but didn't succeed, so I needed to change tactics. Normally, I'm sitting in the wheels and I wait until an opportunity arises; I lacked the initiative to grab the win.
Today, I planned to take some more risks and take the initiative, something I usually wouldn't do; it delivered immediately. I started the sprint too early, but in the end it didn't matter.
Q: Cycling, and mainly Spanish cycling world has been under attack during the last few months. Yesterday, we heard that not only cycling has it cheaters - how do you feel about that?
OF: Just like I always said; everywhere, cycling is treated different than other sports and that's not right, of course. We all know that there are riders who cheat, but it isn't like that for all cyclists.
There's a lot of money at stake and that's probably why people start to cheat. That's not only for cycling, but I'm pretty sure it's like that for all sports.
It's really sad for cycling, because in the Giro d'Italia, for example, people spoke only about the sport and not about doping, and that's how it should be. Media plays an important role in those allegations and we, the riders, really hope that we are treated better than we are right now.
Q: Just like Nostradamus, we heard that you can predict what's going to happen. Today, we got another proof of that because you said you would win the stage.
OF: Yeah, that's right. My wife also predicted that I would win, so maybe I really have such powers. But seriously, we all know it doesn't work like that.
Q: Juan-Antonio Flecha guided you through this sprint, how important is he for you?
Yeah!
Photo ©: Sirotti

OF: Flecha surprised me in a really nice way. We know that he's a very good rider, but I didn't know that he could help me that well in the sprint.
Q: In the coming days, there will be some more opportunities for you to win the stage getting some more bonus seconds. Do you think you might grab the yellow jersey?
OF: I'll try to continue like I'm doing right now, as it delivered immediately. On the other hand, taking the jersey isn't really an objective because there are many riders close together in the GC. So it's not an objective; I mainly want to win stages.