Bikes of the Tour: David Zabriskie's Team CSC Cervélo SLC SL, July 24, 2006
David Zabriskie's Team CSC Cervélo SLC SL
FSA bars...

... and stem.

The ginormous airfoil-shaped downtube

Yep, this one's for Dave Z.

39/53 FSA front drivetrain.

175mm cranks for Dave Z.

A frame that weighs less than a kilo is one of the reasons the Soloist was the bike that beat L'Alpe. By Anthony Tan
Dave Zabriskie's Cervélo SLC SL
Photo ©: Anthony Tan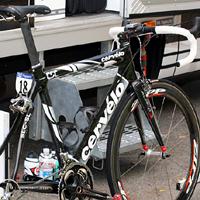 Released just before this year's Tour de France to a few of Team CSC's top riders, Cervélo's latest road warrior goes by the name of Soloist Carbon Superlight, or SLC-SL.A major partner of the Danish ProTour team since 2002, Cervélo continue to find ways of making life easier for its riders. Ostensibly a lightened version of the original Soloist Carbon, the SLC-SL lops off an incredible 200 grams off its predecessor, making it one of the few sub one-kilo frames in this year's TdF peloton. The Canadian firm claims only two are lighter, and one of those is theirs also, that being the Cervélo R3.
We already looked at the Soloist Carbon at this year's Giro d'Italia, and its key features remain unchanged on the SLC-SL: the ginormous airfoil-shaped down tube and similarly shaped seat-tube, a narrow-width head and top tube, oversize bottom bracket cluster, and S-shaped seat stays. Geometry also appears to be identical, and the company says the SLC-SL has the same stiffness properties as the regular Soloist Carbon.
Cervélo's Alpha Q carbon fork.


As well as Zabriskie, CSC's Fränk Schleck also has the SLC-SL at his disposal in Le Tour, which he used to great effect on L'Alpe d'Huez last Tuesday, becoming the first Luxembourger in Tour de France history to win atop arguably the most legendary of climbs. And while a fifth of a kilo might not seem like much, when you're doing 4,000 metres of more of climbing each day, every gram counts.
Helping keep the gram count down on Zabriskie's bike are components such as FSA stem, and carbon fiber cranks and handlebars, Zipp wheels and Speedplay pedals.
Preliminary price for the SLC-SL frameset will be USD $4,500, with complete bikes prices to be announced later.
Photography
For a thumbnail gallery of these images, click here
Images by Anthony Tan/Cyclingnews