The Stuart O'Grady diary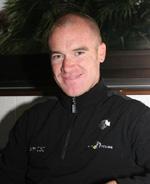 Stuart O'Grady
During the Tour de France CSC speedster Stuart O'Grady will be giving us a regular inside look at the daily goings-on in the peloton and the team hotel. An Olympic gold medalist on the track, O'Grady is a rider to watch in the sprints and long breakaways, and one of CSC's best hopes for a stage win or even the green points jersey.
O'Grady has had a rollercoaster ride at the last few Tours, wearing the yellow jersey in 2001 and green in 2002, but never quite managing to hang on to green all the way to Paris. In the last couple of years he's shifted his emphasis away from sprint speed and remodelled himself as a Classics and long breakaway expert.
July 9: A weird race
The conditions were pretty shabby, the weather wasn't great, it was pretty windy and there was a bit of drizzle. Everyone seemed to be a little more nervous because of the windy conditions but there were no major dramas and it didn't turn out too bad.
We had David Zabriskie in the break so we didn't have too much to work to do. It was actually a bit of a weird stage, Phonak and FDJ were doing most of the work, which is not unusual, but it was surprising Quickstep was not on the front.
I don't think big Tom has too much confidence at the moment, where did he finish, ninth or something? As I said, it was a real weird race.
It won't be long before there are a couple of big breaks where they get a big lead, it may even be the day after the rest day down to Dax. Everyone seems to be sitting back and saving themselves at the moment.
There was another big improvement again today with my back. It has really loosened up and I'm now starting to think it could be possible to get to Paris, something I would not have thought four days ago.
It's not out of the equation that I might think about a crack at a breakaway but I've been told to wait a few days before I consider trying anything I'll save myself for later on, I reckon. Right now I'm about to hop on the plane and fly down to Bordeaux.