An interview with Michael Rasmussen, July 19, 2006
The Bird Flew: 'Chicken' Rasmussen pulls off a great coup
Although his form has been a little less consistent this Tour than during the 2005 edition, Michael Rasmussen pressed the rewind button to great effect on Wednesday to dominate the second Alpine stage of this year's Tour. Rasmussen went clear on the first climb of the day with two other riders, Sandy Casar (Française des Jeux) and Tadej Valjavec (Lampre-Fondital), building up a large lead over the peloton and then taking maximum points on each of the day's four mountains. Brecht Decaluwé reports from La Toussuire.
Michael Rasmussen (Rabobank)
Photo ©: AFP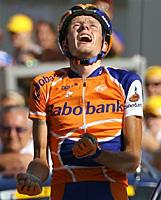 As he did on Sunday July 10th, 2005, Rasmussen laid the foundations for a probable victory in the Grand Prix de la Montagne classification today and also took the stage win. It confirms the climbing talent he showed last year and achieves the two goals he had set himself prior to the race start. Cyclingnews' Brecht Decaluwé was at his post-stage press conference and heard what the great Dane had to say.
Q: This was a great victory, and obviously you were a bit overwhelmed after the finish. We saw you were a bit emotional during an interview with Danish television. Could you tell us what you felt when crossing the line.
MR: This year, I've been riding in service of the team because we still have a contender for the yellow jersey. But yesterday did not go the way we wanted, obviously. After the stage, I spoke with the team management and said that I would do it my way today and see what would happen. It's difficult not to be overwhelmed by emotions. 90% of my season covers the three mountains stages of yesterday, today and tomorrow. So for me it is very important to perform during these three days.
Q: On the day Menchov loses the Tour de France, it is your day of glory...
MR: I'm not aware that Denis lost the Tour, we're still racing for four days more days.
Q: Obviously it's an epic ride when you try to win a stage the way you did. But how do you cope with the pain and the suffering on such a long ride. There's really no hiding during the time you're on your own.
Working for it
Photo ©: AFP

MR: I didn't get this stage win as a present. We had to work very long in the breakaway before our advantage could grow. On the steeper parts of the Galibier I could accelerate and get away with Casar and Valjavec. They have been contributing a lot, also in the valley after the Galibier. After the 'Col de la Croix-de-Fer' I had to go on my own if I wanted to win the stage. It was a long and difficult day and I suffered a lot; but that's all forgotten now.
Q: It was a very long on the road out there. When did actually had the feeling that you could make it alone to the finish?
MR: On the 'Col de la Croix-de-Fer' I noticed that nobody came back on me. Levi Leipheimer tried but didn't succeed. That's when I started to believe in my chances.
Early in June, I already did a complete reconnaissance of today's stage. So I knew every metre today, that makes it a bit easier on the mental front.
Q: Very often, when riders win a stage like this, you see them doing special moves or showing pictures of their family. We didn't see you doing that. How important was your family today?
Now in dots
Photo ©: Sirotti

MR: After the rest day, I said to my wife that I would win on Alpe d'Huez for her and our baby. I was very disappointed how things unfolded during yesterday's stage. Today I had to prove a lot for myself and my wife.
Q: During last year's ITT, things went wrong and you lost your podium spot. Did you do any extra training on the discipline to perform well Saturday? Maybe there is still a good GC possible.
MR: The top-10 isn't an objective for me. But I can tell you that I'll try to stay on my bike.