Tour de France News feature, July 17, 2006
Phonak still confident despite losing leader's jersey
One day prior to this year's Tour de France's 'grand finale', the Swiss Phonak team is confident it made the right choice in letting go the yellow jersey on stage 13 to Montélimar. In the press room, this tactical move of the squad directed by John Lelangue was one of the most-discussed happenings concerning the overall classification of the race: Will Floyd Landis prove that 13 was his lucky number in the upcoming Alpine showdown, or regret the 29'57 he offered to former teammate Oscar Pereiro forever?
Floyd Landis (Phonak)
Photo ©: Roberto Bettini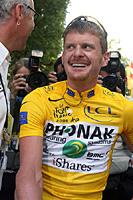 The risk of failure, for Phonak's team director Lelangue, is minimal. "We only decided to make a tactical choice," he told French L'Equipe. "A bit like a football coach, who sometimes makes his reserve team play. There is no real favourite for this Tour, so the race is naturally full of strategy, and unexpected events."
But giving the overall lead to another team does not mean that Lelangue thinks his is too weak. "No - we are taking this risk because we feel very sure about ourselves," he added. But this confidence concerns mainly the leader of his team, Floyd Landis.
"Lance's team was always very confident," the overall second-placed rider said. "I believe in mine, but I know we can't manage the Tour in the same way. To give the jersey away is a real choice. I had to protect my teammates, as they are not strong enough to have the weight of the race on their shoulders at that moment.
"Actually, I would have preferred not to take the jersey at all, and leave it to Cyril Dessel. He deserved to keep it longer, but that day on the Pla-de-Beret, I had to get some time off Klöden."
Oscar Pereiro, who used to ride for Phonak is 2005, when he finished within the Top 10 of the Tour de France for the second time, still could be a threat - especially since the maillot jaune is known to confer extra power to its wearer.
"Of course, we can never be sure of anything - maybe Pereiro will be dangerous during three days - but honestly, I don't think so," a calm Landis continued. "And the yellow jersey is important in Paris, not here!"
Nevertheless, the American remains careful when talking about his goals and possibilities at this Tour. "I will never say 'I will win the Tour!'," he affirmed. "I still don't know if I'll be able to win. It wouldn't be a good idea to say that until I have the yellow jersey at the finish in Paris. But I believe in myself."
Team Phonak
Photo ©: AFP
The fact that Landis will have to replace his hip, meanwhile, will not interfere with his performance, but he also wants to play all his cards right because this could be his last chance to do so. "I feel the pain after about three or four hours of racing, and also during the night," the 30 year-old explained.
"But it's not something that will prevent me from defending my objectives on this Tour. It's true that it's possible [that this could be my last Tour]. I know some people who continue to ride their bikes after having a hip replacement, but they don't race the Tour de France! I choose to believe in it, and I hope that I will come back - it will be great as I won't be in pain anymore."
Asked if he wanted to win this Tour slowly, by taking minute after minute off his rivals, or in one impressive seep, Landis had to laugh. "Ideally, of course, it would be great to win with one single strike," he replied. "But that's not possible any more nowadays. I have a goal, and responsibilities. I owe it to myself to remain careful, even if that's less spectacular."