News feature, June 19, 2006
Basso ready for the challenge with the CSC team built for the Tour
2006 Giro D'Italia winner Ivan Basso arrived in London on Monday with manager Bjarne Riis, Jens Voigt, Bobby Julich and Stuart O'Grady. The press conference was the last for the CSC team before the Tour de France starts on July 1. Gerry McManus was there for Cyclingnews.
Jens Voigt, Bobby Julich, Bjarne Riis, Guy Hains, Ivan Basso, Stuart O'Grady
Photo ©: Gerry McManus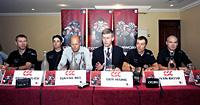 The 28-year-old Italian star will lead the selected team for next month's race with Carlos Sastre, Fränk Schleck, Giovanni Lombardi, David Zabriskie and Christian Vandevelde joining Julich, O'Grady and Voigt. The obvious surprise was the omission of Paris Roubaix winner Fabian Cancellara. Without any team time trial in the year's event, manager Bjarne Riis has rejected the time trial genius in favour of supporting Basso.
"We have had a great season so far," said Riis: "We are leading the Pro Tour ranking, we won the Giro d'Italia, Paris-Roubaix and the Amstel Gold race. The Tour is coming and our ambitions are there. Ivan is one of the big favourites and it's important that we have a good team around to support him. Our team is strong and competitive, but we will have to see if it's good enough. I believe in it and the team believe in it, and that's the most important thing.
"Ivan will be the exclusive leader and the full team will work for him," Riis continued explaining his team selections: "The one big goal is to win the Tour but that doesn't mean we won't take chances that come up. Carlos Sastre is very important and we will see him lead Ivan into the mountains and he will be ready, that's for sure. Everybody knows Jens Voigt and his qualities. He is a world class rider who is always there. Bobby Julich had a hard Giro this year but finished strongly and I have followed him a lot in the last couple of weeks and have seen the best Bobby Julich I have ever seen.
Ivan Basso smiles as his manager
Photo ©: Gerry McManus

Ivan Basso thoughtful
Photo ©: Gerry McManus

Ivan Basso listens
Photo ©: Gerry McManus

Team manager Bjarne Riis
Photo ©: Gerry McManus

Stuart O'Grady
Photo ©: Gerry McManus

"It's a pleasure to have Stuart O'Grady in the team. His experience is very important and he will have several important roles in the team this year. The question Stuart will have is 'what about the green jersey?' It's not the main objective of the race, but the rest we take day by day. Frank Schleck will be riding his first Tour this year and he proved in Switzerland that his form is coming. Giovanni Lombardi will make sure that Ivan is not getting one centimetre of wind on his nose on the flat stages. We know David Zabriskie can do a good time trial, but that's not why he is in the team. He's ready and I am one 100 percent sure that he will be able to climb well this year. If we need it, he will be an important worker in the mountains.
"The last decision I took yesterday. It is difficult to call someone who is qualified to be in the team and say I'm sorry I have made other choices, but it's my job. I chose Christian Vandevelde because his form is there. The choice was to focus on the mountains and I had to sacrifice Fabian Cancellara for a guy who can climb."
One of the key questions is whether Basso can regain the form that won him the Giro. "Everybody knows that it is not easy to peak in the Giro and peak again two months later," continued Riis: "We have been spending a lot of hours together day by day and many kilometres. And I think that's the most important thing that I feel what he needs."
Basso selected training over racing since his Giro victory, but is aiming to be back on top form when it counts.
"After I start the Tour (de France) I want to feel better and better every day and get to my peak after the first week," said Basso. "We spent the last 10 days together in the Alps and Tuscany and did a lot of training."
The Italian talks freely to the press, but thinks that enough is already said about Jan Ullrich (T Mobile). "I wasn't surprised that Jan won the Tour of Switzerland. I think it's really crazy that the journalists talk about Jan all the time," said Basso: "I think he smiles all the time when he reads what they write. Everybody tells Jan he's good or he's not good, maybe he's good or maybe he's not good, but Jan is a big champion. He won the Tour (de France) and the Olympic Games and I have a lot of respect for Jan."
Basso is in full support of Bjarne Riis' decision to exclude Cancellara from the team. "I am sorry for Fabian, but Bjarne explained why he made the team decision. I never put pressure on Bjarne to put a rider in or out."
Many pre-Tour favourites have felt under pressure before and during the event, but Basso feels that he is prepared for it. "I had a lot of pressure in the Giro too," he explains: "But I think I have learned a lot and I am really calm. Honestly I don't like the course 100 percent, but to me the Tour de France is the best race in the world. There are too many time trials and not enough mountain top finishes and it's possible I don't have enough climbs. We only have three mountain top finishes but two time trials. When you lose four minutes in the two time-trials for example, it's not easy to get back.
"Jan will take time from me in the time-trials and I don't know how much. I could lose two to four minutes and Jan could be strong on the climbs. We will see how strong he is and I will give it 100 percent. I need to attack."
One journalist asked if he will attack in the Pyrenees. "I think I will attack in Valkenburg," he laughed. "But really, I think I am really similar to Jan in that I don't attack very much."
Basso also listed Landis, Hincapie, Valverde, Vinokourov and Leipheimer being the key dangermen in the Tour.
With the doping scandal in Spanish cycling recently it was inevitable that a question came up about drugs in sport and Basso was asked if he thought the Italian people saw him as the new symbol for sport in Italy. "In Italy, the talk of the scandal goes in one ear and out the other one," he laughed.
Photography
For a thumbnail gallery of these images, click here
Images by Gerry McManus/www.gerrymcmanus.co.uk