The Stuart O'Grady diary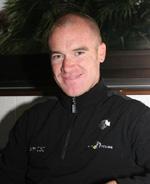 Stuart O'Grady
During the Tour de France CSC speedster Stuart O'Grady will be giving us a regular inside look at the daily goings-on in the peloton and the team hotel. An Olympic gold medalist on the track, O'Grady is a rider to watch in the sprints and long breakaways, and one of CSC's best hopes for a stage win or even the green points jersey.
O'Grady has had a rollercoaster ride at the last few Tours, wearing the yellow jersey in 2001 and green in 2002, but never quite managing to hang on to green all the way to Paris. In the last couple of years he's shifted his emphasis away from sprint speed and remodelled himself as a Classics and long breakaway expert.
Dangerous sprinting on the barriers
Another solid day in the office. There was a pretty high wind out there today but the bunch wasn't as nervous as I thought they would have been on the first day of a Tour de France. There were quite a few cross wind sections that in past years would have seen the race splitting up but they rode pretty steady.
Home safe.
Photo ©: Giorgio Masnikosa

Even when the break got clear the bunch rode quick with Credit Agricole setting a pretty good tempo. In the end they probably went a bit too quick, catching the break just before the final sprint, which allowed Hincapie to get that two second bonus that eventually took the yellow off Thor.
It was a very hectic sprint finish and Boonen found himself in front with about 350 metres to go and he obviously wasn't going to keep going from there so that baulked the bunch up a bit and caused some riders to move right next to the barriers and that's where Hushovd ended up hitting something.
It's getting to the stage where you really have to think twice about sprinting right down near the edge of the barriers. People have been waiting around all day and they collect these handouts from all the sponsors like big hands and blow-up balloon sticks. They are going to wave them, that's why they're there.
It was quite ironic that it was a green paper hand from PMU who sponsor the Green Jersey that did the damage to the overnight leader of that competition.
I felt pretty good all day, I told the team not to worry too much about me and don't put too much pressure on themselves. I felt I could get up there in the finish without having to have the team do the big lead out.
Tomorrow won't be an easy day. It's quite hilly early and I don't believe Discovery will ride to protect the Yellow Jersey. George will be happy to have it for the day and I'm sure he plans to get it back later. But it puts a lot of pressure on a team to defend the Maillot Jaune for long periods of time. So it could be a chance for a break to stay clear.
It will be interesting to see what teams actually try and control the race. I suppose it will be Lotto, QuickStep and Credit Agricole.