An interview with Serguei Gonchar, July 8, 2006
Honchar stands the test of time... or should that be Gonchar?
36 year-old Serguei Gonchar showed today there's plenty of fight left in the old dog from the Ukraine. But for the last time, how do you spell that surname of his? Brecht Decaluwé finds out.
Serguei Gonchar (T-Mobile)
Photo ©: Roberto Bettini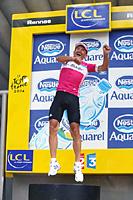 Q: You have an advantage of more than a minute on Floyd Landis; can we consider you as the favourite from now on?
Serguei Gonchar: Most important now is that I have this jersey, because I waited for it for a long time. There are two stages before we get into the Pyrenees, then we will see how things are unfolding for me.
Q: What about your team?
SH: We are all 100 percent motivated for this Tour de France. It's sad for Jan Ullrich that he isn't here, but we are well prepared and we are showing that we are a very competitive team.
Q: We saw that you used an impressive gear to grab this win; how were your sensations during the time trial?
SH: It went alright in the beginning; later on, I suffered a small crisis due to the headwind but I felt that if I could overcome it, victory could be mine.
Serguei Gonchar (T-Mobile)
Photo ©: Roberto Bettini

Q: There were lots of people who had there questions when you signed for T-Mobile, you would be too old... It remained to be seen what you could add to the team. How did you feel about that?
SH: First of all, I might be old, but I feel very young. I want to thank T-Mobile for their trust towards me. They allowed me to prepare for the Giro d'Italia and the Tour de France in all calmness. The sponsors are happy and now I'm happy.
Q: What do you look forward to in this Tour de France?
SH: Now, I only want to enjoy this jersey and my win, because I tried already on three occasions in the past. I don't want to think about tomorrow, but of course I'll try to win some more stages.
Q: People often wonder how you name is written, with an G or with an H?
Explaining...
Photo ©: Brecht Decaluwé

SH: It is Gonchar, but on my passport my name is written with an H. Probably, they made a mistake with a computer or with a translation. Because it was written like that on my passport, I needed to use it like that everywhere. But please, call me Serguei Gonchar [yes! - ed].
Q: Do you feel that the Tour de France is still the same race now the top five of last year isn't here anymore?
SH: The Tour stays the Tour, with everything that's related to it; it will always stay the biggest race in the world. For me, it's very special that I can sit here wearing this jersey, there nothing more I can say.