The Stuart O'Grady diary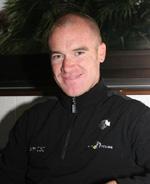 Stuart O'Grady
During the Tour de France CSC speedster Stuart O'Grady will be giving us a regular inside look at the daily goings-on in the peloton and the team hotel. An Olympic gold medalist on the track, O'Grady is a rider to watch in the sprints and long breakaways, and one of CSC's best hopes for a stage win or even the green points jersey.
O'Grady has had a rollercoaster ride at the last few Tours, wearing the yellow jersey in 2001 and green in 2002, but never quite managing to hang on to green all the way to Paris. In the last couple of years he's shifted his emphasis away from sprint speed and remodelled himself as a Classics and long breakaway expert.
Surprise breaks
But no surprise when they get caught
It's been a bit surprising that the first break each day has been the break of the day. In past Tours there would normally have been a dozen attempts before one was successful.
They were pretty serious about staying away and were using a lot of energy but they were never going to succeed. When the break went we didn't think too much of it but it ended up being quite a tough day. I was pretty hot and there were plenty of small climbs.
The sprinters' teams ended up doing a lot of work on the front and towards the finish the bunch cut itself in half when someone touched wheels and went over the handlebars but I managed to keep clear of all that.
I got on Zabel's wheel in the last kilometre and we both went for it with about 150 metres to go then Boonen came around with Thor and then Robbie just blasted by.
I thought I should have a crack at an intermediate sprint. If I could have got a few seconds and then pulled off the stage then I could have gone into yellow. It didn't quite work out and I don't think that I'll worry about the intermediate sprints tomorrow. It'll be best to conserve my energy as it's quite a tough stage finish in Holland. I'll have a chat with Bjarne tonight and see what he reckons.
Boogerd won the Dutch national title here and he'll be up for the win on home soil.