An interview with Sylvain Calzati, July 9, 2006
French, but with a heart for Italy
Today's winner in Lorient couldn't have been more popular. But a few hours before the World Cup football final, there's something Sylvain Calzati needs to tell everyone. Brecht Decaluwé finds out what that is.
Q: What was going through your mind when you were doing that last kilometre?
Sylvain Calzati (AG2R)
Photo ©: Roberto Bettini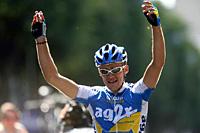 Sylvain Calzati: There was so much going through my mind then. I thought about everybody; my family, my trainers... also about the past year. 2006 was a terrible year for me due to my illness and a fall early on in the season [at the Etoile de Bessèges - ed.]. I'm very happy to be back at my level of 2004.
Q: What was it like to win a stage in the Tour de France?
SC: It was a dream for me and tomorrow it will be amazing to see myself on television. Then I'll probably realise more what I did. Now, I can't really say what I'm feeling, as I'm living in a dream... I'm mainly capturing the moments and thinking about my family.
Q: Can you explain why you attacked where you did?
SC: Vincent Lavenu [team manager of AG2R] told me that there was a little climb in the next village. Explaining why I attacked there is impossible, it was intuition, I think. What I did know is that when I was alone on top of that climb, I could keep on going.
Sylvain Calzati (AG2R)
Photo ©: Jon Devich

Q: Your contract is coming to an end, so this victory comes at the best possible moment...
SC: It's true that we're in the midst of negotiations, but I don't want to talk about that now. I do want to thank the team that they gave me their confidence during the two past years, that's all I can say.
Q: A French rider winning a stage in the Tour de France, only a few hours before the World Cup final between France and Italy; that must be an omen?
SC: (laughs) I'll have to disappoint many people, because I'm a fan of the Italian team. Maybe because of this, the French people will turn their back towards me, but I've chosen my side.