93rd Tour de France - ProT
France, July 1-23, 2006
Main Page Results Overall standings Stage Details Live report Previous Stage Next Stage
Stage 11 - Thursday, July 13: Tarbes - Val d'Aran/Pla-de-Beret (Spain), 208 km
An orange fiesta of the third kind
Menchov super in Spain; Landis mellow in yellow
By Anthony Tan & Hedwig Kröner in Pla-de-Beret, with additional reporting from Tim Maloney
We did not have to wait till the Alps to find a new world order at the 93rd Tour de France.
Denis Menchov (Rabobank)
Photo ©: AFP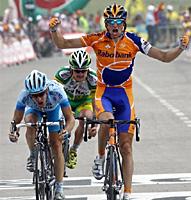 At the foot of the final 1,860-metre climb to Pla-de-Beret, located in the heart of the Ikkurina homeland, 19 riders had their sights set on victory. This was expected, but with a mild average gradient of five and a half percent, an explosion of the third kind wasn't on the cards.
However, two things the punters weren't counting on were two super-Mikes, Rasmussen and Boogerd, who dispelled any notion of internal rivalry, sacrificing themselves for Rabobank team leader Denis Menchov; and a handful of favourites not performing as they would have liked.
As Chicken Rasmussen swung off before the final climb, his duty done, the Dutch champion with a mouthful of teeth chomped through the lead group as if on a feeding frenzy, and one by one, the names of Zubeldia, Schleck, Arroyo, Azevedo, Rogers, Simoni, Fothen and Totschnig all fell victim to this piranha of the peloton.
The orange fiesta didn't end there, though, as it then became time for Menchov to turn the screws further still. Seven kilometres from the finish, just five were left - Carlos Sastre, Levi Leipheimer, Cadel Evans, Floyd Landis and Menchov - and four kilometres later, Leipheimer thinned it to three, taking only Landis and Menchov for company.
Floyd Landis (Phonak)
Photo ©: Sirotti

Prior to this day, talk has revolved around T-Mobile and Phonak. But Denis Nikolayevich Menchov, born January 25, 1978 in Orel, Russia, changed all that in one fell swoop. Among a sea of madly-waving Ikkurina flags, he bested his companions in a three-up sprint, flexing his hardened arms as he crossed the Val d'Aran, and punching the air with anger.
"We left this morning [with no set plan], thinking that we would see what would happen during the race," Menchov said.
"We knew that AG2R would work a lot and T-Mobile as well. So it depended on the situation, if we would work or not. In the finale, the situation was that there were three of us [from Rabobank] all going well. Michael [Rasmussen] made an enormous effort, and I have to thank him for that."
Denying the move with Boogerd and Rasmussen was premeditated, Menchov explained, "After the Portillon, as there were three of us in the group, we talked. Michael asked me if I was feeling well, and I said yes. So we decided to work [together].
"I was confident that we would come to the Tour with a very good team, and now we can see that it is truly a great team," he said.
Floyd Landis (Phonak)
Photo ©: Jon Devich

But it wasn't all Rabo-way or Rabo's day, because American Floyd Landis, the third rider to finish behind Menchov and Leipheimer, has found himself the new maillot jaune. Moments after overnight leader Cyril Dessel crossed the line with a desperate lunge, 4'45 behind the first trio, the 30 year-old Phonak leader from Lancaster County, Pennsylvania, swung his head around to the leaderboard, and a pat on the back from team doctor Denise Demir said it all.
"It's a dream come true - I didn't expect to have things go quite so well," began Landis.
"The goal for our team since the start was to win the yellow jersey, so if we do that without winning stages, I guess that would be fine," he said with a wry grin. "It's always nice to be able to win a stage, but today there was more value in working on the last climb and try to get some time on the other guys who were dropped.
"Probably some people misjudged the strength of our team; today we gambled a little," he added, referring to the rest of his team not supporting him on the final climb. "A couple of teams were very confident and did most of the work for us. Probably we can't expect that to happen anymore, but we'll take it."
Second best today but hunger-flat a few days before, Leipheimer, the man from Butte, Montana, must continue to ride onwards and upwards if he is to improve on his sixth place overall from last year.
The leaders
Photo ©: Sirotti

"Well, it was great, but I'm so... ," Leipheimer muttered. "I wanted to go to the last turn first, but I misjudged it a little bit. Menchov's got a pretty good kick.
"Yesterday, I was a little bit low on fuel. So I made sure I ate a lot today, and I felt great. I wanted to put everything in an attack to win - I really thought I was going to win but I just couldn't get through that last turn first. I knew it was going to be tight and to come so close, it just hurts," he said.
Not to take anything away from Dessel, AG2R's man of the moment still holds second spot on the Classement Général, eight seconds behind Landis.
"I gave it everything I had. It's a big disappointment but I don't have any regrets, as I couldn't have done any better," he said. "I really dug the last remaining energy out of my body, and unfortunately I wasn't rewarded, as I lost the yellow and also the mountains jersey. It's a real pity, especially for my teammates, who supported me all the way."
Stage winner Menchov sits ominously in third, 1'01 in arrears, and Davitamon-Lotto's Cadel Evans and Carlos Sastre of Team CSC aren't doing too badly, either, 1'17 and 1'52 behind the American maillot jaune.
"I really wanted to follow Leipheimer and Landis," said Evans, "but I was just unable to follow in the end. Landis did a lot of work, so I think he was the strongest. It was a pretty good day for me, as we were gaining a lot of time on the other contenders."
Asked if he thought the Tour will be decided between him and Landis, Menchov said: "No, we have to have more respect here.
"Apart from myself and Landis, Sastre and Evans were also really good today, and we have to see what happens in the last week of the Tour. Today also wasn't a climb to open up big time gaps, though we will see them afterwards, in the Alps."
Cadel Evans (Davitamon)
Photo ©: Sirotti

Said Landis about whether his team will defend the maillot jaune or not: "It will be difficult to control it and try to keep it, as we don't have so much time on a lot of guys.
"If it's in our interest, and we can find a common goal and some help along the way, I wouldn't be opposed to letting someone else have it for a little while. The objective is to have it on the last day - that would be the best scenario!" he joked.
As for the rest, they'll have to wait till the Alps if they're to fight for the overall, or, as in the case of Discovery Channel's George Hincapie, change tack, the 33 year-old a serious casualty of today's Pyrenéean war, finishing a massive twenty one and a half minutes back.
"It's just not coming together; it's very disappointing," were some of the few words told by the dejected Discovery Channel rider. "General [classification] is over for me; I'm just going to go for stage wins."
'Your team attacked at the penultimate climb - what was that about?', T-Mobile's Andreas Klöden was asked. "We wanted to reduce the group, and succeeded. Maybe we attacked a little too soon; at the end there was only Mike [Rogers] and me left. Then, unfortunately, I cramped, so that wasn't so good.
"The ones in front of me were stronger," admitted Klöden.
Andreas Kloden (T-Mobile)
Photo ©: Sirotti
Regarding the minor classifications, the maillot vert remains largely unchanged with Robbie McEwen still well on top, although extending his lead over Tom Boonen by another six points today; Saunier Duval's David De La Fuente is the new polka-dot jersey, enjoying a comfortable buffer over AG2R's Dessel and Gerolsteiner's Fabian Wegmann; and Wegmann's 24 year-old team-mate is fast creating an unassailable lead in the young riders' classification, right now a massive 12 minutes ahead of Lampre's 'Kid' Cunego.
"I've been riding on my bike for seven hours, I've climbed five cols... tomorrow, there's a stage of 212 kilometres, and after that, a stage of 230 kilometres... I think that's just great," Boonen said sarcastically.
"This is scandalous, it's over the top. I'm also supporting the battle against doping, but with these sorts of stages, the battle will never be won," he said.
As the day's post-stage celebrations came to a close, the television camera panned skywards, honing in on an eagle flying with its wings outstretched, effortlessly using the wind's currents to sail in the breeze. One couldn't help wondering if this were a metaphor for the apparent ease Floyd Landis has shown so far in the 2006 Tour de France.
"I'll probably have to have a hip replacement soon after the Tour... But I'm not finished yet," Landis said.
How it unfolded
A view of the climb
Photo ©: Jon Devich

At 11:00 in Tarbes, 168 riders started this long, hard stage across the Pyrenees to a new stage finish atop Pla-de-Beret in Spain. There were two intermediate sprints at Arcizac-ez-Angles after 17.5 km and Luchon at the 151.0 km mark. Stage 11's climbs are the hors category Col du Tourmalet (2,115m), an 18.4 km climb at 7.7% grade after 76 km; the Cat 1 Col d'Aspin (1,489m.), a 12.3 km climb at 5.2% grade after 106 km; the Cat 1 Col de Peyresourde (1,569 m), a 9.5 km climb at 7.1% grade after 137 km; the Cat. 1 Col du Portillon (1,320m), a 7.9 km climb at 8.4% grade after 162 km; and the final ascent up to the Cat. 1 Pla-de-Beret (1,860m), a 13.5 km climb at 5.4% grade after 205 km.
It was hot and humid in the late Thursday morning sun and as on yesterday's stage, when the the flag dropped at 11:08, the attacks started immediately. Voigt (CSC), Calzati (A2GR), Le Mevel (C.A), Verbrugghe (Cofidis), Gilbert and Vaugrenard (Française des Jeux) got away after 2 km and were joined by two chasers Garcia Acosta (Caisse d'Epargne) and Geslin (Bouygues), with T-Mobile chasing the moves and this group came back after a few kilometres. The pace was full gas and a group of 20 were off the front with the first sprint of Arcizac-ez-Angles after 17.5 km, where Robbie Mac (Davitamon-Lotto) took the sprint and solidified his lead in the maillot vert competition.
Right after the sprint was the classic moment for a counterattack, and they came fast and furious up the non-rated climb of the non-rated Col de Lingous. Eventually four riders managed to extricate themselves and form a successful break outside Lugagnan after 32 km. This quartet was made up Wegmann (Gerolsteiner), Camano (Euskaltel), De la Fuente (Saunier Duval) and Flecha (Rabobank).
Fabian Wegmann (Gerolsteiner)
Photo ©: AFP

A few clicks later in the village of Boo, the front quartet had the not too scary lead of 1'05 and the chase behind had relented somewhat. The leaders covered 45.9 km in the first hour of racing and at the base of the Tourmalet as they turned onto the D921 road, the front group had a lead of 6'30, as AG2R was riding tempo on the front.
Although French cycling fans might have liked to enjoy the rare sight of French team AG2R leading a French maillot jaune Dessel up the Tourmalet, a sadistic TV director from French TV insisted on following the pathetic sight of a suffering Iban Mayo as he tried to abandon with dignity, out of the sight of the all seeing eye. Eventually Mayo got to the feed zone, where he climbed off for good at this year's Tour De France. Up front, AG2R was riding a steady tempo in the brutal humid heat that bathed the Pyrenees.
3.5 km from summit, the heat and even moderate pace caused Discovery Channel's Savoldelli to drop off the pace among many other riders who were having a hard time on the hot day. De la Fuente took the GPM atop the Tourmalet from Wegmann as the front riders were on a 33 km/h pace. First Tommy Voeckler in 5th then Chicken Rasmussen in 6th and the AG2R led peloton crossed under the summit banner 4'00 behind the front runners. Voeckler kept going to try and bridge across to the front of the race.
Thomas Voeckler (Bouygues Telecom)
Photo ©: Jon Devich

On the long, fast 22 km descent of the Tourmalet, there was a general regrouping and at Saint-Marie-de-Campan after 92 km at the base of the Tourmalet the break's gap was 5'35. Atop the the second climb of the day, the Cat 1 Col d'Aspin (1,489m), Wegmann sprinted through the GPM first ahead of De la Fuente, with Voeckler making up ground, now 1'50 behind and the groupe maillot jaune at 4'30. The average speed for the first three hours of racing was 34.1 km/h.
The peloton was still 4'30 behind Flecha, De la Fuente, Camano and Wegmann in the feed zone in Arreau with Voeckler trying hard to get across 0'55 behind the break. As the Cat 1 Col de Peyresourde (1,569 m), began in Aneran with 80 km to go, Camano came out the back, as Voeckler had almost bridged across and had the break in sight 0'20 ahead. But Wegmann and De la Fuente punched it, putting Camano and Flecha off the back and destroying Voeckler's hopes to make it to the front. Popovych then dropped off the still 40 strong groupe maillot jaune with 2 km to the summit of the Peyresourde, as Camano was caught by the peloton. De la Fuente sprinted over the summit of the Peyresourde ahead of Wegmann 3'00 ahead of the peloton, while the cooked Voeckler was pulled back 1 km from the summit and Flecha was still out there. Boogerd led out Rasmussen for more GPM points towards the maillot á pois with 70 km still to race as the mid-afternoon heat had climbed into the low-thirties.
Down in the at the second intermediate sprint in the tree-lined streets of the spa town of Luchon after 151.0 km, De la Fuente took the sprint ahead Wegmann, while Flecha was at 3'10, and Dessel's AG2R squad was still in command at the head of groupe maillot jaune 3'45 behind. Just outside of Luchon, the penultimate climb of Stage 11 commenced, the Cat 1 Col du Portillon (1,320m.), a 7.9 km climb at 8.4% grade, and after 1 km, De la Fuente attacked Wegmann and took off solo. Flecha was caught as the first slopes of the Portillon began. Suddenly T-Mobile took over from AG2R and sent Sinkewitz to the front to start the forcing and the front of the peloton was quickly filled with faces twisted with pain and suffering.
Cyril Dessel (AG2R)
Photo ©: Roberto Bettini

Karpets, maillot á pois Mercado, Popovych and the heroic maillot jaune Dessel were dropped from the T-Mobile forcing, and the last few kilometres to the summit was hellish for the AG2R rider. In the second group, Kessler, Rogers and Klöden led Landis, Hincapie, Boogerd, Menchov, Rasmussen, Leipheimer, Fothen, Totschnig, Zandio, Evans, Cunego, Zubeldia, Azevedo, Moreau, Simoni, Sastre and Schleck. Then T-Mobile slowed down the pace somewhat and there were just 22 riders left in the second group. Mick Rogers was now riding regular tempo of the front of the main group for T-Mobile, but the hot, hard day was taking its toll and big George Hincapie went out the back with 4 km left to climb, with Cofidis rider Ivan Parra .
After 162 km atop the 1 Col du Portillon with 45.5 km to the finish as the Tour De France passed the Franco-Spanish border, Wegmann had been caught by the chase, while De la Fuente was alone in front at 1'40 ahead of the Landis-Klöden group. Landis (Phonak), Rogers and Klöden (T-Mobile), Sastre and Schleck (CSC), Moreau (AG2R), Boogerd, Menchov and Rasmussen (Rabobank), Totschnig, Leipheimer and Fothen (Gerolsteiner), Evans (Davitamon), Zubeldia (Euskaltel), Parra (Cofidis) and Simoni (Saunier Duval), with the GMJ at 3'37.
George Hincapie (Discovery)
Photo ©: Jon Devich

The largish group hit the descent in pursuit of De la Fuente, as Sastre then crashed on the first curves of the Portillon downhill, but quickly got back up and rejoined the chase group of Tour favourites. Landis was looking strong, but he was all alone as his Phonak teammates had faded on the penultimate ascent. Landis hit the front on the 8 km descent and used his superb downhill skills to put the pressure on Klöden.
For the next 22 km, the valley road ascended slightly to Arties at the base of the 13 km ascent to the Cat. 1 Pla-de-Beret. Caisse d'Epargne's Arroyo and Lampre-Fondital's Cunego had re-entered on the descent of the Portillon and as the favourites slowed and looked at each other, Arroyo attacked and Cunego went with him. The favourites group hesitated and at Pont d'Arros with 28.5 km to go, De la Fuente was still up front 0'45 ahead of Cunego and Arroyo, while the Landis-Klöden group, led by Rasmussen, was at 1'45 and the groupe maillot jaune with AG2R going all out on the front at 2'45.
Cunego and Arroyo caught De la Fuente near Aubert with 27 km to go, but they were losing some ground to the chase of Rasmussen at the head of the 17 strong Landis-Klöden group, while the groupe maillot jaune was also gaining ground at 1'50. But De la Fuente and Arroyo had stopped working with Cunego and the front trio sat up and were caught outside Vielha. The front group was now 20 strong: Azevedo, Sastre, Schleck, Rogers, Klöden, Moreau, Menchov, Boogerd, Rasmussen, Totschnig, Leipheimer, Fothen, Evans, Landis, Zubeldia, Parra, Simoni, De la Fuente, Arroyo and Cunego.
Floyd Landis (Phonak)
Photo ©: Roberto Bettini

Chicken Rasmussen was literally frying the legs of the other riders as he pounded away on the road that led to the base of the final ascent, with the Dutch champion Boogerd lurking right behind, ready to launch Menchov later on up the climb. A vigilant Gibo Simoni had moved up while his teammate De la Fuente had dropped off, with enough GPM points to take over the maillot á pois from Mercado. Landis had moved back in the line behind Klöden, while Dessel's groupe maillot jaune was at 1'50 with Sylvain Calzati working hard up front, but it wasn't certain that the AG2R man would hang on to his precious tunic at the end of the stage. Rasmussen was still putting the big hurt on the Landis-Klöden group as Rabobank's strategy was working out perfectly for Menchov.
With 12 km to go in Salarou, Chicken Rasmussen himself was fried and pulled off the front for his teammate Boogerd to take over and up the pace which just blew Fothen, Schleck, Moreau and Zubeldia and others out the back. With 7 km to go to the GPM and 9 km to the finish, there were seven riders left up front: Boogerd and Menchov, Landis, Sastre, Leipheimer, Klöden and Simoni, while the groupe maillot jaune was at 3'00 and losing ground.
After Arties, the road turned left up to Pla d'Adet and became steeper. Boogerd moved over and the poker faced Menchov then attacked in a big gear and only Sastre, Landis, Evans and Leipheimer stayed with him, while Klöden went out the back.
Floyd Landis (Phonak)
Photo ©: Roberto Bettini

As the road levelled out, the five front riders were looking at each other and then Landis and Evans hit the front with 3.5 km to the GPM to keep the tempo regular. The maillot jaune was 3'40 behind and Landis was looking to take the Maillot Jaune from Dessel, who was 4'45 ahead of the American at the start of the stage. Under the 5 km to go barrier (3 km to the summit), Landis was riding hard at the front and was in control of the situation. Boogerd was at 35 seconds, while Klöden was 0'10 behind him and the GMJ wasn't losing any ground at 3'30.
Leipheimer attacked, Menchov and Landis got across, then Menchov went but Floyd was just too strong. Sastre and Evans were dropped and at the final GPM with 2 km of slight downhill to the finish, Leipheimer had clawed himself back and had stopped working and sucked wheel at the rear of the front trio. After 6 hours of racing, Menchov led out and took his second win of the season in front of Leipheimer and Landis, after his win atop le Mont Ventoux last month in the Dauphiné Libéré. Evans and Sastre came in at 0'17, but Klöden had lost considerable time, losing 1'31 and coming in with Zubeldia and Schleck.
Discovery Channel's GC hopes went down the drain as Azevedo came in with Simoni and Arroyo at 4'10, while a huge chapeau to Ag2r's Cyril Dessel who fought hard throughout Stage 11, but in the end he lost the maillot jaune to Floyd Landis. The American's third place time bonus was enough by 0'08 to become the fifth American in history to wear the maillot jaune after Greg LeMond, Lance Armstrong, Dave Zabriskie and George Hincapie.
Cagey, strong Russian Menchov is now just 1'01 behind Landis and his Rabobank team showed today that they are strong and dangerous in the mountains. Evans is at 1'17 and Sastre at 1'52 are all within 2'00 of Landis, while Klöden showed he is likely a paper tiger and lost time today and is at 2'29. With the Pyrenees and Phase 2 of this Tour over, Landis is in control of the 2006 Tour De France, but with almost 1600 km and nine stages to go, it will be no cakewalk for Landis to wear the maillot jaune on the Champs Elysees in Paris a week from Sunday.
Stage 12 - Friday, July 14: Luchon-Carcassonne / 211 km
Stage 12 is on Quatorze Julliet, the French national holiday as the Pyrenees are over and the first big shakeout at the 2006 Tour has shown who are the contenders and who are the pretenders. Hilly from the get-go, look for an early break, then a counterattack on the hills after Pailhes with 90 km to go. Be certain that French champ Flo Brard will be looking to show off his maillot tricouleur on the way to the beautiful walled city of Carcassonne
Photography
For a thumbnail gallery of these images, click here
Images by Jonathan Devich/epicimages.us
Images by Fotoreporter Sirotti
Images by Roberto Bettini/www.bettiniphoto.net
Images by AFP Photo
Images by Anthony Tan/Cyclingnews.com
Images by Hedwig Kröner/Cyclingnews.com
Results

1 Denis Menchov (Rus) Rabobank                                         6.06.25 (33.813 km/h)
2 Levi Leipheimer (USA) Gerolsteiner                                          
3 Floyd Landis (USA) Phonak                                                   
4 Cadel Evans (Aus) Davitamon-Lotto                                       0.17
5 Carlos Sastre (Spa) Team CSC                                                
6 Michael Boogerd (Ned) Rabobank                                          1.04
7 Haimar Zubeldia (Spa) Euskaltel-Euskadi                                 1.31
8 Frank Schleck (Lux) Team CSC                                                
9 Andreas Klöden (Ger) T-Mobile                                               
10 Christophe Moreau (Fra) AG2R-Prevoyance                                2.29
11 Georg Totschnig (Aut) Gerolsteiner                                     3.06
12 Michael Rogers (Aus) T-Mobile                                              
13 Marcus Fothen (Ger) Gerolsteiner                                           
14 Ivan Ramiro Parra (Col) Cofidis                                            
15 José Azevedo (Por) Discovery Channel                                   4.10
16 Gilberto Simoni (Ita) Saunier Duval                                        
17 David Arroyo (Spa) Caisse d'Epargne-Illes Balears                          
18 Cyril Dessel (Fra) AG2R-Prevoyance                                     4.45
19 Pietro Caucchioli (Ita) Crédit Agricole                                    
20 Tadej Valjavec (Slo) Lampre-Fondital                                       
21 Patrik Sinkewitz (Ger) T-Mobile                                            
22 Axel Merckx (Bel) Phonak                                                   
23 Juan Miguel Mercado (Spa) Agritubel                                    5.36
24 Vladimir Karpets (Rus) Caisse d'Epargne-Illes Balears                  5.48
25 Inigo Landaluze (Spa) Euskaltel-Euskadi                                    
26 Yaroslav Popovyvch (Ukr) Discovery Channel                             6.25
27 Benoît Salmon (Fra) Agritubel                                          7.05
28 Ruben Lobato (Spa) Saunier Duval                                       7.22
29 Christophe Rinero (Fra) Saunier Duval                                  7.52
30 Christophe Brandt (Bel) Davitamon-Lotto                                8.45
31 Marzio Bruseghin (Ita) Lampre-Fondital                                10.03
32 Patxi Vila (Spa) Lampre-Fondital                                           
33 Damiano Cunego (Ita) Lampre-Fondital                                       
34 Sylvain Calzati (Fra) AG2R-Prevoyance                                      
35 Christian Vandevelde (USA) Team CSC                                   11.08
36 Michael Rasmussen (Den) Rabobank                                           
37 Matthieu Sprick (Fra) Bouygues Telecom                                13.58
38 Pierrick Fedrigo (Fra) Bouygues Telecom                                    
39 Mirko Celestino (Ita) Milram                                               
40 David De La Fuente (Spa) Saunier Duval                                14.02
41 José Luis Arrieta (Spa) AG2R-Prevoyance                               15.23
42 Fabian Wegmann (Ger) Gerolsteiner                                     16.31
43 Xabier Zandio (Spa) Caisse d'Epargne-Illes Balears                         
44 Laurent Lefevre (Fra) Bouygues Telecom                                21.23
45 Alexandre Botcharov (Rus) Crédit Agricole                                  
46 George Hincapie (USA) Discovery Channel                                    
47 Stephane Goubert (Fra) AG2R-Prevoyance                                22.31
48 David Moncoutié (Fra) Cofidis                                         23.04
49 Giuseppe Guerini (Ita) T-Mobile                                            
50 Paolo Savoldelli (Ita) Discovery Channel                                   
51 Carlos Da Cruz (Fra) Francaise Des Jeux                                    
52 Patrice Halgand (Fra) Crédit Agricole                                 24.33
53 Miguel Angel Martin Perdiguero (Spa) Phonak                           26.26
54 Oscar Pereiro (Spa) Caisse d'Epargne-Illes Balears                         
55 José Angel Gomez (Spa) Saunier Duval                                       
56 Simon Gerrans (Aus) AG2R-Prevoyance                                   27.29
57 Cristian Moreni (Ita) Cofidis                                         27.45
58 Koos Moerenhout (Ned) Phonak                                               
59 Stefano Garzelli (Ita) Liquigas                                            
60 Juan Antonio Flecha (Spa) Rabobank                                         
61 Moises Duenas (Spa) Agritubel                                              
62 Matthias Kessler (Ger) T-Mobile                                            
63 Iker Camano (Spa) Euskaltel-Euskadi                                        
64 Egoi Martinez (Spa) Discovery Channel                                      
65 Erik Zabel (Ger) Milram                                               33.47
66 Bernhard Eisel (Aut) Francaise Des Jeux                                    
67 Sebastian Lang (Ger) Gerolsteiner                                          
68 Thomas Lövkvist (Swe) Francaise Des Jeux                                   
69 Francisco Ventoso (Spa) Saunier Duval                                      
70 Jérôme Pineau (Fra) Bouygues Telecom                                       
71 Jens Voigt (Ger) Team CSC                                                  
72 Kjell Carlström (Fin) Liquigas                                             
73 Juan Manuel Garate (Spa) Quick-Step-Innergetic                             
74 Philippe Gilbert (Bel) Francaise Des Jeux                                  
75 Didier Rous (Fra) Bouygues Telecom                                         
76 Sylvain Chavanel (Fra) Cofidis                                             
77 Bert Grabsch (Ger) Phonak                                                  
78 Thomas Voeckler (Fra) Bouygues Telecom                                     
79 Anthony Charteau (Fra) Crédit Agricole                                     
80 Eddy Mazzoleni (Ita) T-Mobile                                              
81 Manuel Calvente (Spa) Agritubel                                            
82 Christian Knees (Ger) Milram                                               
83 Eduardo Gonzalo (Spa) Agritubel                                            
84 David Canada (Spa) Saunier Duval                                           
85 Joost Posthuma (Ned) Rabobank                                              
86 Serguei Gonchar (Ukr) T-Mobile                                             
87 Gorka Verdugo (Spa) Euskaltel-Euskadi                                      
88 Salvatore Commesso (Ita) Lampre-Fondital                                   
89 Alessandro Ballan (Ita) Lampre-Fondital                                    
90 Inaki Isasi (Spa) Euskaltel-Euskadi                                        
91 David Millar (GBr) Saunier Duval                                      35.47
92 Björn Schröder (Ger) Milram                                                
93 Christophe Le Mevel (Fra) Crédit Agricole                                  
94 Ralf Grabsch (Ger) Milram                                                  
95 Beat Zberg (Swi) Gerolsteiner                                              
96 Sandy Casar (Fra) Francaise Des Jeux                                       
97 Benoît Vaugrenard (Fra) Francaise Des Jeux                                 
98 Robert Hunter (RSA) Phonak                                                 
99 Bram De Groot (Ned) Rabobank                                               
100 Florent Brard (Fra) Caisse d'Epargne-Illes Balears                        
101 Pavel Padrnos (Cze) Discovery Channel                                     
102 Viatscheslav Ekimov (Rus) Discovery Channel                               
103 Michael Albasini (Swi) Liquigas                                           
104 Benjamin Noval (Spa) Discovery Channel                                    
105 Anthony Geslin (Fra) Bouygues Telecom                                     
106 Rik Verbrugghe (Bel) Cofidis                                              
107 Sébastien Joly (Fra) Francaise Des Jeux                                   
108 Aitor Hernandez (Spa) Euskaltel-Euskadi                                   
109 Filippo Pozzato (Ita) Quick-Step-Innergetic                          40.32
110 Mikel Astarloza (Spa) AG2R-Prevoyance                                     
111 José Rujano (Ven) Quick-Step-Innergetic                                   
112 Bradley Wiggins (GBr) Cofidis                                             
113 David Lopez (Spa) Euskaltel-Euskadi                                       
114 Paolo Tiralongo (Ita) Lampre-Fondital                                     
115 Jimmy Casper (Fra) Cofidis                                                
116 Marco Velo (Ita) Milram                                                   
117 David Zabriskie (USA) Team CSC                                            
118 Sébastien Hinault (Fra) Crédit Agricole                                   
119 Gustav Larsson (Swe) Francaise Des Jeux                                   
120 Tom Boonen (Bel) Quick-Step-Innergetic                                    
121 Daniele Bennati (Ita) Lampre-Fondital                                     
122 Walter Beneteau (Fra) Bouygues Telecom                                    
123 Bram Tankink (Ned) Quick-Step-Innergetic                                  
124 Julian Dean (NZl) Crédit Agricole                                         
125 Daniele Righi (Ita) Lampre-Fondital                                       
126 Pieter Weening (Ned) Rabobank                                             
127 Maxim Iglinskiy (Kaz) Milram                                              
128 Victor Hugo Pena (Col) Phonak                                             
129 David Kopp (Ger) Gerolsteiner                                        44.20
130 Stuart O'Grady (Aus) Team CSC                                             
131 José Alberto Martinez (Spa) Agritubel                                     
132 Steven De Jongh (Ned) Quick-Step-Innergetic                               
133 Cédric Vasseur (Fra) Quick-Step-Innergetic                                
134 Ronny Scholz (Ger) Gerolsteiner                                           
135 Johan Vansummeren (Bel) Davitamon-Lotto                                   
136 Stéphane Auge (Fra) Cofidis                                               
137 Robbie McEwen (Aus) Davitamon-Lotto                                       
138 Peter Wrolich (Aut) Gerolsteiner                                          
139 Matteo Tosatto (Ita) Quick-Step-Innergetic                                
140 Magnus Backstedt (Swe) Liquigas                                           
141 Manuel Quinziato (Ita) Liquigas                                           
142 Mario Aerts (Bel) Davitamon-Lotto                                         
143 Riccardo Ricco (Ita) Saunier Duval                                        
144 Matej Mugerli (Slo) Liquigas                                              
145 Samuel Dumoulin (Fra) AG2R-Prevoyance                                     
146 Nicolas Jalabert (Fra) Phonak                                             
147 Wim Vansevenant (Bel) Davitamon-Lotto                                     
148 José Luis Rubiera (Spa) Discovery Channel                                 
149 Andriy Grivko (Ukr) Milram                                                
150 Luca Paolini (Ita) Liquigas                                               
151 Christophe Laurent (Fra) Agritubel                                        
152 Oscar Freire (Spa) Rabobank                                               
153 Cédric Coutouly (Fra) Agritubel                                           
154 Christopher Horner (USA) Davitamon-Lotto                                  
155 Nicolas Portal (Fra) Caisse d'Epargne-Illes Balears                       
156 Samuel Plouhinec (Fra) Agritubel                                          
157 Patrick Calcagni (Swi) Liquigas                                           
158 Arnaud Coyot (Fra) Cofidis                                                
159 Jose Vicente Garcia Acosta (Spa) Caisse d'Epargne-Illes Balears           
160 Gert Steegmans (Bel) Davitamon-Lotto                                      
161 Isaac Galvez (Spa) Caisse d'Epargne-Illes Balears                         
162 Unai Etxebarria (Ven) Euskaltel-Euskadi                                   
163 Thor Hushovd (Nor) Crédit Agricole                                        
164 Alexandre Moos (Swi) Phonak                                               
165 Christophe Mengin (Fra) Francaise Des Jeux                           46.13
DNF Giovanni Lombardi (Ita) Team CSC                                          
DNF Wilfried Cretskens (Bel) Quick-Step-Innergetic                            
DNF Iban Mayo (Spa) Euskaltel-Euskadi                                         
 
Points
 
1 Denis Menchov (Rus) Rabobank                                              20 pts
2 Levi Leipheimer (USA) Gerolsteiner                                        17
3 Floyd Landis (USA) Phonak                                                 15
4 Cadel Evans (Aus) Davitamon-Lotto                                         13
5 Carlos Sastre (Spa) Team CSC                                              12
6 Michael Boogerd (Ned) Rabobank                                            10
7 Haimar Zubeldia (Spa) Euskaltel-Euskadi                                    9
8 Frank Schleck (Lux) Team CSC                                               8
9 Andreas Klöden (Ger) T-Mobile                                              7
10 Christophe Moreau (Fra) AG2R-Prevoyance                                   6
11 Georg Totschnig (Aut) Gerolsteiner                                        5
12 Michael Rogers (Aus) T-Mobile                                             4
13 Marcus Fothen (Ger) Gerolsteiner                                          3
14 Ivan Ramiro Parra (Col) Cofidis                                           2
15 José Azevedo (Por) Discovery Channel                                      1
 
Mountains
 
Col Du Tourmalet - HC, km 75 
1 David De La Fuente (Spa) Saunier Duval                                    20 pts
2 Fabian Wegmann (Ger) Gerolsteiner                                         18
3 Iker Camano (Spa) Euskaltel-Euskadi                                       16
4 Juan Antonio Flecha (Spa) Rabobank                                        14
5 Thomas Voeckler (Fra) Bouygues Telecom                                    12
6 Michael Rasmussen (Den) Rabobank                                          10
7 Cyril Dessel (Fra) AG2R-Prevoyance                                         8
8 Georg Totschnig (Aut) Gerolsteiner                                         7
9 Christophe Moreau (Fra) AG2R-Prevoyance                                    6
10 Frank Schleck (Lux) Team CSC                                              5
 
Col D'aspin - Cat. 1, km 105 
1 Fabian Wegmann (Ger) Gerolsteiner                                         15 pts
2 David De La Fuente (Spa) Saunier Duval                                    13
3 Juan Antonio Flecha (Spa) Rabobank                                        11
4 Iker Camano (Spa) Euskaltel-Euskadi                                        9
5 Thomas Voeckler (Fra) Bouygues Telecom                                     8
6 Michael Rasmussen (Den) Rabobank                                           7
7 Michael Boogerd (Ned) Rabobank                                             6
8 Pietro Caucchioli (Ita) Crédit Agricole                                    5
 
Col De Peyresourde - Cat. 1, km 136 
1 David De La Fuente (Spa) Saunier Duval                                    15 pts
2 Fabian Wegmann (Ger) Gerolsteiner                                         13
3 Juan Antonio Flecha (Spa) Rabobank                                        11
4 Michael Rasmussen (Den) Rabobank                                           9
5 Michael Boogerd (Ned) Rabobank                                             8
6 Pietro Caucchioli (Ita) Crédit Agricole                                    7
7 José Luis Arrieta (Spa) AG2R-Prevoyance                                    6
8 Stephane Goubert (Fra) AG2R-Prevoyance                                     5
 
Col Du Portillon - Cat. 1, km 161 
1 David De La Fuente (Spa) Saunier Duval                                    15 pts
2 Michael Rasmussen (Den) Rabobank                                          13
3 Michael Boogerd (Ned) Rabobank                                            11
4 Floyd Landis (USA) Phonak                                                  9
5 Christophe Moreau (Fra) AG2R-Prevoyance                                    8
6 Carlos Sastre (Spa) Team CSC                                               7
7 Levi Leipheimer (USA) Gerolsteiner                                         6
8 Frank Schleck (Lux) Team CSC                                               5
 
Puerto De Beret - Cat. 1, km 204.5 
1 Denis Menchov (Rus) Rabobank                                              30 pts
2 Floyd Landis (USA) Phonak                                                 26
3 Levi Leipheimer (USA) Gerolsteiner                                        22
4 Carlos Sastre (Spa) Team CSC                                              18
5 Cadel Evans (Aus) Davitamon-Lotto                                         16
6 Michael Boogerd (Ned) Rabobank                                            14
7 Andreas Klöden (Ger) T-Mobile                                             12
8 Haimar Zubeldia (Spa) Euskaltel-Euskadi                                   10
 
Sprints
 
Arcizac-Ez-Angles, km 17.5 
1 Robbie McEwen (Aus) Davitamon-Lotto                                        6 pts
2 Gert Steegmans (Bel) Davitamon-Lotto                                       4
3 Philippe Gilbert (Bel) Francaise Des Jeux                                  2
 
Luchon, km 151 
1 David De La Fuente (Spa) Saunier Duval                                     6 pts
2 Fabian Wegmann (Ger) Gerolsteiner                                          4
3 Juan Antonio Flecha (Spa) Rabobank                                         2
 
Young rider
 
1 Marcus Fothen (Ger) Gerolsteiner                                     6.09.31
2 Damiano Cunego (Ita) Lampre-Fondital                                    6.57
3 Matthieu Sprick (Fra) Bouygues Telecom                                 10.52
4 David De La Fuente (Spa) Saunier Duval                                 10.56
5 Moises Duenas (Spa) Agritubel                                          24.39
6 Bernhard Eisel (Aut) Francaise Des Jeux                                30.41
7 Thomas Lövkvist (Swe) Francaise Des Jeux                                    
8 Francisco Ventoso (Spa) Saunier Duval                                       
9 Philippe Gilbert (Bel) Francaise Des Jeux                                   
10 Christian Knees (Ger) Milram                                               
11 Eduardo Gonzalo (Spa) Agritubel                                            
12 Joost Posthuma (Ned) Rabobank                                              
13 Benoît Vaugrenard (Fra) Francaise Des Jeux                            32.41
14 Aitor Hernandez (Spa) Euskaltel-Euskadi                                    
15 Filippo Pozzato (Ita) Quick-Step-Innergetic                           37.26
16 José Rujano (Ven) Quick-Step-Innergetic                                    
17 David Lopez (Spa) Euskaltel-Euskadi                                        
18 Pieter Weening (Ned) Rabobank                                              
19 Maxim Iglinskiy (Kaz) Milram                                               
20 Johan Vansummeren (Bel) Davitamon-Lotto                               41.14
21 Riccardo Ricco (Ita) Saunier Duval                                         
22 Matej Mugerli (Slo) Liquigas                                               
23 Andriy Grivko (Ukr) Milram                                                 
 
Most combative
 
1 David De La Fuente (Spa) Saunier Duval                                      
 
Teams
 
1 Gerolsteiner                                                        18.25.27
2 T-Mobile Team                                                           3.10
3 Rabobank                                                                6.00
4 Team CSC                                                                6.44
5 AG2R Prevoyance                                                        11.05
6 Saunier Duval - Prodir                                                 13.12
7 Lampre-Fondital                                                        18.39
8 Caisse D'Epargne-Illes Balears                                         20.17
9 Phonak Hearing Systems                                                 24.59
10 Discovery Channel Team                                                25.46
11 Euskaltel - Euskadi                                                   28.52
12 Agritubel                                                             34.14
13 Bouygues Telecom                                                      43.07
14 Credit Agricole                                                       44.29
15 Davitamon - Lotto                                                     47.10
16 Cofidis Credit Par Telephone                                          47.43
17 Team Milram                                                         1.15.20
18 Francaise Des Jeux                                                  1.24.26
19 Liquigas                                                            1.31.07
20 Quick Step - Innergetic                                             1.48.39
 
General classification after stage 11
 
1 Floyd Landis (USA) Phonak                                           49.18.07
2 Cyril Dessel (Fra) AG2R-Prevoyance                                      0.08
3 Denis Menchov (Rus) Rabobank                                            1.01
4 Cadel Evans (Aus) Davitamon-Lotto                                       1.17
5 Carlos Sastre (Spa) Team CSC                                            1.52
6 Andreas Klöden (Ger) T-Mobile                                           2.29
7 Michael Rogers (Aus) T-Mobile                                           3.22
8 Juan Miguel Mercado (Spa) Agritubel                                     3.33
9 Christophe Moreau (Fra) AG2R-Prevoyance                                 3.44
10 Marcus Fothen (Ger) Gerolsteiner                                       4.17
11 Haimar Zubeldia (Spa) Euskaltel-Euskadi                                4.26
12 Patrik Sinkewitz (Ger) T-Mobile                                        5.38
13 Levi Leipheimer (USA) Gerolsteiner                                     5.39
14 Michael Boogerd (Ned) Rabobank                                         5.54
15 Inigo Landaluze (Spa) Euskaltel-Euskadi                                6.33
16 Georg Totschnig (Aut) Gerolsteiner                                     6.47
17 Vladimir Karpets (Rus) Caisse d'Epargne-Illes Balears                  6.48
18 José Azevedo (Por) Discovery Channel                                   7.27
19 Ivan Ramiro Parra (Col) Cofidis                                        8.11
20 Frank Schleck (Lux) Team CSC                                           8.37
21 Axel Merckx (Bel) Phonak                                               8.39
22 Gilberto Simoni (Ita) Saunier Duval                                    8.52
23 Yaroslav Popovyvch (Ukr) Discovery Channel                             9.00
24 Tadej Valjavec (Slo) Lampre-Fondital                                   9.37
25 Christophe Rinero (Fra) Saunier Duval                                 11.18
26 Pietro Caucchioli (Ita) Crédit Agricole                               11.20
27 Marzio Bruseghin (Ita) Lampre-Fondital                                13.07
28 Christian Vandevelde (USA) Team CSC                                   13.41
29 Christophe Brandt (Bel) Davitamon-Lotto                               13.48
30 Sylvain Calzati (Fra) AG2R-Prevoyance                                 13.57
31 Benoît Salmon (Fra) Agritubel                                         14.35
32 Patxi Vila (Spa) Lampre-Fondital                                      15.06
33 Damiano Cunego (Ita) Lampre-Fondital                                  16.17
34 David Arroyo (Spa) Caisse d'Epargne-Illes Balears                     17.55
35 Michael Rasmussen (Den) Rabobank                                      17.56
36 Mirko Celestino (Ita) Milram                                          19.31
37 Ruben Lobato (Spa) Saunier Duval                                      19.32
38 Xabier Zandio (Spa) Caisse d'Epargne-Illes Balears                    20.25
39 José Luis Arrieta (Spa) AG2R-Prevoyance                               22.49
40 George Hincapie (USA) Discovery Channel                               23.01
41 Paolo Savoldelli (Ita) Discovery Channel                              24.22
42 Pierrick Fedrigo (Fra) Bouygues Telecom                               24.24
43 Laurent Lefevre (Fra) Bouygues Telecom                                25.31
44 Giuseppe Guerini (Ita) T-Mobile                                       26.42
45 Cristian Moreni (Ita) Cofidis                                         26.59
46 Alexandre Botcharov (Rus) Crédit Agricole                             27.07
47 Oscar Pereiro (Spa) Caisse d'Epargne-Illes Balears                    28.31
48 Fabian Wegmann (Ger) Gerolsteiner                                     28.52
49 Matthias Kessler (Ger) T-Mobile                                       29.09
50 Stephane Goubert (Fra) AG2R-Prevoyance                                30.18
51 Patrice Halgand (Fra) Crédit Agricole                                 30.57
52 Egoi Martinez (Spa) Discovery Channel                                 31.26
53 Matthieu Sprick (Fra) Bouygues Telecom                                31.33
54 Miguel Angel Martin Perdiguero (Spa) Phonak                           31.59
55 Stefano Garzelli (Ita) Liquigas                                       32.32
56 Serguei Gonchar (Ukr) T-Mobile                                        32.55
57 Simon Gerrans (Aus) AG2R-Prevoyance                                   33.07
58 Iker Camano (Spa) Euskaltel-Euskadi                                   33.17
59 José Angel Gomez (Spa) Saunier Duval                                  34.07
60 David Moncoutié (Fra) Cofidis                                         34.53
61 Moises Duenas (Spa) Agritubel                                         34.58
62 Carlos Da Cruz (Fra) Francaise Des Jeux                               35.02
63 Thomas Lövkvist (Swe) Francaise Des Jeux                              35.56
64 Didier Rous (Fra) Bouygues Telecom                                    36.10
65 Sylvain Chavanel (Fra) Cofidis                                        36.51
66 Koos Moerenhout (Ned) Phonak                                          38.12
67 Thomas Voeckler (Fra) Bouygues Telecom                                38.43
68 David Canada (Spa) Saunier Duval                                      39.36
69 Erik Zabel (Ger) Milram                                               39.45
70 Gorka Verdugo (Spa) Euskaltel-Euskadi                                 41.07
71 David Zabriskie (USA) Team CSC                                        41.33
72 Benjamin Noval (Spa) Discovery Channel                                42.19
73 David Millar (GBr) Saunier Duval                                      43.10
74 Mikel Astarloza (Spa) AG2R-Prevoyance                                 43.26
75 Christian Knees (Ger) Milram                                          43.47
76 Pavel Padrnos (Cze) Discovery Channel                                 44.14
77 Eddy Mazzoleni (Ita) T-Mobile                                         44.19
78 Sebastian Lang (Ger) Gerolsteiner                                     44.27
79 Francisco Ventoso (Spa) Saunier Duval                                 44.47
80 José Rujano (Ven) Quick-Step-Innergetic                               45.06
81 Joost Posthuma (Ned) Rabobank                                         45.19
82 Jérôme Pineau (Fra) Bouygues Telecom                                  46.03
83 Maxim Iglinskiy (Kaz) Milram                                          46.07
84 Alessandro Ballan (Ita) Lampre-Fondital                               46.27
85 Salvatore Commesso (Ita) Lampre-Fondital                              46.29
86 Inaki Isasi (Spa) Euskaltel-Euskadi                                   46.53
87 José Luis Rubiera (Spa) Discovery Channel                             47.15
88 Daniele Bennati (Ita) Lampre-Fondital                                 48.16
89 Riccardo Ricco (Ita) Saunier Duval                                    48.53
90 Christophe Le Mevel (Fra) Crédit Agricole                             48.56
91 Cédric Vasseur (Fra) Quick-Step-Innergetic                            49.07
92 Ronny Scholz (Ger) Gerolsteiner                                       49.22
93 Beat Zberg (Swi) Gerolsteiner                                         51.17
94 Manuel Calvente (Spa) Agritubel                                       51.19
95 David De La Fuente (Spa) Saunier Duval                                51.44
96 Walter Beneteau (Fra) Bouygues Telecom                                51.49
97 Juan Antonio Flecha (Spa) Rabobank                                    53.13
98 Pieter Weening (Ned) Rabobank                                         53.17
99 Nicolas Jalabert (Fra) Phonak                                         54.22
100 Oscar Freire (Spa) Rabobank                                          54.43
101 Ralf Grabsch (Ger) Milram                                            55.08
102 Christopher Horner (USA) Davitamon-Lotto                             55.47
103 Sandy Casar (Fra) Francaise Des Jeux                                 56.16
104 Andriy Grivko (Ukr) Milram                                           56.36
105 Bert Grabsch (Ger) Phonak                                            56.41
106 Benoît Vaugrenard (Fra) Francaise Des Jeux                           57.06
107 Mario Aerts (Bel) Davitamon-Lotto                                    57.57
108 Bernhard Eisel (Aut) Francaise Des Jeux                              58.15
109 Philippe Gilbert (Bel) Francaise Des Jeux                            58.26
110 Björn Schröder (Ger) Milram                                          58.39
111 Viatscheslav Ekimov (Rus) Discovery Channel                          59.14
112 Gustav Larsson (Swe) Francaise Des Jeux                              59.15
113 Eduardo Gonzalo (Spa) Agritubel                                      59.22
114 Tom Boonen (Bel) Quick-Step-Innergetic                               59.56
115 David Lopez (Spa) Euskaltel-Euskadi                                1.00.06
116 Anthony Geslin (Fra) Bouygues Telecom                              1.00.42
117 Jens Voigt (Ger) Team CSC                                          1.01.28
118 Nicolas Portal (Fra) Caisse d'Epargne-Illes Balears                1.02.59
119 Michael Albasini (Swi) Liquigas                                    1.03.14
120 Manuel Quinziato (Ita) Liquigas                                    1.03.35
121 Robert Hunter (RSA) Phonak                                         1.03.53
122 Juan Manuel Garate (Spa) Quick-Step-Innergetic                     1.04.04
123 Bram De Groot (Ned) Rabobank                                       1.04.43
124 Marco Velo (Ita) Milram                                            1.05.24
125 Rik Verbrugghe (Bel) Cofidis                                       1.05.38
126 Paolo Tiralongo (Ita) Lampre-Fondital                              1.06.12
127 Robbie McEwen (Aus) Davitamon-Lotto                                1.06.13
128 Thor Hushovd (Nor) Crédit Agricole                                 1.07.50
129 Florent Brard (Fra) Caisse d'Epargne-Illes Balears                 1.08.17
130 David Kopp (Ger) Gerolsteiner                                      1.08.40
131 Jose Vicente Garcia Acosta (Spa) Caisse d'Epargne-Illes Balears    1.08.43
132 Luca Paolini (Ita) Liquigas                                        1.09.17
133 Alexandre Moos (Swi) Phonak                                        1.09.59
134 Christophe Laurent (Fra) Agritubel                                 1.10.26
135 Victor Hugo Pena (Col) Phonak                                      1.10.47
136 Sébastien Hinault (Fra) Crédit Agricole                            1.11.02
137 Julian Dean (NZl) Crédit Agricole                                  1.12.11
138 Samuel Plouhinec (Fra) Agritubel                                   1.12.15
139 Steven De Jongh (Ned) Quick-Step-Innergetic                        1.13.38
140 José Alberto Martinez (Spa) Agritubel                              1.14.09
141 Patrick Calcagni (Swi) Liquigas                                    1.14.13
142 Bram Tankink (Ned) Quick-Step-Innergetic                           1.14.47
143 Bradley Wiggins (GBr) Cofidis                                      1.14.49
144 Unai Etxebarria (Ven) Euskaltel-Euskadi                            1.15.26
145 Samuel Dumoulin (Fra) AG2R-Prevoyance                              1.16.19
146 Kjell Carlström (Fin) Liquigas                                     1.16.27
147 Peter Wrolich (Aut) Gerolsteiner                                   1.18.28
148 Christophe Mengin (Fra) Francaise Des Jeux                         1.18.38
149 Arnaud Coyot (Fra) Cofidis                                         1.19.13
150 Matej Mugerli (Slo) Liquigas                                       1.19.59
151 Gert Steegmans (Bel) Davitamon-Lotto                               1.20.01
152 Matteo Tosatto (Ita) Quick-Step-Innergetic                         1.20.17
153 Stuart O'Grady (Aus) Team CSC                                      1.20.21
154 Cédric Coutouly (Fra) Agritubel                                    1.21.05
155 Isaac Galvez (Spa) Caisse d'Epargne-Illes Balears                  1.21.27
156 Johan Vansummeren (Bel) Davitamon-Lotto                            1.21.59
157 Stéphane Auge (Fra) Cofidis                                        1.27.36
158 Aitor Hernandez (Spa) Euskaltel-Euskadi                            1.28.45
159 Jimmy Casper (Fra) Cofidis                                         1.29.11
160 Anthony Charteau (Fra) Crédit Agricole                             1.31.48
161 Daniele Righi (Ita) Lampre-Fondital                                1.32.05
162 Filippo Pozzato (Ita) Quick-Step-Innergetic                        1.32.39
163 Magnus Backstedt (Swe) Liquigas                                    1.36.27
164 Sébastien Joly (Fra) Francaise Des Jeux                            1.41.26
165 Wim Vansevenant (Bel) Davitamon-Lotto                              1.41.34
 
Points classification
 
1 Robbie McEwen (Aus) Davitamon-Lotto                                      217 pts
2 Tom Boonen (Bel) Quick-Step-Innergetic                                   188
3 Oscar Freire (Spa) Rabobank                                              181
4 Daniele Bennati (Ita) Lampre-Fondital                                    165
5 Erik Zabel (Ger) Milram                                                  148
6 Thor Hushovd (Nor) Crédit Agricole                                       134
7 Bernhard Eisel (Aut) Francaise Des Jeux                                  127
8 Luca Paolini (Ita) Liquigas                                              126
9 Inaki Isasi (Spa) Euskaltel-Euskadi                                       97
10 David Kopp (Ger) Gerolsteiner                                            94
11 Francisco Ventoso (Spa) Saunier Duval                                    93
12 Jimmy Casper (Fra) Cofidis                                               91
13 Isaac Galvez (Spa) Caisse d'Epargne-Illes Balears                        80
14 Cristian Moreni (Ita) Cofidis                                            71
15 Michael Rogers (Aus) T-Mobile                                            63
16 George Hincapie (USA) Discovery Channel                                  46
17 Gert Steegmans (Bel) Davitamon-Lotto                                     46
18 Stuart O'Grady (Aus) Team CSC                                            43
19 Sylvain Calzati (Fra) AG2R-Prevoyance                                    39
20 Floyd Landis (USA) Phonak                                                39
21 Peter Wrolich (Aut) Gerolsteiner                                         39
22 Anthony Geslin (Fra) Bouygues Telecom                                    38
23 Walter Beneteau (Fra) Bouygues Telecom                                   34
24 Andreas Klöden (Ger) T-Mobile                                            34
25 Eddy Mazzoleni (Ita) T-Mobile                                            33
26 Arnaud Coyot (Fra) Cofidis                                               33
27 Alexandre Botcharov (Rus) Crédit Agricole                                32
28 Kjell Carlström (Fin) Liquigas                                           32
29 Carlos Da Cruz (Fra) Francaise Des Jeux                                  31
30 Michael Albasini (Swi) Liquigas                                          31
31 Cadel Evans (Aus) Davitamon-Lotto                                        28
32 Patrice Halgand (Fra) Crédit Agricole                                    26
33 Matthias Kessler (Ger) T-Mobile                                          25
34 Marco Velo (Ita) Milram                                                  25
35 David De La Fuente (Spa) Saunier Duval                                   24
36 Samuel Dumoulin (Fra) AG2R-Prevoyance                                    24
37 Fabian Wegmann (Ger) Gerolsteiner                                        24
38 Philippe Gilbert (Bel) Francaise Des Jeux                                23
39 Denis Menchov (Rus) Rabobank                                             22
40 Sebastian Lang (Ger) Gerolsteiner                                        22
41 Miguel Angel Martin Perdiguero (Spa) Phonak                              21
42 Juan Miguel Mercado (Spa) Agritubel                                      20
43 Egoi Martinez (Spa) Discovery Channel                                    20
44 Jens Voigt (Ger) Team CSC                                                20
45 David Zabriskie (USA) Team CSC                                           20
46 Stefano Garzelli (Ita) Liquigas                                          20
47 Alessandro Ballan (Ita) Lampre-Fondital                                  20
48 Björn Schröder (Ger) Milram                                              19
49 Cyril Dessel (Fra) AG2R-Prevoyance                                       18
50 Levi Leipheimer (USA) Gerolsteiner                                       17
51 Georg Totschnig (Aut) Gerolsteiner                                       17
52 Benoît Vaugrenard (Fra) Francaise Des Jeux                               16
53 Sébastien Hinault (Fra) Crédit Agricole                                  16
54 Serguei Gonchar (Ukr) T-Mobile                                           15
55 Inigo Landaluze (Spa) Euskaltel-Euskadi                                  15
56 Yaroslav Popovyvch (Ukr) Discovery Channel                               15
57 Aitor Hernandez (Spa) Euskaltel-Euskadi                                  15
58 José Luis Arrieta (Spa) AG2R-Prevoyance                                  14
59 Carlos Sastre (Spa) Team CSC                                             14
60 Christophe Laurent (Fra) Agritubel                                       14
61 Christophe Rinero (Fra) Saunier Duval                                    13
62 Steven De Jongh (Ned) Quick-Step-Innergetic                              13
63 Magnus Backstedt (Swe) Liquigas                                          13
64 Florent Brard (Fra) Caisse d'Epargne-Illes Balears                       12
65 Marcus Fothen (Ger) Gerolsteiner                                         12
66 Stéphane Auge (Fra) Cofidis                                              12
67 Mirko Celestino (Ita) Milram                                             11
68 Robert Hunter (RSA) Phonak                                               11
69 Patrik Sinkewitz (Ger) T-Mobile                                          10
70 Michael Boogerd (Ned) Rabobank                                           10
71 Laurent Lefevre (Fra) Bouygues Telecom                                   10
72 Oscar Pereiro (Spa) Caisse d'Epargne-Illes Balears                       10
73 Christian Knees (Ger) Milram                                             10
74 Juan Antonio Flecha (Spa) Rabobank                                       10
75 Haimar Zubeldia (Spa) Euskaltel-Euskadi                                   9
76 Jérôme Pineau (Fra) Bouygues Telecom                                      9
77 José Luis Rubiera (Spa) Discovery Channel                                 9
78 Cédric Vasseur (Fra) Quick-Step-Innergetic                                9
79 Mario Aerts (Bel) Davitamon-Lotto                                         8
80 Frank Schleck (Lux) Team CSC                                              8
81 Riccardo Ricco (Ita) Saunier Duval                                        7
82 Christophe Moreau (Fra) AG2R-Prevoyance                                   6
83 Marzio Bruseghin (Ita) Lampre-Fondital                                    6
84 Gustav Larsson (Swe) Francaise Des Jeux                                   6
85 Christophe Mengin (Fra) Francaise Des Jeux                                6
86 Johan Vansummeren (Bel) Davitamon-Lotto                                   6
87 Thomas Voeckler (Fra) Bouygues Telecom                                    4
88 David Canada (Spa) Saunier Duval                                          4
89 David Millar (GBr) Saunier Duval                                          4
90 Maxim Iglinskiy (Kaz) Milram                                              4
91 Beat Zberg (Swi) Gerolsteiner                                             4
92 Jose Vicente Garcia Acosta (Spa) Caisse d'Epargne-Illes Balears           4
93 Paolo Savoldelli (Ita) Discovery Channel                                  3
94 Eduardo Gonzalo (Spa) Agritubel                                           3
95 Matej Mugerli (Slo) Liquigas                                              3
96 Ivan Ramiro Parra (Col) Cofidis                                           2
97 Matthieu Sprick (Fra) Bouygues Telecom                                    2
98 Nicolas Jalabert (Fra) Phonak                                             2
99 Manuel Quinziato (Ita) Liquigas                                           2
100 Unai Etxebarria (Ven) Euskaltel-Euskadi                                  2
101 Cédric Coutouly (Fra) Agritubel                                          2
102 Vladimir Karpets (Rus) Caisse d'Epargne-Illes Balears                    1
103 José Azevedo (Por) Discovery Channel                                     1
104 Sylvain Chavanel (Fra) Cofidis                                           1
105 Joost Posthuma (Ned) Rabobank                                            1
 
Mountains classification
 
1 David De La Fuente (Spa) Saunier Duval                                    80 pts
2 Cyril Dessel (Fra) AG2R-Prevoyance                                        62
3 Fabian Wegmann (Ger) Gerolsteiner                                         61
4 Michael Rasmussen (Den) Rabobank                                          49
5 Juan Miguel Mercado (Spa) Agritubel                                       45
6 Michael Boogerd (Ned) Rabobank                                            41
7 Inigo Landaluze (Spa) Euskaltel-Euskadi                                   38
8 Juan Antonio Flecha (Spa) Rabobank                                        36
9 Floyd Landis (USA) Phonak                                                 35
10 Christophe Rinero (Fra) Saunier Duval                                    35
11 Denis Menchov (Rus) Rabobank                                             30
12 Jérôme Pineau (Fra) Bouygues Telecom                                     28
13 Levi Leipheimer (USA) Gerolsteiner                                       28
14 Inaki Isasi (Spa) Euskaltel-Euskadi                                      26
15 Carlos Sastre (Spa) Team CSC                                             25
16 Iker Camano (Spa) Euskaltel-Euskadi                                      25
17 Cristian Moreni (Ita) Cofidis                                            24
18 Cédric Vasseur (Fra) Quick-Step-Innergetic                               22
19 Thomas Voeckler (Fra) Bouygues Telecom                                   20
20 Cadel Evans (Aus) Davitamon-Lotto                                        16
21 Christophe Moreau (Fra) AG2R-Prevoyance                                  14
22 Sylvain Calzati (Fra) AG2R-Prevoyance                                    13
23 José Luis Arrieta (Spa) AG2R-Prevoyance                                  12
24 Andreas Klöden (Ger) T-Mobile                                            12
25 Pietro Caucchioli (Ita) Crédit Agricole                                  12
26 Matthieu Sprick (Fra) Bouygues Telecom                                   11
27 Aitor Hernandez (Spa) Euskaltel-Euskadi                                  10
28 Haimar Zubeldia (Spa) Euskaltel-Euskadi                                  10
29 Frank Schleck (Lux) Team CSC                                             10
30 Björn Schröder (Ger) Milram                                               9
31 Georg Totschnig (Aut) Gerolsteiner                                        7
32 Unai Etxebarria (Ven) Euskaltel-Euskadi                                   7
33 Matthias Kessler (Ger) T-Mobile                                           6
34 Daniele Bennati (Ita) Lampre-Fondital                                     6
35 Christophe Laurent (Fra) Agritubel                                        6
36 Samuel Dumoulin (Fra) AG2R-Prevoyance                                     6
37 Jens Voigt (Ger) Team CSC                                                 6
38 Laurent Lefevre (Fra) Bouygues Telecom                                    5
39 Stephane Goubert (Fra) AG2R-Prevoyance                                    5
40 Carlos Da Cruz (Fra) Francaise Des Jeux                                   5
41 Mario Aerts (Bel) Davitamon-Lotto                                         5
42 Giuseppe Guerini (Ita) T-Mobile                                           4
43 Philippe Gilbert (Bel) Francaise Des Jeux                                 3
44 David Lopez (Spa) Euskaltel-Euskadi                                       3
45 Pierrick Fedrigo (Fra) Bouygues Telecom                                   3
46 Patrice Halgand (Fra) Crédit Agricole                                     3
47 David Zabriskie (USA) Team CSC                                            3
48 Egoi Martinez (Spa) Discovery Channel                                     2
49 Kjell Carlström (Fin) Liquigas                                            2
50 Tom Boonen (Bel) Quick-Step-Innergetic                                    1
51 Anthony Geslin (Fra) Bouygues Telecom                                     1
52 Juan Manuel Garate (Spa) Quick-Step-Innergetic                            1
53 Cédric Coutouly (Fra) Agritubel                                           1
 
Young rider classification
 
1 Marcus Fothen (Ger) Gerolsteiner                                    49.22.24
2 Damiano Cunego (Ita) Lampre-Fondital                                   12.00
3 Matthieu Sprick (Fra) Bouygues Telecom                                 27.16
4 Moises Duenas (Spa) Agritubel                                          30.41
5 Thomas Lövkvist (Swe) Francaise Des Jeux                               31.39
6 Christian Knees (Ger) Milram                                           39.30
7 Francisco Ventoso (Spa) Saunier Duval                                  40.30
8 José Rujano (Ven) Quick-Step-Innergetic                                40.49
9 Joost Posthuma (Ned) Rabobank                                          41.02
10 Maxim Iglinskiy (Kaz) Milram                                          41.50
11 Riccardo Ricco (Ita) Saunier Duval                                    44.36
12 David De La Fuente (Spa) Saunier Duval                                47.27
13 Pieter Weening (Ned) Rabobank                                         49.00
14 Andriy Grivko (Ukr) Milram                                            52.19
15 Benoît Vaugrenard (Fra) Francaise Des Jeux                            52.49
16 Bernhard Eisel (Aut) Francaise Des Jeux                               53.58
17 Philippe Gilbert (Bel) Francaise Des Jeux                             54.09
18 Eduardo Gonzalo (Spa) Agritubel                                       55.05
19 David Lopez (Spa) Euskaltel-Euskadi                                   55.49
20 Matej Mugerli (Slo) Liquigas                                        1.15.42
21 Johan Vansummeren (Bel) Davitamon-Lotto                             1.17.42
22 Aitor Hernandez (Spa) Euskaltel-Euskadi                             1.24.28
23 Filippo Pozzato (Ita) Quick-Step-Innergetic                         1.28.22
 
Teams classification
 
1 T-Mobile Team                                                      148.04.07
2 Gerolsteiner                                                            0.46
3 AG2R Prevoyance                                                         5.00
4 Team CSC                                                                7.52
5 Rabobank                                                                9.17
6 Saunier Duval - Prodir                                                 16.03
7 Caisse D'Epargne-Illes Balears                                         23.07
8 Lampre-Fondital                                                        24.57
9 Phonak Hearing Systems                                                 24.58
10 Discovery Channel Team                                                27.05
11 Euskaltel - Euskadi                                                   30.09
12 Agritubel                                                             40.39
13 Cofidis Credit Par Telephone                                          48.54
14 Bouygues Telecom                                                      49.16
15 Davitamon - Lotto                                                     53.20
16 Credit Agricole                                                       57.45
17 Team Milram                                                         1.23.27
18 Francaise Des Jeux                                                  1.36.02
19 Liquigas                                                            2.07.43
20 Quick Step - Innergetic                                             2.14.12