An interview with Cadel Evans, July 1, 2006
Stepping up to the plate
Cadel Evans finished eighth in the Tour last year, and after a solid build up and the elimination (for various reasons) of five of the riders who finished in front of him in 2005, he is now a real contender. Cyclingnews' John Trevorrow spoke to the Australian on the eve of the Tour start in Strasbourg.
Cadel Evans (Davitamon-Lotto)
Photo ©: Jon Devich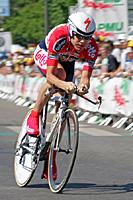 Cyclingnews: With the dramatic changes caused through the 'Spanish Inquisition', some of the favourites won't be starting: Basso, Ullrich, Mancebo, Vinokourov. How will that change the complexion of the race?
Cadel Evans: Now there won't be just three teams who will try and control the race. We will have to find out. It is going to be a different Tour. We are going to have to wait, get out on the road and see. The obvious thing is that there won't be some of the strongest teams who would control it for their leaders. T-Mobile will have to do what they can with Klöden and CSC with Sastre.
CN: When you heard that Basso was gone, Ullrich was gone, what was your first reaction?
CE: Just that the cheats have been caught. If they have cheated then they deserve to be out.
CN: You had already been touted as a podium contender, but these withdrawals change the opportunities for you now. Do you feel more pressure on you now?
CE: I don't know yet. We'll find out in the race. But if you do your maths, yes. Take out the five who are not in the race anymore, that will put me into third or fourth. Importantly (it will) in terms of being a contender. So...mmm
CN: You see quite calm and relaxed about it all...
CE: There has just been so much talk and speculation lately … until now. But it won't be until we get on the road that we see how the race is going to be.
CN: Who do you see now will be the major contenders then?
CE: Discovery Channel will have the advantage in numbers with Popovych, Hincapie and also Azevedo. Beyond that there are guys like Levi (Leipheimer), me, Landis and Valverde.
CN: It is going to be important now that you focus on them and doing what you can in the race.
CE: I have always been focused on them. But now instead of my number one focus being what Ullrich and Basso are doing; it will be on what these guys are doing.
CN: Does it annoy you that the sport has been dragged into this controversy again?
CE: There are two ways (of looking at it). One, the cheats are getting caught and being taken out of the sport. So that is a good thing. In the short term it will have effects on the sport but for the long term it is getting rid of one of the last remaining problems and that is blood transfusions and so on. Also on the other side of things it brings a focus on our sport. There are other athletes (from other sports) involved in this and we haven't heard anything about those. There are some soccer games going on at the moment...
CN: Are you happy with the Tour route this year with the balance of time trials and mountains?
CE: On paper it looked like Ullrich's Tour. For me, personally, three hilltop finishes and so many kilometres of time trialing isn't favourable to me. But since they announced the route I have been working specifically on my time trial. That has showed. The work has paid off in the last two time trials I have done. How will I go in the hills? It will depend how I get there. With 117km of time trials, I can't afford to lose three or four minutes there.
CN: You used to be terrific in the time trials though, and you seem to have got it back?
CE: I fell back a bit. In the two years I was with T-mobile I sort of fell back in everything. But I came back with my climbing but now the time trialing is slowly coming back. But I would say I haven't been climbing as well as I was last year … I the Tour of Switzerland. Whether that related to allergies and stuff, it is hard to say. I wasn't with the front guys at Switzerland. I wanted to be, but I knew with the training that I wouldn't be really be top.
CN: Before you may have worked off the teams like T-Mobile, CSC and Astana-Würth. But now do you think there will be more responsibility on you and guys like Leipheimer?
CE: Possibly. And that's where and why we may have to change our tactics. That is where someone like me, who didn't have a big team to control the race, they had to really profit off the work that they did and ride according to what they did. It is going to make it more open.
CN: Could it be a case of someone like you having to be prepared to take a risk that you wouldn't have taken beforehand?
CE: Maybe...
CN: Has the team already spoken about the changes?
CE: Yeah...we have changed a few things already. And we are going into the race with slightly different ideas now to what we would have.
CN: Last year, despite your great result, you were a little under done and had your collar bone injury. But this year, Romandie was brilliant...Tour of Switzerland?
CE: I am happier this year because I have got to the start without any problems. In the Tour year, there are the hilltop finishes and two of the three are in the Alps which are a bit better for me. It is a year without problems. The course doesn't suit me like last year, but then we don't have the team time trial. So maybe it will come out the same in the end.
CN: Are you more excited now about what opportunity awaits you than how you were, say, 24 hours ago?
CE: Umm … I am actually a bit more nervous now! If things are going to go well for me, I am going to have to take a role. Before I was sort of hidden and could wait. Now it is going to be on right from the beginning. There are going to be many more opportunities opening up.
CN: In the first week of the Tour you traditionally have a nervous race with breaks going by guys trying to win a stage, bunch sprints. Now with you guys start trying to find time gaining opportunities. There is so much room on the road to fit all the action, isn't there?
CE: Yeah, but there are a few less teams in the race now … a few less riders. It's a smaller peloton this year! But it will make it more nervous. What is going to happen. Before, it was Discovery come to the front. They are not going to let that break get away. Now …it's um, yeah. Discovery will still be hard to control because they have three riders (for general classification).
CN: Lastly, do you think that for whoever wins, something will be taken away from the victory by what has happened?
CE: I hope not. It will all be up to how the public receives it, I don't know.