An interview with Thor Hushovd, July 1, 2006
The bear tears the Tour apart
The prologue at the 93rd Tour de France brought a surprise winner. "But I knew I could win," said 'The Bear from Grimstad', Thor Hushovd. Brecht Decaluwé was on hand at the finish and at the post-race press conference.
Thor Hushovd (CA)
Photo ©: Sirotti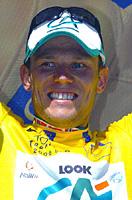 When Thor Hushovd was the first rider to go faster than the provisional best time Sebastian Lang, he said: "You never know if this time is going to be enough, we'll have to wait and see! I was well prepared and had a good rhythm. Maybe, I won't win, but I'm already very happy with my performance."
As it turned out, he had every reason to be happy with his performance, because none of the favourites couldn't beat his time. "My main objective is to wear the green jersey in Paris, win one or more stages and to wear the yellow jersey one day... what can I say, this Tour has started off very well for me!" Hushovd exclaimed.
While Hushovd was waiting for the last riders, he talked about his time trial capabilities, and how he believed he gained time on his rivals. "I was already fifth in the Tour prologue in the past, so I know I can do well. I also did some extra training with the time trial bike. I think I went into those [technical] corners very well, probably I gained some time there."
Q: The prologue was quite demanding, how did you see it?
Thor Hushovd: I always gave everything I had, but in the beginning I wasn't the fastest. I think I gained some time in the corners and in the end it proved to be enough. It was impossible for me to be a single second faster. During the training rides of last week, I felt that the form was alright. Naturally, you can't win a prologue in the Tour de France without a super form.
Giving it everything
Photo ©: Jon Devich

Q: It was strange to see a sprinter beating the time trial specialists like Zabriskie and Hincapie; did it surprise you as well?
A: Indeed, I was surprised - but I knew that this was possible because I was fifth in the prologue of the 2004 [Tour] in Liège. During the last weeks, I dreamed about winning here.
Q: Over the next days, we'll see you in your typical role as a sprinter, battling for victory with Tom Boonen. Will it be possible to defend your leader's jersey?
A: Of course we will defend the jersey as many days as we can. Hopefully the other teams with sprinters, like Quick.Step with Tom Boonen, will help us with that. Then we will see who's the fastest sprinter!
Q: Did you suffer from the crisis concerning 'Operacion Puerto'?
A: The last few days were hell for all of us, especially because it came just before the Tour de France. I tried to concentrate on the race and keep myself away from it. It's sad for cycling, but there's nothing we can change about it now. People do have to take into account that there are lots of riders over here who prepare themselves like it should be.
Q: What about the reactions from the public?
Mighty Thor
Photo ©: Sirotti

A: I didn't feel any negative vibes, and hopefully it will stay like that. We all work hard to get into the Tour de France. I'm optimistic that the public will maintain their enthusiasm and support, just like they always have.
Q: Last year, you didn't win a stage, but you did win the green jersey; did that annoy you?
A: It's true that I didn't win a stage last year; this year started off exceptionally well because now I won a stage which didn't end in a sprint. My objective stays the same, though: winning [sprint] stages and showing that I can win bunch sprints.
Q: If you want to win a bunch sprint, you'll have to get past the world champion, Tom Boonen...
A: Indeed, he's one of the main protagonists in a bunch sprint, but actually it will be one of the first direct duels this season. We raced together in the classics as well, but those races don't really end in bunch sprints. I'm confident that I can do well; I did lots of specific sprint training. But of course, you never know what the other riders have been doing.