The Stuart O'Grady diary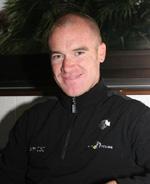 Stuart O'Grady
During the Tour de France CSC speedster Stuart O'Grady will be giving us a regular inside look at the daily goings-on in the peloton and the team hotel. An Olympic gold medalist on the track, O'Grady is a rider to watch in the sprints and long breakaways, and one of CSC's best hopes for a stage win or even the green points jersey.
O'Grady has had a rollercoaster ride at the last few Tours, wearing the yellow jersey in 2001 and green in 2002, but never quite managing to hang on to green all the way to Paris. In the last couple of years he's shifted his emphasis away from sprint speed and remodelled himself as a Classics and long breakaway expert.
July 23: Happy to be in Paris
It feels really good to get to Paris. You can't wear yellow and win stages every year but I felt great out there today. I hardly touched the pedals. Yesterday I gave it bit of throttle in the time trial and I reckon that blew away the cobwebs. I'm feeling so good, I wish it went on for another two weeks.
It was a very different Tour. I've never ridden a Tour with so little nervousness in the bunch. It was such a hot Tour and we hardly saw a drop of rain - it's those wet days that make it dangerous and stressful - and it was like there wasn't any one in control of the race. Even when Phonak had control they gave it away. Now that move nearly cost them dearly. It was a bit of Russian roulette. Floyd is a good bike rider and he deserves to win but he came mighty close to losing it. It must have been an amazing Tour to watch because no one knew what was going to happen next. We didn't know. There were a lot of team errors.
It actually made it easier in some ways. Especially the first week. In a team role it was easier. Other than my injuries, I felt like this has been an easier Tour than others. That may sound a little strange being that the speed was so quick but it was consistent. I also have to say there is no such thing as an easy Tour de France. I can also say that I've never seen such big groupettos before. I mean nearly a hundred some days.
I'm just very bloody proud to get here. It's been a fantastic Tour with a very professional team. Only six guys made it to the end but they're the greatest blokes I've ever ridden with.