Tour tech: Giro launches new lids, July 1, 2006
Ionospheric
Giro's new Ionos helmet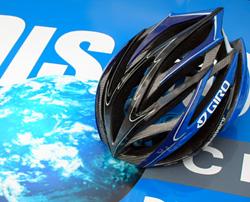 Giro Ionos debuts At 2006 Tour de France
By Tim Maloney, European Editor in Strasbourg, France
Cyclingnews tailed Giro sports marketers Chuck Platt and JP Mosnier as they delivered a new Giro helmet to their sponsored Tour de France teams, the all new Ionos. The new lid boasts 21 vents and at a claimed 260g, weighs in about 20 grams lighter than the already light Atmos. Discovery Channel and Rabobank riders will be using Ionos helmets at this year's Tour de France. When the Giro guys had their backs turned, we managed to snap a few pix of this special new helmet.
After we snapped our spy photos, JP Mosnier of Giro explained to Cyclingnews, "our sponsored road racers have been asking us to make a helmet with massive vents and we came up with the Ionos, which has incredible air flow but does not compromise safety at all." With 21 active WindTunnel channeled vents as in the Giro Pneumo and Atmos, Ionos pushes helmet performance to a new level, according to Mosnier.
| | |
| --- | --- |
| The side view of Ionos | The interior of Giro's Ionos |
| The rear view of the Giro Ionos | Full frontal Ionos |
And Ionos isn't just another pretty face. Just underneath the outer shell is a visible layer of carbon fibre composite weave at key zones of the helmet. This is an innovative structure Giro calls In-Mold Carbon Reinforcement. (ICR) Just like a high-end carbon fibre frame, the Ionos uses ICR construction that is tuned for support, impact dispersion and penetration resistance. Also incorporated in the Ionos are Giro's patented RocLoc system. Available in three sizes (S = 51-55cm, M = 55-59cm, L = 59-63cm), the lid that Giro reckons is the new state of the art in cycling helmets will be available spring of 2007.
Advantage 2 imminent for TT riders
The new Advantage 2

Also coming from Giro is the Advantage 2, a CPSC -compliant version of Giro's Advantage time trial helmet.
Giros says the Advantage 2 has been wind-tunnel tested by Lance Armstrong and Giro's other sponsored pro riders. That testing involved comparisons with Giro's previous aerodynamic fairings - helmets that had no impact absorbing foam lining - and with other protective TT helmets. According to Giro, the new design "produced remarkably similar drag numbers to previous designs, and is among the fastest of all designs tested."
The Advantage 2 will be available in the Fall of 2006, in three sizes (S = 51-55cm, M = 55-59cm, L = 59-63cm). Claimed weight is 390g.