An interview with Wilfried Cretskens, July 3, 2006
A catch-up with Cretskens
Catching up with soon to be Cyclingnews diarist Wilfried Cretskens straight after his prologue last Saturday, Brecht Decaluwé found the room-mate of world champion Tom Boonen is no longer his room-mate after all...
Time trialling
Photo ©: Luc Claessen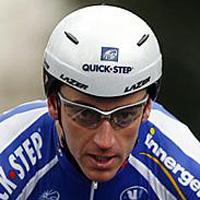 Cyclingnews: Wilfried, you were the tenth rider to start the prologue; twelve riders have already finished and still you're the slowest rider, but I guess that doesn't bother you?
Wilfried Cretskens: No, that doesn't bother me at all, because I know what's on my plate for the next days; that's more important. Today we have other men who need to set a sharp time. The next days, it's up to me to bring those guys to the finish as good as possible.
CN: Do you put in an effort for such a prologue, because you know you've got nothing to win or lose?
WC: When a rider says that he's riding around at 50 percent, then that's bullshit; you always need to ride at your maximum. We've had a few easy days behind us, so you know you need to open up the gas, to be ready for the coming stages.
CN: What's the course like? Will you be able to give some information to Boonen?
WC: At first sight, it looks very easy, very smooth; but that isn't the case. Also, you think the wind is blowing in the wrong way; but that's also wrong. I'll tell Tom [Boonen] that he shouldn't start too fast, but not too slow either. You've got to make the right decision. There are lots of corners which you can take on high speeds. So you need a combination of concentration and speed.
Pulling a big turn.
Photo ©: Jon Devich

CN: How were the reactions from the public?
WC: There a load of people out there, that's something I've seen [before]. Of course, you know that there are many Belgians over here, so it's good to appreciate their applause.
CN: Are you still the room-mate of world champion Tom Boonen?
WC: Actually, these days, my room mate is another domestique, Bram Tankink. But during this Tour, we're changing rooms sometimes because there's always someone sleeping alone in a room.
CN: So, we cannot ask you how your night with Boonen was...
WC: My night was alright, and I think that's most important.
CN: Was he relaxed while enjoying breakfast?
WC: Everybody was very relaxed at the table.
Wilfried Cretskens
Photo ©: Jon Devich

CN: Did he focus on the prologue?
WC: We did the reconnaissance ride together with all the team-mates. We don't need any words to see that he's focused on a good performance.
CN: Do you think he can grab a top-10 place?
WC: I think that might be possible.
CN: Who's going to win the prologue?
WC: Millar... Zabriskie...
CN: Millar, that would be a massive victory after being suspended for two years?
WC: Everybody knows that he's a specialist. I don't think you lose those skills while being out of competition.
CN: Who will win the 2006 Tour de France?
WC: Floyd Landis.
Editor's note: Wilfried Cretskens will be writing a diary for Cyclingnews during the Tour de France.