An interview with Oscar Pereiro, July 15, 2006
Expect the unexpected
Oscar Pereiro (Caisse d'Epargne) was slightly disappointed to miss out on the stage win today in Montélimar, but received an unexpected reward when Phonak slowed down the peloton so much that he jumped from 46th to 1st in the general classification. Hedwig Kröner was there when the new maillot jaune spoke about his achievement.
Oscar Pereiro (Caisse d'Epargne)
Photo ©: Sirotti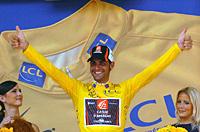 Q: Did you expect this to happen; was this premeditated?
OP: No, I was surprised to be in this situation! When I got into the breakaway, I didn't think about finding myself wearing the yellow jersey in the evening! During the stage, I realized that this was a possibility, when we saw the gap get bigger and bigger. But it's definitely a surprise to me.
Q: What did you talk about with Voigt in the last kilometres; was it to leave the stage win to him?
OP: No, not at all. We did talk before within the break, and agreed that if I was certain to get the yellow jersey, I wouldn't go for the stage win - if we would have been at 30 minutes within the last 5 kilometres. But then, we only had an advantage of about 27 minutes, so I told him that I was sorry, that I wanted to go for the stage as well, as there was a risk of not winning anything for me.
Q: Why did you attack with four kilometres to go?
OP: There was a possibility of attacking at that moment, and I knew that if I could get together with Jens Voigt, he would be there to ride and collaborate with me until the very end, and that this would help me get the overall lead. But I can assure you that I really tried to win the stage, but he was simply stronger than me in the end.
Q: What are your possibilities now, wearing the jersey, when the Tour gets to go into the Alps?
Oscar Pereiro (Caisse d'Epargne)
Photo ©: Sirotti

OP: It's true that I'm now on top of the overall classification. The last two years I finished within the Top 10. I was in a very bad position coming into the Pyrenees but I think that starting from tomorrow, the Tour will change its face again. I think my condition is good, so I'll definitely fight for the GC.
Q: Did you get the information that Phonak wasn't going after you from your directeur sportif within the race?
OP: I think that Phonak just didn't want the responsibility of the jersey before heading to the Alps. They didn't want to chase me, and I'm grateful for that. I spent four years in that team, and of course they are my former teammates and good friends. So maybe they wanted to honour that old alliance. I think they were happy about the fact that it was me and not another rider that takes the jersey. On the other hand, it's true that it's not only a gift, but that there is a certain advantage for them to not have it anymore. The won't have to control the race anymore in the coming days.
Q: Are you aware that you're experiencing a very special situation? Many riders go after the yellow jersey for weeks, and you do it all in one day?
OP: Yes, it's like a dream. The yellow jersey of the Tour de France is just something incredibly big. It might be easier to get it this way than to work your way towards it every day. Last year, when I won a stage in the Tour, I could already feel how great it was, but today, with the jersey, that's even better. I was dreaming about this, but I never thought it would happen.
Q: You've had a bad day in the Pyrenees; do you think it will be better in the Alps?
The sprint
Photo ©: AFP

OP: I think so. The Pyrenees, for me, are not good. The day before that happened, I was feeling good, and I do now, so I think I will do a good Tour. It was just one of these off-days. I think the last week will be better for me, and I will do everything I can to take this jersey to Paris.
Q: So do you think that Phonak made an error in giving you that jersey?
OP: No, I don't. There are still all these mountain stages ahead of us, as well as this very long time trial. It's not that they gave me ten minutes, either. I only have a little more than one minute on Landis, so I need to remain realistic. I will enjoy every day I wear this yellow jersey and I will try to defend it as long as possible. But I think that the day Floyd decides to get it, he will.
But of course the maillot jaune is now a great motivation for the team.