An interview with Robbie McEwen, July 7, 2006
Chewin' the fat with McEwen
Arriving at the press conference in Vitré chirpy and chatty as ever, Robbie McEwen spoke about his personal TGV, his self-confessed obsessive compulsive disorder, and his Dumb and Dumber victory salute, amongst other things. Cyclingnews' Brecht Decaluwé was there to take it all down.
Q: Can you explain to us what Steegmans adds to your sprint?
Robbie McEwen (Davitamon-Lotto)
Photo ©: Jon Devich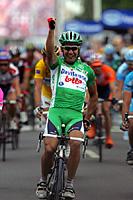 RM: It depends on the other sprinters and the other teams exactly how we do it. This year, we lost Fred Rodriguez fairly early. With Gert Steegmans, we had to figure out the right system and timing, as we didn't ride that much together this year.
The first time we tried it, I gave him a really specific tactic in stage 4; he listened well and did it and we won. Yesterday, he made a mistake and he was really motivated to make up for it today. Again, he did it perfectly.
We decided on the tactics. I told him not to start not one metre before the 400 metre mark. That's exactly what he did, he was really relaxed and stayed in the wheels. We made sure which side of him would stay open. When he started, I really had to jump to get into his wheel and when I have to jump to get into a wheel, that means that probably nobody else can follow.
I already had a good feeling when he took off. I just had to keep it winded up until the line. It looks like he's my personal TGV. I'm the only one with a ticket and I just have to get off at my station! (laughs)
Q: Do you think you're in the form of your life at the moment, and if so, what do you think is the secret to it?
RM: I don't think I'm in the form of my life, I'm just sprinting very well. I've had times where I actually felt stronger out on the road. But here, the timing and the speed in the sprint forms a funny sort of thing. Sometimes you feel very strong, but you can't win. Sometimes you feel average, but you sprint very fast and can't lose. I don't know about the form of my life, but it's pretty good.
Q: Don't you think it's a shame that not all the best sprinters of the world like Petacchi are here?
RM: I've proved in the first stage of the Giro that I can beat him. It's definitely a shame for Alessandro that he can't be here. The nature of the sprints would probably be different, but the quality of the sprinters field here is very good. The way I've been doing the sprints with Steegmans, I don't think anybody could beat me in those last two sprints that I've won.
Q: Are you thinking about a strategy to bring the green jersey to Paris, or is it too early?
RM: What I've been doing so far is my strategy for winning the green jersey, and that is winning stages which gives you points. I haven't done any intermediate sprints yet.
I missed getting any points in the stage at Valkenburg, but I'm still leading the competition. It's getting towards the time you really start thinking about the tactic [to win the maillot vert].
McEwen well in front
Photo ©: Sirotti

Tom and myself have intentionally not done intermediate sprints the last few days. I've sent out one of my team-mates yesterday three times so we didn't have to sprint. Today, the breakaway went just before the first intermediate sprint, as we both don't want to waste any energy. Tom particularly wants to try and win a stage rather than winning sprints on the road.
There was a situation where a big group was in front with Boonen and Hushovd there, but we've pulled our team off the front, putting pressure on the GC teams. Because a guy like Sinkewitz was in the break, and they didn't want to give him 20 minutes. We gambled but we won on that, as teams like CSC, Lampre and Saunier Duval brought them back. Part of the tactic is how much, or how little you use of your team.
Q: Will you try to convince Steegmans to stay in your team, or will you discuss the situation with the team?
RM: Nothing will be discussed during the Tour de France. But the more Gert does this, the more he increases his value. I think it would be good for him to stay in the team. Because as I grow older, he can learn a lot and develop into a leader who wins stages in the Tour de France. He can really build the team around himself. It's up to him to decide, but I hope he stays. He shouldn't be bored out in the competition... We'll see, it's up to him.
If I was superstitious or it even makes me sound a little bit like I'm someone with obsessive compulsive disorder or something but in the Giro I won three stages; I won stages two, four and six. I've got to the Tour, and I said at the Giro, 'Right, I've got eleven Giro stages, now I need eleven Tour stages.'
I had to win three here to keep the balance. Those are predictions, but it just sounded right. I won stages two and four here, so winning stages two, four and six in the Giro; I needed to win the same stages here. I told my wife this morning that I needed to win stage six to make it right... And now I want to get over that obsessive compulsive disorder by winning another stage and try to be normal!
The maillot vert coming closer
Photo ©: Sirotti

Q: How much do you analyse and keep stock of the strengths, weaknesses and tactics of your rival riders in the sprint? And how do you use that knowledge in the sprint?
RM: I do watch what my rivals do until the moment I pass them. But also when I'm at home and there's a race on television for instance, I'll watch it and put everything in my memory bank. I look at who starts the sprint, who's pulling the sprint, from how far starts the last man...
But in the sprint, you don't think about it because you have your tactic before the finish. Although you need to adapt to surprising situations. But if you've got such a powerful lead-out like Steegmans, there's not much left for the others. They either can follow or can't. I go over the top of him and the fat lady starts singing.
Q: How did you feel about the escape early on in the stage, from Thor Hushovd and Tom Boonen?
RM: We started to chase immediately, but as I said, we gambled a little bit because it was such a big group. I don't think Boonen and Hushovd really wanted to be in a long escape. I'm sure Tom just went up there to give his guys a bit of a break because they're very tired after the work in the previous stages. I think he was being glad to be back in the peloton. I wasn't too worried about it.
One last thing... I had a bet with Levi Leipheimer. We've been talking about it since March in Tirreno-Adriatico. He told me to do a victory salute, but a special one - the Dumb and Dumber move, from the movie. When you saw it, you know that it looks like you're running really fast. Levi will be happy with that and now he owes me!