The Stuart O'Grady diary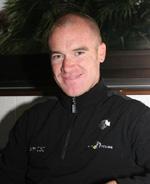 Stuart O'Grady
During the Tour de France CSC speedster Stuart O'Grady will be giving us a regular inside look at the daily goings-on in the peloton and the team hotel. An Olympic gold medalist on the track, O'Grady is a rider to watch in the sprints and long breakaways, and one of CSC's best hopes for a stage win or even the green points jersey.
O'Grady has had a rollercoaster ride at the last few Tours, wearing the yellow jersey in 2001 and green in 2002, but never quite managing to hang on to green all the way to Paris. In the last couple of years he's shifted his emphasis away from sprint speed and remodelled himself as a Classics and long breakaway expert.
July 12: Good for the morale
I tried to cover a few moves early as I though I may be able to get in the break and ride my own tempo up the climbs. But I ended up just wasting a lot of energy.
With the first mountain stage you don't know what to expect. You've just had 10 days on the flat, turning big gears and then 'whack', you're in the Pyrenees! It was very humid and muggy and the guys went out of the blocks. I think it averaged about 46 km/h for the first hour. T Mobile set a mean tempo up the bergs and we had Jens [Voigt] up front so it was good for us.
It's very hard to know what's going to happen in this Tour. I reckon the breakaways are going to get a good opportunity in this race, it's going to happen quite a bit. At the moment it's very hard to see who the favourites really are.
Personally I got through better than expected. It was a tough day but it was good for my morale. My back was quite good and I am now very confident of getting to Paris. I got in the "gruppetto" on the big bergs and there were a lot of tired guys already.
But tomorrow will be messy, very messy...