An interview with Floyd Landis, July 22, 2006
Almost there...
After the decisive time trial in Le Creusot, the inevitable champion of the 2006 Tour de France showed up wearing his usual Phonak jersey, rather than the maillot jaune he now owns. Jokingly saying that he 'gave it away again', Floyd Landis was looking forward to seeing his wife and daughter tomorrow on the Champs-Elysées. Hedwig Kröner was there at his press conference in Montceau-les-Mines
Q: How does it feel to win the Tour de France?
Floyd Landis (Phonak)
Photo ©: Sirotti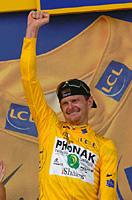 FL: Well, it's not over yet... (laughs) I'm not exactly sure what's gonna happen next, but I hope that I can handle tomorrow. (more laughs) If that's the case... well, I think it's gonna sink in later. Right now, I just feel tired.
Q: In previous time trials, you've had good margins on Sastre and Pereiro. So how did you approach this time trial?
FL: Well, I was confident, but when the yellow jersey is on the line, I knew he'd be inspired and that it wasn't going to be easy. Pereiro did an exceptional time trial; I was also a little concerned about the four-hour time trial I did two days ago. That took a lot of energy out of me, so I hoped I would be okay. It worked out.
Q: When you were in Lance's team and saw him with the yellow jersey, did you ever dream about wearing it yourself?
FL: I wished and hoped that some day I'd have the opportunity to be the leader of a team, and to get the jersey. I know that it takes a lot of hard work and a lot of sacrifices on a lot of people. Then, on top of that, some luck. So I feel lucky.
Q: Why do you think it is that after Armstrong, another American wins this race? Are Americans any different in the peloton?
Driving to win
Photo ©: AFP

FL: There's a lot of people on the race that want to win - people as bad as me. Like I said, I feel lucky because it's three weeks long, and a lot of things can happen for a lot of people. Overall, I don't think that Americans are any different from the other guys in the race - no.
Q: Was there anything in particular that you thought about when trying to get all this lost time back and finally win the Tour de France?
FL: Yeah - my parents taught me that hard work and patience are some of the most important things in getting what you want. It took me a long time in my life to learn patience (smiles), but that, and persistence, is the lesson I learned in this race.
Q: When you crossed the line in La Toussuire, did you feel you had lost the Tour - and when did you think that you could still win it?
FL: When I finished that stage, all I felt was humiliation and depression. That was not in any way part of my plan. It took a long time after the race before I felt better and got my spirit back to keep fighting. But that was one of the most humiliating things that has ever happened to me.
Q: How do you feel about the main favourites not having participated in the Tour because of the doping scandal?
FL: I don't want to think about that.
Focus
Photo ©: AFP

Q: It's been quite a crazy Tour, with many unexpected turns. How do you think it will be remembered in the history books?
FL: From my perspective, we raced to win - and as to how the race will be rated in history, that is beyond my control. First of all, we raced conservatively, but then, because of the bad day I had, we had to completely change our approach. That's how I found out what I was able to do.
Q: We hope you are the first winner of a new era. What's your message on this?
FL: I assume that you are all here because you believe this is a beautiful sport, just like I do. My message is no different than what the race gave, like I said before: I think the only lesson is persistence.
Q: What would you say to people who think that you won, but only because others weren't included in the race?
FL: Since you really want a quote on what happened in the beginning of the race, and that you won't stop asking those questions, I'll say that it was an unfortunate situation for all of us. And none of us, in any way, got any satisfaction out of the fact that they're not here.
Q: How do you feel about your hip surgery coming up and how that might affect your career?
The victory is in
Photo ©: Sirotti

FL: I'm a bit more relaxed now with this victory. It would have been much worse if I hadn't won the Tour because of an accident or whatever. I certainly know that I'll fight as long as it takes to come back next year, or the following year. Whatever it takes, I will do it to be here again, because it's a dream to me. It's wonderful to be part of it.
Q: After your off-day in La Toussuire, on the next day, when did you start to really believe that a come-back on GC was going to be possible?
FL: I wasn't so well since the beginning of the stage, and there was no flat section between the mountains. And what I didn't do was take 20 minutes to eat some food and try to recover a little before the last climb. I never got it, and I didn't stay focused enough to eat. So, in the end, I was completely out of energy. So what may have looked like some kind of miraculous improvement was in fact just me going back to normal. That's basically what happened. On the next day, I knew it was going to be long, but my objective remained the same.